Search the New York Theatre Wire
C A B A R E T
Cabaret Convention 2023
Three brilliant evenings of The American Songbook. By Lucy Komisar.
Cabaret Convention 2022
Cabaret Convention, highlighting dozens of major cabaret singers in the U.S. and some abroad, is sponsored annually by Mabel Mercer Foundation.
Socialist radical Yip Harburg gets spotlight at NYC Cabaret Convention
American Standards are glorious finish to 2022 Cabaret Convention
AUSTRALICANA -- Marc Shairman's "Fat As I Am" and Kander and Ebb's "Me and My Baby" were Fishman's lighthearted way of addressing her very obvious pregnancy. Photo by Neil Cohen.
Celebrating Two Countries: Australicana
"Australicana," which made its debut at the Triad, is Alexis Fishman's seventh cabaret show, but it's her first as an American citizen. The show celebrates her new status with a "deep dive into the chronicles of cultural confusion, hilarity and challenges of life as an Australican." By Paulanne Simmons.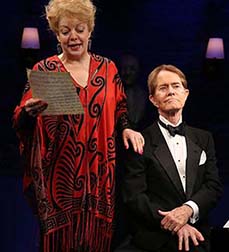 KT Sullivan reads a letter from the correspondence of Noël Coward (Steve Ross). Photo by Carol Rosegg.
Love, Noël: the Songs and Letters of Noël Coward
KT Sullivan is a smash in "Love, Noël: the Songs and Letters of Noël Coward," written by Barry Day and directed by Charlotte Moore, at W. Scott McLucas Studio Theatre, 32 West 22nd Street. Reviewed by Lucy Komisar and Edward Rubin.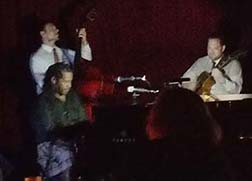 Lionel Cole in Freddy Cole Quartet at Birdland, with Elias Bailey on bass and Sam Raderman on guitar. Photo by Lucy Komisar.
Lionel Cole brightens Dad's "Freddy Cole Quartet" in blackout
On July 13 there was blackout in New York City, Freddy Cole didn't make it to his 8:30 set at Birdland last night. He was stuck in a nearby hotel when the power outage struck and, at 87, he couldn't take the stairs. His son Lionel Cole took over, playing the piano, singing and charming the crowd with his voice, his personality and his kilts. It was a glorious evening at Legendary Jazz Club after all. By Lucy Komisar.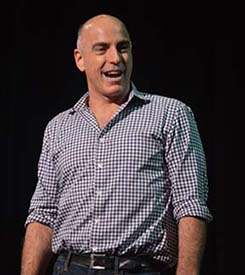 William Michals. Photo by Maryann Lopinto.
Broadway By the Year, 1943, 1951
For 19 years, impresario Scott Siegel has been delving into the past of American musicals to put before theater and cabaret fans the best known and hidden gems of the decades. And also presenting some of the finest performers to them. He picks a couple of years. The years 1943 and 1951 in this show were typically marked by blockbusters and some shows Lucy Komisar never knew.
CABARET CONVENTION 2018 -- Joan Ryan. Photo by Richard Termine.
Cabaret Convention 2018 hits very good notes with "The Best of Jerry Herman"
Cabaret is not just about the words and the music, it's about telling a story. Sometimes, it's even a mini-musical play. And that is what is good about the Cabaret Convention, in its 29th year, annually four nights in October, at Rose Hall at Jazz at Lincoln Center. The singers and audience are almost a community, many returning for years, meeting and chatting in the expansive lobby at intermission and after the show. By Lucy Komisar.
Linda Glick at Pangea. Photo by Kamoier Williams.
Linda Glick in "Teach Me Tonight"
Veteran cabaret performer Linda Glick appeared at Pangea in a series of four performances entitled "Teach me Tonight," splendidly accompanied by pianist Ian Herman. A former language teacher of French and Spanish, the charming and likeable Glick wove some songs together with the theme of teaching, making for some interesting choices and very entertaining personal stories. Good music, stories, accompaniment, and a warm feeling between performer and audience made for a most pleasant experience. By Paul Berss.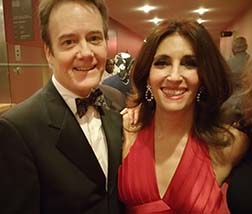 Eric Comstock and Barbara Fasano.
Photo by Lucy Komisar.
Cabaret Convention 2017 at Lincoln Center
The Cabaret Convention put on by the Mabel Mercer Foundation has for almost three decades brought together some of the best cabaret performers in the country, each of four days presenting as many as 20 singers, some prominent, some new, some doing standards, others jazz, to keep the tradition alive. One night this year featured the works of George Gershwin, which is why you'll note many singers doing his songs. A nice part about the event is that the performers come out to the lobby at intermission and after the show to chat and schmooz with the audience. Hence these photos. Dozens appeared over four evenings; these are just my highlights of three nights I attended. I notice that most are women. Well, so be it! They had the most pizzazz, the most drama. By Lucy Komisar.
Francesca Capetta sings Dean Martin
Remy.S attended Francesca Capetta's program of songs of Dean Martin at Carnegie Hall and thinks he was in the presence of a star. Not Martin, because although it was his 100th birthday, he didn't live that long. But Capetta, who he thinks is somebody you should keep in your radar.
Stephanie Trudeau and projections of Chavela Vargas and Jose Alfredo Jimenez.
Stephanie Trudeau channels Chavela Vargas
"Chavela: Think Of Me," written and performed by Stephanie Trudeau, is more than just a musical cabaret based on the songs of legendary Mexican singer Chavela Vargas. It is also a documentary theater project that traces the famed ranchera singer's artistic evolution and the key relationships of her life. Trudeau unveiled the piece May 15 at Pangea Supper Club, 178 Second Ave. It was a pleasure from start to finish! By Paul Berss.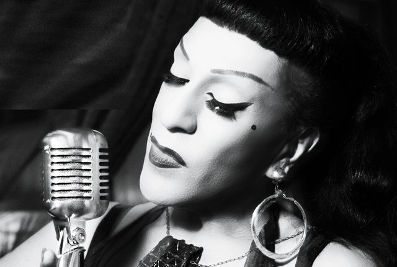 Joey Arias by Heath McBride
"Joey Arias Is With You Now"
The otherworldly sensationalist Joey Arias is an avid experimentalist both off stage and off. I have been told – and my sources do not lie – that the daring chanteuse is up for just about anything. And if there is anything that he has not tried yet, well, rest assured, one way or another, Arias will get around to it, and if you are really lucky he may get around to you too. Just keep the faith. By Edward Rubin.
Carole J. Bufford
"Cabaret Convention 2016"
Best of New York's cabaret singers, new talents and veteran stars are featured at the festival. By Lucy Komisar.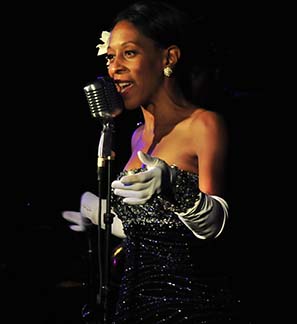 Bonita Brisker as Billie Holiday.
Bonita & Billie Holiday
In a velvet ankle-length gown, white gloves and white fur stole, the signature gardenia over one ear, Bonita Brisker glitters like the rhinestones on her costume. "What a little moonlight will do…" she channels Billie Holiday, her songs, her life. By Lucy Komisar
"'Viva Las Vegas,' a celebration of the great performers."Bobby Nesbitt, photo Lucy Komisar.
"'Viva Las Vegas,' a celebration of the great performers"
Bobby Nesbitt's tribute to the cabaret greats of Las Vegas is much richer than any medley of songs from the star singers of the time. His performance at the Tennessee Williams Theatre reprises the iconic tunes of Frank Sinatra, Dean Martin, Sammy Davis Jr. and more. But he also offers some social history that sets "the Rat Pack"– the name given by actress Lauren Bacall –in an American context. (She said, "You look like a goddam rat pack."). Reviewed by Lucy Komisar.
Julie Reyburn at the Metropolitan Room, photo by Lucy Komisar.
"Fate is Kind," a sophisticated "kids' song" cabaret for adults
Julie Reyburn mixes kids songs and sophistication at Metropolitan Rooma. When she sings, you think you are at a theater stage. Her rich soprano last night entranced an audience at her "Fate is Kind," a show of mostly kids' songs for adults. By Lucy Komisar.
FORGOTTEN LOVERS--at Metropolitan Room. Photo by Lucy Komisar.
Nathalie Schmidt's "Forgotten Lovers" are characters in a comic-dramatic cabaret story
A lot of Nathalie Schmidt's talent is confirmed in the cabaret show, "Forgotten Lovers," at the Metropolitan Room. Her acting enriches a partly comic, partly cynical take on life. She's a personality that the New York cabaret scene needs. By Lucy Komisar.
CELEBRATING MEN--Charlotte Patton.
Charlotte Patton in "Celebrating Men."
Charlotte Patton's "Celebrating Men" impeccable collection of upbeat songs about love. By Lucy Kominsar.
STING*CHRONICITY -- Rosemary Loar.
"Sting*chronicity"
A rich theatrical experience, where cabaret becomes Theater. "Sting*chronicity"— songs by Sting, played by Rosemary Loar, who is a major cabaret singer, throaty, breathy, with drama in her strong torch-song voice. By Lucy Komisar.
Pico and David Chown. Photo by Trevor DeVooght.
"Pico and Chown, Back in Town"
From January 10 to the 13 the rick, luscious voice of Miriam Pico and the fine jazz piano of David Chown fill the living room of the Harry Truman Little White House, in Key West, where the 33rd president took winter vacations, playing poker with his buddies. By Lucy Komisar.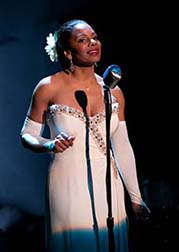 Audra McDonald as Billie Holiday. Photo by Evgenia Eliseeva.
"Lady Day at Emerson's Bar & Grill" is a stunning jazz cabaret by Audra McDonald
Wrapped in a white gown, an iconic white gardenia in her hair, Audra McDonald channels Billie Holiday — her voice, her accent, her manner — till you believe you are sitting in the slightly tacky Philadelphia dive where Holiday sang her last songs. By Lucy Komisar.
Kitty La Rue and Lou Henry Hoover. Photo by Edward Rubin.
BenDeLaCreme
The wonderfully intimate, 80-seat, Laurie Beecham Theatre, situated across from Theatre Row, and a few blocks west of Broadway, presents "BenDeLaCreme," an extravagant show which celebrates artifice and fantaisie. "BenDeLaCreme" is a subtle combination between performing and visual arts with a love of spectacle and glamour. By Edward Rubin.
Bonnie Lee Sanders with Tom Spahn at keyboard and Bob Desjardins on bass, Photo by Lucy Komisar.
"Bonnie Lee Sanders is fanciful and moody at Pescatore cabaret"
Cabaret singer/song-writer Bonnie Lee Sanders is fanciful and moody. She begins rather optimistically at the second-floor cabaret at Pescatore on Second Avenue singing "Spring is Here," but then moves into musical angst, of loves that are gone.
Photo from "The Second Time Around". Photo by Stephen Sorokoff.
"The Second Time Around"
The first time around, Karen Wyman was a 16-year-old Bronx belting sensational who sparked viewers of TV's "The Dean Martin Show" to sit up and take notice. This young performer demanded attention and she got it in on "The Ed Sullivan Show," "The Tonight Show Starring Johnny Carson," and just about every other variety show on television and in 1969, variety shows were the key to success. Nightclubs and recordings followed and Karen Wyman was looking at stardom.
Erin Dilly, Jason Graae, John Treacy Egan, Christine Andreas, Klea Blackhurst, "Sweeping the Clouds Away". Photo by Richard Termine.
Sweepin' the Clouds Away
You got rhythm, you got music, you got your men - who could ask for anything more? it was all there at Lyrics and Lyricists' second show of the season at the 92nd Street Y. With the high-voltage jazz band of Vince Giordano with Peter Yarin at the piano supplying rhythm, music and men, "Sweepin' the Clouds Away, Boom, Bust and High Spirits" revisited the boom of the Roaring '20's to the bust of the Great Depression. The hands of time reached out to address how the country coped with the slide from high times to bum times. One answer was in its music. By Elizabeth Ahlfors.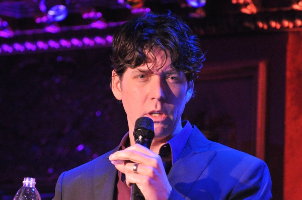 James Barbour
Holiday in a Barbour Shop
"It's the Most Wonderful Time of the Year" -- the 1963 holiday favorite, could not have rung more true. You usually hear the captivating richness of Broadway baritone, James Barbour, on the Broadway stage, acclaimed in major musicals like his portrayal of Sidney Carton in the short-lived, "A Tale of Two Cities." Catching him upfront and personal in the intimacy of a cabaret room, however, brings special rewards. James Barbour deivered them in his "Sixth Annual Holiday Concert: A Broadway Tradition" at 54 Below, 254 West 54 Street. By Elizabeth Ahlfors.
Sally Mayes, Billy Stritch, Sharon Montgomery
A Smooth Texas Blend
This eclectic trio never cut a record. They only performed together for a few years but in those years, they were hot. Sharon Montgomery, Sally Mayes and Billy Stritch created "Montgomery, Mayes and Stritch". This was one of those nights to remember. By Elizabeth Ahlfors.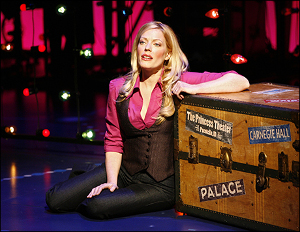 Sherie Rene Scott in "Piece of Meat." Photo by Carol Rosegg.
Sherie Rene Scott and a well-done "Piece of Meat"
Sherie Rene Scott takes us on a journey that I suspect will never end, her passionate search for understanding, love and joy in the energy of the universe. In her cabaret show, "Piece of Meat" at 54 Below, Scott is a sexy and energetic performer just as she was in her Tony nominated Broadway show, "Everyday Rapture." By Elizabeth Ahlfors.
Jazz Pianist Rossano Sportiello. Photo courtesy of OandMO.
The Smiling Piano of Rossano Sportiello at the Cafe Carlyle
The Rossano Sportiello Trio brought to the Café Carlyle a tribute to the late jazz pianist, George Shearing, a legendary pianist of imagination and technical brilliance. Sportiello as well, is a versatile player with jazz, swing, bop, ragtime and stride, who pays homage to mentors from all schools including Bill Evans, Fats Waller and Shearing. By Elizabeth Ahlfors.
Faith Prince in "Have a Little Faith."
Prince of Broadway comes to the cabaret
Tony award winner Faith Prince stars in a rare cabaret show directed by Dan Foster, proving that a star used to a big stage can still connect with a more intimate audience. By Elizabeth Ahlfors.
John and Bucky Pizzarelli. Photo by Stephen Sorokoff.
Pizzarelli Party Time at the Carlyle
John Pizzarelli brings his quartet and his father, Bucky Pizzarelli, to the Cafe Carlyle. The two Pizzarelli virtuosos share the stage and give-and-take with a mutual admiration and intimacy that envelops the music. By Elizabeth Ahlfors.
L-R: Carole J. Bufford, Christine Bianco, Scott Coulter Photo by Stephen Sorokoff.
An Early Night for 11 O'Clock
For a special one-night only performance, producer Scott Siegel has brought together on stage Carole J. Bufford, Scott Coulter and Christina Bianco to present "11 O'Clock Numbers at 7 O'Clock" at Birdland. By Elizabeth Ahlfors.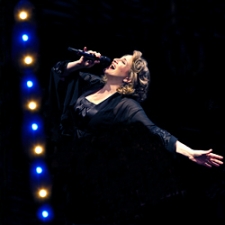 Racette in cabaret mode at 54 Below. Photo courtesy of 54 Below.
Down Home Diva
Patricia Racette is not opera's first world-class soprano to share her down-to-earth side in an intimate cabaret. She is, however, one of the few who is a natural. In her show at 54 Below, "Diva on Detour," Racette demonstrated a sharp acting talent and a flair for comedy. With her well-tempered chest voice, this star of opera houses like the Metropolitan Opera and La Scala chose some of the American songbooks' favorite standards and some of the most heart-wrenching ballads and embraced them in true cabaret diva passion. By Elizabeth Ahlfors.
The "Woman on the Stage" is Tanya Holt. Photo by Stephen Sorokoff.
"Let's Get Busy" with Tanya Holt
In the words of a 1918 song, "There are smiles that make us happy," andd now there is Tanya Holt with a smile that radiates and a voice that shines. Her one-night only show, "Forever Home," at the Iridum, was an offering of romance, sass, jazz, pop delivered with the joyful love of entertaining. With a smoky voice and a vocal belt that's a satisfying burst of clarity, Holt made the evening an appealing commitment between her eclectic song deliveries and her audience. By Elizabeth Ahlfors.
Marilyn a-maye-zes her audience at 54 Below. Photo by Russ Weatherford.
The A-Maz-ing Marilyn Maye is Back and 54 Below's Got Her
Conductor Peter Nero stated, "She sets the standard for the way any pop, jazz or big band singer would like to sound." That still holds true. At almost 85, the irrepressible Marilyn Maye remains as good as it gets. As Johnny Carson commented on The Tonight Show, "And that, young singers - is the way it's done." By Elizabeth Ahlfors.
No Nepotism Needed with Adam Guettel at 54 Below
The son of Mary Rodgers ("Once Upon a Mattress") and grandson of Richard Rodgers (composing partner to Lorenz Hart and Oscar Hammerstein II), Adam Guettel has developed a singular music sound of his own. While handsome enough to star in one of his own musicals and an expressive singer as well, Guettel invited Stephen DiPasquale and Whitney Bashore, two exquisite performers to join him in a 90-minute show at 54 Below. By Elizabeth Ahlfors.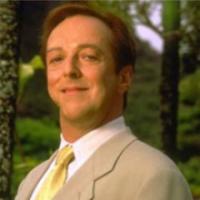 Edward Hibbert is in "Can't Something Be Done?: An Evening with Edward Hibbert" at 54 Below. Courtesy of Soylent Communications.
Why Must the Show Go On?
Edward Hibbert, familiar to many as "Gil Chesterton," gourmet critic on the TV series, "Frasier," does not bound onto the cabaret stage, rarin' to go. Stylishly, he sails through the audience, head high, back straight, and slight smile, and places himself before the microphone. Slowly his smile expands to a mischievous grin and, with utmost Noel Coward élan, performs "Why Must the Show Go On?" And so begins his one-man show, "Can't Something Be Done?: An Evening with Edward Hibbert!," the show where, he says, "I popped my cabaret cherry." A program of clever anecdotes punctuated with songs by Cole Porter, Noel Coward, Cy Coleman and more, whimsically traces his journey from theater to television and now intimate cabaret at 54 Below. By Elizabeth Ahlfors.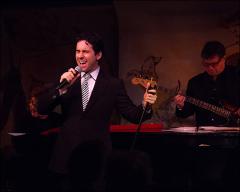 John Lloyd at the Café Carlyle. Photo by Tristan Fuge.
John Lloyd at the Café Carlyle
It was memory time at the Café Carlyle, remembering as John Lloyd Young's confident tenor and strikingly clear falsetto hit the money notes in the '50's and '60's oldies. The cabaret show, however, was not about the Four Seasons songbook. Its focus was to introduce Young's new CD, "My Turn." By Elizabeth Ahlfors.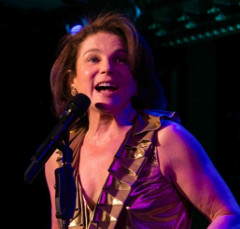 The pixie in gold lame, Tovah Feldshuh. Photo by Stephen Sorokoff.
"Pixie in Gold Lame"
Ya gotta say, Tovah Feldshuh is an entire vaudeville show wrapped up as one sprightly imp. She makes her "under Broadway debut" at 54 Below, singing, telling stories, cracking jokes and sharing memories. She is a zesty, zany powerhouse who scampers onto the stage and never rests. When she sits, it is to morph into one of her characters, like the old man in the park trying to stay positive and treasuring his memories, or evoking the image of her Grandma Ada who urged her to persevere even when young Tovah wanted to be an actor. "Reach for the stars and you may get to the roof, " she told Tovah. "If you reach for the roof you may never get off the ground." By Elizabeth Ahlfors.
Amanda Mc Broom presents "A Valentine Rose" to the Cafe Carlyle. Photo by Stephen Sorokoff.
Amanda McBroom's "A Valentine Rose" at the Cafe Carlyle
"A Valentine Rose" is not kid stuff. It's "romance, adult style" for singer, songwriter, actor Amanda McBroom's debut at the Café Carlyle, bringing a zesty lineup of music delivered with perception and humor ("I feel like I'm in Rhonda Fleming's living room!") McBroom, a stylish, outgoing, upbeat performer, chooses some of the best from standard songwriters like Dorothy Fields, Sammy Cahn and Jacques Brel. She also adds numerous original songs that reach out and touch love's various facets. By Elizabeth Ahlfors.
Carole J. Bufford at the Metropolitan Room. Photo by Paulanne Simmons.
Carole J. Bufford Sings About "Body & Soul"
In her new show at The Metropolitan Room, ""Body & Soul," Carole J. Bufford walks onto the stage in a slinky, sexy and sparkling sheath. But that's not all that sparkles. With her powerful and at times deeply emotional delivery, Bufford is like fireworks on the fourth of July. By Paulanne Simmons.
Maureen McGovern with "Home for the Holidays" at 54 Below.
"The Stradivarius Voice"
"Without hope, the human heart will die," Maureen McGovern commented, bringing an evening of hope through her lustrous voice – a four-octave powerhouse of warmth and clarity – into a season burdened with difficult and heartbreaking moments. Animated, she swept onstage and joined her two fine accompanists, Jay Leonhart on bass and musical director, Jeff Harris, with buoyant jazz flavoring in a songbook of holiday tunes and optimistic standards. By Elizabeth Ahlfors.
Karen Mason celebrates Christmas at 54 Below. Photo by Carol Rosegg.
Santa Claus is Coming
Whether it's Christmas, Chanukah or Kwanza, just celebrate! Celebrate something -- life, good health, each other. That's the advice from theater and cabaret favorite, Karen Mason. If this year has dealt you some nasty turns, or if your holidays are on the blue side or this is a stressful season over-crammed with gift-giving and must-do's, here's a solution. Get yourself to 54 Below, order a drink, sit back and listen to Karen Mason, an unaffected, affable powerhouse actress/singer with a voice that will shoot up your spirits. She will take you to a place where effervescence bubbles up like champagne. Her salute to the season, "Christmas! Christmas! Christmas!" is the best approach to curing the blues and blahs. By Elizabeth Ahlfors.
The Time Is Now, with Larry Kerchner
Times change but human sentiments remain. From Cole Porter to Dolly Parton, the best songwriters are craftsmen who fit expansive universal feelings to music in a straightforward way. They appeal to the man in the street. They stamp the zeitgeist of jubilation, fury, romance, heartbreak, humor, depression, treasured memories and secret dreams of everyday people. Some songs linger on to become standards that touch audiences for years and even generations. By Elizabeth Ahlfors.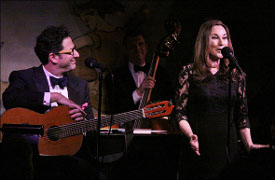 John Pizzarelli and Jessica Molaskey at Café Carlyle. Photo by Joseph Marzullo, O&M Co.
So Nice to Come Home To
At the Café Carlyle, John Pizzarelli and Jessica Molaskey, the jazz world's Bogie and Bacall, cool and simmering at the same time, are examining concepts of home. With an undercurrent of suffering from Hurricane Sandy's destruction resonating even in the posh Café Carlyle, their sophisticated exploration could not be more timely or universal. By Elizabeth Ahlfors.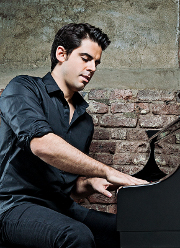 Tony DeSare at the piano. Photo by Bill Westmoreland
Tony DeSare with "Making Love Songs"
"This show is all about love," declared Tony DeSare, and with his piano pizzazz, velvet vocals and songwriting savvy, he brought a vivacious "Wow!" to his eclectic new songbook, "Making Love Songs," at 54 Below. He turned the phrase, "All About Love," into a jaunty opening song, a window to an hour of well-crafted standards, show tunes, and sharp originals. Just after his opener, De Sare and his quartet – Mike Klopp on drums, bassist Steve Doyle and Edward Decker strumming hard and fast on guitar – raced into a vigorous, "Somebody Loves Me," written by 1924 by George Gershwin. By Elizabeth Ahlfors.
Christine Andreas is "Bemused, Bothered and Bewildered"
Calling a show "Bemused" (or is it "be-mused"?) might evoke some bother and bewilderment in Christine Andreas' 54 Below audience. After a rhythmic, jazz-styled opener, "Get Happy," Andreas explained that the reason for the title was a play on words, reading "bemused," as "to be mused," the musical click that happens when just the right singer and just the right songwriter click. By Elizabeth Ahlfors.
Andrea Marcovicci in her new show at the Café Carlyle, "Smile." Photo by Stephen Sorokoff.
"Smile" with Andrea Marcovicci
After 25 years as the bright star of the Algonquin Hotel's Oak Room holiday season, Andrea Marcovicci has moved uptown to the posh Café Carlyle. Before a sparkling opening night audience, taut and radiant in a glittering platinum backless gown, and despite an edgy political atmosphere, this eternal romantic strolled in strumming a ukulele to, "It's Only a Paper Moon" and "Life Is Just a Bowl of Cherries." Recession or not, she makes us believe in the power of a smile. By Elizabeth Ahlfors.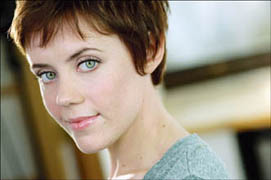 Carole J. Bufford made her cabaret debut as a finalist of the 2009 MetroStar Talent Challenge. She has made appearances at "Broadway By The Year" and the Cabaret Convention.
Brian D'Arcy James: A Smash!
Brian d'Arcy James has worn many hats over his theater career. He went green as the title character in, "Shrek," went down with the ship in the musical, "Titanic," and was a cynical so-and-so in, "Sweet Smell of Success." He also faced off against Laura Linney in Broadway's "Time Stands Still," Alice Ripley in "Next to Normal" and Debra Messing in TV's "Smash." One hat James had not yet worn, however, was a solo New York cabaret act. He turned out to be a natural. By Elizabeth Alhfors.
The Speak Easy Show Everyone's Cheering About
A time of romance and rum is celebrated in "Speak Easy," Carole J. Bufford's Prohibition-era show at the Metropolitan Room. By Paulanne Simmons.
---
© copyright 2012, Metro New Media, Inc.
| lobby | search | home | cue-to-cue | discounts | welcome | film | dance | reviews |
| museums | NYTW mail | recordings | coupons | publications | classified |
NY Theatre Wire is grateful for the support of our generous sponsors