Charlotte Patton's "Celebrating Men" impeccable collection of upbeat songs about love

Charlotte Patton in "Celebrating Men."
Directed by Karen Oberlin. Musical director/pianist Barry Levitt.
Metropolitan Room, 34 West 22 Street, New York City.
http://metropolitanroom.com/, http://www.charlottepatton.com
Opened May 28, shows June 29, July 31 and Aug 20, 2015.
Reviewed by Lucy Komisar May 28, 2015.
My favorite in Charlotte Patton's show at the Metropolitan Room was "Quality Time," a satirical piece that fits today, as she tells us about a guy telling his wife that, "We're up to our ears in our careers and putting our hearts on hold," so they need quality time. He says, "I know a small hotel remote and quiet, if they decide to sell my firm could buy it, then we'd develop it and gentrify it."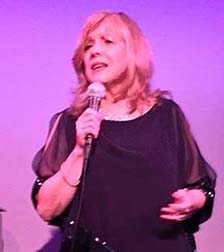 Charlotte Patton
That said, the lyrics in this charming production are of a piece – not mushy or sad, but upbeat and smart.
The show is directed by prime-time cabaret singer Karen Oberlin.
With songs by Peggy Lee, Cole Porter, George Gershwin, Richard Rogers, Sondheim and more, Charlotte Patton has picked up-tempo, high spirited tunes for a mostly jazzy turn through what ladies think about men. No down-sided, moody blues here. In fact, the full title of the show is "Celebrating Men (Bless Their Hearts)."
Peggy Lee's jazzy "I Love to Love" might be the theme song, with music director Barry Levitt's terrific piano accompaniment. Patton's voice is smooth and smart, albeit not thrilling or strong enough. Hearing her vocals on YouTube, I think she might have had an off evening. Still, she wins by force of personality, wit and charm.
There are old favorites: "You'd Ge So Nice to Come Home To" (Cole Porter) and some I didn't know: "Do It Again" (George Gershwin and Buddy DeSylva).
Patton's voice is mellow in Hugh Martin/Timothy Gray's "You Better Love Me" and the torch song "I Must Have That Man (Jimmy McHugh/Dorothy Fields)".
Levitt picks up the jazz beat with Rodgers & Harts' "This Can't Be Love."
Sondheim's "Losing My Mind" was a perfect near coda: "The sun comes up, I think about you/
The coffee cup, I think about you/ I want you so, It's like I'm losing my mind." Think sophistication for Patton and the songs she chooses.
Visit Lucy Komisar's website http://thekomisarscoop.com/