Search the New York Theatre Wire
Cue-To-Cue
A turntable of topical articles
| | |
| --- | --- |
| | |
| The oldest of the Boston bombers, Tamerlan Tsarnaev. | Poster of the 1947 movie "Odd Man Out," directed by Carol Reed. |
Boston's Odd Man Out
On the night that Dzhokhar A. Tsarnaev, 19, marathon bomber on the run, was found bloodied and half dead in a boat in the back yard of a house in Watertown, Massachusetts, Jerry Tallmer suddenly realized he had seen this movie before. It was Carol Reed's "Odd Man Out" (1947), a film that offers provocative insights on the forces of history that act on radical temperaments.
The Women's Initiative
It's a good time to be a woman in the arts – or rather, it's a better time. On Sat. Dec. 4, the Women's Initiative, composed of members of the Dramatists Guild, will hold its first symposium titled "Women in Theater: Achieving Gender Parity" at the Players Club, 16 Gramercy Park South (at 20th Street), New York, NY from 1:00 pm to 5:00 pm. Two years ago at a Town Hall meeting of the New Dramatists, playwrights Julia Jordan and Sarah Schulman gave speeches that inspired a new wave of activism. While 46% of the members of the Dramatists Guild of America are women, only 13% of all produced plays are written by women. The Women's Project and the League of Professional Theatre Women, both founded by Julia Miles, have been fighting for equity since their incorporation in 1978 and 1986. By Glenda Frank.
Remembering Richard Miller
The extended family of Ubu Repertory Theater was saddened to receive the news of the death of translator Richard Miller, whose many translations of contemporary French plays were produced by that company. Miller died in his sleep July 30 in his home in Paris, where he had lived since retiring from the United Nations. Ubu Repertory Theater, under the direction of Françoise Kourilsky, presented many of Miller's translations of new French language plays and classics, including "The Just" by Albert Camus, "No Exit" by Jean-Paul Sartre, "Talk about Love!" by Paul Émond, "Another Story" by Julius-Amédée Laou, "A Modest Proposal" by Tilly and "A Tempest" by Aimé Césaire.
WHO WAS HARRY WIEDER ?--Harry Wieder
"Who was Harry Wieder ?"
Harry Wieder, 57 years old, died, April 27, 2010. Tragedy struck when Harry Wieder was killed crossing Essex Street, following his ubiquitous attendance at the monthly meeting of Community board 3--a board whose foundation was literally shook up by his passing. By Bonnie Stein.
WONDER BREAD -- Danusia
Trevino in "Wonder Bread" in gala at the Players Club. Photo by JDZ Photography.
"Wonder Bread," an autobiographical account of a woman's journey through poverty and Rock and Roll.
An interview with Danusia Trevino, author and performer of "Wonder Bread," takes us back to communist Poland to uncover more about the production and how the process started. By Zita Bradley.
Celebrating the Greatest Arts Journalist of them All
On Monday, November 23, 2009 The Players Foundation will present a Benefit/Celebration to honor the life's work of Jerry Tallmer, the legendary, prolific NYC theater journalist and critic who was a founder of the Village Voice and creator of the OBIE Awards. Artists and admirers will gather to toast the man whose inquiring intellect and visionary writings started many careers. By Jonathan Slaff.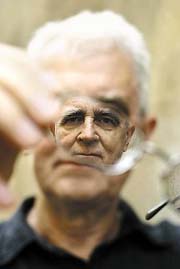 Krystian Lupa
Interview: A Dialogue with the Polish Master Krystian Lupa
In Europe, the Polish stage director Krystian Lupa is considered a theatrical giant. As attested by the 13th Europe Theatre Prize that was bestowed upon him this past April, Lupa is ranked alongside such major world figures as Harold Pinter, Peter Brook, Ariane Mnouchkine and Pina Bausch. A director, stage designer and writer, Lupa has been honored with an Austrian Cross of Merit in 2001 and the French Order of the Fine Arts and Humanities in 2002. As my interview with Lupa below shows (conducted with a Polish translator), Lupa is deeply aware that many gurus are emperors with no clothes—that often actors blindly follow a great artist by simple virtue of their charisma. In his most recent works, particularly Factory 2 and Persona, Lupa seeks to expose the irony of the phenomenon of personality, and he doesn't mind besmirching the sacred idols to prove his point. By Randy Gener.
The playwright Jeffrey Sweet.
Interview with the playwright: Jeffrey Sweet
"Flyovers" by Jeffrey Sweet has been running at the 78th St. Theatre Laboratory since Jan. 29 (it runs through Feb. 15). The 90-minute play stars Richard Kind as a television film critic who has returned to his Ohio hometown for a high school reunion, trying to make peace with his past, but nothing turns out as expected. An interview with the author by Glenda Frank.
Obituary: Stephen Balint
Stephan Balint, an award-winning playwright, poet, actor and co-founder of the seminal New York avant-garde theater group Squat Theater, died on October 11 in Budapest, Hungary. He was 64 years old.
A Tribute to Mark Weil
Bonnie Stein, Executive Director of Goh Productions, NYC, responds with shock to the untimely death of Mark Weil, founding director of the Ilkhom Theatre of Tashkent, Uzbekistan, who was murdered outside his residence there on September 7, 2007.
August Bournonville: Napoli Act III in Copenhagen.
Updating Classics: When? Why?
''There come times when people staging classic works of theater or dance feel an urge to update them, perhaps because they fear those pieces are now so familiar that they should be seen afresh. So drastic changes may be made in period and locale. The results are sometimes stimulating, sometimes merely peculiar.'' Jack Anderson went to Copenhagen and came back with some thoughts on new stagings.
Ella Quinlan O'Neill, mother of Eugene O'Neill.
Mrs. O'Neill's Illness
A prominent biographer of Eugene O'Neill reconsidered the legacy of the playwright's mother after reading the script of "Miles to Babylon" by Ann Harson, which was presented in Off-off Broadway in October, 2006. The play dramatizes the fight to overcome morphine addiction that was waged by Ella O'Neill, the model for Mary Tyrone in "Long Day's Journey into Night." This article is contributed by Stephen A. Black, author of "Eugene O'Neill: Beyond Mourning and Tragedy," published by Yale University Press.
Josh Radin.
Joshua Radin: His "Sundrenched World"
Columbia Records has a new star in the making in Joshua Radin. Yes, watching this striking brunet rehearse at Joe's Pub for his set later that night, you can only wish you were the guitar he was strumming. Afterwards, interviewing him in the intimate Manhattan performance spot's lobby, staring into his piercing brown eyes and watching those gentle lips move, you can only wish to be with him or be him, depending on your persuasion. By Brandon Judell.
Roland Schimmelpfenning (photo by Justine del Corte.)
Schimmelpfennig for your thoughts?
German playwright Roland Schimmelpfennig is one of the most prolific and heralded young dramatists in Europe. At age 38, he has already written 16 plays that have been translated into 20 languages, yet he remains relatively unknown in America. His 2004 drama Die Frau von Frueher (The Woman Before) premiered in Vienna before being produced in Bern, Munich and Stuttgart. Now it is getting its American premiere at HERE Arts Center in a joint production with German Theater Abroad. By Robert Hicks.
Il Dottore Explains It To Us All
Roving Classical Commedia University (RCCU), founded in 2001, is committed to keeping Commedia Dell'Arte alive as close to its original form as possible. Its co-founder, Stanley Allan Sherman, takes us to the essence of Commedia Dell' Arte, describing its magic in a modern context and even venturing some predictions on its future.
Radio City's Rockettes
For more than three quarters of a century, the Radio City Rockettes, the world's most famous precision dance troupe, have been a legendary force in entertainment with a rich history of skill and dedication to their craft. By Melissa Romanetz.
---
The Arts since 9/11
Report of 2004 Write-In by Artists of all Disciplines
Testimonies point to continued weakness in the Cultural Sector
Whether their field is theater, the visual arts, dance or music, many established artists now resort to non-artistic work. Others have left or are planning to leave the city to avoid economic hardship. By Jonathan Slaff and Delphine Veaudor, in consultation with Carolyn Sévos.
What happened to New York performing artists after 9/11?
Silent victims of the tragedy
Actors, directors, scenic artists--as well as visual, musical and digital artists--were the hardest hit of all occupational groups in New York, according to this long-awaited survey. Two respected nonprofits and DowntownNYC!, a coalition of arts and businesses, surveyed over 700 individual artists. They discovered that overall earnings are down 46% since the attacks and 13% of artists who rent are facing eviction. New York is Paris-on-Hudson and its artists are the lifeblood of its economy. How could this happen without widespread notice? Surprise!...about three-quarters of working artists in the City are self employed, so they don't register on unemployment statistics. This and more dirty little secrets are revealed in a groundbreaking report.

---
CD reviews: from Broadway to Classical Music
by Glenn Loney
Musicals Old & New, Other Musical Entertainments, Opera, Choral, Orchestral CD Albums, The Hänssler Treasure Chest.
---
museums by day,
theater by night
required reading
© copyright 2010, Metro New Media, Inc.
| lobby | home | cue-to-cue | discounts | welcome | film | dance | reviews | search |
| museums | NYTW mail | recordings | coupons | publications | classified |
.