December, 2016
Sleeping Over at The White House?, Overheard at Westsider…, Nia Vardalos' Adaptation of Cheryl Strayed's TINY BEAUTIFUL THINGS, Itamar Moses & David Yazbek's THE BAND'S VISIT, Jenny Rachel Weiner's KINGDOM COME, Richard Greenberg's THE BABYLON LINE, Kristen Anderson Lopez, James Allen Ford, Russ Kaplan, Sara Wordsworth's IN TRANSIT, Bill Shakespeare or Chris Marlowe's OTHELLO, Dan LeFranc's RANCHO VIEJO, Tom Schuiman's DEAD POETS' SOCIETY, Sarah DeLappe's THE WOLVES, Chris Cragin Day & Max McLean's MARTIN LUTHER ON TRIAL, Brooke Maxwell & Jacob Richmond's RIDE THE CYCLONE, Laoisa Sexton's THE PIGEON IN THE TAJ MAHAL, The Q Brothers JQ & GQ Offer: OTHELLO: THE REMIX, Robert Creighton, Peter Colley, & Christopher McGovern's CAGNEY, Neil Simon's SWEET CHARITY, Georg Frideric Händel's MESSIAH, Drue Droege's BRIGHT COLORS & BOLD PATTERNS, SWINE LAKE, PATTERNS IN SPACE, NAPOLI PAS DE SIX, & RAYMOND'S WEDDING
November, 2016
Bill Shakespeare or Chris Marlowe's CORIOLANUS, Qui Nguyen's VIETGONE, Horton Foote's THE ROADS TO HOME, E. Y. Harburg, Fred Saidy, & Burton Lane's FINIAN'S RAINBOW, Adam Bock's A LIFE, William Finn & James Lapine's FALSETTOS, Athol Fugard's "MASTER HAROLD" AND THE BOYS, Nicky Silver's THIS DAY FORWARD, Signor Carlo Goldoni's THE SERVANT OF TWO MASTERS, Various Cooks Concoct PARTY PEOPLE, Richard Nelson's WOMEN OF A CERTAIN AGE: Play 3 of The Gabriels: Election Year in the Life of One Family, Lynn Nottage's SWEAT, Chazz Palminteri, Alan Menken, & Glenn Slater's A Bronx Tale
October, 2016
Andrew Lloyd Webber's CATS, Craig Francis & Rick Miller's TWENTY THOUSAND LEAGUES UNDER THE SEA, Mel Brooks & Tommy Meehan's THE PRODUCERS, Neil LaBute's ALL THE WAYS TO SAY I LOVE YOU, Irving Berlin's HOLIDAY INN: THE NEW IRVING BERLIN MUSICAL, Brian Friel's AFTERPLAY, Nick Kroll & John Mulaney's OH, HELLO ON BROADWAY, Peter Brook & Marie Hélène Estienne's BATTLEFIELD, NC Hunter's A DAY BY THE SEA, Tony Chekhov's THE CHERRY ORCHARD, Mitzi Adams Presents ADAMS COMPANY DANCE: BEHIND THE LENS, Jonathan Larson's TICK, TICK… BOOM!, The Cirque du Soleil's KURIOS: CABINET OF CURIOSITIES, Sarah Jones' SELL/BUY/DATE, Louis Karchin & Diane Osen's JANE EYRE, Ricky Ian Gordon & Royce Vavrek's 27, Ben Hecht & Charles MacArthur's THE FRONT PAGE, David Hare's PLENTY, Simon Stephens' HEISENBERG, Maurice Ravel's PIANO CONCERTO IN G MAJOR, Christopher Hampton's Adaptation of Choderlos de Laclos' LES LIAISONS DANGEREUSES, Robert Wilson & Mikhail Baryshnikov's LETTER TO A MAN, Sherry Eaker's ATCA Mini Meeting
September, 2016
Bill Shakespeare or Chris Marlowe's CORIOLANUS, Qui Nguyen's VIETGONE, Horton Foote's THE ROADS TO HOME, Adam Bock's A LIFE, William Finn & James Lapine's FALSETTOS, Athol Fugard's "MASTER HAROLD" … AND THE BOYS, Nicky Silver's THIS DAY FORWARD, Signor Carlo Goldoni's THE SERVANT OF TWO MASTERS, Various Cooks Concoct PARTY PEOPLE, Richard Nelson's WOMEN OF A CERTAIN AGE: Play 3 of The Gabriels: Election Year in the Life of One Family, Lynn Nottage's SWEAT, Chazz Palminteri, Alan Menken, & Glenn Slater's A Bronx Tale
Previous articles from Loney's Show Notes
Reviews of the 2013-2014 Season
Margaret Croyden reviews "A Midsummer Night's Dream," "The Suit," "Fragments," "Matilda," "King Lear," "Richard III," "Twelfth Night," "Waiting for Godot," "No Man's Land," "Betrayal," "The Glass Menagerie" and "A Raisin in the Sun."
Reviews of the 2012-2013 Season
Margaret Croyden reflects on Matilda, I'll Eat You Last, The Nance, The Testament of Mary, Lucky Guy, The Suit, Picnic, Cat on a Hot Tin Roof, Glengarry Glen Ross, Who's Afraid of Virginia Woolf?, Chaplin, An Enemy of the People, The Heiress, Golden Boy, Heartless, Clybourne Park, Other Desert Cities, The Best Man, Vanya and Sonia and Masha and Spike, Macbeth and Fragments by Samuel Beckett directed by Peter Brook.
Reviews of the 2011-2012 Season
Margaret Croyden has gathered this summary of her reflections on Peter Brook's "A Magic Flute," four plays by The Royal Shakespeare, Langella in "Man and Boy," "Follies," "Private Lives," Peter Brook's "Fragments," "Krapp's Last Tape" at BAM, "Bonnie and Clyde," "Hugh Jackman: Back on Broadway," Athol Fugard's "Road to Mecca," "Seminar" by Theresa Reebeck, "Columnist" by David Auburn and "Death of a Salesman" directed by Mike Nichols.
Private Lives
If you're in a dark mood and want to travel back in time to the 1930s in a frivolous world of glitz and glam, cocktails, and England's upper crust, then go see Private Lives by Noël Coward.. In this production, directed by Richard Eyre, glamour is the word.
Newly out of her corner
Margaret writes, "Friends, I've been away a long time writing a new book, "The Years In Between – A Reporters Journey: World War II-The Cold War." Here are some or her brief thoughts on "Follies," Frank Langella and Peter Brook's "Magic Flute."
"Billy Elliot The Musical"
It is no wonder that "Billy Elliot" won so many Tony awards. Rightly so. If you want to have a total theater experience and a memorable evening full of joy and exuberance, see "Billy Elliot, " a remarkable achievement. Although "Billy Elliot" is listed as a Broadway musical, it is not an ordinary one. With a pignant story and some terrific acting, besides unusual dancing, and gifted young people who make up the plot, I assure you will be happy when you come out of the theater and will long remember it. By Margaret Croyden.
Previous articles from "Croyden's Corner"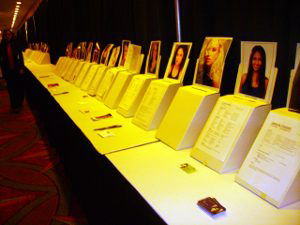 Headshot lane at Showbiz Expo 2010. Photo by Cathy Rocher.
Networking at ShowBiz Expo
ShowBiz Expo is the largest annual networking event for the entertainment industry in NYC. It offers many possibilities to people from showbusiness to meet each other. This year, attendees could visit the exhibition hall and participate in workshops and focus groups. A film festival, a headshot fair, a showbiz project board, casting calls and showcases for music, movies and designers were also held. By Cathy Rocher.
WONDER BREAD -- Danusia
Trevino in "Wonder Bread" in gala at the Players Club. Photo by JDZ Photography.
"Wonder Bread," an autobiographical account of a woman's journey through poverty and Rock and Roll.
An interview with Danusia Trevino, author and performer of "Wonder Bread," takes us back to communist Poland to uncover more about the production and how the process started. By Zita Bradley.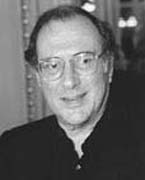 Harold Pinter.
Harold Pinter at a dinner party in Turkey, where the playwright challenged the U.S. ambassador
British playwright Harold Pinter died on December 24, 2008. He was a man committed to political freedom and did his part to promote it. By Lucy Komisar.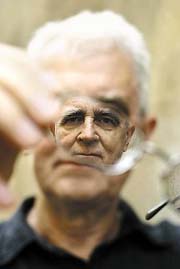 Krystian Lupa
A Dialogue with the Polish Master Krystian Lupa
In Europe, the Polish stage director Krystian Lupa is considered a theatrical giant. As attested by the 13th Europe Theatre Prize that was bestowed upon him this past April, Lupa is ranked alongside such major world figures as Harold Pinter, Peter Brook, Ariane Mnouchkine and Pina Bausch. A director, stage designer and writer, Lupa has been honored with an Austrian Cross of Merit in 2001 and the French Order of the Fine Arts and Humanities in 2002. As my interview with Lupa below shows (conducted with a Polish translator), Lupa is deeply aware that many gurus are emperors with no clothes—that often actors blindly follow a great artist by simple virtue of their charisma. In his most recent works, particularly Factory 2 and Persona, Lupa seeks to expose the irony of the phenomenon of personality, and he doesn't mind besmirching the sacred idols to prove his point. By Randy Gener.
Details from a photo of a roundtable at NYU in 1983: moderator Rosette Lamont and guest Eugene Ionesco. Photo by Beverly Pabst.
Remembering Rosette
Our own Rosette C. Lamont, a renowned theater critic, eminent author, distinguished teacher and leading authority on the works of Samuel Beckett and Eugene Ionesco, died on January 5, 2012 in Falmouth, Massachusetts after a lengthy illness. By Allen Lang and Jonathan Slaff.