ShowBiz Expo was held again on Sunday, March 28, 2010 at the New York Hilton Hotel located between 54th Street and 6th Avenue. This annual event is the largest networking event for the entertainment industry in NYC.
The exhibition hall enabled a lot of companies to showcase their services and products. Attendees could visit presentations from professional associations, acting schools, theaters, casting companies, headshot printers and photographers, managers, service providers to the motion picture industry and many others. Workshops and seminars were held throughout the day in which attendees could meet professionals in various fields and consult them about such endeavors as independent film production, the art of the pitch, how to get famous and how to raise money for your project.
There were focus groups for directors, choreographers, producers, writers, composers, lyricists, self-producing performers, casting agents, casting directors; production companies, business owners & entrepreneurs. Roundtable meetings enabled people working in these fields to talk together and network. A film festival was organized and offered fifteen short films. There were also a headshot fair, a showbiz project board, casting calls and showcases for music, movies and designers.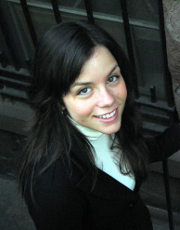 Author Cathy Rocher. "I must have looked like I am an actress."
I had arrived in the United States from France for my internship at NY Theatre Wire only three days before this event and I was new to the American entertainment industry. This event was my first immersion in this unfamiliar world. When I entered this gorgeous hotel, I realized that I was about to discover a new culture and another way of life. After registering, I went to the exhibitor hall to take a look at the presentations there. Lots of exhibitors, from representatives of acting schools to headshot photographers, asked me if I was an actress. Then I went to the roundtable meeting for publicists. There I met a world music artist and self-publicist named Evaeva, whose website describes her as "That Glam Samba Punky-Haired Bhangra RockStar," who was decked out in a stunning Bollywood-style outfit that grabbed everyone's attention. Lesson learned: dress for attention. (It works.) After that, I went to the workshop "Fast Pitch." It was all about how to advocate for your own work--a valuable skill for everyone in the arts. There were panelists such as Alan Brody from iBreakfast, TV & IPTV Producers Samantha Ettus and Steve Rosenbaum, and Barry Schulman from Schulman Media Partners. They explained how to make a good one-minute pitch for a broadcast or film property. I learned how the objective of a pitch is to make people interested in your project: you have to concisely tell what is important, original and what makes you different from the others. A brief presentation was followed by "trial" pitches from the audience, which were critiqued by the panel. I was amazed at the enthusiasm for this exercise.
After this, I participated in a focus group, "Self-producing performers – Producing your own work," which was a meeting of producers and actors who wanted to produce their own work. Everyone introduced themselves by telling their background and projects. The most experienced professionals gave memorable tips to newcomers, in particular on how to save money. For example, if you bring a new show to a theater, you should try to use as much as possible the house technical staff in order to avoid hiring more expensive outsiders who might not have access to all the theater's resources.
Finally, I went to a workshop called "Get Your Name Out There – Get Famous & Survive the Media without Getting Clobbered." The panelists who spoke were Gayl Murphy from Gayl Murphy Productions, Inc., Mark Goodman from Sirius XM, Lenny Green from Kiss-FM, Neil Rosen from NY1 and the journalist Joanna Walters. The aim of this workshop was to explain to the people how to get visibility throughout the media.
I learned that the first step in catching a story for yourself is to provide news, to know whom you have to target and what they are looking for. The second step is to have a good story to tell, given that the media are always dying for content. You must give essential and interesting information and not ramble. Don't hesitate to tell what makes you different. The third step is to know how to circulate information. It is free to write a press release, but don't send them willy-nilly. You must define which media you want to target.
Nowadays, one of the most popular practices is to market oneself throughout social networking. This is free and offers instant communication. For example, you can use Facebook, Twitter and YouTube to publicize yourself. On your website, try to find good key words in order to be on the top of the Google search list. I found this workshop particularly instructive.
ShowBiz Expo was a real learning experience. I spent the day listening, observing and meeting people from show business. I learned how to make a pitch and how to market myself. I even made good use of my first business cards! Coming from a small town in France, I was definitely amazed by the American practice of enthusiastic networking between people. Most of all, I was face-to-face with everyone's dreams. Some people dream of producing their own show, some want to get a role, some would like to raise money and some wish they were famous. Maybe I just met the American dream.