Zita Bradley
"Wonder Bread," an autobiographical account of a woman's journey from Poland to Rock and Roll in New York.
"A fairytale-like odesy about a young woman from behind the Iron Curtain. A Farmer's daughter leaves Poland and comes to the Big Apple. At the age of 28 she meets Iggy Pop and experiences teenage rebellion."
WONDER BREAD -- Danusia
Trevino in "Wonder Bread" in gala at the Players Club. Photo by JDZ Photography.
To say that Danusia Trevino likes to tell stories would be an understatement and with the eventful life that she has had, she has lots to tell. From March 11 to 28 Trevino will be sharing her stories in the form of a solo performance at Theater for the New City, in a production named "Wonder Bread" directed by Aleksey Burago. It is an autobiographical account of her journey from Poland to New York, learning valuable lessons on the way. I spoke with Danusia to find out more about the production and how it came about.
I first asked her what had inspired her to write "Wonder Bread." "I have always been attracted to solo performances, as they are so much more personal and I love to hear peoples stories. Some of the first solo performances that I saw were Eric Bosian's "Sex, Drugs and Rock and Roll" in New York and one by a polish actress Krystyna Janda in "The White Blouse." They really inspired me."
While at College, Trevino studied photography and as part of her pieces for galleries she would arrange the photographs with text below them to make a story. "I have always been a story teller," Trevino tells me. During these gallery appearances, Trevino found that people would approach her with stories that they had been reminded of from her pictures, and it was suggested to her that she replace the text below the pictures with audio recording. "I loved how people could relate to my pictures and stories. I was in my twenties at the time and people in their sixties were responding to them. I called the piece 'Danusia's Stories Part One' in a promise that I would do more, part two being 'Wonder Bread.'"
Trevino first started writing stories from her life in 2002 as separate pieces and from then, decided which ones she would use in her final production. She described that she found the process very enjoyable. "Sometimes the stories would seem so unreal because of how extreme they were. I would have to sometimes call my sister to confirm that these events actually happened the way I had wrote them and she did confirm." She used to joke to people saying; "you might be in one of my stories one day." Her first performance of this play was in April 2005 at Café WOW Theater. The production has evolved from through performances since then. "Audience feedback has been a big part of making adjustments, it's like they are another character of 'Wonder Bread' and I feed off them."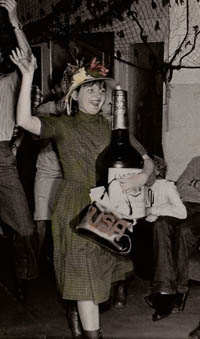 Danusia playing an American Aunt.
Trevino has always had a passion for acting. She retold accounts of her childhood when she and her cousin would pretend that benches or scaffolding were stages. She put up posters so that other children of the village could come and watch them. She explained that one character that she loved to play was an American Aunt (as seen in pictures), which ironically was before she ever had ever been to New York. "I always had a passion for acting, but when I came to New York I did not believe that I could be an actor because of my accent, so, as you hear in 'Wonder Bread,' I tried everything else to fulfill this passion including photography and playing in a band. I thought that I could meet actors in a band who could help me, until one day my mentor once told me 'The shortest way to get somewhere is in a straight line' so I started taking acting classes at HB Studio."
"I was work shopping with 'Wonder Bread' and I didn't really know which way to go with it. I knew I didn't want it to have a totally natural style. I saw a production at HB studio, 'Master and Margarita' directed by Aleksey Burago, and I was so moved by it, I came out feeling really excited knowing this was the direction I required. There was such magic in the play and that's what I wanted. I began asking the actors from the production how best to approach him; I ended up getting a role in the production as Natasha and there was one moment when he was directing me when I thought, 'this is what I have been dreaming of.' I loved his imagination and responded to it." This led to Aleksey Burago directing "Wonder Bread." "It was great because he is Russian and comes from the same world I come from."
"I went to a solo performance recently called 'The Tricky Part' by Martin Moran, and when I came out I felt like I had had heart surgery. I was so deeply moved, and my heart was opened wider than I would allow it. It made me feel human, that's what I want people to feel when they come out of 'Wonder Bread.'"
"'Wonder Bread' expresses how I came to accept the mess and imperfection in my own life by realizing that it is a part of me. I can't be 100% American, I have to embrace my Polish heritage. 'Wonder Bread' invites the audience to love their imperfect country, family or life."
"Wonder Bread" features around twenty characters from Danusia's life, all played by Danusia. She explains that it was hard to accomplish these character changes at the beginning, but it has become easier as time has gone on. "Its hard because each scene does not consist of just one character; there are lots having conversations with each other but I have had no complaints about audience members being confused." She uses props and actions to represent each character; for instance, her father is distinguished by a hat, her mum a scarf, and her sister by a flick of her hair. She explains that she took a DVD of the performance back to Poland to show some of her family. "I was concerned because some of my friends who had seen the show thought that I was criticizing Poland; this was never my intention, it was just meant to be about MY experience in Poland. I showed the DVD to my father's sisters (The Father is a main character in the production) and I realized that I had done a good job because they were falling off the chair laughing."
"Wonder Bread" will be performed at Theater for the New City in the East Village, where a great deal of the second half of the play takes place. "It is an ideal location the more I think of it. The intention of that Theater is to reflect the neighborhood and 'Wonder Bread' does. The East Village represents the my life, the Polish side and the Rock and Roll side, which is mirrored in the play."
The set features walls made of over 600 tomatoes and 400 red balls and an animated film roll of burgers. On entering the theater, actual pictures from Trevino's childhood will be displayed.
Reporter Zita Bradley has recently come to New York from Manchester, England.