STEPHANIE TRUDEAU
Songs & Stories of Chavela Vargas
Stephanie Trudeau and projections of Chavela Vargas and Jose Alfredo Jimenez.
Stephanie Trudeau performs "Chavela: Think of Me"
Pangea Restaurant & Supper Club, 178 Second Ave. (betw. 11th & 12th Streets), East Village
$20 cover (if purchased online in advance) or $25 cash at the door, plus $20 food/drink minimum.
Box office: 212-995-0900
Runs one hour.
Artist's website: www.Stephanie-Trudeau.com
Reviewed by Paul Berss May 15, 2017
Stephanie Trudeau and projections of American singers who covered Chavela's songs with English lyrics: Dean Martin, Dinah Washington and Frank Sinatra.
What a delightful presentation by singer Stephanie Trudeau - a pleasure from start to finish as she told the story of Mexican ranchera singer Chavela Vargas, and sang songs from Mexico and Cuba, beautifully accompanied by David Lahm on piano and Ben Lapidus on guitar.
Trudeau's Puerto Rican mother gave her a deep love of Spanish popular music, and her further research has made her a most authoritative source of information about the traditions, songs and singers, including the renowned Chavela Vargas, whose life story reads like a melodrama right out of the movies.
Stephanie Trudeau stands befoore projections of Frida Kahlo
Vargas' mother deserted the family, and her father, never convinced that Chavela was his, sent her to live with relatives. She ran away at the age of 14; lived in the red-light district of Mexico City, sang on the streets and in bars, was discovered by great ranchera singer/songwriter Jose Alfredo Jimenez, and eventually became a world star. Alcoholism forced her to retire for 15 years, only to be rediscovered at age 74 and returned to stardom, singing into her eighties. Along the way she lived with Diego Rivera and Frida Khalo (the love of her life), was cast in movies by Julie Taymor and Werner Herzog, became the muse of Pedro Almodovar, made her Carnegie Hall debut in 2003 at the age of 83, and even sang at the wedding of Liz Taylor and Mike Todd when they married in Mexico!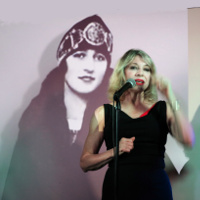 Stephanie Trudea before projection of famed Cuban courtesan Macorina.
The addition of projections adds another dimension as Trudeau sings, with love and passion, a repertory of Cuban and Mexican (many by Jimenez) songs in Spanish, and occasionally in English translations. Trudeau's warmth, charm, and love of her subject reached out into the audience, and I understand that she has already been invited back for a reprise June 26.
Pangea obviously knows a good thing when they see it! [PB]