"Pixie in Gold Lame"
Tovah Feldshuh with "On, Off, and Now Under Broadway!"
54 Below, 254 West 54 Street
Opened February 7, 2013
Thurs.at 7:00 PM, Fri. and Sat. at 8:30PM
Cover charge Tues-Thurs: $35 - $55 per person. $25 food and drink minimum.
Closes February 9, 2013
Reviewed by Elizabeth Ahlfors February 7, 2013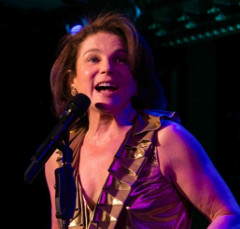 The pixie in gold lame, Tovah Feldshuh. Photo by Stephen Sorokoff.
Ya gotta say, Tovah Feldshuh is an entire vaudeville show wrapped up as one sprightly imp. She makes her "under Broadway debut" at 54 Below, singing, telling stories, cracking jokes and sharing memories. She is a zesty, zany powerhouse who scampers onto the stage and never rests. When she sits, it is to morph into one of her characters, like the old man in the park trying to stay positive and treasuring his memories, or evoking the image of her Grandma Ada who urged her to persevere even when young Tovah wanted to be an actor. "Reach for the stars and you may get to the roof, " she told Tovah. "If you reach for the roof you may never get off the ground."
Accompanied by pianist Jesse Kissel, actress/singer/entertainer Feldshuh, brings the added drive of comedy to her characters and her songs. She pokes fun of herself. Pointing at her low-cut lame top, she quips, "I told my husband, who is in the audience tonight, that if he finds these acorns, he can have them." She pauses to shake her head and admit, "It's shocking how filthy I can be." She finds new looks at old songs, like taking, "He Touched Me" and giving it the slightly perverted slant of an uptight woman in the subway. An audience pleaser was a musical claim once declared by Sophie Tucker, "I Don't Want to Get Thin."
Tovah Feldshuh in character. Photo by Stephen Sorokoff.
A native New Yorker, as if you couldn't tell, Feldshuh finds the humor and humanity in city people. There is Muffie, the uptown lady who is forced to ride public transportation (shudder), shoulder to shoulder with other subway riders. She evokes a nasally-challenged Molly Kelly Kugelberg, an 8-year-old from a mixed family ("a lapsed Catholic and a cultural Jew.") Characters who display a measure of depth lend a promise of even further development. For example, her Jewish characters come to life, like Sylvia Chronic, the depressive radio talk-show host on WYOY. Less convincing are her snapshot versions of a street kid's rap and the matchless outlook of Sophie Tucker. Sylvia Chronic belongs to Tovah, unlike Sophie Tucker, who is evoked by many other performers.
Feldshuh has a fairly secure vocal tone, opening her show with arms wide open and an optimistic belt with Alan Jay Lerner and Burton Lane's, "On a Clear Day You Can See Forever." She remembers an early Broadway show she worked in, "Sarava!" and delivers a simmering if not smoldering "Old Black Magic." She was most successful combining family with song. George Gershwin was her family's composer of choice and Feldshuh was moving as she remembered how, as a little girl, she learned to dance with her father to "Lady Be Good," "I Got Rhythm," and "Fascinatin' Rhythm'." Her father sang off-key but opened his daughter's eyes wide to the music that came from the immigrants on the Lower East Side and, with jazz, evolved into the Great American Songbook. Not only did she learn to appreciate George Gershwin but also American standard songs.
Directed by Eric Michael Gillette, the irrepressible Tovah neatly wrapped up this poignant family segment and the upbeat spirit of the show with "I Wish You a Waltz" from "Stardust Ballroom" and "Neverland" ("Peter Pan").