The Time Is Now
"Hidden Treasures: The Songs of Larry Kerchner"
Benefiting The Michael Feinstein Great American Songbook Initiative and The Mabel
Mercer Foundation
York Theatre (at St. Peter's),
619 Lexington Avenue at East 54 Street). 212-935-5821
November 5, 2012
Reviewed by Elizabeth Ahlfors November 5, 2012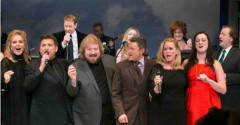 "Hidden Treasure" cast members at the York Theater. Photo by Stephen Sorokoff
Times change but human sentiments remain. From Cole Porter to Dolly Parton, the best songwriters are craftsmen who fit expansive universal feelings to music in a straightforward way. They appeal to the man in the street. They stamp the zeitgeist of jubilation, fury, romance, heartbreak, humor, depression, treasured memories and secret dreams of everyday people. Some songs linger on to become standards that touch audiences for years and even generations.
While the 1920's through the 1950's are usually considered the golden years of the Great American Songbook, some contemporary songwriters continue to respect the classic form and rhythms, reflecting modern experiences. One example is Larry Kerchner, a talented composer, lyricist, arranger, producer, and conductor from Delaware.
In a one-night-only benefit for The Michael Feinstein Great American Songbook Initiative and The Mabel Mercer Foundation, 22 of Kerchner's songs were performed by a lineup of formidable singers and a grade-A sextet led by musical director/pianist, Hubert "Tex" Arnold. Fluently directed by Raissa Katona Bennett, Kerchner's songs displayed a banquet of comedy, sensuality, country, and sentiment.
Larry Kerchner at the York Theater. Photo by Stephen Sorokoff
Framing the show were two toe-tappers performed by Dennis Chiccino. "Uptown" swung the show into action with a Harlem feel. To close, Chiccino ignited a red-hot spark in, "Down At Mama Jones," calling the whole cast onstage with him for a fiery finale. Also in a swinging mood was high school junior, Nick Ziobro, winner of the 2012 Michael Feinstein Great American Songbook Initiative. He did his homework on the canon of Ol' Blue Eyes, smoothly working the stage with Kerchner's finger-snapping, "Sinatra."
Kerchner persuasively delves into diverse genres. Substituting for La Tanya Hall, Laurel Massé was a knockout with the sensuous, "Wicked Thoughts." Jazz violinist Sara Caswell played her haunting violin behind Hilary Kole's provocative lure of "The Gypsy." Undeniably romantic was "The Measure of My Love" sung by Kevin Spirtas as well as Eric Rudy and Stacy Sullivan's duet, "If You Believe." Shana Farr elegantly interpreted the charm of, "Somewhere in Time" (written with John Barry). Jill O'Hara's swaying boss beat with, "The Time Is Now" and Raissa Katona Bennett's, "The Story of My Life," were both enveloped by meditative drama.
Honest feelings of sincerity without melodramatic edges were at the heart of Tom Vaughn's touching delivery of, "Home" while Caitlin Kerchner (the songwriter's daughter), neatly developed the sweet nostalgia of her childhood doll, "Raggedy Ann." Karen Oberlin's rendition of "Winter in Manhattan" portrayed all the markings that make a holiday classic. If you remember Jimmy Durante, you had to smile as Massé recalled his traditional show-closer, "Goodnight, Mrs. Calabash." Producer Sandi Durell and Randie Lavine-Miller reminisced like "Old Friends" and Eric Comstock and Barbara Fasano were convincingly, "Still Friends."
Picking up the pace, Colleen McHugh nailed the down-home sass and snap in, "Just What's On the Menu' ("-- that's all that I can serve/ 'Cause I am not that kind of girl, and I think you got your nerve!). This waitress lament could place its name on the Country Top Ten. Ditto with Erica Scanlon Harr's cheeky R&B flavored, "Ring, Ring." ("And, zing! Here's your wake-up call!"), telling her wayward man he's busted! Sidney Myer's hilarious "A Jewish Christmas" was priceless. Also hilarious was Jeff Harnar's Eastern European accented, "What's Your Phobia?" ("Does your phobia/ Involve a problem down below-bia?/ Perhaps it's in your frontal lobe-ia/ I could check you head-to-toe-bia").
"Yip" Harburg said: "Words make you think thoughts. Music makes you feel a feeling. But a song makes you feel a thought." Larry Kerchner's music reflects these sentiments just as Donald Smith treasured them through the Mabel Mercer Foundation and as Michael Feinstein devotes his efforts to his Great American Songbook Initiative.