Bemused, Bothered and Bewildered

Christine Andreas
54 Below, 254 West 54 Street
Opened October 1, 2012
Tues. through Sat. at 7:00PM
Music Charge $30, $40. $25 food and beverage minimum
Closed October 8, 2012
Reviewed by Elizabeth Ahlfors October 8, 2012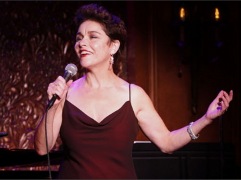 Christine Andreas at 54 Below. Photo by Joseph Marzullo.
Calling a show "Bemused" (or is it "be-mused"?) might evoke some bother and bewilderment in Christine Andreas' 54 Below audience. After a rhythmic, jazz-styled opener, "Get Happy," Andreas explained that the reason for the title was a play on words, reading "bemused," as "to be mused," the musical click that happens when just the right singer and just the right songwriter click.
"Get Happy," for example, was written by Harold Arlen (with Ted Koehler) in 1930 and became a Garland trademark in "Summer Stock," her 1950 film although musically, Garland and Arlen had already clicked years earlier. Incidentally, Arlen composed a couple of other signature songs for Garland -- "Over the Rainbow" (lyrics by Yip Harburg) and "The Man That Got Away," (lyrics by Ira Gershwin). For this show, however, Andreas shrewdly decided here that the infectious swing of, "Get Happy" pointed the way to a catchy hour-plus of great tunes and great collaborations.
While Andreas sparkles with an up tempo tune, she is sumptuous with ballads, sinking into her torchers with dramatically nuanced acting and well-controlled vocals. During WWII, Arlen wrote "Happiness Is Just a Thing Called Joe" for Ethel Waters in the film, "Cabin in the Sky." Andreas scores with this ballad, bringing to life the story of an impoverished woman sharing her fierce love for the only thing she possesses, her man, Joe. With a smoky sultriness, Andreas' tone sunk deep and low with the line, "Does he love me good, that's all I want to know." Her captivating trill brought a lilt to the words, "easy go," in the line, "Troubles fly away and life is easy go," evincing a bubbly sip of champagne that this struggling woman could never afford. It was a memorable rendition of a provocative song.
Andreas' style reflects the phrasing of Frank Sinatra, her lines flowing smoothly, her stress and phrasing animating the story. This was evident in her soaring rendition of an early Sinatra hit, "All My Tomorrows," one of many written for him by Jimmy Van Heusen and Sammy Cahn. After a sprightly medley of Sinatra/Cahn/Van Heusen's swinging hits, she settled back with the nostalgic, "The Summer Knows," by Michel LeGrand with Alan and Marilyn Bergman, evoking an emotional remembrance about one brief moment of time. Adding Jimmy Webb's, "Didn't We? to Sinatra's musical collaborations, she followed with Webb's haunting, "The Moon's a Harsh Mistress," one of the writer's many songs adapted by Glen Campbell.
With Kenny Asher on piano and Dick Sarpola on bass, the show was a well-chosen mix of seduction and fun. Andreas delivered a sexy taste of bossa nova, the playful collaboration of Jerome Kern and Fred Astaire in "Swing Time" and an insightful rendition of Burt Bacharach and Hal David's, "Alfie," a hit for the writers' muse, Dionne Warwick. Commenting that lyricist, Lorenz Hart, was particularly taken by actress Vivienne Segal, who portrayed Vera, the fascinating, wealthy ex-stripper in "Pal Joey," Andreas morphed into Vera's tale with all the saucy, seductive verses of, "Bewitched, Bothered and Bewildered." Bewitching herself, Andreas ended her show with her own trademark textured interpretations saluting Edith Piaf whose friendship with songwriter Marguerite Monnot resulted in the ferocious, "Milord." Piaf wrote a signature song for herself. "La Vie En Rose," with Piaf's lyrics to Louis Guglielmi's tune, became one of Andreas' own trademark renditions as well.
There is not a singing style or composer's songbook that this enchanting entertainer cannot illuminate with indelible charm, wit and elegance. A class act, Christine Andreas secures an important place in the intimacy of the cabaret world and hopefully, her next engagement will be longer.