So Nice to Come Home To
John Pizzarelli and Jessica Molaskey with "This Must Be the Place?"
Café Carlyle
980 Madison Avenue (at 76th Street). (212) 744-1600
Opened November 1, 2012 (Original Oct. 31 opening was cancelled due to Hurricane
Sandy)
Tues. through Sat. at 8:45 PM. Sat. second show at 10:45 PM
Cover charge Tues-Thurs: $90 per person ($50 bar seating; $135 premium seating) Cover
charge Fri-Sat: $100 per person ($50 bar seating; $150 premium seating)
Closes November 24, 2012
Reviewed by Elizabeth Ahlfors November 2, 2012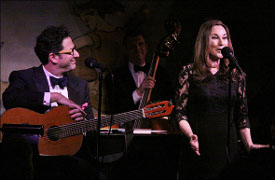 John Pizzarelli and Jessica Molaskey at Café Carlyle. Photo by Joseph Marzullo, O&M Co.
"The ache for home lives in all of us, the safe place where we can go as we are and not be questioned." -- Maya Angelou.
At the Café Carlyle, John Pizzarelli and Jessica Molaskey, the jazz world's Bogie and Bacall, cool and simmering at the same time, are examining concepts of home. With an undercurrent of suffering from Hurricane Sandy's destruction resonating even in the posh Café Carlyle, their sophisticated exploration could not be more timely or universal.
Cherishing the refuge and longing for the safety that home offers, they decide (sort of) that, "This Must Be the Place?" (Note the question mark). Opening with David Byrne's "This Must Be the Place," they transmitted the loss in a world blocked with complications, ("I can't tell one from another/ Did I find you, or you find me?"). This was paired with John Lennon and Paul McCartney's "The Two of Us," still on the road, heading back home. These two songs set the show's journey of questioning, searching, and aching for that place of safety, roaming with breezy wit and musicianship to Kalamazoo, Avalon and even Pizzarelli's thoughtful trip on a train.
Standards like Pizzarelli's encore, "Walking My Baby Back Home" were as comfortable as an easy chair while Molaskey's stunning delivery of a song James Taylor wrote about his brother's death, "It's Enough to be On Your Way," plaintively addressing the permanency of a loved one's death. With the band, Larry Fuller on piano, Tony Tedesco on drums, and. Martin Pizzarelli on bass, driving the travel rhythms, Molaskey began Pat Methane's evocative, rhythmic "Last Train Home" and Pizzarelli joined her moving into Simon and Garfunkle's "Homeward Bound," a portrait of defeat yearning for the restoration of home, wherever it was.
Molaskey's expansive vocals were rich and confident as she delved into Joni Mitchell's articulate, "Marcie," shooting an arrow into the heart of a woman abandoned by her love and waiting for his return as the seasons pass. The punch of disappointment was palpable as Molaskey nuanced the emotional layers never veering toward melancholia. Equally poignant was Pizzarelli's tender offering of "No More" from Stephen Sondheim's "Into
the Woods." The pain of rejection was also reflected in Molaskey's rendition of Tom Petty and Jeff Lynne's's "Free Falling" ("And all the bad boys are standing in the shadows/ All the good girls are home with broken hearts") and Pizzarelli's delivery of another Joni Mitchell ballad, "Free Man in Paris."
Interspersed with the meditative musing was the free-wheeling thrill of Pizzarelli fiercely strumming his guitar, flying fingers and scatting to "Avalon," accelerating as he traded fours with Larry Fuller until the sounds of guitar, piano and Pizzarelli's scatting were all one voice. The couple brought special excitement to "Perdido," where Molaskey showcased her considerable songwriting chops adding a vocalese lyric to Duke Ellington's arrangement. She also provided lyrics to Benny Goodman and Lionel Hampton's "Flying' Home." However, it was her encore with Ricky Ian Gordon and Tina Landau's "Finding Home," that, with final elegance, put together the concept of keeping home in your heart and your mind, "in the gestures that you know."
The ache for that safe place Maya Angelou described was smartly targeted with easy sophistication and savvy depth. In the aftermath of the East Coast's "perfect storm," the polished Pizzarelli-Molaskey team, vibrant with unmatched musicianship, wit and optimism, delivered the "perfect show."