Uptown Girl

"Smile" with Andrea Marcovicci
Café Carlyle – 980 Madison Avenue (at 76th Street). (212) 744-1600
Opened October 2, 2012
Tues. through Sat. at 8:45 PM. Sat. second show at 10:45 PM
Cover charge Tues-Thurs: $75 per person ($45 bar seating; $125 premium seating)
Cover charge Fri-Sat: $85 per person ($45 bar seating; $135 premium seating)
Closes October 27, 2012
Reviewed by Elizabeth Ahlfors October 2, 2012
Andrea Marcovicci in her new show at the Café Carlyle, "Smile." Photo by Stephen Sorokoff.
After 25 years as the bright star of the Algonquin Hotel's Oak Room holiday season, Andrea Marcovicci has moved uptown to the posh Café Carlyle. Before a sparkling opening night audience, taut and radiant in a glittering platinum backless gown, and despite an edgy political atmosphere, this eternal romantic strolled in strumming a ukulele to, "It's Only a Paper Moon" and "Life Is Just a Bowl of Cherries." Recession or not, she makes us believe in the power of a smile.
Her new show, "Smile" is a compilation of songs that have reflected the hearts of listeners through good times and bum times and often linger through generations. Marcovicci examined the music for various explanations of happiness, how we often must sift through the clouds for silver linings and the chances we may have to take. For her, it's all worth it.
While most of her shows are known for specific, well-researched themes -- World War II love songs, Johnny Mercer, Rodgers and Hart, Frank Loesser, in "Smile," the theme is Andrea herself. With her optimism, wit and a mature sexiness, she absorbs the spirit and subtext of the songs and peppers them with references to her own life and to the eras of the songs ranging from flappers to flower power and beyond. Her props on the piano include a photo of Fred Astaire, one long white glove that belonged to the incomparable sophisticate, Hildegarde, and a photo of an old jazz band, and they all add layers to her selections.
Besides the light, silly tunes, like her good-hearted, two-song salute to Bing Crosby, "Zing a Little Zong" and "Mairzy Doats," Marcovicci includes the hilarious cynicism in "Shakespeare Lied" (from "How Now, Dow Jones?"), looking brashly in the face of lyrics like "Shakespeare lied when Juliet died/Romeo didn't get up and commit another suicide." Then, with an actress' timing, she slams you with the point of the song, "He got over it!" "Look at Those eyes" is a touching song dedicated to her daughter and of course, she loves to sink into the ballads, notably what she called a "kissing moment" pairing of "If I Had You" and "It Had to be You." In one of the few dark moments, she rendered an intent trio of, "I Asked the Moon," "I Wanna Be Happy" and "It All Depends on You." There is no rehab for this kind of addiction.
The Café Carlyle is a comfortable space for her, with the audience close and around her and she relishes in audience contact. Marcovicci's voice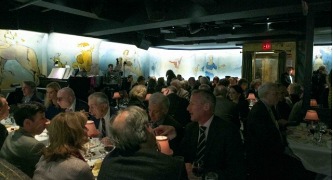 The Café Carlyle audience on October 2, 2012 for "Smile." Photo by Stephen Sorokoff.
was never the strength; her appeal was always about charisma and love for the genre. This year, however, her voice is better than I've heard in years, with a secure lower register. She holds long lines and hits notes squarely and is tightly connected to every word she sings.
Music director and pianist Shelly Markham, bassist Jered Egan and guitarist Jack Cavari provide spirited rhythms, encouraging Marcovicci's inner jive side, demonstrated in a stylized "12th Street Rag." As an encore, she chooses the lovable Lennon and McCartney tune, "When I'm 64," quipping, "Remember when that sounded old?" She ends with the title song, Charlie Chaplin, John Turner and Geoffrey Parsons' "Smile," thoughtfully emphasizing the need for resilience, optimism, and grit. As Dorothy Fields wrote, "Pick Yourself Up (Dust Yourself Off and Start All Over Again)."
Marcovicci includes an unfamiliar verse from "Life Is Just a Bowl of Cherries," that reflects the spirit of the show, proving why searching for that often slippery concept of happiness is well worth taking risks.
"Why are we here? Where are we going? It's time that we found out.
We're not here to stay; we're on a short holiday."