All About Love
Tony DeSare with "Making Love Songs"
54 Below, 254 West 54 Street
Opened October 2, 2012
Oct. 2-6, 12 & 13 at 8:30PM and.Oct. 9-22 at 9:30PM;
Music Charge $30, $40. $25 food and beverage minimum
Closes October 13, 2012
Reviewed by Elizabeth Ahlfors October 12, 2012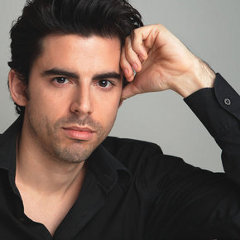 Tony DeSare. Photo by Bill Westmoreland
"This show is all about love," declared Tony DeSare, and with his piano pizzazz, velvet vocals and songwriting savvy, he brought a vivacious "Wow!" to his eclectic new songbook, "Making Love Songs," at 54 Below. He turned the phrase, "All About Love," into a jaunty opening song, a window to an hour of well-crafted standards, show tunes, and sharp originals. Just after his opener, De Sare and his quartet – Mike Klopp on drums, bassist Steve Doyle and Edward Decker strumming hard and fast on guitar – raced into a vigorous, "Somebody Loves Me," written in 1924 by George Gershwin.
Instrumentally, De Sare has a stunning range of piano styles and showed them off in Joseph Kosma's "Autumn Leaves" that had inspired ballad versions by Nat King Cole, Johnny Matthis and a Top Ten piano instrumental hit by pianist Roger Williams. De Sare took the nostalgic jazz harmonies apart and reconstructed them with flashy spins of R&B, baroque, Latin rhythms, a muscular stride, blues, and a jazz spin on the original sentimental warmth that made the song such so popular. Later, illustrated with a video, he demonstrated "I Got A Lot To Say," using a potent technology and artistry mix to render sounds of guitar, bass and drums on a Yamaha Disklavier DCFX performance-reproducing piano.
The amiable DeSare, who has described himself as shy person, showed a confident performing ease, meandering among the tables, serving Bruce Springsteen's "Fire" to the audience before sprinting back to the piano for a high-powered rendition of "Great Balls of Fire," tossing in some Jerry Lee Lewis pounds with his heel on the keyboard. One of the few ballads in this show was "Faithfully," Journey's message of the love and loneliness of a traveling man's life.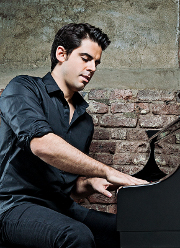 Tony DeSare at the piano. Photo by Bill Westmoreland
De Sare, evolving from the Sinatra/Bennett/Torme school of interpretation, has held a long-time affinity for standards. He once commented that as a teen, his friends were into Nirvana, and he was listening to Sinatra. In this show, he included tunes like Cole Porter's, "Just One of Those Things" and a hard swinging evergreen, "Just In Time" from "Bells Are Ringing" by Jules Styne, Betty Comden and Adolph Green. The crafting of those songs, and how the best of the best were singing them, influenced De Sare vocally and in composing. His catchy, "New Orleans Tango" has the catchy sensuous rhythm with some deliciously sexy tingling piano notes. Standing out was an original ballad, "How I Will Say I Love You?" with a smart poignancy that says, "Break my heart/ I'll still be glad I found you."
DeSare got his Manhattan start in 1998 at the Windows of the World at the World Trade Center, moved on to the Marriott Marquis, eventually the Apollo Theater, and on to recording, world-wide touring and performing Off Broadway in the long-running, "Our Sinatra." He wrote an advertising jingle, "East to the Sea," for the Hampton jitney, and he regularly performs in Bemelman's Bar at the Café Carlyle. With understated charm and energized talent, Tony De Sare continues to demonstrate his evolving musical authority.