Arts Mixtape
"My Mother's Courage" by George Tabori
It is ironic that George Tabori (1914-2007), a prolific, cosmopolitan "theatre maker" (his preferred title) has been rather invisible in the theatrical landscape of New York for the past several decades; except for the 2017 production of "Mein Kampf" directed by Manfred Bormann at Theater for the New City, NY, his work has been absent. However, on May 10 and 11, a very special theatrical event took place in a very special theatrical setting: George Tabori's intimate two-character play, "My Mother's Courage" was performed at Torn Page, a true chamber theater in Manhattan. By Beate Hein Bennett.
Western Wind 2021 Holidays Concert
Presented by live at the Church of St. Luke in the Field, NYC, and online, Western Wind Vocal Sextet delighted with "The Light Returns: Joyous Music for the Holidays." As always, Western Wind can be counted upon to present an evening of rarely heard, carefully researched, and beautifully performed holiday music in several languages and from around the world. By Paul Bersss, who declares "Having now seen two Western Wind concerts, I again commend them on their outstanding musicianship, their unpredictability, and their daring and scholarly programming."
New Sounds: Mari Kimura and Joseph Kubera at Roulette
New sounds took center stage at Roulette on November 18, 2021 as the composer/violinist Mari Kimura and pianist Joseph Kubera performed an evening of contemporary chamber music. It was the second concert of the 32nd season of Interpretations, a series that focuses "on the relationship between contemporary composers and their interpreters." By Brad S. Ross.
LA actress creates a newsletter for performers in quarantine
As showbiz changes, so do actors' needs and the ways they get information. Covid-19 has dealt a knockdown (but not, we trust, a knockout) to the performing arts. So the needs of actors as individual artists--to remain engaged, to grow artistically, to keep mind and body together--have shifted. An admirable resource for them is Jenna Doolittle's newly-created Actors Quarantine Newsletter, which launched March 20, 2020 as an email to 39 people and has gained a readership, as of this writing, of about 5,000. All subscribers have come through the actors' grapevine.
Spiderwoman Theater workshops "Misdemeanor Dream"
Spiderwoman Theater's "Misdemeanor Dream" echoes vaguely Shakespeare's fantasy, "A Midsummer Night's Dream" in which shape shifting fairies, gods, rulers, boys and girls, and "rude mechanicals" gambol through a mythical forest. However, while "Misdemeanor Dream" is also a gambol through a mythical landscape of no-time and all-time, the word "Misdemeanor" in the title refers to hurtful behavior. Native experience in encounters with the invading European (white) dominant culture in the Americas has been mostly unjust, deadly violent, genocidal even, but these crimes have been downgraded in the dominant popular histories of Europeans as misdemeanors—"a slap on the hand." By Beate Hein Bennett.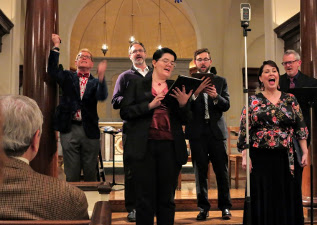 L-R: Todd Frizzell, David Vanderwal, Elizabeth van Os, Elijah Blaisdell, Linda Lee Jones, Eric S. Brenner.
Western Wind Vocal Ensemble in 2019 Holidays Concert
Unlike holiday music performances that offer renderings of "Jingle Bells," "Silent Night" and "Santa Baby," the Western Wind presented a scholarly, dazzling display of wide-ranging musical knowledge and impeccable taste when the venerable organization delighted a packed house in the Church of St. Luke in the Fields with an evening of music for the holiday season. The wonderfully original program included Christmas and Hanukkah songs, selections from Debussy and Poulenc to Charles Ives, and singing in Ladino, Native American, English, Hebrew and French.
Publicity photo for Nancy Redman
Nancy Redman's still got it.
Well-known comic and actress Nancy Redman kept the audience at Theatre Row in splits with her one-woman show, "At Wit's End: A Home for Retired Comics," directed by Bill Cosgriff. In a red shirt, black trousers and a walking stick, she makes her way to the stage which is nothing more than a bare set up with a desk, chair and a hat, and a screen displaying Redman in her younger comic days. She's the fourth-floor representative at a nursing home for retired comics and we're all residents. A clever premise, indeed, one that works not just for the seniors in the audience but also for the younger lot such as our reviewer Lyle Andrew Michael.
Claudia Corrieri Literary Prize
Students of Terry Knickerbocker Studio in Brooklyn and Barrow Group Theater Company and School in Manhattan will be able to apply for scholarship grants to study acting, playwriting or screenwriting, thanks to a fund set up by Claudia Corrieri, an actor/singer-songwriter, who hopes to encourage emerging writers to grow and challenge themselves. By Muriel Hanover.
Nathalie Schmidt is a French star in the Internet's new web series wave
Why does an accomplished French theater and film actress want to act in an American web series? Nathalie Schmidt stars in "I Do," a story set in Brooklyn about Zoe and her screwball attempts to catch a husband. Each episode will be about another prospective guy. By Lucy Komisar.
The Stratford Festival in Ontario
Philip Dorian attended the 2019 Stratford Festival in Ontario, reviewing four of the season's twelve productions, "Merry Wives of Windsor," "Othello" and two musicals staged by Donna Feore, "Billy Elliot the Musical" and "Little Shop of Horrors."
A Night at the Opera
Fusion Theatre's Eilin O'Dea and Bryon Singleton, accompanied by pianist Brian Holman, certainly did not take an easy route in their concert "A Night at the Opera." Seeing a concert with these renowned arias up close and personal, Paul Berss was struck by the extraordinary talent, training, courage, and sheer athleticism called for in grand opera.
Dreams of Illumination
In "Dreams of Illumination," Alessandra Belloni, a renowned percussionist and authority on Southern Italian traditional music, dance and theater, had the winning idea of presenting music that celebrates peace and healing representing three different cultures. This was realized at Theater for the New City with the presentation of her own I Giullari di Piazza (The Jesters of the Square), members of the Native American SilverCloud Singers and Dancers and African percussionist Kevin Nathaniel. The uniting of these three cultures--Southern Italian, African, and Native American--provided a unique and much appreciated experience for the audience, which included Mayor de Blasio and his wife. By Paul Berss.
Communication and Relationship
Director Robert Kalfin and costume designer Gail Cooper-Hecht reveal the secrets of a successful designer-director collaboration in preparation for an Off-Broadway show, "The Property." By Anita Tenjiann.
A Meeting of Strategic Minds
This week at the Graham Center of Contemporary Dance, works of London-based composer Arlene Sierra and choreographer Susan Vencl meld, despite their geographical distance. Uniting the two women is a similar perception of logic and the empirical in art and the creative process. By Muriel Hanover.
Penny Arcade's "The Girl Who Knew Too Much"
After three years of touring her one woman show, "Longing Lasts Longer," around the world, the eminently quotable performance artist Penny Arcade, an uncanny in your face truth-telling Cassandra that people actually believe, is back at Joe's Pub at NYC's Public Theatre. By Ed Rubin.
Jerry Tallmer archives go to Columbia
The writings and archives of legendary arts journalist Jerry Tallmer (1920-2014) have been added to the Performing Arts Collections of the Rare Book & Manuscript Library of Columbia University's Butler Library, 535 West 114th Street, where they join the papers of a number of important journalists and critics, including Harrison Salisbury, Herbert Matthews, Andrew Sarris, Judith Crist and others.
Three plays for Word Holocaust Day
World Holocaust Day is January 27. Three plays which will be performed here in New York in the next few months all do what theatre can do: to present through individual voices individual stories of history lived by individuals whose names never graced the history books. Steven Spielberg's repository of oral history which he began in 1994 in order to capture the myriad fates as told by Holocaust survivors may have inspired these writers. Human history, after all, is not abstract or a statistic but the compendium of individual lives—the individual story is at the heart of human experience. By Beate Hein Bennett.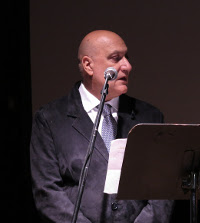 Dario D'Ambrosi
An Italian Miracle
"An Italian Miracle" was a one-time event to exhibit the work of Dario d'Ambrosi, Italian film maker, theater director and founder of the movement called Teatro Patologico (Pathological Theater), whose work with disabled persons has caught the attention of Italian policy makers. The evening's program was designed to give insight into the philosophy, techniques, and effectiveness of D'Ambrosi's relatively new venture, called "The Integrated Theatre of Emotion," a full-fledged college program in performing arts for the mentally disabled, which is gaining traction in Italy. By Beate Hein Bennett.
Douglas Turner Ward (L) and Woodie King, Jr. (R) sign sidewalk panels at Theatre 80 St. Marks.
Honoring Douglas Turner Ward and Woodie King, Jr.
Two giants of the Black theater movement of the 1960's were specially honored at a ceremony at Theatre 80 St. Marks, a small East Village theatre that has survived gentrification. The honorees are the two "grandfathers" of Black theaer, under whose tutelage serious Black theatre artists, authors, directors, designers, and actors were spawned, cultivated, and promoted for the past fifty years. By Beate Hein Bennett.
Japanese artist Kiku Sakai dramatizes the ancient Hawaiian tale of "Pele and Kamapua'a" with Kuruma Ningyo and Hula Ki'I at La MaMa.
Melding ancient Kuruma Ningyo puppetry from Japan with Hula Ki'I, the indigenous puppet folklore of Hawaii, Japanese artist Kiku Sakai will perform the Hawaiian tale of Pele and Kamapua'a at La MaMa Experimental Theatre August 27, 2015 for one night only. This workshop is a light-hearted prequel to her much-anticipated opus, "Pele and Hi'iaka," and demonstrates the cultural pluralism of this unique artist.
Theodore Bikel. Photo by Kate Hess.
Theodore Bikel: Lifetime achievement award and the screening of a new play
Glenda Frank attended the NY premiere of the film, "In the Shoes of Sholom Aleichem," which stars and features stage icon Theodore Bikel. "In the Shoes of Sholom Aleichem" illuminates Bikel's quintessenially jewish experiences with immigration to the new world, Civil Rights and anti-war activism. And Alan Alda, who narrates the film, presented a lifetime achievement award to Theodore Bikel on behalf of the now Century-old National Yiddish Theatre, Folksbiene.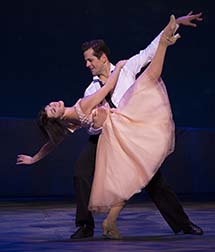 Leanne Cope and Robert Fairchild, "An American in Paris". Photo by Angela Sterlin.
"An American in Paris" and "On the Town" take Fred and Adele Astaire Awards
Sometimes theater awards shows are a chore to sit through. Lots of "thank you, thank you….." to boredom. But the Fred and Adele Astaire awards June 1 for best dancers and choreographers was a delight. Minimum "thank you's" and maximum dance. By Lucy Komisar.
MARGARET CROYDEN
Margaret Croyden, veteran theather critic and world's authority on Jerzy Grotowski and Peter Brook, dies at 92
New York, Feb. 23 -- Margaret Croyden, the well known critic, commentator, and journalist whose pieces on the theater and the arts have appeared in The New York Times in the Arts & Leisure section as well as The New York Times Magazine, died Sunday, February 22 at Lillian Booth Actors' Home in Englewood, NJ, where she had resided for two weeks due to declining health. She was 92.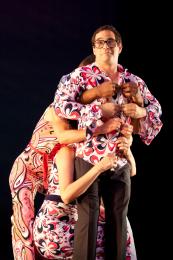 "HAPLESS BIZARRE" --Mark Gindick in doug elkins choreography, etc.'s "Hapless
Bizarre." Photo by Jamie Kraus
Clowning around like a fish out of water…
The New York premiere of "Hapless Bizarre," a delightful dance for six performers including a new vaudevillian and the reprise of "Mo(or)town/Redux", which revisits, both Shakespeare's Othello and Jose Limón's seminal modern dance, choreographed by Doug Elkins Choreography, etc. By Philip Sandstrom.
"Enter at Forest Lawn" 1 (L-R): Sarah Lemp as Jessica and Mark Roberts as Jack Story in Enter at Forest Lawn. Photo by Russ Rowland.
The Dark and Wacky Side of Life
The Amoralists proudly present The Gyre, a two play repertory exploring man's vicious cycles, featuring the World Premiere of Derek Ahonen's "The Qualification of Douglas Evans", directed by James Kautz, and the world premiere of Mark Roberts' "Enter at Forest Lawn", directed by Jay Stull. By Philip Sandstrom.
Anahid Sofian Celebrates 35 Years
The Anahid Sofian Dance Company celebrated its 35th Anniversary June 28 and 29, 2014 at Manhattan Movement & Arts Center, presenting a retrospective of its signature works and works by guest artists: Nourhan Sharif and Dancers, The Sera Solstice Ensemble, Souren Baronian Music Ensemble and Carlos Fittante & Robin Gilbert. By Barney Yates.
Reading Voices: The Art of Supertitles
We are accustomed to speaking about many disciplines of the performing arts, but the art of supertitles is almost always overlooked. Althought indispensable to world theater, this art is under-appreciated. Both mysterious art and art of compromise, supertitles is, "A way of connecting different cultures," according to Mauro Conti of Presscott Studio in Italy. By Claire Taddei.

Singing and Dancing towards the Heavens.
The newest Wooster Group work directed and narrated by: Kate Valk, "Early Shaker Spirituals" is a performance based on a 1976 LP of Shaker hymns, marches, anthems, and testimony recorded by Sister R. Mildred Barker and the sisters of the Shaker community in Sabbathday Lake, Maine. The show features: Cynthia Hedstrom, Elizabeth LeCompte, Frances McDormand, Suzzy Roche with Modesto Jimenez, Bobby McElver, Bebe Miller, and Andrew Schneider. By Phiip W. Sandstrom.
Book review: "New Orleans Carnival Krewes: The History, Spirit & Secrets of Mardi Gras"
People like to parade. People like to party. People like to don extravagant or even outlandish outfits that have nothing to do with the sober stuff they might choose as workaday attire. People simply like to show off. And certain communities are celebrated for allowing citizens and visitors to do just that. One city famous, even notorious, for revelry is New Orleans, with its balls, parades, and carnivals. Mardi Gras ("Fat Tuesday") may literally be only a single day: the day preceding Ash Wednesday, which opens the penitential season of Lent. But in New Orleans the Mardi Gras spirit seizes the city weeks before that and never really leaves it.

"Daylight Precision" by Douglas Lackey
Jerry Tallmer, who served in World War II as a radioman on B-25 bombers, previews "Daylight Precision" by Douglas Lackey, a play that takes us back to World War II and into the great controversies involving strategic bombing. In that war, the U.S. began by avoiding population centers but ended up destroying them. Lackey shows how the change came about by tracing the careers of Generals Haywood Hansell and Curtis ("Bomb them back to the Stone Age") LeMay. Over 700,000 civilians lost their lives because Hansell lost his command to LeMay and this play characterizes Hansell as the unsung tragic hero of World War II. Theater for the New City presents the provocative history play February 21 to March 16, directed by Alexander Harrington.

Dance in the Body You Have
There are a lot of life's lessons you can learn from mixed-ability companies, where wheelchairs and crutches are danced with as partners, props, or conceptual objects d'art. "The Women's Stories Project," by Kitty Lunn's Infinity Dance Theater, is one such experience. By Barney Yates.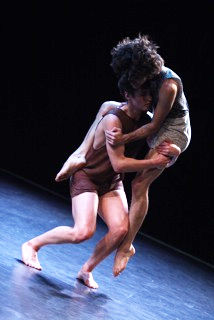 BLEED -- Michael Ingle, Silas Riener in "poem." Photo by Paula Court.
1+1+1=4
Philip W. Sandstrom interviews Tere O'Connor about his new work "BLEED" that is premiering at BAM Fisher in the Fishman Space.
Ich, Kürbisgeist
Ich, Kürbisgeist is set in a harsh, quasi-medieval landscape facing destruction, populated by a community speaking a rigorous, specific and completely invented language, where each word is a somewhat-recognizable amalgam of English, Swedish, German and Sid Caesar. Partly centered on the annual harvest, the work includes at least 100 pumpkins, with new ones needed for every performance. By Philip J. Sandstrom.
Anton Savichev&Celine Gall in "And then , one thousand years of Peacei. Photo by Jean-Claude Carbonne.
BAM presents Angelin Preljocaj's "And then, one thousand years of peace"
A work inspired by the apocalypse as conjured by St. John in the Book of Revelations and created with an international team of collaborations. Interview with Angelin Preljocaj By Philip Sandstrom.
"FIRE. WATER. NIGHT" AT LA MAMA -- The whole forest watches eagerly as Sylph and a young human fall in love. Photo by Volodymyr Klyuzko.
My first time at La MaMa
Yara Arts Group's "Fire. Water. Night," conceived and directed by Virlana Tkacz, was a sudden immersion experience for me into the international, interdisciplinary forms of theater that La MaMa is known for. This combination of dance and theatre based on Ukrainian myth was incredibly dynamic, featuring audience participation in every facet of the piece. By William Gutierrez.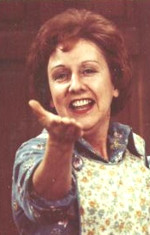 Jean Stapleton as Edith Bunker in "All in the Family:"
For Jean Stapleton: The Mingling Miracles of Edith Bunker
A sentimental goodbye to actress Jean Stapleton, best known for playing loveable wife and mother Edith Bunker on long-running sitcom "All in the Family." By Jerry Tallmer.
Horizon Theatre Rep brings Jean Genet's "The Balcony" to the 21st Century.
Director and performer Rafael De Mussa sets "The Balcony" against a contemporary backdrop at Horizon Theatre Rep. The production parallels themes of Genet's play with the current state of affairs in a world searching for leadership. By Jarrett Lyons.
"From the Edge" at La MaMa La Galleria. Photo by Adele Bossard
"From the Edge: Performance Design in the Divided States of America"
The exhibition "From the Edge,"currently on display at La MaMa La Galleria, compiles pictures and work from 37 American theatrical productions. Commissioned and sponsored by the USITT (United States Institute for Theater Technology), this exhibition represented the United States at the 2011 Prague Quadrennial, a world celebration of performance design and theater architecture. By Adele Bossard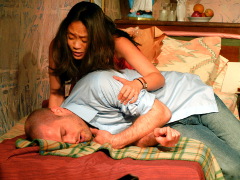 THE TENANT -- Vivian Chiu and Carson Lee in workshop of "The Tenant" by Bill Donnelly at The Producers Club, NYC in 2011. Theater for the New City will present the play November 15 to December 2, 2012. Photo by Agate Elie
The long journey of Bill Donnelly's "The Tenant" from Seoul to New York
Theater for the New City will stage the world premiere of New York-born and bred playwright, Bill Donnelly's "The Tenant." The four actor play introduces the character of Lucky Star after her migration from Korea to New York City. Lucky Star, in arriving at the doorstep of married superintendents Babe and Sam, is the catalyst for the events of the play. Interestingly the development of the play itself mirrors the characters journey, from Seoul, Korea to Manhattan. By Jarrett Lyons.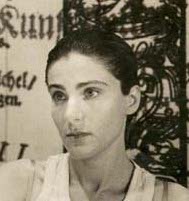 Playwright Sophia Romma.
Playwright Sophia Romma delivers a "dramafantasma" of the emigre experience through quantum verse in Negro Ensemble Company's "Cabaret Emigre."
Romma began interviewing 11 emigre's last October. All who were interviewed came from very different backgrounds but were "performers" in one way or another. Taking these stories and the performance aspirations into account, Romma sets these autobiographical stories to stage in "Cabaret Emigre." By Jarrett Lyons.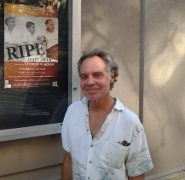 John Jiler in front of the Theater for the New City, where his autobiographical one man show, "Ripe," will debut. Photo by Jarett Lyons.
John Jiler's Confessions On Dealing With Ageing
New York native John Jiler bares his soul on Theater for the New City's Cabaret Theater stage this October. He performs his "intense and wild trip" about his dealing with his father's death as his child was in infancy, and deals with some of the existential issues that come with it. By Jarrett Lyons.
The Many facets of Jean Genet's "The Balcony"
Horizon Theatre Rep's artistic director, Raphael De Mussa and Off-off Broadway veteran Frank Licato, working together for the first time, highlight rebellion, iconography and public image in Jean Genet's "The Balcony." By Jarrett Lyons
Leandra Ramm and Reyna Whitty as Mother/Daughter pair Hester and Pearl in "A For Adultery, Paul Dick's faithful musical rendition of "The Scarlet Letter." Photo by Adele Bossard
Forget Spark Notes--take your kids to "A For Adultery"
Literary History buffs unite! "A for Adultery," an unusual version of "The Scarlet Letter," will be presented at the Little Time Square Theatre of Roy Arias Studios and Theaters September 14 to 30, 2012. It's unusual in that, in our age of postmodernism, this is a musical that is actually quite faithful to the Nathaniel Hawthorne classic. By Jarrett Lyons.
The Joshua White Light Show
The Joshua White Light Show
Philip Sandstrom delves into lighting's psychedelic past as he interviews Joshua White of the famed Joshua Light Show, known for ground breaking expressive light shows that first appeared in the 1960's at the Filmore East, a live music venue, on 2nd Avenue in New York's east village that is long gone. He made an art of this special type of improvised lighting manipulation that served as a visualization of live music. Harking back to his original techniques, White sheds some illumination onto the workings of his Light Show team and talks about how this team of improvising lighting manipulators will create designs of the moment, in a collaboration with the improvisatory musical artists featured in six unique shows at the Skirball Theater this September, 2012.
FOR PETE'S SAKE -- (L-R) Alfredo Diaz, Joe Capozzi, David G. Beck. Photo by Benny Cuppini.
Using theater to explore victim blame--it's an artistic healing tool
Joe Capozzi, a Ridgefield, New Jersey native who was raised with a "great, middle-class upbringing," explores the sexual abuse he was subjected to by a local pastor in his adolescence. He writes and stars in "For Pete's Sake," "an artistic healing tool" that attempts to educate those who would wonder why and how survivors of sexual abuse could let the abuse go on and why it is often so hard to come forward with the truth. By Jarrett Lyons.
54 Below: It's Delightful, It's Delovely, It's Deluxe: It's Broadway's New Living Room.
Broadway is the name and cabaret is the game. 54 Below is the new boîte created literally in the underbelly of the legendary Studio 54, once the disco club in town and now a Broadway theater featuring Roundabout Theatre Company productions. With major theatricality going on upstairs, the cabaret below the sidewalk, not associated with Roundabout, evokes a separate aura and a definite illusion. By Elizabeth Ahlfors.
Opera set in Stalin's era premieres at LaGuardia High School
Two Broadway artists and the real-life high school that inspired the movie "Fame" have put their heads together to create an opera about artists trying to make a movie musical in Stalin's Russia. "Life of the Party," by the husband and wife team of Nell Benjamin and Lawrence O'Keefe -- known for their work on the Broadway show "Legally Blond: The Musical," as well as "Cam Jansen" and "Sarah, Plain and Tall" for Theaterworks USA -- was written for New York City's Fiorello H. LaGuardia High School of Music & Art and Performing Arts. Benjamin and O'Keefe said their work was inspired by an 1997 documentary, "East Side Story," about Soviet movie musicals that tried to be both ideologically correct and entertaining. By Ellen Freilich.
Photo by Julieta Cervantes
A children's folk song animates a dance made in silence
"Pinguli, Pinguli," choreographed by Nelly van Bommel, draws upon multiple cultures and dance forms, the choreography is a unique blend of theatricality, humor, and raw athleticism. A work for nine dancers that explores community rituals and practices, is set to traditional music from Sardinia, Sicily, and Greece, sung by celebrated singer Savina Yannato. By Philip W. Sandstrom.
Movement explores brain mapping.
The Brodmann Areas is a new ballet that delves into the gaps and synapses that define the 52 areas/regions of the cerebral cortex of the brain. Vast and complex, these areas form a web of collaborations among different parts of the brain. At its basic level, these are the areas responsible for our interpretation of sight, sound, touch, smell, taste. As science continues to map the mind and its methods of perception, this ballet ventures into decoding the impulse to action and the movement of language. An interview with Julia K. Gleich by Philip W. Sandstrom.
"Double Toss" (1993) Photo by Johan Elbers.
4 Walls/Doubletoss Interludes
Philip Sandstrom interviewed Robert Swinston, Artistic Associate of the Merce Cunningham Dance Company about the creation of "4 Walls/Doubletoss Interludes." Esteemed Russian pianist Alexei Lubimov gave the Moscow premieres of several works by John Cage in the 1960s. He has since performed an extensive repertoire on stages throughout the world, ranging from Lincoln Center to the Salzburg Festival. In this program, Lubimov plays Cage's Four Walls [1944] with a new staging of Merce Cunningham's Doubletoss [1993], arranged by Robert Swinston. Performed by former Merce Cunningham dancers, "4 Walls/Doubletoss Interludes" is a unique merging of the voices of Cage and Cunningham, interpreted by artists deeply influenced by them.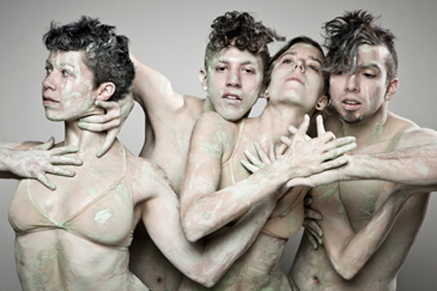 "Duel" directed by Sidra Bell.
Sidra Bell's "Duel"
Philip Sandstrom interviews Sidra Bell as she prepares her production of "Duel" at Baruch Performing Arts Center in Manhattan.
Stephanie Skura's "Two Huts."
Stephanie Skura's "Two Huts"
Philip Sandstrom interviews Stephanie Skura as she prepares her production of "Two Huts" at Roulette Space in Brooklyn.
Lorna Luft album cover
A Tribute to Judy Garland and The Art of American Movie Dance
Town Hall's Seventh Annual Broadway Cabaret Festival concludes with "A Tribute to Judy Garland and The Art of American Movie Dance" hosted by Scott Siegel with Lorna Luft and Susan Stroman. By Paulanne Simmons.
Songs My Mother Taught Me
In "Songs My Mother Taught Me," Lorna Luft combines the repertoire that audiences associate with her mother and personal memories that speak of humor and love. By Paulanne Simmons.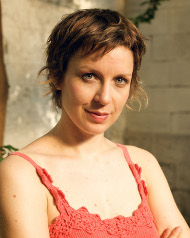 Award-winning Australian playwright Alexandra Collier, whose play "The Red Letterbox" will present at the 6th annual Weasel Festival.
6th Annual Weasel Festival: "The Red Letterbox" by Alexandra Collier
Inspired again by the genius of scribbler Mac Wellman, this year's 6th annual Weasel festival features talented playwrights Caitlin Brubacher, Alexandra Collier, Sara Farrington and Ariel Stess with director Sarah Rasmussen. This experimental festival is fast becoming an exciting platform for America's downtown playwrights who are taking over from Broadway's blandness. This year's plays take inspiration from a 1943 hard-boiled detective novel by Norbert Davis, with a whiskey swilling detective and his disapproving Great Dane sidekick, numerous corpses, and a desert road trip under the watchful eye of wise-talking vultures. All framed by the philosophic musings of Wittgenstein, the festival promises to be three nights of rapid-fire plays by wholly original playwrights working outside the canon. We talk to award-winning Australian playwright Alexandra Collier about her play "The Red Letterbox." By Georgia Clark.
Tea Party driving you crazy? Justin Krebs finds laughter is the best – and easiest – medicine. Photo by C/O David Gersten.
"Laughing Liberally: This Ain't No Tea Party"
"Laughing Liberally: This Ain't No Tea Party" mixes humor, musical numbers, video, and political satire to spread understanding of liberal ideas, advance progressive values and provoke the Tea Party. Under the direction of Justin Krebs at Midtown Theatre (author of "538 Ways to Live, Work & Play as a Liberal"), the show will feature a rotating roster of today's hottest comedians including John Fugelsang, Jim David, Dean Obeidallah, Baratunde Thurston, Negin Farsad, Lee Camp, Katie Halper, and Elon James White. We spoke to Justin Krebs about the nuts 'n' bolts of putting this show together. By Georgia Clark.
Mara Lileas as Contessa Springs and Anna Stromberg as Jackie Goldstien are mothers of an alleged cannibal. Photo by Larry Cobra.
"Bring Us The Head Of Your Daughter"
It's a racially charged love story about lesbians (one black, one Jewish), and a cannibal told with dignity. "Bring Us The Head Of Your Daughter" is the latest effort from Off-Broadway darlings, The Amoralists. Playwright/ director Derek Ahonen explains his biting examination of an sunconventional family. By Georgia Clark.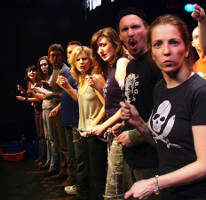 New York Neo-Futurists
Too Much Light? Never!
The New York Neo-Futurists launch the sixth year of "Too Much Light Makes The Baby Go Blind"; a lightning-paced attempt to perform 30 plays in 60 minutes. By Georgia Clark.
THE WEASEL FESTIVAL--In Corina Copp's "Waltz," a woman is falsely accused, so an angel stands ready to cut judges in two: so goes divine justice. Photo by Jamie Siegel.
Bring A Weasel And A Pint Of Your Own Blood
Mac Wellman's groundbreaking Brooklyn College MFA Playwrights adapt stories from The Apocrypha. Written and produced by playwrights from Mac Wellman's groundbreaking Brooklyn College MFA program, the Weasel festival is fast becoming an exciting platform for America's rising playwrights to create experimental, irreverent and explosive new work. Each playwright will riff off the stories of The Apocrypha – the infamous religious texts that didn't make the Bible's cut. Not decreed to be divinely inspired, the Apocrypha books are ancient Greek texts that were ripped and pasted back into the Bible throughout history. Filled with luminous stories of prophets, angels, intrigue and heresy, the off-the-record Apocrypha is the perfect inspiration for a festival of peculiar plays by playwrights working outside the canon. We talk to playwright Corina Copp about her play "Waltz." By Georgia Clark.
THE STARSHIP ASTROV--at The Beckett Theatre
"The Starship Astrov"
The year is 3047. A diplomatic mission brings a professor, his lovely alien wife and his faithful doctor aboard "The Starship Astrov"… Asking the question, will humanity stay the same, or will the future change us, award-winning playwright Duncan Pflaster ("Prince Trevor Amongst The Elephants") returns to the Midtown International Theatre Festival with another classic-bender fantasy: a mashup of Chekhovian comedy and science fiction! We spoke to the playwright about this mixed genre madness he's bringing to the famed MITF. By Georgia Clark.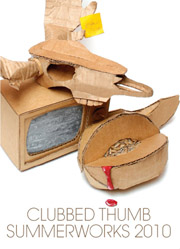 CLUBBED THUMB'S SUMMERWORK SERIES--15th annual Summerworks festival at The Ohio Theatre.
"Clubbed Thumb's Summerwork series"
The Obie-award winning Clubbed Thumb is gearing up to launch their quirky off-Broadway summer series in Soho. It's their 15th annual Summerworks festival, a selection of new work that's known for being, well, a little odd. This year sees "Dot" by Kate E. Ryan, "Five Genocides" by Samuel D. Hunter and "The Small" by Anne Washburn find their feet at the Ohio Theater. We spoke to Artistic Director Maria Striar about this year's plays, imagination as theme, and why the pipeline between the underground and the mainstream is "kind of broken." By Georgia Clark.
RED MOTHER--Muriel Miguel. "Red Mother" blends poetry, personal memory, and traditional Native stories, often in a cyclical presentation, full of searing wit and boisterous humor. Photo by Tim Matheson.
"Red Mother"
"Red Mother," featuring the co-founder of Obie-award-winning Spiderwoman Theater collective, Muriel Miguel, is the tale of Belle, an old Native woman who, with her horse Blue Fred, travels across what was once the people's land. Inspired by "Mother Courage," this one-woman show weaves Brechtian themes with Kuna demon tales and traditional stories with a contemporary soundscape. Featuring multimedia projections, fabric hangings, and music, "Red Mother" is a unique expression of the Native American community, told from a woman's perspective. We spoke to the Off-Broadway veteran about what led her to create this bold new work. By Georgia Clark.
THE IRISH CURSE--Martin Casella's new comedy explores big personalities and small appendages. Photo by Carol Rosegg.
"The Irish Curse"
Size matters to the Irish-American guys who meet every Wednesday night in a support group... for men with very small penises. Martin Casella's new comedy "The Irish Curse" at The Soho Playhouse examines the fundamental question on the minds of men since the beginning of time: "How do I measure up to the next guy?" By Georgia Clark.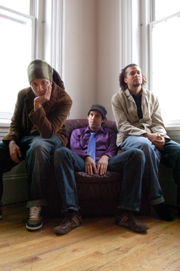 SYNESTHESIA 2010--The Mayhem Poets join the game of interpreting, and being interpretated.
Photo by Carolyn Dentz of Dentz Design.
"Synesthesia 2010"
I have an idea. I show you this idea. That gives you an idea. You show someone your idea, they show someone, they show someone, and so on. Thus forms the basis of Electric Pear Productions unique new show, "Synesthesia 2010." In October 2009, a composer/lyricist team was asked to select a fortune cookie. They created a musical theatre piece based on the fortune. Two weeks later, they presented their work to another artist. This artist then had two weeks to create a piece based on the work shown to him (never having seen the fortune), and then presented his art to the next artist in the series. She then created a piece…and then another artist, and then another artist… eventually, eleven in all. We spoke to a handful of the multi-disciplinary artists involved in this year's production. By Georgia Clark.
UP IN THE AIR--Jennie MaryTai Liu's experimental new dance work, "Lands and Peoples", explores the concept of heartbreak. Photo by Iam Douglas.
"Up in the Air"
For the past year, four experimental artists have been exploring and crafting innovative new work as Artists-in-Residence at BAX/ Brooklyn Arts Exchange. Each resident is awarded 200 hours of prioritised rehearsal space, a $1,000 stipend, and ongoing meetings and open rehearsals with BAX staff. As a result, the four perfromers had the luxury of both time and space to take risks, explore intuitive ideas, and work outside their comfort zones, all within a structured year of ongoing support. Now, over April and May, they present their work to the public in the Air Festival 2010. We spoke to the four artists about this highly supportive program and the new work they ended up creating.
BASS FOR PICASSO--"I love writing comedy. I love making an audience laugh" - Playwright, Kate Moira Ryan. Photo by Dixie Sheridan
"Bass for Picasso"
In Kate Moira Ryan's new play, a food writer for the NY Times is recreating the recipes of Alice B Toklas for story, and invites over some of her friends for dinner. Comedy ensues. We spoke to Kate about writing for differently abled people, and what it's like working with actresses who threaten to "take their leg off and chase the other characters around the room with it." By Georgia Clark.
SOJOURN AT ARARAT -- Nora Armani and Gerald Papasian in "Sojourn at Ararat" at Joe's Pub at the Public Theater. Photo: Jonathan Slaff.
"Sojourn at Ararat"
It's been called 'timely and timeless': "Sojourn at Ararat" is the unheard voice of an unknown people and the telling of their unknown story through poetry. Based on the English translations of Armenian poetry spanning 2000 years, the message it conveys is universal: love, human tragedy, the futility of war and violence, but ultimately, hope. "Sojourn at Ararat" finally comes to New York after first coming to life in the late 1980s, so we spoke to co-creator performer Nora Armani about this moving and much acclaimed piece of theater. By Georgia Clark.
"We love to mime swordfight… a lot." The ISC kick it ye olde style. Photo care of the Improvised Shakespeare Company.
The Bard, From Scratch, For Laughs.
This January New York plays host to Chicago's hugely entertaining Improvised Shakespeare Company. The title says it all: Shakespeare, sans the script. Sound impossible? We spoke to the group's founder Blaine Swen about the ins and the outs of their hey nonny nonnies. By Georgia Clark.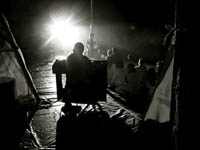 "There are 30 actors in this play. The intricacies of finding a physical score for all the bodies up there have been awesome." Photo care of Melissa Chambers.
"Auto Da Fe"
The always-ambitious International WOW kicks off the new year with "Auto Da Fe", a realization of the classic Odysseus story. With a 30-strong cast onstage, the tale is told as if the hero of Homer's epic poem has returned to his homeland but it's been replaced by an industrial wasteland called the Memory Pit, that's being run by the History Processing Operation. The play, originally produced in Kyoto and Tokyo, is a dreamscape of collective amnesia, life during wartime, the self-conscious erasure of history and national identity, and a search for meaning and beauty. We spoke to ensemble member Melissa Chambers about the creation of this adventurous new work. By Georgia Clark.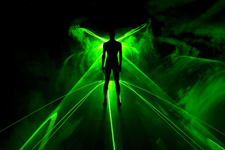 "MORTAL ENGINE" -- Light drenches, becoming a dancer itself in "Mortal Engine." Photo by Andrew Curtis.
"Mortal Engine"
Contemporary Australian dance company Chunky Move returns to New York this December with a new show, "Mortal Engine." The performance uses movement-and-sound-responsive visual projections to portray an ever-shifting, shimmering world. We chatted with director and choreographer Gideon Obarzanek about the process of creating this compelling new work. By Georgia Clark.
"HIGHLY EVOLVED HUMAN" -- After being diagnosed with cancer at age 26, comedian Nick Ross explores the experience in new show, "Highly Evolved Human." Photo by Allan Schoening.
"Highly Evolved Human"
Nick Ross turns his experience with cancer into an underground comedy hit with "Highly Evolved Human" at Upright Citizen's Brigade Theater. By Georgia Clark.
"Halt!" finds beauty in the mundane and the chaotic, at the Whitehall Ferry Terminal. Photo by Megan Green.
An Ocean of Longing: "Halt!"
"Halt!" is a free dance piece for the Whitehall Ferry Terminal where you might find yourself part of the action. By Georgia Clark.
" As soon as a moment passes it is a memory, a time and place I cannot return to except through fantasy or projection." – Marina Libel in "She Turned On The Light" by Wendy Woodson. Photo by Eric Poggenpohl.
And Then There Was Light.
A new interdisciplinary work, "She Turned on the Light," finds connections between memory, and different generations. Georgia Clark delves into the inspiration for Wendy Woodson's production in this interview.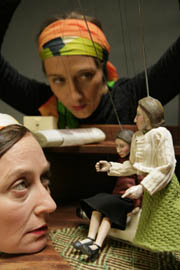 Jane Bowles' play delves into aspects of our human enmeshment with intelligence and humor. Add puppets, and the result? "The theatre of the impossible."
Not Your Average Punch and Judy
When is the last time you saw a good puppet show? The characters in "A Quarreling Pair" are far more than your average Punch and Judy. Drawing from boho American writer Jane Bowles' great literary work, this unique show proves that this art form isn't strictly for children. We spoke to Cynthia Troup, writer and a founding member of the always intriguing Aphids Arts Company from Australia, who are bringing the production to La MaMa.
Sabrina and her divided Hungarian kin struggle violently against the infiltration of fast food, designer clothing, infidelity, assimilation and uncompromising youth. Photo by Biz Urban.
Balaton
There's nothing like good family drama. Throw in multiple generations, death, and a rich culture and you've got "Balaton", the world premiere play by Ashlin Halfnight. Directed by Kristjan Thor, "Balaton" jumpstarts the new season at Electric Pear Productions. We spoke with playwright Ashlin Halfnight for a behind-the-scenes look at this show.
"And Sophie Comes Too" returns as part of the NYC Fringe Encore Series. Photo by Care of Shirley Hertz Associates.
Ladies in Crisis . . . .
Following a sold-out run at the NY International Fringe Festival, a cracking new comedy of a mother and her three daughters in transition, "And Sophie Comes Too" returns to NYC for a five-date encore performance. By Georgia Clark.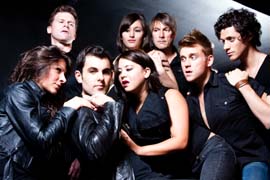 The cast of The Cure get their game faces on in preparation to prove modern day vampires can be sexy AND sing. Photo by Nick Gaswirth.
Good For What Ails Ya
Sexy rock 'n' roll vampire musical "The Cure" debuts as part of the New York Musical Theater Festival.
Get Your Groovaloo On
"Groovaloo" weaves dancer's real-life stories into a hot new hip-hop show.
Where Too Much Improv Is Barely Enough
The Del Close Marathon brings together hundreds of funny people for three days of wild and wonderful improv. By Georgia Clark.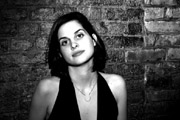 Finish this sentence: You'll f*cking love this play if you f*cking love… "A mash-up of "A Mighty Wind" and "Lost Highway"". "We Are Being Held" explores intriguing new territory. Photo byDelaney Britt Brewer.
Connection in Unlikely Places
"Awakened without his memory on a lone subway car, one man's past is conjured by two seemingly innocuous passengers who begin to unravel with him. Yes, it is an original piece of theater about human connection. Yes, it began as a subway play. Yes, we will go off the rails." Delaney Britt Brewer is a playwright, book writer and lyricist living in New York. Georgia Clark sat down with her to discuss her newest work, "We Are Being Held."
Innovative dance company Pilobolus draw their inspiration from "sex, death, and the rest of it. In the fields of art, everything is grist for the mill." Catch them this summer at Joyce Theater. Photo courtesy of the Joyce Theater
We Think They Can Dance
Wildly innovative dance company Pilobolus returns to the Joyce Theater for three new shows of genre-defining movement.
Jazz Through the Ages
The history-spanning Generations Band brings jazz players together with their mentors to create an ensemble that sounds like "lighting in a bottle"
Clothing Optional
"Naked Boys Singing" celebrate ten long years of pants-off fun; a show which comically pays tribute to nudity and the male form in all its glory. They're boys, they sing and they're naked. Sound like a fad? Nuh-uh: this July 25th, the lads celebrate their ten-year anniversary of doing what they do. Which is belt them out in their birthday suits. "People often think that the title is misleading – NOPE!" laughs Dance Captain, Craig Lowry. "It's a really fun, fluffy musical review that celebrates nudity in all the different areas where it might occur." By Georgia Clark.
"We used to do a piece called the Brady Bunch Massacre. Let's just say it wasn't pretty." The Umbilical Brothers keep it risqué this summer. Photo courtesy of CAMI Spectrum.
Comedy on Speed
Zany, crazy and very, very clever: The Umbilical Brothers create a unique warped world in a new adults-only show. Jay Leno described them as "odd". Dave Letterman went with "kinda cute". They are the Umbilical Brothers; a dynamic comedy duo who, for better or worse, defy explanation. From June 29 through July 11 at The Joyce Theater. By Georgia Clark.
Want a bite? Kendra MacDevitt and Diana Harkin get down 'n' dirty, vampire style. Photo courtesy of ONEtime Productions.
Theater… With Bite
You just can't keep a good vampire down. From "Twilight" to "Buffy" to "True Blood," our fascination with the undead needs no introduction. But for those of you who thought our dalliance with the dark lords was a relatively new phenomenon, you obviously weren't at the opening night of "Vampire Lesbians of Sodom." This campy, satirical production first graced Off-Broadway in 1984, and went on to become one of the longest running OB performances in history. One of the treasures of the scene, drag performer Charles Busch wrote, directed, produced and acted in the cult hit. And now the adults-only sexy spectacle is back, ready to terrify and titillate. It's being revived by ONEtime Productions at Baruch Performing Arts Center through June 26, 2009. By Georgia Clark