Going "Underneath the Skin" with John Kelly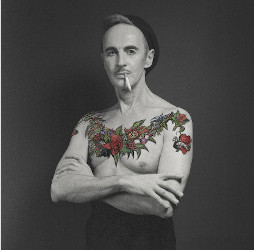 John Kelly. Photo by Josef Astor.
"Pigeons in the grass alas."—Gertrude Stein
The theatergoers in their damp black jackets and overcoats with their black, automatic open-and-close umbrellas in hand were grouping in twos and threes on the second-floor lobby of LaMaMa on East 4th Street. Not a red or yellow or green in sight, not even on a scarf or beanie. Admittedly, some blue facial masks did add a little variety on this chill night. Seldom was an oolong tea more desired, but the LaMaMa Cafe was shut tight.
Music played in the background, possibly of Eastern vintage.
At around 7:45PM, the double doors of the Ellen Stewart Theatre opened. As there was general admission, a semi-mad dash began. One rather nice young man, standing on the left, greeted all, tearing tickets in a quick, precise manner.
Once inside, there seemed not to be a vacant seat remaining, except for the first two rows of the bleachers, which were the last occupied. With puffed coats, heavy sweaters, and other winter garments on laps, over chair backs, and placed by feet, the knees and elbows of strangers couldn't help greeting each other by chance or not.
The theater, a cavernous, rectangular black box-type, featured an old-fashioned desk on stage left. Atop were books, a telephone, and other sundries. To the far right were two fake bookcases fronted by an armchair and a side table on which rested a glass-enclosed clock whose works could be seen spinning.
A bed with red satin sheets, on which an orgy would eventually take place, was settled in the rear of stage right.
Straight ahead, framed by golden arches, was a huge screen on which photos and occasional film clips of queer life of the past were projected: Greek and Roman homoerotic art. A shelf of liquor at a bar with a sign affixed: "FAGGOTS—STAY OUT." Men dancing close together in those days when such behavior could be ruinous. Sailors a-hugging. Lesbians attached. Lesbians arrested. Nude lovers at a beach. Black men kneeling over bodies just battered by police. Newspaper clippings: "Fire of '73: Tragedy Unites Gays." "4 Youths Held in a Gay Murder." "Your Son May Be a Homosexual." A proudly wigwagging penis saluting attendees. And so forth. The never repeating visuals were background for all of the evening.
Then continuing the tradition that the late Ellen Stewart, LaMaMa's founder, instituted decades before, a young gentleman came out and stated: "We're proud to present John Kelly." Applause.
Mr. Kelly, who to many needs no introduction, is a performance artist who's won countless awards and has performed throughout the length and breadth of the civilized world, possibly sidestepping only the most frigid locales. He's even appeared in a James-Franco-directed film, which probably few heard of and less saw.
One of Mr. Kelly's most praised shows of the past is an evening of Joni Mitchell songs, which he even revived at the Metropolitan Museum of Art one night three years ago. Calling the event "transcendant," Patrick Leader of JoniMitchell.com noted, "Dressed in slim black pants, a long-sleeved black button-down and a floor length half skirt, [Kelly] looked like an asymmetrical monk."
As for tonight's production, Robert Johnson in The Dance Enthusiast has deemed it "a triple threat to homophobes everywhere," frigid locales included.
You see, John Kelly's startlingly insightful 85-minute Underneath the Skin, is a prolonged gander at a great man's life, that of Samuel M. Steward. Mr. Steward was an academic who traded in a 20-year career as a college professor for the vocation of a tattoo artist (as Phil Sparrow). Later he became a writer of gay erotica (as Phil Andros).
Besides the pornography with covers that often showcased Tom of Finland illustrations (e.g. The Joy Spot (1969); Below the Belt and Other Stories (1975); My Brother, the Hustler (1970)), Mr. Steward wrote the classic Bad Boys and Tough Tattoos: a Social History of the Tattoo with Gangs, Sailors, and Street-Corner Punks, 1950-1965 (1990). There were also several mystery novels featuring his friends Gertrude Stein and Alice B. Toklas.
Yes, here is a life that can be mined for dozens of anecdotes spotlighting the well-known, the infamous, the bemuscled, and the well-hung. Besides palling around with Ms. Stein and spouse, Oscar's Bosie, André Gide, Rudolph Valentino, Alfred Kinsey, Thornton Wilder, sailors, and those less bound by the sea, Mr. Steward parades through the history of 20th century queer life with all of its convolutions, taking time to clip public-hair mementos of those who were best in bed. (Valentino's is in the collection.)
With grace, superb theatricality, a near flawless script, and a rather attractive supporting cast that are called upon to dance a little, kiss a lot, and shed their garments, John Kelly has created an unforgettable evening for those who lived through or read about it all . . . and one that will be entertainingly instructive for those who want to know what they missed.
In the film Bros, Billy Eichner's character wants to create a museum dedicated to queer history. Kelly's creation here, in the true sense, is a living, mobile museum with no real walls absolutely needed.
Mr. Kelly on stage embodies his hero from youth to demise. For example, in Parisian Lives (1984), Mr. Steward's venture into autofiction, he describes his stand-in for himself as thus: "I was very young, then, and on my first trip to Europe—callow, almost unplucked, and certainly unsophisticated ...."
From unripe to ready to pluck, from simple-hearted to what you might label slightly sardonic and melancholy and always wise, Mr. Kelly has recreated a soul worthy of spending his invaluable talents on.
"Beneath The Skin"
Playwright: John Kelly
Director: John Kelly
La MaMa Experimental Theater Club
66 East 4th Street
New York City
Website: www.lamama.org
Phone: 212-254-6468
Opened: Thursday, December 8, 2022
Closing: Thursday December 22, 2022