Tales from Armenia
After touring four continents over the past two decades, the moving and hopeful "Sojourn at Ararat" finally lands in New York.
"Sojourn at Ararat"
Joe's Pub, 425 Lafayette Street, NYC
Plays one night only, January 18, 2010
Tickets: $15 advance/ $20 door
Info: sojournatararat.org
SOJOURN AT ARARAT -- Nora Armani and Gerald Papasian in "Sojourn at Ararat" at Joe's Pub at the Public Theater. Photo: Jonathan Slaff.
It's been called 'timely and timeless': "Sojourn at Ararat" is the unheard voice of an unknown people and the telling of their unknown story through poetry. Based on the English translations of Armenian poetry spanning 2000 years, the message it conveys is universal: love, human tragedy, the futility of war and violence, but ultimately, hope. "Sojourn at Ararat" finally comes to New York after first coming to life in the late 1980s, so we spoke to co-creator performer Nora Armani about this moving and much acclaimed piece of theater.
Q. Describe "Sojourn at Ararat" in your own words.
A. "Sojourn at Ararat" is about the sharing of an unknown (or lesser known) culture and a people through its own voice, through its poetry. However it is not a 'poetry reading' in the strict sense of the word. By breaking them down into dialogue and the interpretation attached to them through the characters created by [stage partner/ co-creator] Gerald Papasian and myself, these unrelated poems have collectively turned into an epic play.
Q. Why has this important play taken so long to be produced in NYC?
A. After creating the play and touring with it for about 5-6 years, Gerald Papasian and I (then married to one another) moved to Paris, France where we continued to perform the French version of the play: "Le Chant d'Ararat", starting at the Avignon Festival and then touring extensively with it nationally as well as in French speaking European countries.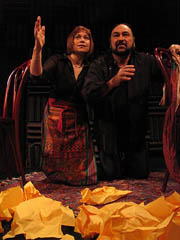 "It still rings true when we think of 9/11, of Iraq, Afghanistan, of Haiti right now" – Nora Armani
Our careers took on different turns and there were times when we thought we had already performed the closing night of "Sojourn at Ararat". Then something would come up and we would be asked to do it again; always in Europe.
Then our personal life interfered... Two marriages, two divorces to each other caused interruptions in the lifespan of the play that refused to die despite everything!
Q. Has the message or themes explored in the play changed much since its inception in the late 80s?
A. No. It has not because of the universality of the message and the themes explored. The poems that form the basis and mortar of the play span over 2000 years from pre-Christian pagan times to the present. The selection has been made with this universality in mind in the first place. The 'timely and timeless' anti-war, anti-violence message and the themes of love and hope for mankind still stands and will continue to speak for themselves and to all throughout time. When we first started performing the play in 1986, there were many events in the world that had had happened wars, genocides, to which the play alludes, but there were others that had not happened yet, the break up of the Soviet Union, the fall of the Berlin Wall, Rwanda, Darfur, you name it..
Q. How does it break new ground artistically?
Nora Armani and Gerald Papasian in "Sojourn at Ararat" at Joe's Pub at the Public Theater. Photo: Jonathan Slaff.
A. Dramaturgically the play breaks ground in that it takes completely unrelated poems written by different poets and weaves them into a seamless piece that can be performed by two actors who become characters giving voice to the events and happenings mentioned in the play where a story with a beginning, a middle and an end is related.
From a staging and performance point of view, the use of minimal sets, that are easy to travel with, after all the play tells us of exile and deportation and displacement too, and the ingenious use of the pieces of costume that become props and the pieces of paper that crumple into shapes and then straightened out become the elements of a culture, any culture, symbolizing its life, its words, its language and its soul. The simplicity, with which this play portrays itself, makes its message even more powerful.
Q. Can you tell me a funny anecdote or nerve-racking moment from the show?
We were at the Edinburgh Festival Fringe and on one of the first performances; there was no one in the audience up to 5 minutes before the start... The stage manager came up and said that there were two people who had just walked in. And since there were the same number of people in the audience as on stage, it was really up to us if we wanted to do the show or not. But we decided to go on anyway. We are glad we did. Because one of them was the citric from The Scotsman who gave us a fantastic rave review that opened the door to a fabulous life-span for this play that has taken us to more than 25 cities on four continents!