Georgia Clark
Surreal Summer in the City
Clubbed Thumb presents a summer series of hilarious, weird and peculiar Off Broadway plays.
Clubbed Thumb's Summerwork series
The Ohio Theatre, 66 Wooster Street, Soho, New York
June 6th – June 26th, 8pm (See website to confirm performances)
Tickets $15/ $18 More info: clubbedthumb.org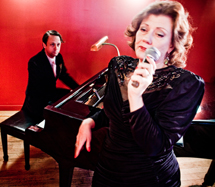 New play "Dot" is set in that kind of Florida town that makes you wonder: Is this TV, a book, or maybe even a cabaret? Photo by Heather Phelps-Lipton.
The Obie-award winning Clubbed Thumb is gearing up to launch their quirky off-Broadway summer series in Soho. It's their 15th annual Summerworks festival, a selection of new work that's known for being, well, a little odd. This year sees "Dot" by Kate E. Ryan, "Five Genocides" by Samuel D. Hunter and "The Small" by Anne Washburn find their feet at the Ohio Theater. We spoke to Artistic Director Maria Striar about this year's plays, imagination as theme, and why the pipeline between the underground and the mainstream is "kind of broken."
Q. Tell us a little about what appeals to you about the play in this year's Summerworks program.
A. They are moving and funny and formally odd. Each play is going to result in such a different piece of theater. In each play, the characters struggle with how to lead one's life, and for good or bad, their imaginations are one of the tools they use to survive. Oh, and each play features as least one off-stage dog.
Q. It's been said that if "New York has been a fruitful and exciting place to be a playwright in the last decade, Clubbed Thumb can claim a real share of the credit." Can you explain a little about your selection process?
A. Some plays cry out for the next level of creative collaboration—which invite the contribution of director, designers, and actors, but do not dictate the parameters of this participation.
Q. What's a typical Clubbed Thumb audience member/ fan like?
A. Someone who finds challenge a pleasure. Our audiences are super game for formally complicated material, and generous in general. Even when something doesn't quite work, they are trying to figure out what was being reached for, what approaches were used, why it didn't work. I would wish this audience for anyone working in theater—just the best.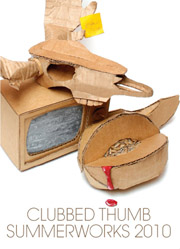 15th annual Summerworks festival at The Ohio Theatre.
Q. What are the greatest challenges in running a program like Clubbed Thumb?
A. Money, not having a space, having a full-time staff of two but so much one wants to do… I often feel like we are miniscule one second - when I'm standing in the lobby of a giant regional theater - and gigantic the next - when I'm on a great theater panel, say. It can be disorienting, and a challenge to have the appropriate response to each situation.
Q. In your opinion, how's the underground theater scene doing in NYC and in America as a whole?
A. I'm going to take underground to mean younger artists and companies whose careers are less established and whose affiliations with institutions are nascent.
A lot of awesome work is being made in NYC, which amazes me, because the cost of living and creating work here is really onerous now. But people stay here and keep coming here and we have tons of great playwrights with a diverse array of aesthetics, and a ton of companies doing really engaging devised work.
In the long run the companies are going to have an easier time of it, because they are a more identifiable commodity and can tour, whereas those participating in theater in the more conventional way (as a writer, director, actor, designer) have to work within a system that has not been able to incorporate much of the formal movement of the last fifty years. So the gap between this "underground" work and what is being produced at larger more remunerative institutions is growing, as is the age and income differential between the audiences for "underground" theater and institutionalized theater. So the underground is doing fine, but the pipeline between the underground and the system is kind of broken.