Sidra Bell
"DUEL (public vs private): A Performance Art Project"
2 weeks, 2 works with Sidra Bell Dance New York presented by Baruch Performing Arts Center (Nagelberg Theater) East 25th Street (between Lexington & 3rd Avenues), NYC
Directed by: Sidra Bell; Performers: Jonathan Campbell, Austin Diaz, Alexandra Johnson, Lavinia Anna Maria Vago; Guests Artists:
Daniel Oliver, Leslie Hubilla, Rachel Patrice Fallon, Mikey Morado; Lighting Design: Amith Chandrashaker; Costume Design: Erin Schultz; Film:
Sidra Bell & Dakota Scott; Set Design: Colin Fraker; Photography: Jubal Battisti; Creative Imaging: Mondo Morales; Filmography:
Alex Popov; Graphic Design: Claudette B
Program A: "Stella", a series of miniature manifestos
Thu, March 22, 2012 @ 8pm; Fri, March 23, 2012 @ 8pm; Sat, March 24, 2012 @ 8pm; Sun, March 25, 2012 @ 7pm;
Program B: "ReVue"Thu, March 29, 2012 @ 8pm; Fri, March 30, 2012 @ 8pm; Sat, March 31, 2012 @ 8pm; Sun, April 1, 2012 @ 7pm
General Admission: $25; Students $10 (with proper ID); Two Students $15 (with proper ID); Dual Season Ticket (both works) $40
INTERVIEW with Sidra Bell by Philip W. Sandstrom, March 7, 2012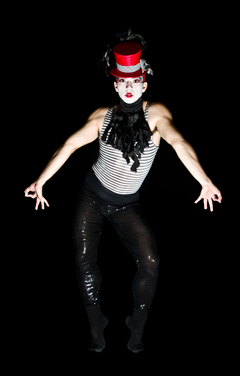 "Duel" directed by Sidra Bell.
Philip Sandstrom: You're opening two completely different shows in two weeks - why?
Sidra Bell: I've been working at this since I graduated from college…

PS: How long ago was that?
SB: I graduated from Yale in 2001.
I'm 32 now and, for me, the two programs feel like a culmination and a conversation. It's a concept show, the two weeks [the two shows] work together. When you see one program and then the other you understand why they are presented side by side; they create parallel universes. The two weeks are conceptually connected and make sense from the dance side to the design side.

PS: Why Baruch?
SB: It's a great space to do this type of project because it's formal while still being raw.

PS: Yes, it has a black box, almost industrial feeling.
SB: It definitely suits my work, which has a lot of spectacle in it but is also raw at times. And Baruch creates an environment that is intimate enough for the audience to experience the work both formally and informally.

PS: You say that the programs work together and relate to each other but when I look at the schedule I see that the programs are not inter-leafed but are instead separate weeks; why are they not performed in repertory?
SB: Each show runs one week and runs about 60 minutes. The new work, "Stella" is about my creative process; it has a range of themes and movement invention. The second program "Revue" premiered in 2010 in Pittsburgh.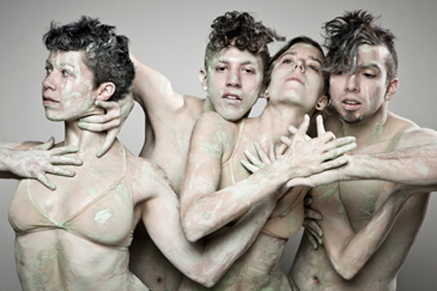 "Duel" directed by Sidra Bell.
PS: If we want to see both works, we need to attend on two different weeks; is there some reason you chose not to alternate the two pieces?
SB: Running them in repertory would be technically difficult. The first program is done in three-quarter round, and the set pieces present a problem of turn around time. There's also a stamina issue, although the pieces are in conversation, they are very distinct in terms physicality. So I thought that, for the dancers, it would be physically and psychologically better to separate the two programs over the two weeks. Each week is a different mind set for me; different tasks. In addition, the tech considerations and turnaround time are an issue.

PS: Tell me a bit about your dancers, which ones are featured in the different shows?
SB: I have four core members in the company, Austin Diaz, Alexandra Johnson -- my associate director who I've worked with for seven years, Jonathan Campbell, and Lavinia Anna Maria Vago. The first program is "Stella" which includes two apprentices. The second program ["ReVue"] is the same core company with three guests. The company is set up as project-based with guest artists so the company can expand and contract.
PS: Do you have any plans for this work to tour?
SB: Yes, "ReVue" was highly acclaimed when it opened in Pittsburgh. It's very burlesque in style so it has a certain appeal. I've been collaborating with Levy Dance from San Francisco on a combined tour to San Francisco, [Washington] D.C., Pittsburgh, and some places in New York. That's the next stage in my career, more traveling for the company. Currently I travel frequently as a commissioned solo artist, most recently to Denmark, Montreal, and Chicago. Within this last year I have created at least ten different works for other companies and schools.

PS: Getting back to your upcoming show, how do these dance programs and shows relate to work you've made in the past?
SB: "ReVue" is the older piece, created in Pittsburgh but also developed at the Duo Theater on East 4th St. in a year long residency. It's a series of vignettes or episodes that were influenced by the vaudeville aspects of the Duo Theater.
If the old piece represents spectacle then the new piece ["Stella"] is post spectacle. It's kind of nihilistic and a little sarcastic; it's fun but fairly dark in tone. It deals with how the audience sees dance; how they perceive it. Stella feel like an amalgamation and absorption of ideas generated within the commissions I did this year, whereas "ReVue" seems like it was in the past. Nonetheless, they definitely converse, one feels like the ending while the other feel like an episode.

PS: How would you like us to perceive this season? What should we take away?
SB: I'm trying to create an informal setting, so the audience feels a part of it. I want to create an environment so the audience to feels like they are participating. Both shows are about participation. I'm hoping they feel that they are having a say in their experience; whether they like it or not.

PS: When you say participate, how will the audience participate?
SB: I can't say right now, because I feel that will give it away. I can say that there is an element of participation in both shows and the audience will have control over its level of participation.