The Many facets of Jean Genet's "The Balcony"
by Jarrett Lyons
Horizon Theatre Rep's artistic director, Raphael De Mussa and Off-off Broadway veteran Frank Licato, working together for the first time, highlight rebellion, iconography and public image in Jean Genet's "The Balcony."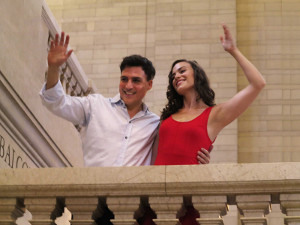 You'll start to see power structures everywhere -- Rafael De Mussa (as The Chief of Police), Kristen Lazzarini (as Carmen, a prostitute). The resemblance to an American political campaign is strictly intentional.
Horizon Theatre Rep's production of Jean Genet's "The Balcony" is the result of almost a decade of conversation about theater. Circa 2004, director Frank Licato and Horizon Theatre Rep's artistic director, Raphael De Mussa began a correspondence focusing each others views on their work and the theater scene in America and abroad. They discovered through these conversations that shared common philosophies. Licato appreciated the challenging pieces that De Mussa produced, but the two had never had an opportunity to collaborate. The time just wasn't right. The opportunity finally presented itself this year. Licato directs Jean Genet's multifaceted play "The Balcony" will run at Horizon Theatre Rep from October 11 through November 4th at the Arclight Theatre. The production will cover issues of rebellion, politics of relationships, iconography, and personal and public image.
With "The Balcony," Horizon Rep continues its dedication to plays with an international perspective. The play's action takes place in a European brothel or "House of Illusions," where customers pay to act out their deepest sexual fantasies as pillars of society- bishops, judges, prison wardens. The customers represent the epitome of a society the very society that is falling apart outside the doors of the bordello. A very real revolution rages beyond its walls while fantasies and desires are explored within.

Licato had previously acted in Genet's "Deathwatch," and it opened up his view of theater. "'Deathwatch' was a real revelation and has stayed with me because its lack of realism. The world of the play was so specific it changed my sense of what theater could be or might be for me," Licato explains.
De Mussa approached Licato with "The Balcony" because of his belief that there were new angles on the timeless themes of the piece to be seen in our modern world's digital technology. "It's a very relevant play." De Mussa explains. "The denizens of society judge the generals who go there to polish their image." Because of technology, he believes there is more image than substance, when it comes to our own public figures.
To heighten the drama and present "The Balcony" in a current tone, the brothel is re-envisioned as a bunker. This helps to view the show as a more contemporary rebellion. The violence raging outside the bunker increases the risk for those entering and heightens the tension of the events inside the bunker. The customers must delve into their fantasies to escape the fact that they risk their lives every time they step out of this safe place. In their attempt to escape the violence, the elite's ignorance of how to govern or even to solve the society's problems is highlighted. Licato believes that this ignorance and blindness can be compared to authoritarian regimes in recent eras.
"In my mind it's almost more about the last days of Mussolini or Saddam [Hussein] or Gaddafi." explains Licato.
A similar impression occurred to Licato while observing the current electoral campaigns for president. He noticed a simple but interesting similarity between both candidates: when they participated in press events with the goal of specifically catering to a working class population, the sleeves of their shirts would be rolled up-- it's an icon of the presidential race that has a lot to do with image over substance. The dream of being in a certain elite position without the understanding of what the position entails is showcased. Licato seeks to achieve awareness of these details by giving the audience an uneasy feeling about their acceptance of these personal iconographies and power structures.
The power structures are exemplified by characters like a thief and judge, who use their sexual interplay to examine the dependency that they have on each other to create and maintain their roles. The judge is nothing without a thief to prosecute, and a thief is nothing if she is not judged for her crimes. Licato calls on the audience to question their interactions and encounters with those who would be superior or inferior to them. It's an awareness of the master-slave dynamics we encounter in our daily lives. Licato sees courage in Horizon Theatre Rep's selection of such a bold piece that requires the audience to deal with complex subject matter, and believes that if "The Balcony" strikes the right chord, it will affect the audience's daily perceptions.
"You'll start to see power structures everywhere," Licato explains. "From how you express yourself to how you get on a bus. What the subway all of a sudden looks like to the beggar walking by asking for money. The ideas of power and oppression and slave-master relationships, all that stuff starts to permeate the real world."
IF YOU GO:
October 11 to November 4
The Arclight Theatre, 152 West 71st Street
Presented by Horizon Theatre Rep (www.HTRonline.org)
Thursdays through Saturdays at 7:00 PM, Sundays at 3:00 PM
Tickets $18 (tdf); Box office: SMARTTIX (212) 868-4444 or www.smarttix.com
Running time: two hours.