READING VOICES: THE ART OF SUPERTILES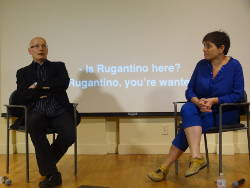 Mauro Conti and Laura Caparrotti. Photo by Claire Taddei.
We are accustomed to speaking about many disciplines of the performing arts, but the art of supertitles is almost always overlooked. The name "supertitles" refers to the projection of text above the stage to enable audiences to understand foreign language productions, whether they be operas or plays. These flashing bits of text, it turns out, should not be confused with the art of translation. They are much more.
On June 13, 2014, on the stage of NYU's Casa Italiana Zerilli-Marimo' at 24 W 12th street, Manhattan, the In Scena! Italian Theater Festival NY presented a conference, "Making Theater International: the Art of Supertitles," in which Laura Caparrotti, the Festival's director, interviewed Mauro Conti of Prescott Studio (www.Prescott.it), a prominent provider of for supertitles in theater and opera worldwide. Conti was in New York City for the production of "Rugantino" at City Center June 12 to 14.
Prescott Studio is based in Italy and for over twenty years has supertitled numerous works of opera and theater. Its website lists credits with authors from A to Z, that is, from John Adams' operas "Death of Klinghoffer" and "Nixon in China" to Alexander Zemlinsky's "Eine florentinische Tragödie" and "Der Zwerg."
Supertitles, according to Mauro Conti, are a way of connecting different cultures. They don't just translate, but actually connect the stage with the audience. Call it cultural mediation. To get at what people are actually saying on the stage, you have to establish the right rhythm and timing and supertitles are "played" like the stage show they are rendering. This isn't the same as translation, he emphasizes.
Conti's work started with opera, where you have to follow the music. He says, "If you are used to music, when you listen to actors, you hear the music they are playing." The rhythm has to be constant, not random. So he watches the show several times to establish the rhythm. He notes, in rehearsal the show's rhythm changes a lot.
Supertitles work if the audience can concentrate on the show, not on reading. He emphasizes, "You go to a show to watch, not to read."
The complete translation is only a starting point. Sometimes he translates the play, sometimes a translation is provided. A "map" is made according to the needs of the story. If the story is not mapped out correctly, it will be spoiled; for example, the audience cannot be brought to laugh to early or the joy will be taken away. The timing has to be quite regular because the audience has a reading rhythm that must be adjusted to the projected text.
Editing becomes a big part of the process because ultimately, supertitles are a work of compromises. Only a certain space can be allocated to the projected text: two lines, 44 characters wide. Otherwise, the eye would have to travel too far. Reading time has to be right. If there is too much text, reading will be slower than hearing. Text must be shortened as the spoken words go by faster. These limitations are not so bad, says Conti, because they are a stimulus, inspiring creativity.
Only in France have specific softwares been developed for stage supertitles. The words you normally see projected above or around the stage are actually plain old Power Point slides and their font is Helvetica or Arial Bold (seraph letters are never used). The fonts are not connected to the stage design. Color is used for the hearing impaired: there can be up to 12 colors, each one representing a character, to indicate who is speaking.
As a show is played, a person follows it live and changes the slides. There is no maximum number of "slides" and in a nine-hour Canadian production recently, Conti had two people clicking because it was far too fatiguing to have one. Seldom is there any automation. Conti cited only one instance: a Robert Wilson production where six to seven actors spoke together as a chorus. It was impossible to follow it live and there had to be a cross-fading sequence of slides that worked automatically.
Conti marks the first word of each sentence and puts in warns for the operator and instructions to wait. The cues are numbered but he does not use the auto numbering feature of Power Point. If an actor switches something or jumps a line, you have to know the show very well to get back on track. You have to follow the actor's timing for punch lines. In each projection, you need to allow time for the audience to read and absorb the text within the timing of the moment. If the public reacts wrong, the actors will be affected. It is better to go to black than to have hanging text from a passed moment. Ironically, the actors never care what the projections are doing.
Mauro Conti. Photo by Wei He.
When one character plays multiple parts, it's tricky because you have to change at the right time. When the text is ambiguous, you have to preserve the ambiguity. It's important not to anticipate plot developments—for example, to give away that a person is dying or to name a killer.
Sometimes, to make things clear to the audience, you have to simplify in the supertitles. This can be dangerous, because you don't want to make things banal. One thing you are forbidden to do is ask the actor to adjust for the sake of the supertitles.
Conti rehearses to a video of the performance or a recording of the score (of an opera) to get his timing right. If it's a new opera, without a recording, it can be played on a piano.
What does the director have to do with this? Conti says that most of them like to read everything that's going to be projected. Some, interestingly, don't care.
Normally, the projections operator is someone who will stay with the production and Conti collaborates with her or him. It is not a Union job in any house. The budget never seems enough for all this work. The people who bring you supertitles are underpaid and under-appreciated. Could you eliminate the button pusher? Probably only for opera. A synchronizing software could theoretically be developed to cue slides with the music.
The projections operator is somewhat like an actor, in that he has an "edge" that must be maintained. Conti told a story of a French troupe performing in Italy which got through opening night OK and then got overconfident and relaxed: it was hell. Staying tuned in is delicate.
Conti has had three university courses in multimedia translation. The people working with him are trained by him. He describes them as "just theater people," some with a background in theater as well as translation, who have a sensibility for his approach.
A system for opera supertitles has been developed for phone and iPad by Stefano Bozolo, Conti's music consultant, through the Startup OperaVoice (http://www.operavoice.net/it). It is multilingual through wireless, so that you can follow in any language. Bozolo writes that the system is inspired by 18 years of working on many operas with Mauro Conti and that OperaVoice has Prescott Studio as strategic partner in the venture.
Conti sees Google Glass in the future, in which translations will be sent wirelessly by an operator and broadcast to the audience in many languages.
There are no master works you can look up to learn the art of supertitles. The process is obscure, under-appreciated and inexact. While indispensable to world theater, the art is mysterious even in its basic concept. As Conti says, "Our job is a paradox because you are doing what you wouldn't expect to be done in a theater—reading voices."