John Jiler's Confessions On Dealing With Ageing
By Jarrett Lyons
New York native John Jiler bares his soul on Theater for the New City's Cabaret Theater stage this October. He performs his "intense and wild trip" about his dealing with his father's death as his child was in infancy, and deals with some of the existential issues that come with it.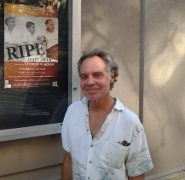 John Jiler in front of the Theater for the New City, where his autobiographical one man show, "Ripe," will debut. Photo by Jarett Lyons.
The autobiographical one man show "RIPE" begins with John Jiler on the phone with his pharmacist ordering diapers. The diapers are for both his elderly parents and newborn son. It was a time Jiler says he was caught in the middle. He found himself struggling with crying babies and dying parents at once. Grappling with that crossroads is a feeling that many people have when they've put off having children until middle age. The show examines the events surrounding the death of his father, a successful horseplayer and shrewd businessman with an outsized personality.
The one man show style is a challenge that Jiler accepts after many years of writing and making theater. The Upper East Side born and raised Jiler began his life in theater during his second trip to college. After an unsuccessful first try right out of high school and a few years of "hard knocks and strange adventures," exploring his heritage spending time in both Israel and Ireland, he returned to the U.S. to return to school with a new perspective
He initially joined the baseball team his first semester at the University of Harford, in Connecticut, but his time with the team didn't last. His time with the team ended shortly after the infamous Kent State shootings, whereby students in Kent Ohio were shot down during protests by the National Guard. Shortly after the shootings, Hartford was scheduled to hold a baseball game. Jiler recommended the game be canceled to commemorate the tragedy in Hartford. The idea was not received well by his teammates prompting Jiler to realize that he might be better suited spending his time participating in other on-campus activities.
Luckily, around this time, he became aware of complaints from female students involved in the theatre department that no male students were showing up at auditions. Jiler saw an opportunity and auditioned hasn't abandoned theatre since.
In order to support himself as an actor, Jiler wrote freelance journalism for the Village Voice and the New York Times. Jiler began to realize the passive nature of the acting profession. Waiting for auditions and waiting to be cast in order to act lost its appeal. Jiler deduced that writing is something that requires less direction, "you can get up in the morning and just do it," he says. He wrote in the vein of Truman Capote producing journalism with a literary edge, which eventually brought him success as a novelist and playwright.
His biggest success to date has been Avenue X, based on his coverage of a racially motivated beating in Bensonhurst, Brooklyn. A young black man attempting to purchase a used car around the time one of the members of the heavily Italian community suspecting his girlfriend of cheating on him with a black. The young man was beat to death. While sitting in the courtroom covering the subsequent trial, Jiler started to observe the differences and similarities between the Italian and Black community. What he came up with was the shared background with street corner doo-wop music. Each community had a past with this a cappella pastime, prompting Jiler to write a musical about the conflict. After a dozen or so plays and books, Jiler began to explore the form of the one-man show.
"The thing is if you've had ambitions to be an actor and a writer at different parts of your life, a one man show is an irresistible challenge. to see if you could pull it off" Especially if it's nothing but your own shit," he explains. The exhilaration comes, for Jiler, in the the fact that in an autobiographical one-man show, it's all on him. Both subject-matter, book, and performance all centers around the performer. In this case, Jiler portrays 20 or so different characters that orbited around his life at the time of his father's death. "If you can hold someone for that long, just you, it's pretty empowering."
When writing "RIPE," a very personal piece, Jiler needed time. He took about ten years after the events leading up to the death of his father to begin writing the piece. "There's a lot that's really hilarious bout death, but you need a little distance," he says. He cites a particular moment in the play that exemplifies the dramatic and absurd (and yes, hilarious) nature of death. The scene involves the purchase of his fathers coffin, examining the business motivation behind the up-selling of product to people who are going feeling especially delicate and vulnerable.
Jiler feels like many people can relate to the situations in the play as there is no escape from dealing with this situation, everyone has gone through or will go through the challenge of losing their parents. The trick for Jiler was to balance the theater with the therapy of the confessional piece.
During a post-show discussion after one of the workshop readings of the "RIPE" (at the time entitled "Cocktails at Schrafft's") Jiler posed the question to the audience: "Sometimes there's a very thin line between therapy and theater. In confessing everything I just did, was that line crossed? One woman in the audience responded with "No, I thought it was about me," thus validating the relatable nature of the play.
Though the previous incarnations of "RIPE" had a much more "stand-up routine" style in its workshopping, the piece is streamlined for TNC by Sturgis Warner, a director who's success with Twilight Theater Company's one-actor piece "Palestine," caught Jilers attention.
Preparing "RIPE" at TNC leads Jiler to reflect on why he loves the business of theater and why the playwright/actor/journalist/novelist will be focusing in theater for the foreseeable future. Walking through the theater during rehearsals at the theater Jiler passes through a Korean drum circle, a Malaysian dance troop and two plays directed by an Italian and a Latino. "Pure Theater for the New City!" he exclaims. "A reminder of what we love about that place, and this business." He elaborates on his plans for the future:
"I'm in my sixties and I don't know how much more juice I have. But I want to give it all to the theater. The world of books, which I also inhabit, is a solitary world; you write alone, you sit with a single editor to refine it, maybe you tour and read from your book at a bookstore in Duluth and try to seduce someone in the crowd…..but you're pretty much on your own. A play, on the other hand, is a story that you can't tell alone. Someone must perform it, direct it, costume it, build a set, run the props, take the tickets, etc….it's like we're all brothers and sisters. Our parents have gone out for the night, so we open their trunk and put on their clothes and act out a show."
IF YOU GO :
October 11 to 28, 2012
Theatre for the New City, 155 First Ave. (at E. 10th Street)
Presented by Theater for the New City
Thusdays through Saturdays at 8:00 PM; Sundays at 3:00 PM
$10. Box office (212) 254-1109; www.theatreforthenewcity.net
Running time :75.