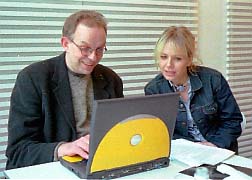 Danish dramaturg Jesper Bergmann (L) and Danish playwright Line Knutzon (R) at "Scandinavia On Stage" conference in NY. (Photo by Jonathan Slaff.)
Scandinavia On Stage in NY
In the past decade there has been an unprecedented explosion of new plays produced on numerous stages across Scandinavia. This new wave of Nordic theater was introduced to American theater professionals for the first time in a professional conference, "Scandinavia on Stage, " at the newly opened Scandinavia House, 58 Park Avenue, April 19-20, 2001. The New York Theatre Wire is pleased to offer in-depth coverage of the event, featuring "insider" perspectives on this vital movement, which has to-date been been a well-kept secret among Europeans.
Overview of the Conference
One cannot capture the full nature of this unprecendented explosion of new Scanadinavian theater in one or even two days, but the participants in "Scandinavia on Stage" could not help but marvel at the vitality of New Nordic Theater, a "well-kept secret" until now. By Philippa Wehle.
Spotlight on Swedish Theatre and Drama
Our inveterate traveler, Glenn Loney, uses his own overview of Swedish theater history and reflections from his travels to Sweden to offer a context for Americans now discovering the Nordic New Wave.
New Nordic Drama - On its Way out of the Drawing Room?
Monna Dithmer, a theater critic from Denmark, offers a professional's guide to the contemporary Nordic play and how it is finally breaking with the traditions of Ibsen and Strindberg.
The Danish Explosion
By the count of Danish dramaturg Jesper Bergmann, there has been a tripling in the number of significant Danish playwrights in the last 15 years. How did writing plays become the equivalent of Denmark's new national sport? Plus: portraits of four leading dramatists of the Danish New Wave.
Icelandic Theatre: a Mouse that Roars
Theater in this tiny nation has an almost unimaginable vitality. The capital, with a population of 150, 000, supports 25 to 30 professional productions per weekend. The entire country of 285, 000 has a theater attendance of 400, 000 seats per annum. The ferment of urban versus rural values, tradition versus modernity and introversion versus extroversion sets the creative tone. By journalist Havar Sigurjnsson.
For Comparison's Sake: The States of American Playwriting
Unlike our Scandinavian counterparts, the American mainstream is unaware of the writers shaping its theatrical culture from the trenches. By Todd London, Executive Director, American New Dramatists.


| lobby | search | home | cue-to-cue | discounts | welcome | film | dance | reviews |
| museums | NYTW mail | recordings | coupons | publications | classified |