MAY 2015 ARTS RAMBLES
THIS WAS THE MONTH THAT WAS…, PASSING GLANCES AT SHOW SCENES SEEN: At Playwrights Horizons on Theatre Row:Jenny Schwartz & Todd Almond's iOW@, At The Proshansky Theatre of the CUNY Graduate Center: Paul Krugman & Jeffrey Sachs Discuss Current Social Problems…, At MoMA's Cullman Education & Research Building in Theatre 3: World Monument Fund & MoMA's LATIN AMERICAN MODERNISM AT RISK, At Carnegie Hall in The Isaac Stern Auditorium, On The Ronald Perelman Stage: Kurt Weill & Franz Werfel's THE ROAD OF PROMISE, At The New York Theatre Workshop: Dael Orlandersmith's FOREVER, At The Public Theatre: Lemon Anderson's TOAST, Scott Siegel's BROADWAY BY THE YEAR©: The Broadway Musicals of 1966 1990, At The Caspary Auditorium Rockefeller University:Dr. Andrew Solomon Discusses OUTWARD OPULENCE FOR INNER PEACE: The Restoration of the Emperor's Private Paradise in the Forbidden City, At The Borden Theatre of the Manhattan School of Music: Steve Sonheim's A LITTLE NIGHT MUSIC, At The Acorn Theatre on Theatre Row: Dan Lauria's DINNER WITH THE BOYS, The Godlight Theatre Company at The 59E59 Theatre: Donn Pearce's Novel--Adapted by Emma Reeves--COOL HAND LUKE, At Studio 54: David Javerbaum's AN ACT OF GOD, Target Margin At The Connelly Theatre--Between Ave A & Ave B: David Greenspan's WHEN THIS YOU SEE, REMEMBER ME...
Report for The Humana Festival 2015
CELEBRATING NEW AMERICAN PLAYS IN LOUISVILLE…, PASSING GLANCES AT SHOW SCENES SEEN AT ACTORS THEATRE: Jen Silverman'sTHE ROOMATE, Colman Domingo's DOT, Jeff Augustin, Diana Grisanti, Cory Hinkle, & Charise Castro Smith's THAT HIGH LONESOME SOUND, Pig Iron Theatre & Gregory S. Moss's I PROMISED MYSELF TO LIVE FASTER, Charles Mee's THE GLORY OF THE WORLD, The Famous Ten Minute Plays--Always Longer Than Ten Minutes… Patricia Cotter's RULES OF COMEDY, Gary Winter's SO UNNATURAL A LEVEL, Steve Yockey's JOSHUA CONSUMED AN UNFORTUNATE PEAR...
APRIL & MARCH 2015 ARTS RAMBLES
THESE WERE THE MONTHS THAT WERE…, BIG NEWS FROM THE FRIARS CLUB: Annual OCC Awards Nominees!, PASSING GLANCES AT SHOW SCENES SEEN: At The Clurman Theatre on Theatre Row: Andrew Lippa & Tom Greenwald's JOHN & JEN, At The Mitzi Newhouse Theatre of the Lincoln Center Theatre Complex: Bathsheba Doran's MYSTERY OF LOVE & SEX, At The American Airlines Theatre--No In Flight Snacks: Cy Coleman, Betty Comden, & Adolph Green's ON THE TWENTIETH CENTURY, At BAM's Howard Gilman Opera House: Georg Frideric Händel's SEMELE, At The Pershing Square Signature Theatre: Naomi Wallace's THE LIQUID PLAIN, At The Public Theatre: Lin Manuel Miranda's HAMILTON, At The Atlantic Theatre: Doug Wright's POSTERITY, At Joe's Pub in The Public Theatre: Cush Jumbo's JOSEPHINE & I, At The Music Box Theatre: Wendy Wasserstein's THE HEIDI CHRONICLES, At The Ades Performance Space of the Manhattan School of Music: Franz Lehár's DAS LAND DES LÄCHLENS, At The Winter Garden Theatre: Mike Poulton's Adaptation of Hilary Mantel's WOLF HALL--PARTS ONE & TWO, At The Neil Simon Theatre: Lerner & Loews's GIGI, At The Palace Theatre: George Gershwin's AN AMERICAN IN PARIS, At The Brooks Atkinson Theatre: Barbara Anselmi & Brian Hargrove's IT SHOULDA BEEN YOU, At The [Alfred] Lunt & [Lynn] Fontanne Theatre: James Graham, Gary Barlow, & Eliot Kennedy's FINDING NEVERLAND, At Lincoln Center's Vivian Beaumont Theatre : Rodgers & Hammerstein's THE KING & I, At The Longacre Theatre: Joe DePietro's LIVING ON LOVE, At The St. James Theatre: Wayne & Karey Kirkpatrick & John O'Farrell's SOMETHING ROTTEN, At The Samuel J. Friedman Theatre: Lisa D'Amour's AIRLINE HIGHWAY, At The Broadway Theatre: Michael Weller, Lucy Simon, Michael Korie, & Amy Powers' DR. ZHIVAGO, At The Lyceum Theatre: Terrence O'Malley, John Kander, & Fred Ebb's THE VISIT, At The Anspacher Stage of the Public Theatre: Julie Taymor Stages Anne Hathaway in George Brant's GROUNDED, At The Peter J. Sharp Theatre of the Juilliard School: Wolf Mozart's THE MARRIAGE OF FIGARO, At The Cort Theatre: Larry David's FISH IN THE DARK, At The Borden Theatre of The Manhattan School of Music: Wolf Mozart's DIE ZAUBERFLÖTE, At New World Stages: Paul & Michael Hodge's CLINTON: The Musical..
MARCH 2015 REPORT FROM NEW ORLEANS
THIS WAS THE FRENCH QUARTER AS ATCA DISCOVERED IT…, FROM THE O'NEILL CENTER TO THE THEATRES OF AMERICA, The Astonishing Birth of Regional Theatres & Not For Profits in the 1960s, PASSING GLANCES AT SHOW SCENES SEEN:, At The Rivertown Theatres for the Performing Arts: Ricky Graham's WHEN YA SMILIN' , At The Herman Grima House: Tennessee Williams' HOTEL PLAYS , At Le Petit Theatre du Vieux Carré: Donald Margulies' DINNER WITH FRIENDS, At The Southern Rep's Ashe Powerhouse Theatre: Tennessee Williams' SUDDENLY LAST SUMMER, At The Monteleone Hotel Ballroom Theatre: Tennessee Williams' I NEVER GET DRESSED TILL AFTER DARK ON SUNDAYS, At The Monteleone Hotel Ballroom Theatre: Author/Critic John Lahr's MADMAN'S PILGRIMAGE OF THE FLESH...
REPORT FROM THE DENVER NEW PLAY SUMMIT OF FEBRUARY 2015
DENVER NOW THE MILE HIGH CITY IN MORE WAYS THAN ONE… ,SALUTING DONALD SEWALL AT 102:FOUNDER OF DENVER CENTER FOR THE PERFORMING ARTS ,CLIMBING THE DENVER NEW PLAY SUMMIT: BLIZZARD WARNINGS! ,NOT FOR REVIEW:PLAY READINGS THAT DO NOT NEED "PRODUCTION VALUES"… ,Jason Gray Platt's THE THERE THERE ,Eric Schmiedl's Adapation of Kent Haruf's Beloved Denver Novel: BENEDICTION ,James Still's APPOGGIATURA Forget about Death in Venice: Gordon Is Already Dead…
JANUARY & FEBRUARY, 2015
Moira Buffini's Adaptation of Nicolai Erdman's Suicide, now known as DYING FOR IT, Nick Payne's CONSTELLATIONS, Halley Feiffer's I'M GONNA PRAY FOR YOU SO HARD, Edward Albee's A DELICATE BALANCE, Joe Pintauro's THE SNOW ORCHID, Jonathan Christenson's NEVERMORE: The Imaginary Life & Mysterious Death of Edgar Allan Poe, Christoph Willibald Gluck's IPHIGENIE EN AULIDE, Alan Govenar's TEXAS IN PARIS, Ronald Keaton's Adaptation & Performance of CHURCHILL, Andrew Bergman & Jason Robert Brown's HONEYMOON IN VEGAS, Stephen Adly Guirgis' BETWEEN RIVERSIDE & CRAZY, Stephen Sondheim & James Lapine's INTO THE WOODS, Gene O'Neill's THE ICEMAN COMETH, Ferenc/Franz Molnar's FASHIONS FOR MEN, Chris Marlowe or Bill Shakespeare's A WINTER'S TALE, Jennifer Haley's THE NETHER, Joel Drake Johnson's RASHEEDA SPEAKING.
JUNE ARTS RAMBLES
Playwright Mario Fratti's Portrait Painted with Wine, But He Isn't Whining about the Fratti Award! , Jim Jacobs & Warren Casey's GREASE, Penelope Skinner's THE VILLAGE BIKE, Joanna Chan's THE STORY OF YU HUAN, Nancy Harris' OUR NEW GIRL, Chris Marlowe or Bill Shakespeare's MUCH ADO ABOUT NOTHING, Moises Kaufman & the Tectonic Theatre Project's THE LARAMIE PROJECT, Rosenstock, Connolly & Mitnick's FLY BY NIGHT, Sarah Treem's WHEN WE WERE YOUNG & UNAFRAID, Jules Romains' DONOGOO, A Comedy, Andre Aciman's TRAVEL & MIRAGE: The Lure of Place, Scott Siegel's BROADWAY BY THE YEAR: Broadway Musicals of 1990 2014, Opera Feroce's ARMINIO IN ARMENIA, Tupac Shakur's HOLLER IF YA HEAR ME, Benjamin Scheuer's THE LION, Robert Wilson's Vision of Mikhail Barishnikov & Willem Dafoe in THE OLD WOMAN, Leos Janácek's THE CUNNING LITTLE VIXEN, Mario Fratti & Maury Yeston's NINE, Gerry Alessandrini's FORBIDDEN BROADWAY Comes Out Swinging.
SHOWS AND EXHIBITIONS AROUND TOWN IN MAY, 2014
Kevin Murphy & Laurence O'Keefe's HEATHERS: The Musical, Robert L. Freeman & Steven Lutvak's A GENTLEMAN'S GUIDE TO LOVE & MURDER, Robert Sternin & Prudence Fraser's UNDER MY SKIN, James MacMillan's "SINCE IT WAS THE DAY OF PREPARATION" Religious Caution Advised, Richard Brinsley Sheridan's THE RIVALS, Christian Rizzo's Lyon Opera Ballet in ni fleurs, ni ford mustang Unrate able; Not Unbeat able, Jeff Blumenkrantz's MOVING RIGHT ALONG: The World of Jeff Blumenkrantz, David Lang's battle hymns, Anthony Giardina's THE CITY OF CONVERSATION, Terry Teachout's SATCHMO AT THE WALDORF, ISH's Amsterdam Inspired HYPERISH, Anton Dudley & Stephanie DiMaggio's 17 ORCHARD POINT, Gardner McKay's SEA MARKS, Carole J. Bruford's SHADES OF BLUE, Jon Robin Baitz's THE SUBSTANCE OF FIRE, BAM & Brooklyn's DANCE AFRICA FESTIVAL, Gene Ionesco's THE KILLER, A Story of Two Museums: An Ethnographic Exhibition, The Poetry of Parmigianino's "Schiava Turca", ENGLIGHTENMENT & BEAUTY: Sculptures by Houdon & Clodion, THE POWER OF WORDS & IMAGES IN A WORLD AT WAR, URS FISCHER, LAUNCHPAD FOR THE AMERICAN THEATRE: The O'Neill Since 1964, CHARLES JAMES: Beyond Fashion, THE PRE RAPHAELITE LEGACY: British Art & Design, LOST KINGDOMS: Hindu Buddhist Sculpture of Early Southeast Asia…, GATSBY TO GARP: Modern Masterpieces from the Carter Burden Collection, A DIALOGUE WITH NATURE: Romantic Landscapes from Britain & Germany, MIRACLES IN MINIATURE: The Art of the Master of Claude de France, Rembrandt Now On Line at the Morgan: Study His Etchings in the Privacy of Your Own Home!, MULTIPLE EXPOSURES: Jewelry & Photography, HOMEFRONT & BATTLEFIELD: Quilts & Context in the Civil War, SPRING MASTERS NEW YORK.
Report for The Month of April 2014
Ted Shen's A SECOND CHANCE, Lanie Robertson's LADY DAY AT EMERSON'S BAR & GRILL, Tom Kitt & Brian Yorkey's IF/THEN, Woody Allen's BULLETS OVER BROADWAY, John Steinbeck's OF MICE & MEN, David Ives' THE HEIR APPARENT, Bert Brecht & Kurt Weill's THE THREEPENNY OPERA, Scott Z. Burns & Steven Soderburgh's THE LIBRARY, Will Eno's THE REALISTIC JONESES, Kander, Ebb, & Masteroff's CABARET, Kander & Ebb's CABARET, Jeanine Tesori & Brian Crawley's VIOLET, Martin McDonagh's THE CRIPPLE OF INISHMAAN, John Cameron Mitchcell & Stephen Trask's HEDWIG & THE ANGRY INCH, Harvey Fierstein's CASA VALENTINA, Eric Coble's THE VELOCITY OF AUTUMN, Stephen Cole's INVENTING MARY MARTIN: The Revue of a Lifetime, Charles Ludlam's THE MYSTERY OF IRMA VEP: A Penny Dreadful, Jules Massenet's CENDRILLON, David Grimm's TALES OF RED VIENNA, DON JUAN, OR, THE WAGES OF DEBAUCHERY, Robert Sickinger & Alaric Jans' NICHOLAS NICKLEBY: A New Musical, James Lapine's Adaptation of Moss Hart's ACT ONE, Joseph Haydn's ORLANDO PALADINO.
Humana Festival 2014
Report for The Humana Festival of March April 2014, THIS WAS THE HUMANA THAT WAS, Big Bucks for Playwriting! American Theatre Loves the Harold & Mimi Steinberg Charitable Trust!, ATCA! Why Not Honor Designers, as Well as Playwrights? Here's a Modest Proposal:, Ted Talk Therapy for FACTA Board Members?, Meanwhile, Back To The Panels: Thinking About Social Media--Learning to Twitter & to Tweet, A Panel to Remember: The Art of Collective Invention--Who Needs a Playwright?, Not Inhumane, but also Not Humana: Darting Across Main Street to the Whiskey Lofts, Welcome to Baron's Theatre in What Once Was Squirrelly's Magic Tea Room!, Diana Grisanti & Steve Moulds' THE STRANGER & LUDLOW QUINN, And Now for Actors Theatre Louisville & The 38th Humana Festival of New American Plays!, Kimber Lee's brownsville song (b side for tray), Dorothy Fortenberry's PARTNERS, SITI's STEEL HAMMER, Lucas Hnath's THE CHRISTIANS, Jordan Harrison's THE GROWN UP, A Commissioned Committee's REMIX 38, The So Called TEN MINUTE PLAYS:, Rachel Bonds' WINTER GAMES, Jason Gray Platt's SOME PREPARED REMARKS (A History in Speech), Gregory Hischak's POOR SHEM.
March 2014 Roundup
The Bard's ANTONY & CLEOPATRA / Quiara Alegría Hudes' THE HAPPIEST SONG PLAYS LAST / Henrik Ibsen's A DOLL'S HOUSE / Marsha Norman & Jason Robert Brown's THE BRIDGES OF MADISON COUNTY / David Henry Hwang's KUNG FU / Jean Paul Sartre's NO EXIT / Sarah Ruhl's STAGE KISS / Red China's THE RED DRESS / Robert Askin's HAND TO GOD / Will Eno's THE OPEN HOUSE / Randy Sharp's NOTHING ON EARTH CAN HOLD HOUDINI / Chris Marlowe or Will Shakespeare's MEASURE FOR MEASURE / Polly Pen & Victor Lodato's ARLINGTON / Disney's ALADDDIN / Robert Schenkkan's ALL THE WAY / LIFE INTERNATIONAL/ 19 FEBRUARY 1968/p. 36: / GUEST COLUMN by Glenn Loney - Another View of LBJ / Sly Stallone, Tommy Meehan, Stephen Flaherty, & Lynn Ahrens' ROCKY / Terrence McNalley's MOTHERS & SONS / Victor Hugo's Musicalized LES MISÉRABLES / Casus' KNEE DEEP / Chris Marlowe, Ben Jonson, or Will Shakespeare's KING LEAR / Branden Jacobs Jenkins' APPROPRIATE / Brian Richard Mori's HELLMAN V. MCCARTHY / Cirque du Soleil's AMALUNA / John Van Druten's I REMEMBER MAMA / Lorraine Hansberry's A RAISIN IN THE SUN / Scott Siegel's BROADWAY BY THE YEAR - The Broadway Musicals of 1940-64.
February, 2014 Roundup
Will Shakespeare or Chris Marlowe's KING LEAR, Clare Coss' DR. DuBOIS & MISS OVINGTON, John Patrick Shanley's OUTSIDE MULLINGAR, Barry & Liz Peak's PHILOSOPHY FOR GANGSTERS, Donald Margulies' DINNER WITH FRIENDS, Greg Edwards & Andy Sandberg's CRAVING FOR TRAVEL, Juilliard & the Met Opera Present A CONCERT OF COMIC OPERAS, Eric Simonson's BRONX BOMBERS, Benjamin Britten's BILLY BUDD [High Winds/Deep Snow], Bob Marley's THREE LITTLE BIRDS, Nilo Cruz's SOTTO VOCE, Caryl Churchill's LOVE & INFORMATION, Carole King & Friends' BEAUTIFUL: The Carole King Musical, John Van Druten's LONDON WALL, Thomas Keneally & Larry Kirwan's TRANSPORT, Charles Busch's THE TRIBUTE ARTIST, Douglas Lackey's DAYLIGHT PRECISION: An American Tragedy,
David Rossmer & Steve Rosen's THE OTHER JOSH COHEN, Scott Siegel's BROADWAY BY THE YEAR: Broadway Musicals of 1915 1939, Paddy Chayefsky's MIDDLE OF THE NIGHT, At the Juilliard School: JUILLIARD ORCHESTRA Conducted by Hans Graf [Austrian] &BEYOND CARMINA BURANA: Carl Orff Commentaries Creating Prometheus & Ein sommernachtstraum…

January, 2014 Roundup
An Expeditious Expedition to Holy Places in Portugal & España, Sophie Treadwell's MACHINAL,Scott Siegel's 12th ANNUAL NIGHTLIFE AWARDS 2014, Bert Brecht's A MAN'S A MAN, Miral Kotb & Crew's iLUMINATE, Joe Orton's LOOT & THE LONELINESS OF THE LONG DISTANCE RUNNER.
December, 2013 Roundup
Lionel Bart's OLIVER!, Juilliard Songfest's CELEBRATING BENJAMIN BRITTEN, August Wilson's HOW I LEARNED WHAT I LEARNED, Richard Nelson's REGULAR SINGING, Wm. Shakespeare or Chris Marlowe's THE SCOTTISH PLAY, Circus der Sinne's MOTHER AFRICA, Meghan Kennedy's TOO MUCH, TOO MUCH, TOO MANY, Conor McPherson's THE NIGHT ALIVE, James Lapine & William Finn's LITTLE MISS SUNSHINE, Gertie Stein & Virgil Thomson's THE MOTHER OF US ALL, Lillian Hellman's THE CHILDREN'S HOUR, Robert Wilson's THE LIFE & DEATH OF MARINA ABRAMOVIC, Phoebe Legere's SHAKESPEARE & ELIZABETH I: The Reality Show, The Czech American Marionette's THE REPUBLIC, OR, MY DINNER WITH SOCRATES, Riabko & Seltzer's WHAT'S IT ALL ABOUT:Bacharach Reimagined, Opera Feroce's MAGDALENE'S DILEMMA & CEREMONY OF CAROLS [Not Rated], Madeleine George's THE [CURIOUS CASE OF THE] WATSON INTELLIGENCE, Samuel Taylor Coleridge's THE RIME OF THE ANCIENT MARINER, Sean O'Casey's JUNO & THE PAYCOCK, George Bernard Shaw's SAINT JOAN, Mark Rubinstein, Brett Haylock & et al's LA SOIRÉE, Martha Clarke's CHERI, Amanda Peet's THE COMMONS OF PENSACOLA, Stevie Holland Sings Cole Porter's Songs in LOVE, LINDA: The Life of Mrs. Cole Porter & Chris Marlowe or Will Shakespeare's HAMLET.
November, 2013 Roundup
Carlo Colla & Sons Marionette Company's SLEEPING BEAUTY, Guimarães & Delgaudio's NOTHING TO HIDE, Shakespeare, Marlowe, Bacon, or Queen Elizabeth I's RICHARD III, Bill Shakespeare, Chris Marlowe, or Frank Bacon's TWELFE NIGHT, At the CUNY Grad Center: Celebrating BAM & Beyond…, The Collegiate Chorale Concert at Carnegie: Arrigo Boito's MEFISTOFELE, Rupert Holmes' Adaptation of the Best Selling Novel by John Grisham: A TIME TO KILL, Wallace Shawn's GRASSES OF A THOUSAND COLORS [OXOXO], Un Authorized New German Version of Prof. Dr. Ibsen's AN ENEMY OF THE PEOPLE, Bruce Norris' DOMESTICATED, August & Lippa's BIG FISH, Merle Good's THE PREACHER & THE SHRINK, At Alice Tullly Hall: THE JUILLIARD ORCHESTRA, Rhythmic Circus' FEET DON'T FAIL ME NOW, Marlane Meyer's THE PATRON SAINT OF SEA MONSTERS, Julie Taymor's A MIDSUMMER NIGHT'S DREAM, Harold Pinter's NO MAN'S LAND, Samuel Beckett's WAITING FOR GODOT, Georg Frideric Händel's RADAMISTO, Lemieux Pilon 4D's LA BELLE ET LA BÊTE, World Premiere of Terrence McNally's AND AWAY WE GO, MSM's Opera Scenes: LOVE & OTHER MISTAKES, Dennis Kelley's TAKING CARE OF BABY, Vladimir Jurowsky Conducts Juilliard Orchestra in EARLY SHOSTAKOVICH, Mark St. Germain's BECOMING DR. RUTH, Jack Viertel's Concept, with Wynton Marsalis' Cotton Club Collaging: AFTER MIDNIGHT & Freedman & Lutvak's A GENTLEMAN'S GUIDE TO LOVE & MURDER.
October, 2013 Roundup
Chiori Miyagawa's I CAME TO LOOK FOR YOU ON TUESDAY,Randy Johnson's A NIGHT WITH JANICE JOPLIN, Belvoir & JM Barrie's PETER PAN, Stephen Stahl's LADY DAY, Will Power's FETCH CLAY, MAKE MAN, Thomas Lanier Williams' THE GLASS MENAGERIE, The Bard of Avon's ROMEO & JULIET [Not Seen In Full, Owing to MTA Delays], Mario Fratti's THE VATICAN KNOWS, Terence Rattigan's THE WINSLOW BOY, Jon Robin Baitz's THE FILM SOCIETY, David Dorfman's COME, AND BACK AGAIN, Sharr White's SNOW GEESE, Kron & Tesori's FUN HOME,
Mike Daisey's THE SECRET WAR, Harold Pinter's BETRAYAL, Zimmerman & de Perrot's HANS WAS HEIRI, Donald Margulies' THE MODEL APARTMENT, The Foundry Theatre's GOOD PERSON OF SZECHWAN, TR Warszawa & Teatr Narodny's NOSFERATU, Kinosian & Blair's MURDER FOR TWO, Making Music at the Manhattan School of Music in October, The MSM Chamber Sinfonia on 16 October, The American String Quartet on 20 October, The MSM Celebrates Verdi & Wagner on 24 October & The MSM Symphony on 25 October.
September, 2013 Roundup
Shlomo Carlebach & Nina Simone's SOUL DOCTOR, Luis Bravo's FOREVER TANGO, Lauren Yee's THE HATMAKER'S WIFE, Winsberg, Zachary, & Weiner's FIRST DATE, Lee Blessing's A USER'S GUIDE TO HELL, FEATURING BERNARD MADOFF, Ralph Lee's Mettawee River Theatre's TALIESIN, Matt Charman's THE MACHINE, Bill Shakespeare & Public Works' THE TEMPEST, Janet Behan's BRENDAN AT THE CHELSEA, Regina Taylor's stop. reset., Mike Daisey's ALL THE FACES OF THE MOON [Not Rated, as Only Two Faces were seen…], George Kelly's PHILIP GOES FORTH, Ethan Coen's WOMEN OR NOTHING, Sam Beckett's WAITING FOR GODOT--In Yiddish, Yet Already, William Inge's NATURAL AFFECTION, Elevator Repair Service's ARGUENDO, Lucy Thurber's SCARCITY, Tennesse Williams' THE TWO CHARACTER PLAY, Turnage & Thomas' ANNA NICOLE, Bill Shakespeare's ROMEO & JULIET, GB Shaw's YOU NEVER CAN TELL, Anne Washburn's MR. BURNS, A Post Electric Play, Horton Foote's THE OLD FRIENDS, Robert del Naja & Adam Curtis' MASSIVE ATTACK VS ADAM CURTIS & Scott Siegel's BROADWAY UNPLUGGED 2013.
The Bayreuth Wagner Festival 2013
THIS WAS THE BAYREUTH WAGNER FESTIVAL THAT WAS..., Closed for Restorations: Haus Wahnfried & Margravine Wilhelmine's Baroque Opera House, Richard Wagner's LOHENGRIN, Richard Wagner's DER FLIGENDE HOLLÄNDER,
Richard Wagner's DER RING DES NIBELUNGEN, WAGNER FOR KIDS & KINDER: ON BOARD WITH TRISTAN & THAT IRISCHE KIND.
Bregenz Festival 2013
Report for The Bregenz Festival of July/August 2013, Austria's President Dr. Heinz Fischer Invokes the Festival Theme: Toward the Light, WA Mozart's DIE ZAUBERFLÖTE, André Tchaikowsky's DER KAUFMANN VON VENEDIG , Speaking & Singing Shakespeare's Less Loved Sonnets.
The Munich Festival of June/July 2013
THIS WAS THE MUNICH FESTIVAL THAT WAS…, Kander & Ebb's CABARET, Giuseppe Verdi's SIMON BOCCANEGRA, Giuseppe Verdi's RIGOLETTO, Richard Wagner's TRISTAN UND ISOLDE, Richard Wagner's SIEGFRIED, Get a Lump of Rheingold…, Now for The Valkyries: DIE WALKÜRE, Modest Mussorgsky's BORIS GODUNOV, George Benjamin's WRITTEN ON SKIN
June, 2013 Roundup
Are You Ready for the End of Times? The Man of Steel Certainly Is!, A Regional Theatre TONY for Boston's Huntington Theatre & a Brilliant Play Production., Gina Gionfriddo's RAPTURE, BLISTER, BURN, NC Hunter's A PICTURE OF AUTUMN, Rod McLachlan's GOOD TELEVISION, Rosen, Saxe, & Moore's VENICE, Moe Angelos' SONTAG: REBORN, Early Music in Boston: Baroque Opera & Other Treats for The Music Critics of North America., Georg Frideric Händel's ALMIRA, Charpentier's LA DESCENT D'ORPHÉE AUX ENFERS & LA COURONNE DE FLEURS, Jenny Schwartz' SOMEWHERE FUN, Steven Levenson's THE UNAVOIDABLE DISAPPEARANCE OF TOM DURNIN , Richard Greenberg's FAR FROM HEAVEN, Neil Benjamin's THE EXPLORER'S CLUB, Bronson Howard's THE HENRIETTA, John Guare's THREE KINDS OF EXILE Not Seen, So No Rating, James Joyce's adapted GIBRALTAR, Neil LaBute's REASONS TO BE HAPPY, Thomas Lanier Williams' THE TWO CHARACTER PLAY Performances Cancelled, Chris Marlowe or Bill Shakespeare's THE COMEDY OF ERRORS, MORE PASSING GLANCES AT THE MUSEUMS, GALLERIES, & SPECIAL EVENTS, More Broken Records at Christie's Auction House: $21 Million Plus for Latin American Art!, Sensation on Sunset! Mrs. Sidney Sheldon's Doll Collection Up for Auction at Bonhams LA!, Bulletin Just In from the LA Sale!, Israeli Pride Day Parade on Fifth Avenue Blocks the M1, M2, M3, M4 & M72 at 72nd Street, Le Corbusier at MoMA: An Architectural Life's Work on Parade--with Models Galore!, At Christie's, Two Million Dollars for an Egyptian Bronze Cat--But No Kitty Litter, Ship Ahoy! Set Sail for Bonhams Fine Maritime Paintings & Full Speed Ahead!, Even in Death, Richard Artschwager Is Still with The Whitney Museum of American Art!, Amazements at the Park Avenue Armory: Do Your Really Want To See Snow White Get Raped?, Triple Play at the Met: Bronze Boxer, Sculptor Ken Price, & Five Centuries of Decorative Arts!, Let's Hear It for Ken Price, Maker of Colorful Blobs!, Down into the Met Vaults for Some Centuries Old Furniture Designs & Room Interiors, Celebrating Children's Books at the NYPL's Steven Schwarzman Marble Palace, Federico Garcia Lorca: Back Tomorrow, Poet in New York, Let's Try Another Alteration on that Print Plate: Mary Cassatt at Work in Paris, William Shakespeare: From Stratford Upon Avon to the NYPL--But Only for a Day, Edward Armitage, RA, at Hirschl & Adler: Where Are My Ancestor's Crimean War Corpses?, The Oldest Library in New York City Shows Its Rarities in Extraordinary Gifts., Bulletin from Ben Katchor! When You Are on Ben's E Mail List, You Never Know What's Next, Let's Hear It for Contemporary Canopic Jars! Forget about the Pharaohs, Laying Down the Law: Alma Law's Amazing Archive of Russian Theatre Incunabula at Bonhams!, More Broken Records at Christie's! Tiffany Lamp Shades Always Popular!, At the Met Museum: Run of the Mill Photographs from 1969 to Now: Everyday Epiphanies, Ancient Persian Epiphanies: The Cyrus Cylinder & the Rise & Fall of Dynasties
May, 2013 Roundup
Mark Nadler's I'M A STRANGER HERE MYSELF, Leos Janácek's THE CUNNING LITTLE VIXEN, JM Barrie's THIS SIDE OF NEVERLAND, Richard Foreman's OLD FASHIONED PROSTITUTES (A True Romance) #!§#¥, David Bruce & Glyn Maxwell's THE FIREWORK MAKER'S DAUGHTER, Stephen Sondheim's SIDE BY SIDE BY SONDHEIM: A Musical Entertainment, Jason Robert Brown's THE LAST FIVE YEARS, Julia Jordan & Juliana Nash's MURDER HEART BALLAD, David Willinger's Version of Saroyan's Rock Wagram, Now Known as THE UPPER LIP, Richard Nelson's NIKOLAI & THE OTHERS, Ernest Abuba's DOJOJI: The Man Inside the Bell, Conor McPherson's THE WIER, Henrik Ibsen's THE MASTER BUILDER, Bertolt Brecht's Der Caucasischen Kreiderkreis, Tom Attea's BENEDICTUS, Mark Brown's Version of Jules Verne's AROUND THE WORLD IN 80 DAYS, Does Matthew Barney need a Restraining Order? Morgan Library Offers Subliming Vessel, Press Preview at Christie's: When Did Picasso Find Time for Love & So Many Ceramic Plates?, At the Whitney: I, YOU, WE…, New Sales Records at Bonhams & Christies, At the Jewish Museum: Long Dead Appropriation Artist Jack Goldstein Has Vinyl Disks On View!, At Grand Central Terminal: The Grand Centennial Parade of Trains!, More Millions Paid at Manhattan Auctions: Christie's & Bonhams Keep Setting Records!, Meanwhile, Over at Christie's: Impressionist & Modern Art Win Totals of $158 Million!, Saving Wildlife & The Environment with Leonardo DiCaprio's 11th Hour Auction, At the Met Museum: Land Marks on the Wall--Blood on the Roof!, Nothing of Jeff Koons, of Bamboo, or Simply Monumental on the Met's Roof: Blood Patterns, Not Pin the Tail on the Donkey, But Search for the Unicorn at the Met's Cloisters!, The Last Supper at the Morgan: Celebration of the Holy Eucharist in Medieval Manuscripts, At the Met Museum: More About the War Beween the States--American Art & The Civil War: Including Generous Lendings from the Museum of The Confederacy, Located in Virginia!, Paul Krugman at the CUNY Graduate Center, That Place with the Upside Down Flags, Tribal Arts Week at Bonhams: Not the Whole Canoe, Only the Prow!, All Time World Record for Art Auction Sales Set at Christie's: $638.6 Million!, At the Whitney: Hopper Drawings & David Hockney: The Jugglers, David Hockney Shows his Jugglers Video on Floor Two of the Whitney!, New Ways of Thinking about Contemporary Portraiture on the Whitney's First Floor!, More World Records Shattered at Christie's: $828.8 Million Finds Safe Haven in Artworks!, Tour the Morgan Library/Museum on Your Cell Phone, Thanks to Google's Art Project!, Monster Show at Met Museum of Old Masters: From 1300 AD To 1800 CE--Out of the Vaults!, Kolo Moser at the Neue Galerie: Die Wiener Werkstätte Lives Again!, Theatre Folk at Sardi's OCC Get Together: Cicely Tyson, Nathan Lane, Andrea Martin, & Others!, NY Philharmonic at St. John the Divine: Not as Tough as Being a Canterbury Pilgrim, At the Morgan Library/Museum: Old Masters, Newly Acquired, More Museum Notes: American Folk Art's Innovative Former Home Facing Destruction, While Its Palazzo del Mondo Is Off To the Venice Biennale!, End of Month Auction House Sales Results: Bonhams & Christie's Break Records Again.
April, 2013 Roundup
63rd Annual Awards: Outer Critics Circle Announce 2012 13 Season Nominees / THE 37th HUMANA FESTIVAL: Showcasing New Plays on Main Street in Louisville / Theatre Journalism & Drama Criticism Re Invent Themselves in the Digital Age! / THE PANEL: Charting the Course: New Play Directors in Conversation / A Big Kentucky Welcome To the Humana Festival: Greetings! / Branden Jacobs Jenkins' APPROPRIATE / Mallery Avidon's O GURU GURU GURU, or why I don't want to go to Yoga Class with you / Jeff Augustin's CRY OLD KINGDOM / Sam Marks' THE DELLING SHORE / Will Eno's GNIT Minus Stars / Rinnie Grof / Lucas Hnath / & Anne Washburne's SLEEP ROCK THY BRAIN / THE FAMOUS HUMANA TEN MINUTE PLAYS / Sarah Ruhl's TWO CONVERSATIONS OVERHEARD ON AIRPLANES / Emily Schwend's HALFWAY / Jonathan Josephson's 27 WAYS I DIDN'T SAY "HI" TO LAURENCE FISHBURNE / Re Fighting the Civil War at the Met Museum: But in Vintage Photos / Not with Pot Shots / Islamic Art: Making the Invisible Visible-- / SALVAGING THE PAST: Georges Hoentschel & French Decorative Arts from the Met Museum / CONFLUENCES: An American Expedition to Northern Burma, 1935 / At the Leslie & Lohman Museum: Paul Thek & His Circle in the 1950s / At the Met Museum: Diego Velázquez' Portrait of Duke Francesco I d'Este / At MoMA: CLAES OLDENBURG--Seminal Works: The Street, The Store, & the Mouse Museum! / At the Galerie St. Etienne: FACE TIME: Self & Identity in Expressionist Portraiture / Sam Maloof at Bonham's: Iconic Rocking Chair Sells for $43,750! / Meanwhile / Over at Christie's in Rock Center: the delighted eye Sets Man Ray Record! / The Show of Shows over at the Park Avenue Armory: The Annual NY Antiquarian Book Fair. / Bill Irwin & David Shiner's OLD HATS / Mark Janas & DISCOVER OPERA!'s MUSILDA / Roald Dahl's MATILDA / THE MUSICAL / Tanya Barfield's THE CALL / CRUNCH WEEK FOR THE OUTER CRITICS CIRCLE / Berry Gordy's MOTOWN / Douglas Carter Beane's THE NANCE / Richard Greenberg's THE ASSEMBLED PARTIES / David Byrne & Fatboy Slim's HERE LIES LOVE / Frank Wildhorn & Leslie Bricusse's JEKYLL & HYDE / Alan Cumming's MACBETH / Lyle Kessler's ORPHANS / Clifford Odets' THE BIG KNIFE / Colm Toibin's THE TESTAMENT OF MARY / Horton Foote's THE TRIP TO BOUNTIFUL / John Logan's I'LL EAT YOU LAST: A Chat with Sue Mengers / Stephen Schwartz's PIPPIN / At Christie's: The Power of Pink: The Princie Diamond Sells for $39,323,750 / Speaking of Christie's: How About $5 Million+ for Russian Works of Art? / Building the Blue Box--with White Ribbon--over the Rock Center Skating Rink! / Silent Stone Sentinels Stand Tall Behind Rock Center's Blue Box / August Strindberg's THE DANCE OF DEATH / Jacques Offenbach's LA PÉRICHOLE / Five Major New Exhibitions at the Brooklyn Museum: / Bright Orange Walls for the Delicate Watercolors of John Singer Sargent! / What To Do with Old Tin Can Lids! Monumental Works by El Anatsui! / Considering Life, Death & Transformation in the Americas / Braddock, PA in Decline, Documented by LaToya Ruby Frazier in A Haunted Capital / From the Archives: Fine Lines: American Drawings from the Brooklyn Museum. / Not To Worry: There Are Even More Brooklyn Museum Special Exhibitions On Offer! / Bonhams & Christie's Stage Unusual Auctions: / The Treasures of the Late Larry Hagman / Better Known as JR Ewing On Sale! / How About A Palladian Villa by Michael J. Smith at Christie's? / Bert Brecht & Kurt Weill's MAHAGONNY / Jonathan Tolins' BUYER & CELLAR / Wright & Forrest's SONG OF NORWAY.
March, 2013 Roundup
Johnny Burke & Robert McEnroe's DONNYBROOK / Liz Flahive's THE MADRID / Amy Herzog's BELLEVILLE / At the Met Museum, A Video of NYC Street Scenes, Including the Central Park Wall on 5th Ave / Let There Be Light at MoMA: Shadow & Light + Structure Brought to Light: Photos & Architecture. / Light Streams into Labrouste's Bibliothèque St Geneviève: Soaring Cast Iron & Epic Windows! / Lanford Wilson's TALLEY'S FOLLY / Paul Down Colaizzo's REALLY REALLY / Guillermo Calderón's NEVA / THE ART SHOW Is 25 Years Old & Going Strong at the Armory--for the Henry Street Settlement. / Anna Khaja's SHAHEED: THE DREAM & DEATH OF BENAZIR BHUTTO / Brooklyn Museum Art Works Win $830,625 in Christie's First Open Sale! / Andy Warhol Online Only Sale Achieves Only $2.3 Million / At the Frick: The Impressionist Line from Degas to Toulouse Lautrec--Art from the Clark / Go MAD & You Get THE MUSEUM OF THE FUTURE / Rodgers & Hammerstein & Douglas Carter Beane's CINDERELLA / Holland Taylor's ANN / Bill Shakespeare or Chris Marlowe's HENRY IV, PART I / Cirque du Soleil's TOTEM / David Henry Hwang's THE DANCE & THE RAILROAD / Craig Lucas' THE LYING LESSON / Handsome Thomas Hampson's Masterful Master Class at MSM: Breathe, Don't Belt / A Whale of a Show at the American Museum: Not Barnum's Version, but Real Natural History! / Annie Baker's THE FLICK / Evenings at the Opera: Although Banned at the Met, a Blessed Reprieve from Belgium! / Charles Gounod's FAUST / Riccardo Zandonai's FRANCESCA DA RIMINI / Giuseppe Verdi's LA TRAVIATA / Giuseppe Verdi's OTELLO / Vit Horejs' KING EXECUTIONER / Karlheinz Stockhausen's OKTOPHONIE / Wright, Greene, & Anastasio's HANDS ON HARDBODY / Lanford Wilson's THE MOUND BUILDERS / More Millions Earned at Christie's: Asian Art Week Sales Total $80.4 Million! / Futures at Christie's: Imperial Russian Fabergé & The Collection of the Duchess of Alba! / Jacques Offenbach's ORPHÉE AUX ENFERS not rated / Nora Ephron's LUCKY GUY / Richard Greenberg's BREAKFAST AT TIFFANY'S / Cyndi Lauper & Harvey Fierstein's KINKY BOOTS.
February, 2013 Roundup
Now Legal, but You can get High on Theater as well! / Shakespeare in the Shadow of the Rockies / Don't Mess with My Head! Re Programming Ed's Memories / THE OUTSIDER ART FAIR 2013: Outlandish/Inlandish & Almost at The Chelsea Piers / Polish Priest Learns Spanish, While His Orphan Charge Becomes Roller Derby Charger. / At the Met Museum: A Trio of Mini Exhibitions & a Website Enrichment / Blues Lovers & Video Addicts Should Flock To the Whitney To See & Hear BLUES FOR SMOKE! / It's All About Inheritance: Who Will Get Big Daddy's Rich Plantation--No Neck Monsters? / CAN VENICE BE SAVED? / New MoMA Show: Dieter Roth's Wait, Later This Will Be Nothing / Remarkable Baronial Hall Dominates Juilliard Production of Marital Misfires Somewhere in Italy. / MISS LA LA ALOFT: Edgar Degas' Painting of Black Prussian Aerialist at Cirque Fernando / GOD HATES FAGS! Did Organized Religion Help Kill Matthew Shepard? Talking To Locals / Who Was That Masked Man with That Flowing Black Cape? ZORRO, of course, But from the UK / For a "Good Time," Call The New York City Opera: Oral Sex Onstage / at BAM, Plus 24 Naked Men! / Impressionism & Fashion at the Met! Manet & Monet were not only into Bustles & Corsets / Marilyn "Jackie" Horne Conducts a Masterful Master Class at Manhattan School of Music! / At the Guggenheim: Lots of Food & Lots of Talk & Talkers about "Art Mapping" in SE Asia / Seven Ages of Man in Shakespeare, but Five Stages of Women Characters! / ANDY WARHOL Art Artifacts Up for On Line Bidding at Christie's! / At the Grolier: A Plenitude of Handsome "Little Magazines," with Beardsley & Elbert Hubbard / Clockwork Precision Marks the Cast Work in the Hilarious Revival of Ives' Six Timed Parodies / A Largely Overlooked & Forgotten Irish Playwright Gets a Second / Chance at Mint Theatre. / There's Evil Onstage at BAM: Governess Battles Ghosts for Possession of Orphan Children / Piero Della Francesca in America? When Did He Arrive? How Did He Get Through Customs? / Trio of New Shows at the Met: Cambodian Rattan, Plain or Fancy, & Southern Poverty Photos. / Muni Art Society Faces New Challenges: After Hurricane Sandy, Sustainability & Livability. / My Old UC/Berkeley Artist/Designer/Friend, Jay DeFeo, Back at the Whitney! / Old Testament Sings Aloud: Mendelssohn's Elijah Electrifies at the Manhattan School / Ronald Lauder's "Magnificent Obsession" with German/Austrian Expressionism at Neue Galerie! / Elite Private School Then & Now: Making Boys into Men Doesn't Always Work .
January, 2013 Roundup
Peter Brook's THE SUIT, Martin Moran's ALL THE RAGE, DRAWING SURREALISM: The Art of Drawing as Manifest in the Creation of Surrealist Ikons, ALBRECHT DÜRER VERY BIG AT CHRISTIE'S: World Record for His Rhinoceros Woodcut!, Americana Week at Christie's Totals $15 Million: Edward Hicks' Wm. Penn Fetches $2.5 Million!, RENAISSANCE: Old Masters Week at Christie's, with the Walls Crowded with Masterpieces!, CHRISTIE'S OLD MASTERS WEEK EARNS TOTAL OF $88.4 MILLION, William Inge's PICNIC, Ettore Scola, Ruggero Maccari & Gigliola Fantoni's WORKING ON A SPECIAL DAY, Aaron Posner's Adaptation of Chaim Potok's MY NAME IS ASHER LEV, FORTUNY Y MADRAZO: An Artistic Legacy, Own a Piece of Tatzu Nishi? Discovering Columbus Amethyst Velvet, Couch & LED TV For Sale!
Drying Out with the Arts after Hurricane Sandy
What--in God's Name--Are We To Do about Acts of God? Will NYC Survive Another Hurricane?, Tuesday, 6 November 2012, Was Election Day: If You Think Hurricane Sandy was Traumatic, Whatever Became of Armistice Day? Veterans' Day Suggests Our Wars Will Never Stop, Already, Another Thanksgiving Day--But Still an Unlucky Day for Big Breasted Turkeys, Nationwide, Ayad Akhtar's DISGRACED, Neither Snow nor Sleet nor Hurricane Sandy Kept Fine Print Dealers from the Armory Show!, Charlie Strouse, Tommy Meehan, & Marty Charnin's ANNIE, Tony Chekhov's IVANOV, James McManus' BLOOD BROTHERS, Three Chaffers & a Cragin's SON OF A GUN, Beatrix Potter at the Morgan: How About Getting a Letter with Peter Rabbit Looking Out at You!, August Strindberg's THE STRONGER & CASPER'S FAT TUESDAY, Richard Nelson's SORRY, Aurelian Bory's SANS OBJET, The French Take Over the Park Avenue Armory for The Salon: Art & Design! , Andy Warhol Artifacts Cram Christie's Galleries, Plus Big Bucks for Impressionism & Modernism., Talk About Tax Cuts for The Rich! Sales Totals at Christies for the Warhol Week: $525 Million, Michael John LaChiusa's GIANT, Kev & Wil B's BLACK VIOLIN, Forget Pearl Harbor! Celebrate the Post War Transformation of Tokyo as an Avant Garde Nexus!, Out of the Ashcan & Onto Museum Walls: George Bellows, Graduate of the Ashcan School, Concealed Compartments? Roentgen Desks & Cabinets Are Crammed With Trick Drawers, Tommy Meehan & Chris Curtis' CHAPLIN, Eve Ensler's EMOTIONAL CREATURE, Daniele Finzi Pasca's DONKA: A LETTER TO CHEKHOV, Joshua Elias Harmon's BAD JEWS, Ivo van Hove's Modernised Shakespeare/Marlowe ROMAN TRAGEDIES, Bruce Graham's THE OUTGOING TIDE, Celebrating Aromas at MAD: The Art of Scent--1889 2012, Charles Morey's FIGARO, Christopher Durang's VANYA & SONIA & MASHA & SPIKE, August Wilson's THE PIANO LESSON, Linda Christian Sells for Half a Million Dollars: Formerly "Lost" Diego Rivera Portrait at Christie's!, Kathie Lee Gifford & Friends' SCANDALOUS: The Life & Trials of Aimee Semple McPherson, Colorful Canvasses Now On View at the Met Museum: MATISSE: In Search of True Painting , African Masks Again! Modernists & Primitives: AFRICAN ART: New York & The Avant Garde., Theresa Rebeck's DEAD ACCOUNTS, Joseph Robinette & Jean Shepherd's A CHRISTMAS STORY, Ruth & Augustus Goetz's Adaptation of Henry James's Washington Square: THE HEIRESS, American Masterworks in the Bohemian National Home, Near the New Second Ave Subway, More Records Broken at Christie's Auction House: Edward Hopper Sold for $9.5 Million On Line!, Food Over the Ages & Around the World: But No Ethnic Eats Mornings: Global Kitchen at AMNH., Bogart & Clarke's THE TROJAN WOMEN (After Euripides), David Henry Huang's GOLDEN CHILD, "Mad" King Ludwig II of Bavaria Will Be Back in Richard Wagner's Wahnfried Villa This Summer!
October Roundup
At the Frick: Mantegna to Matisse: Master Drawings from the Courtauld in London, BASHFORD DEAN & THE CREATION OF THE ARMS & ARMOUR DEPARTMENT!, Also At the Met Museum: Bernini in the Basement!, At MoMA: ALINA SZAPOCZNIKOW: Sculpture Undone, 1955 1972, Birdhead, Zoe Crosher, Shirana Shahbazi & Michele Abeles, Amazement at the Whitney: WADE GUYTON OS, Craig Wright's GRACE, Ed Rostand's CYRANO DE BERGERAC, Gene Ionesco's RHINOCEROS, Mario Fratti's SUICIDE CLUB & THREE SISTERS & A PRIEST, Steven Cosson & Michael Friedman's PARIS COMMUNE, From Salvation Army Soup Kitchen to Performing Arts Powerhouse: Thank you, Hugh Hardy!, Dark Doings in the Dark Room: FAKING IT: Manipulated Photography before Photoshop, ROBERT WILSON/PHILIP GLASS: Einstein on the Beach, DÜRER TO DE KOONING: 100 Master Drawings from Munich, JOSEF ALBERS IN AMERICA: Painting on Paper, Stephen Belber's DON'T GO GENTLE, At the Asia Society: CHINA CLOSE UP All Year Long!, BOUND UNBOUND: Lin Tianmiao--The Obsessive Thread Binder, Simon Stephens' HARPER REGAN, Circolombia's URBAN, Deanna Jent's FALLING, WW II & NYC: How New York City Helped Defeat the Japs & the Nazis!, The Hudson River School returns to Central Park West!, A Brief Brush with Daniel Brush at MAD: Gold/Silver/Diamonds--Blue Steel/Gold Light , Sitting in Chris Columbus' Sitting Room on Columbus Circle!, Pigpen Theatre's THE OLD MAN & THE OLD MOON, Brian Friel's LOVERS, Colman Domingo's WILD WITH HAPPY, Joe Papp Would Have Been Proud!, Ernie Lubitsch'sTHE LOVES OF PHARAOH, Daisy Foote's HIM, Teddy Roosevelt Rides Again! $40 Million Restoration of Memorial & North American Mammals!, Edvard Munch Screams Again at MoMA: Only On Loan for Six Months! Otherwise, Oslo!, The Art of Richard Artschwager Pre empts an Entire Floor at Whitney Museum!, At the Guggenheim: Picasso's Black & White Artworks, Plus: Looking Ahead at Guggenheim Museums Worldwide, The Builders Association's HOUSE/DIVIDED, Millionaires Buy Treasures of Other Millionaires at Christie's: Artworks & Furniture Recycled!, Not Porn! Anxiety Rather Than Arousal: Egon Schiele's Women at Galerie St. Etienne, Edward Albee's Steppenwolf WHO'S AFRAID OF VIRGINIA WOOLF?, Theatre Rites' MOJO, Brian Freel's THE FREEDOM OF THE CITY, Hurricane Watch: Vintage Vincent Van Gogh Portrait On Loan at the Frick Collection!
September Roundup
Back from a summer's round of European festivals, Glenn Loney offers September's Show Notes and brief observations on museum & gallery shows.
Previous articles from Loney's Show Notes
Reviews of the 2013-2014 Season
Margaret Croyden reviews "A Midsummer Night's Dream," "The Suit," "Fragments," "Matilda," "King Lear," "Richard III," "Twelfth Night," "Waiting for Godot," "No Man's Land," "Betrayal," "The Glass Menagerie" and "A Raisin in the Sun."
Reviews of the 2012-2013 Season
Margaret Croyden reflects on Matilda, I'll Eat You Last, The Nance, The Testament of Mary, Lucky Guy, The Suit, Picnic, Cat on a Hot Tin Roof, Glengarry Glen Ross, Who's Afraid of Virginia Woolf?, Chaplin, An Enemy of the People, The Heiress, Golden Boy, Heartless, Clybourne Park, Other Desert Cities, The Best Man, Vanya and Sonia and Masha and Spike, Macbeth and Fragments by Samuel Beckett directed by Peter Brook.
Reviews of the 2011-2012 Season
Margaret Croyden has gathered this summary of her reflections on Peter Brook's "A Magic Flute," four plays by The Royal Shakespeare, Langella in "Man and Boy," "Follies," "Private Lives," Peter Brook's "Fragments," "Krapp's Last Tape" at BAM, "Bonnie and Clyde," "Hugh Jackman: Back on Broadway," Athol Fugard's "Road to Mecca," "Seminar" by Theresa Reebeck, "Columnist" by David Auburn and "Death of a Salesman" directed by Mike Nichols.
Private Lives
If you're in a dark mood and want to travel back in time to the 1930s in a frivolous world of glitz and glam, cocktails, and England's upper crust, then go see Private Lives by Noël Coward.. In this production, directed by Richard Eyre, glamour is the word.
Newly out of her corner
Margaret writes, "Friends, I've been away a long time writing a new book, "The Years In Between – A Reporters Journey: World War II-The Cold War." Here are some or her brief thoughts on "Follies," Frank Langella and Peter Brook's "Magic Flute."
"Billy Elliot The Musical"
It is no wonder that "Billy Elliot" won so many Tony awards. Rightly so. If you want to have a total theater experience and a memorable evening full of joy and exuberance, see "Billy Elliot, " a remarkable achievement. Although "Billy Elliot" is listed as a Broadway musical, it is not an ordinary one. With a pignant story and some terrific acting, besides unusual dancing, and gifted young people who make up the plot, I assure you will be happy when you come out of the theater and will long remember it. By Margaret Croyden.
Previous articles from "Croyden's Corner"
Headshot lane at Showbiz Expo 2010. Photo by Cathy Rocher.
Networking at ShowBiz Expo
ShowBiz Expo is the largest annual networking event for the entertainment industry in NYC. It offers many possibilities to people from showbusiness to meet each other. This year, attendees could visit the exhibition hall and participate in workshops and focus groups. A film festival, a headshot fair, a showbiz project board, casting calls and showcases for music, movies and designers were also held. By Cathy Rocher.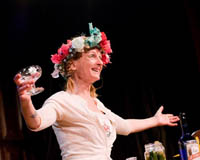 WONDER BREAD -- Danusia
Trevino in "Wonder Bread" in gala at the Players Club. Photo by JDZ Photography.
"Wonder Bread," an autobiographical account of a woman's journey through poverty and Rock and Roll.
An interview with Danusia Trevino, author and performer of "Wonder Bread," takes us back to communist Poland to uncover more about the production and how the process started. By Zita Bradley.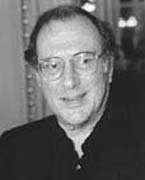 Harold Pinter.
Harold Pinter at a dinner party in Turkey, where the playwright challenged the U.S. ambassador
British playwright Harold Pinter died on December 24, 2008. He was a man committed to political freedom and did his part to promote it. By Lucy Komisar.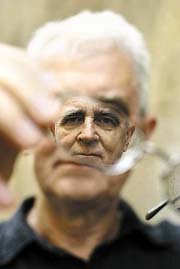 Krystian Lupa
A Dialogue with the Polish Master Krystian Lupa
In Europe, the Polish stage director Krystian Lupa is considered a theatrical giant. As attested by the 13th Europe Theatre Prize that was bestowed upon him this past April, Lupa is ranked alongside such major world figures as Harold Pinter, Peter Brook, Ariane Mnouchkine and Pina Bausch. A director, stage designer and writer, Lupa has been honored with an Austrian Cross of Merit in 2001 and the French Order of the Fine Arts and Humanities in 2002. As my interview with Lupa below shows (conducted with a Polish translator), Lupa is deeply aware that many gurus are emperors with no clothes—that often actors blindly follow a great artist by simple virtue of their charisma. In his most recent works, particularly Factory 2 and Persona, Lupa seeks to expose the irony of the phenomenon of personality, and he doesn't mind besmirching the sacred idols to prove his point. By Randy Gener.
Details from a photo of a roundtable at NYU in 1983: moderator Rosette Lamont and guest Eugene Ionesco. Photo by Beverly Pabst.
Remembering Rosette
Our own Rosette C. Lamont, a renowned theater critic, eminent author, distinguished teacher and leading authority on the works of Samuel Beckett and Eugene Ionesco, died on January 5, 2012 in Falmouth, Massachusetts after a lengthy illness. By Allen Lang and Jonathan Slaff.