DANCE
Edited by Jack Anderson
A muse, Gwyneth Larsen, visits a writer, Aidan O'Shea, who is seated among floating pages in
an onstage pool. Photo by Adele Bossard.
Breaking Surface
Bodies descended from the heavens and seemingly solid objects became weightless to rise up and whirl through the air in "Breaking Surface," the acrobatic aerial dance-theater work Gwyneth Larsen and William Mulholland created for their company, AiRealistic. What they made you see often defied expectations not only of how the law of gravity is supposed to operate, but also of what theatrical combinations of dance and acrobatics look like. By Jack Anderson.
Nordic Modern Dance
Three Nordic companies came to New York to affirm the vitality of modern dance in northerly realms: the Tero Saarinen Company from Helsinki, Dansk Danseteater from Copenhagen and Carte Blanche from Bergen. Only the Finnish group was known in New York, but it had not visited here since 2006 (when I reviewed it for New York Theatre-Wire on March 30, 2006). This time around, it once again made "Hunt," Saarinen's powerful solo to "The Rite of Spring," its major attraction. The Danish and Norwegian presentations were totally new to us. There weren't all that many, however: this was far from a choreographic smorgasbord. Each group presented just one production, lasting only an hour. By Jack Anderson.
Pacific Northwest at the City Center
Pacific Northwest Ballet made a welcome return to New York with a much too short season and a much too small repertory that surely made many balletomanes plead, "We want more!" The Seattle company, directed by Peter Boal, brought only two attractions: a triple-bill of masterpieces by George Balanchine ("Concerto Barocco," "Apollo," "Agon") and a peculiar version of Prokofiev's "Romeo and Juliet" by Jean-Christophe Maillot. Nevertheless, the dancers and their fine orchestra, conducted by Emil de Cou and Allan Dameron, were enough to make one crave, "More, please."By Jack Anderson.
"The Oracle," by the choreographer Meryl Tankard. Photo by Regis Lansac.
Meryl Tankard "The Oracle"
Stravinsky's "Rite of Spring" is a century old this year, and with "The Oracle," the Australian choreographer Meryl Tankard makes her contribution to the anniversary celebrations. By Jack Anderson.
Pina Bausch's Orpheus and Eurydice, 1975 and 2012
Seeing Pina Bausch's Orpheus and Eurydice again after thirty-seven years suggests how things change, how my perceptions have changed, and how much they remain the same. By George Dorris.
Cedar Lake Contemporary Ballet
Cedar Lake presents three programs by different choreographers: "Violet Kid," by Hofesh Shechter, and "Grace Engine," by Crystal Pite, and the familiar, "Annonciation," by Angelin Preljocaj. By Jack Anderson.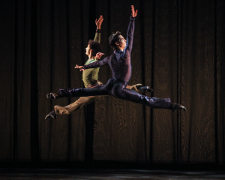 BARCELONA BALLET -- Alejandro Virelles, left, and Dayron Vera in "For 4." Photo by Erin Baiano.
Barcelona Ballet
Angel Corella's company first came here in 2010 as Corella Ballet Castilla y León. Now it's back as the Barcelona Ballet, its new name reflecting its architecturally imposing and culturally vibrant new home city. Its director remains the deservedly popular dancer Angel Corella, and his guidance has made the troupe increasingly assured, with a particularly strong male contingent. By Jack Anderson.
Last Touch First
Apparently affluent indolent people pose in the drawing room of a 19th-century manor house at the start of "Last Touch First," by Jiri Kylian, the Czech-born former director of Nederlands Dans Theater, and Michael Schumacher, an American dancer based in Europe. Much happens; most of the time, very slowly, but there are moments when, despite the visual clarity of the action, you can't be sure just why it is happening. This helps make "Last Touch First" something of a mystery: its choreographers withhold, as well as supply, information. By Jack Anderson
Reviving Martha Graham
The Graham company had a worthy season, one I happily applauded. But seldom did I feel an urge to cheer. That's often been my reaction to the company these days: it has inspired genuine respect, but little unrestrained enthusiasm. The dancers themselves are not to blame; they are talented and clearly devoted to preserving the Graham legacy. But too many of their presentations have smacked of academic lecture-demonstrations, as if Janet Eilber, their director, felt she had to put every dance into some sort of historical or esthetic context to make it comprehensible. Can Graham's works really have grown so remote that they now require the theatrical equivalents of scholarly annotations? Can they no longer come alive on stage otherwise? By Jack Anderson.
Bach by the Geneva Ballet
When the Ballet du Grand Théâtre de Genève announced it was offering an hour-long ballet to selected preludes and fugues from Bach's "Well-Tempered Clavier," it was easy to imagine what the Swiss company's production might look like: the stage would be bare, costumes would be spare and each contrapuntal musical phrase would be solemnly yoked to a corresponding choreographic phrase. By Jack Anderson.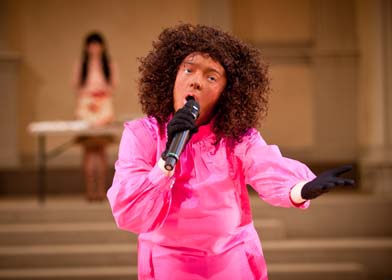 Ann Liv Young as Sherry, in blackface. Photo by Photo Ian Douglas.
"Black Dance" at Danspaced
at Danspace"Black Dance" was the title of the evening's program, and yet none of the artists performing--Young Jean Lee, Pedro Jiménez, and Ann Liv Young-- were "black" in the usual, African-American sense of the term. It seems that the evening's curator, Dean Moss, meant his title in the sense of "dance with an outsider sensibility." And he got some, for sure. By Henry Baumgartner.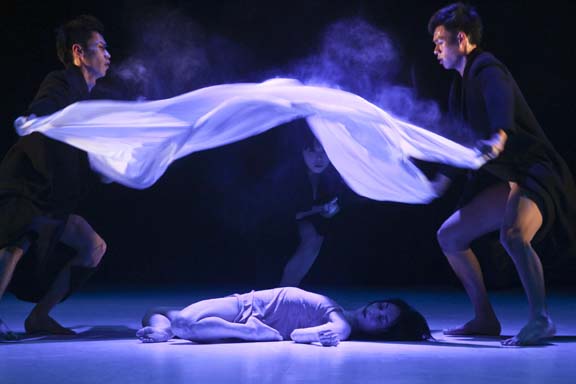 Scene from "Passage" by Bulareyaung Pagarlava. Photo by Liu Chen-Hsiang
Another Way into the Cloud
Although New York audiences have long been familiar with Lin Hwai-min's amazing Cloud Gate Dance Theater from Taiwan, its second company, Cloud Gate 2, is only now appearing here for the first time. But this is not your usual second company: Cloud Gate 2 is a completely separate company that does not perform Lin's work at all; rather, they specialize in the work of new or lesser-known dancemakers from Taiwan or elsewhere in Asia--though the choreographers on this program, who were all from Taiwan, all have had some international exposure. By Henry Baumgartner.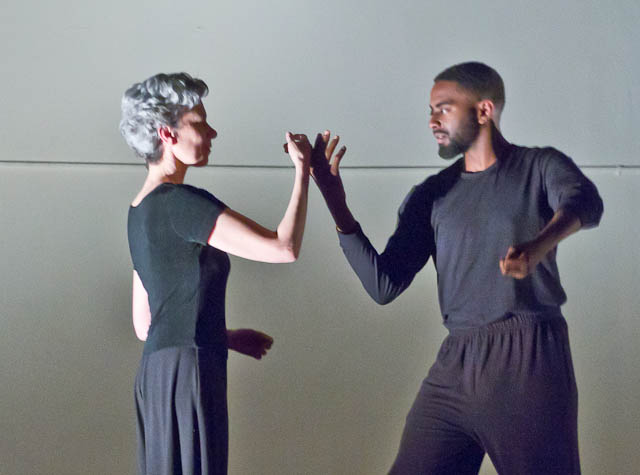 Deborah Gladstein & Jerron Herman. Photo by Sam Kanter.
Mark Lamb Dance at Metro Baptist Church
Unexpected pleasures can sometimes turn up in out-of-the-way places. Take Metro Baptist Church, a modest house of worship tucked away among the overpasses back of the Port Authority Bus Terminal. Who could have predicted that it would be home to a resident dance company? Yet Mark Lamb Dance is based there, and for the past two years Lamb has been the organizer of a Second Saturday Sanctuary Salon Series, presenting monthly performances involving dance and the other arts. By Jack Anderson.
QUESTIONS ABOUT ANGELS -- Joseph Mills performs in the "Icarus Aspires" section of "Questions About Angels" at Theater for the New City, NYC January 13 to 22, 2012. Circle Walker sculpture in photo is by Alan Boeding. Photo by Jeff Greenbe.
Questions About Angels
Angels are both puzzling and appealing. Although they are supposedly amorphous and sexless beings, they can be depicted by humans only in material terms, artists and writers making them often radiantly beautiful and even sexy. They can be physically powerful, as well. The peculiar nature of angels prompted Billy Collins to write "Questions About Angels," the title poem of his collection of 1991. That poem, in turn, became one of the inspirations for Joseph Mills's suite of little dances, also called "Questions About Angels." By Jack Anderson.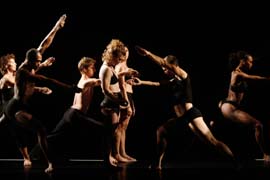 The Jones/Zane company in "Continuous Replay." Photo by Julia Cervantes.
Bill T. Jones Picks Up the Keys
New York Live Arts presented its inaugural events this September, featuring the Bill T. Jones/Arnie Zane Dance Company in "Body Against Body," two programs drawn from the early years of Jones and Zane's collaboration, work from the 1970s and early '80s that, in some cases, had not been seen since it was new. Most of the pieces were duets--intended originally, of course, to be danced by Jones and Zane in person. But both programs included performances of "Continuous Replay," a more populous piece from 1977 that has been revived a few times over the years; each time it sticks in the mind, thanks to its extensive use of nudity. By Henry Baumgartner.
Deganit Shemy& Company. Photo by Julieta Cervantes.
The Degamit Shemy Changing Sites
Deganit Shemy won praise last summer for "2 kilos of sea," an outdoor site-specific work in the courtyard of the John Street United Methodist Church. Now she's back with it, this time inside a theater. In its new incarnation, the 45-minute piece for four women and a man has moments of interest, yet remains strangely uncompelling. Something always seems missing: quite possibly, a proper site. By Jack Anderson.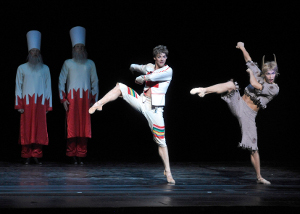 THE LITTLE HUMPBACKED HORSE--(L) Vladimir Shklyarov as Ivan the Fool and (R)Vasily Tkachenko as the Humpbacked Horse. Photo by Stephanie Berger.
Ratmansky's Balletic Tributes
The brief New York engagement at the Metropolitan Opera House in Lincoln Center by the venerable Mariinsky (Kirov) Ballet of St. Petersburg was a season of balletic tributes. There were two full-evening ballets with scores by Rodion Shchedrin, who turns 80 next year. Both multi-act productions, tributes to Russian literature, were by Alexei Ratmansky, today's most talked-about young Russian choreographer. The tragic "Anna Karenina" disappointed, for it was a tale dully told. Fortunately, all the components of "The Little Humpbacked Horse" blended harmoniously. The work may be something of a mess, yet it's a charming one. By Jack Anderson.
GISELLE--Pacific Northwest Ballet principal dancer Maria Chapman as Myrtha, Queen of the Wilis. Photo by Angela Sterling.
A New Old "Giselle" in Seattle
"Giselle" has been largely spared the insensitive tinkering that has virtually ruined some stagings of such other 19th-century classics as "Swan Lake" and "Sleeping Beauty." And now Pacific Northwest Ballet of Seattle has given us a "Giselle" whose final performances coincided with the annual conference of the Dance Critics Association. What its members saw and cheered was a production that remained faithful to19th-century concepts of choreography and dramatic action, yet seemed not a relic, but very much alive. With a staging that is both historically informed and theatrically compelling, the company's artistic director Peter Boal, along with dance history specialists Doug Fullington and Marian Smith, have created a "Giselle" of exceptional interest, one that enhances this beloved classic by revealing new facets of dramatic meaning while at the same time enriching our ideas regarding the interplay of dance and mime. Pacific Northwest Ballet has made "Giselle" live anew. By Jack Anderson.
Danza Contemporánea de Cuba
Founded in 1959, Danza Contemporánea de Cuba makes its New York debut at the Joyce Theater as part of its first United States tour. Danza Contemporánea is both proudly Cuban and eagerly internationalist, and is similar to other companies that call themselves "contemporary," without being a cookie-cutter imitation of any of them. Like many such groups, it is technically eclectic, in this case showing the influence of modern dance and ballet, but also current street dance trends and its own Afro-Cuban traditions. By Jack Anderson.
Aspen Santa Fe Ballet
The gusto of Aspen Santa Fe Ballet, peforming at Joyce Theatre, is irresistible. Here is a company that clearly enjoys romping through space, and the slightly offbeat repertory assembled by its directors, Tom Mossbrucker and Jean-Philippe Malaty, makes its performances more than just displays of energy. Yet it has plenty of energy to display, as was evident in the three works it chose for its latest New York visit. During that introduction, dancers emerge one by one from behind shimmering dark curtains. As they continue to the music, they take wide stances, lurch, sway, and appear to stake out territory for themselves. Here is ground on which they can stamp, and although danger may lurk, they are ready to accept that danger as part of existence. And who are these beings? Humans? Animals? Humans ceremonially possessed by totem animals? By Jack Anderson.
Compagnie Phillipe Saire in Lonesome Cowboy." Photo by: erias.
Dancing Swiss Cowboys
We all know what guys are like. Choreographers, writers, and film-makers keep showing and telling us. Guys can be tough, bluff, and even violent, yet buried within them is a longing for tenderness, which struggles to emerge, even as they may be burying one another in violent encounters. After all, hugging and wrestling sometimes look similar. With the aid of five men from his Lausanne-based company, Philippe Saire choreographically preached this message once again in "Lonesome Cowboy." It's a message that may not tell the whole truth about masculine behavior, yet there's enough truth in it that, if told skillfully enough, it bears repeating. And the Swiss troupe did repeat it with skill, although without adding any fresh insights into it. By Jack Anderson.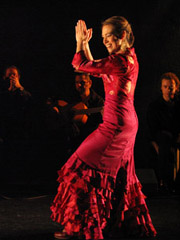 A PALO SECO--Rebeca Tomás in "Alegrias." Photos by Cathy Rocher.
"A Palo Seco" with Rebeca Tomás
Ordinarily, you do not expect the leading dancer in a Spanish flamenco program to begin a solo by sitting down at a piano and playing Beethoven's "Moonlight Sonata." Nor do you expect the musicians for such a program to launch into "Somewhere over the Rainbow." But all these things happened during Rebeca Tomás's "A Palo Seco," and the fact that they did was a sign that Tomás is seeking to develop flamenco in new ways. By Jack Anderson.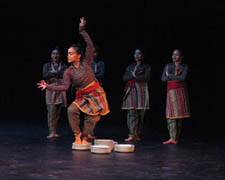 PANDIBULAN: BATHING BY MOONLIGHT--Center front: Cecille De Los Santos; Backgroud right to left: Jade Enriquez, Nodiah Biruar Dimaporo, Amira Aziza, Diane Camino.
"Pandibulan: Bathing by Moonlight"
Kinding Sindaw is endearing. Now 18 years old, this New York-based organization seeks to preserve the dances, songs, and traditions of various areas of the Philippines, and it does so with warmth and skill. "Pandibulan: Bathing by Moonlight," its latest offering, honors the Yakan people of Basilan, an island in the southern Philippines. I suspect that many New Yorkers with no family connections with the Philippines may never have heard before of either Basilan or the Yakan people. I certainly place myself in that category. But I also suspect that, like me, these New Yorkers will be charmed by this production conceived, choreographed, and directed by Potri Ranka Manis. By Jack Anderson.
NY Theatre Wire is grateful for the support of our generous sponsors
---
Join our NYTW Dance Club!
NYTW has a new Dance Club. There is no cost to join; members are eligible for free ticket offers, invitations to special previews and openings, meetings with artists, choreographers, etc. To receive our (infrequent, but very exciting) invitations, CLICK HERE to send us an email. Put SUBSCRIBE_DANCE in the subject line and your email address as the message.
---
museums by day,
theater by night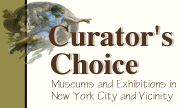 required reading
© copyright 2012, Metro New Media, Inc.
| lobby | search | home | cue-to-cue | discounts | welcome | film | dance | reviews |
| museums | NYTW mail | recordings | coupons | publications | classified |
letters to the editor