Search the New York Theatre Wire
R E V I E W S
Dance Reviews, Cabaret Reviews and Film Reviews are in their own section
Photo by Teddy Wolff
"Arlington"
Samuel Beckett depicted life as endurance defined by waiting. We may talk, move, stay or sink in place, suffer, pass the time or not, yet we wait, for what to come we do not know. Fellow Irish playwright Enda Walsh, two generations younger than Beckett, also seems to be captivated by the idea of life as a series of waiting games. Both have made excellent theater out of this metaphor. However, in "Arlington" Enda Walsh adds a hypermodern sensibility to this entropic vision—it derives from the experience of technological solipsism and urban cubicle living that has literally unmoored the human being from nature and each other. Life is experienced as a series of mediated disconnected virtual images while one is conveyed from one cubicle to another. Time and space no longer have three dimensions—they are pressed into a small rectangle. Until reality blows up! By Beate Hein-Bennett.
Michael Frederic, Robert David Grant, and Andrew Fallaize in THE LUCKY ONE by A.A. Milne. Directed by Jesse Marchese.
Photo: Richard Termine.

"The Lucky One"
The Mint's revival of A. A. Milne's "The Lucky One," directed by Jess Marchese, shows that when it comes to filial relations, not much has changed in the last century. By Paulanne Simmons.
There is an intriguing one-act, 80-minute play on the New Jersey Repertory stage. Unfolding in the fertile theatrical setting of higher-education academia, it deals with faculty jealousy, conflicts between established and fresh values, artistic integrity and racial tension. It takes some digging, however, to excavate that play from Robert Caisley's 100-minute, two-act "& Juliet," which is burdened by those 20 extra minutes of repetitious dialogue. "Get to it!" I wanted to call out several times as the characters talked around the same topic over and over before finally making their points. By Philip Dorian.
Jonathan Sayer as the butler Perkins pouring liquor down the phone. Photo by Jeremy Daniel.
"The Play That Goes Wrong"
One of the stars of this play is not human. It's the set for the riotous slapstick comedy put on by (real) British actors about a disastrous production of "The Murder at Haversham Manor" by a fake university drama society. Sometimes slapstick is silly, but this is exceedingly clever. By Lucy Komisar
Andy Karl as Phil, center, and cast. Photo by Joan Marcus.
"Groundhog Day"
New York TV weatherman Phil Connors (Andy Karl) is in Punxsutawney, PA, to cover the annual groundhog-comes-out-of-his-burrow-and-sees-or-doesn't-see-his-shadow day. If he sees it, there will be six more weeks of winter. (But how do they know?) It's a pretty silly made-for-media fake news story. With a made for TV weatherman. By Lucy Komisar
Christy Altomare as Anya, and ghosts of the past. Photo by Matthew Murphy.
"Anastasia"
Complex, fascinating and gorgeous, this fantasy tale of the young woman who might be the surviving daughter of Czar Nicholas of Russia is a colorful musical mystery with elegant singing, marvelous dancing and costumes that light up the stage. With a book by Terrence McNally, music by Stephen Flaherty, and lyrics by Lynn Ahrens, it features the top talents of Broadway. That goes for director Darko Tresnjak and choreographer Peggy Hickey, who have "big Broadway show" written all over them. "Anastasia" a fine colorful big-musical Russian Romanov princess fantasy By Lucy Komisar
Laura Metcalf as Nora. Photo by Brigitte Lacombe.
"A Doll's House, Part 2"
Fifteen years after she slammed the door, Nora returns to Torvald's house as the Betty Friedan of 19th-century Norway. As created by Laurie Metcalf from the script by Lucas Hnath, she is smart, witty, sarcastic, tough and likely to make women cheer. Lucy Komisar reports that she did.
Michael McKean as Ben Hubbard, Darren Goldstein as Oscar Hubbard, Laura Linney as their sister Regina Giddens, David Alford as Mr. Marshall. Photo by Joan Marcus.
"The Little Foxes"
Lillian Hellman's 1939 play is a family battle where the antagonists are class and gender. The title comes from the Song of Solomon in the King James Bible: "Take [from] us the foxes, the little foxes, that spoil the vines: for our vines have tender grapes." The Manhattan Theatre Club, under the direction of Daniel Sullivan, gives it a stunning production. "The Little Foxes" are the capitalist killers of Hellman's riveting family conflict. By Lucy Komisar
Omar Metwally as Paul, Marisa Tomei as George, Lena Hall as Pip, Austin Smith as David, and David McElwee as Freddie. Photo by Kyle Froman.
"How to Transcend a Happy Marriage"
Sarah Ruhl satirizes a midlife crisis that turns two ordinary and apparently happy couples in their forties to group sex. They have been inspired by a three-some of 20-somethings and think they might be missing something. So they fall into a pretty joyless ménage à quatre. It's funny, if not profound. And the cast is fine as schmoozy, nice folks getting into trouble with their mid-life-crises. "How to Transcend a Happy Marriage" satirizes couples' attempts to be cool. By Lucy Komisar

Kevin Kline and Kate Burton in a scene from Broadway's PRESENT LAUGHTER (photo by Joan Marcus)

2 Views of "Present Laughter"
Like many mid-19th century comedies, "Present Laughter" takes a long time setting up the situation. This means while the first few scenes are somewhat amusing, the last few are hilarious. By Paula Simmons and Lucy Komisar.
MeinKampf : AndreaLynnGreen, JohnFreda , OmriKadim. Photo by Michael E Mason.
Two by Tabori: "Mein Kampf" and "Jubilee"
While "Mein Kampf" is a farcical thought experiment or extended joke that pitches a young failed art student by the name of Adolf Hitler against two Jewish clowns by the name of Herzl and Lobkowitz, both names resonant of history—Herzl recalling Theodor Herzl, the founder of Zionism and Lobkowitz, the name of a prominent old Czech aristocratic dynasty and castle in Prague—"Jubilee" is a play that resonates with pain despite its grimly humorous passages. In "Mein Kampf" Tabori has Lobkowitz state at the end: "In the heart of each joke hides a little holocaust." It is a weighty question whether the actual Holocaust should be treated as a joke, and I am sure, many would argue against such a treatment; however, satire has always used gallows humor as a way to defrock false sanctimoniousness and hypocritical stances of mild regret. In "Jubilee" Tabori uses both gallows humor and pathos to deal with the horror of the Holocaust itself and the historical inheritance of social relationships that are fraught with conflicts over guilt and the impossibility of compensation. By Beate Hein-Bennett.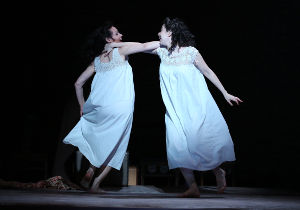 (l to r) : Katrina Lenk as "Menke", Adina Verson as "Rinkele". Photo by Caroll Rosegg.
"Indecent"
"Hot 'N' Throbbing" (about a single mom who scripts porn). "The Oldest Profession" (about prostitutes over 65). "How I Learned to Drive" (about pedophilia). "Desdemona" (a play about a handkerchief). And half a dozen other plays which won Paula Vogel Pulitzer Prize, Obie, and Lily awards. And now her latest, "Indecent" (about a brothel, the Holocaust, and first love). By Glenda Frank.
Rachel Smyth as Tillie and Serena Manteghi as Samira. Photo by Carol Rosegg.
"Angel" & "Echoes"
Drawing on the crises of the Middle East, London playwright Henry Naylor has produced two powerful, insightful plays about women who struggle to defeat the machismo that incites Islamic militants. And which is hardly limited to the Islamic world. Naylor, 51, is a man with a strong feminist sensibility and a keen eye for drama. He shows in works that are political as well as theatrical how the domination and abuse of women is part of the psyche of political repression. By Lucy Komisar
New Stage Theatre Conpany in "Rules." Photo by Lee Wexler/Images for Innovation
Rules
We all live by rules. Society is structural and Nature has its own immutable laws. Our lives are seemingly under the control of these laws. So whatever happened to free will and the free spirit? Where do we draw the line and rebel in our own ways at living under the iron boot of government and social pressure? These are the questions Ildiko Nemeth explores in her brilliant reworking of Charles L. Mee's "The Rules" a play/text from his (re)making project. By Larry Littany Litt.
Up on the Roof
"Roof-Top Joy" by Andrea Fulton is a play about how you can be one thing and pretend to be another. The residents of a luxury apartment building, most of them African-American, are in different stages of "being there." The concierge knows that he should be there because he works there, but certain of the tenants should not. Surprise, nobody in the building is who they seem to be. By Barney Yates.
War Paint : Jennifer Rias, Steffanie Leigh, Christine Ebersole, Mary Claire King, Stephanie Jae Park. Photo by Joan Marcus
Two views of "War Paint"
"War Paint" is a study in contrasts. Arden (Ebersole), né Florence Nightingale Graham, was a farm girl from Ontario who dropped out of nursing school. Rubinstein was a European Jew whose father kept a shop in Krakow. Arden reinvented herself as an American blue-blood. Rubinstein turned herself into European royalty. By Paulanne Simmons and Edward Rubin
The Women of Padilla
If ever a play was suited for Two River's intimate black-box Huber theater, it is "Padilla," but Tony Meneses' 75-minute play about eight women waiting at home while their husbands are away at war is being staged in Two River's 350-seat main auditorium, a veritable arena by comparison. On the page, each woman is distinctly drawn both individually and in relation to the others. In brief, often clipped exchanges (most speeches are one or two sentences), Meneses exposes the women's close-to-the-surface emotions with clarity and urgency. On the wide stage those elements are diffused; the words are there (and the performances are fine), but there's little tension."The Women of Padilla" is a very well-written play, a realization I came to while reading it a couple days after seeing it at Two River Theater. By Philip Dorian.
Joe Mantello and Sally Field in The Glass Menagerie (Photo by Julieta Cervantes)
"The Glass Menagerie"
Whenever Director Sam Gold (or his mentor Ivo van Hove) stages a play, you can bet your assumptions will be challenged. You may exit disturbed or even angry, but your new insight into characters and places will dazzle you. You will think about the production long after. Sam Gold's take on Tennessee Williams' "The Glass Menagerie" at the Belasco Theatre is a must see. By Glenda Frank.
2 Views of"Come From away"
"Come from Away," a new musical by Irene Sankoff and David Hein at the Gerald Schoenfeld Theatre, is based on the true story of the almost 7,000 stranded passengers from 38 flights who were not permitted to cross into the United States on Sept. 11 and landed in the small town of Gander, population 9,000. By Glenda Frank and Lucy Komisar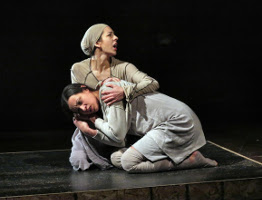 BENGHAZI BERGEN-BELSEN -- Veracity Butcher (below) as Silvana Hajaj, an ambitious young Jewish feminist from Benghazi, Libya, and Lily Leah Azrielant (above) as Rebecca, a young Dutch Jew whom she bonds with in the Nergen-Belsen concentration camp.
From Benghazi to Bergen-Belsen
"Benghazi Bergen-Belsen" by Israeli playwright Lahav Timor deals with a "lesser" known history of the Holocaust. Based on Yossi Sucary's Brenner Prize-winning novel with the same title, it follows the story of a Libyan Jewish family from their home in Benghazi to their ultimate fate in a German concentration camp. The historical frame is 1941-1945 when the German army invaded North Africa and, with the cooperation of the Italian military, rounded up the local Jewish population as part of the "Final Solution," the exterminating program that was already ravaging European Jewry. In our times of worldwide unrest and violence where the plight of refugees and the topic of immigration are once again in the forefront challenging the status quo, this play, the third one this season dealing with the "Shoah," presents once again the topic of persecution and programmatic genocide through the lens of the individual human being and challenges our capacity for empathy. By Beate Hein-Bennett.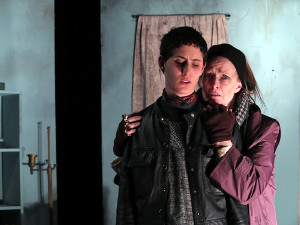 Annalisa Loeffler(as mother, Olympia), Zohra Benzerga (as daughter, Petra) in "Dead Man's Dinner"
Dead Man's Dinner
W.M. Akers wrote an apocalyptic tragicomedy in which New Yorkers, hiding in apartments during a civil war, will do anything for food. What crimes can happen to us in this kind of desperation? Paul Berss tell us it's a worthwhile subject, just a little long in this treatment.
Zac Moon (Far Left) with Julie Ann Earls ,Langston Belton, Andy Miller. Photo by Hunter Canning.
"PUFFS or: Seven Increasingly Eventful Years at a Certain School of Magic & Magic"
During seven books and eight movies, we followed Harry Potter, the most powerful wizard of all time who saved the world from Lord Voldemor. Through seven books and eight movies, we followed a winner. With Puffs, during 90 minutes, you're going to watch the whole story over again. But this time, you're going to follow Wayne, the loser of Hogwarts. In the top three of best selling books, we can find the Bible and Harry Potter. The Bible has Monty Python's "Life of Brian " and now Harry Potter has "Puffs." By Remy.S .
L-R: Alex Dmitriev, Jed Dickson, Emily Zacharias, Tracy Newirth, Robert Meksin. Photo by Gerry Goodstein.
Through the Darkness
While the Jewish Holocaust with its millions of dead recedes into the further recesses of general history, individual memory in the form of stories told still has the power to awaken in us the full horror of the lived experience. In the present production of "Through the Darkness" by Alan Breindel, we are not so much voyeurs into intimate lives but rather witnesses to a range of experiences and actions. Director Leslie Kincaid Burby created ninety minutes of narratives with four actors alternately sharing the stories of their progress through hell. A Writer character stands in for Alan Breindel, who collected over a number of years survivor accounts in interviews that formed the raw material for his dramatic text. This poowerful production provides not only a reminder of our collective past but also a plea for attention to our present political condition of millions trying to survive and find refuge. By Beate Hein Bennett.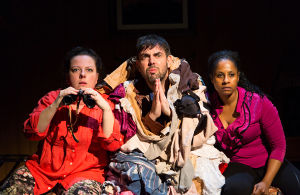 Zuzanna Szadkowski, left, Jason O'Connell and Nicole Lewis
Merry Wives
Tinkering with Shakespeare is its own art form, and the version of "Merry Wives" at Two River Theater tests the limits of that art. Tradition has it that Queen Elizabeth, enamored of Falstaff from Shakespeare's Henry IV plays, asked the playwright for a play depicting the character in love (a likely apocryphal 'alternate fact'). Shakespeare did Her Majesty one better, showing Falstaff wooing not one, but two married women of means who conspire to turn the tables on their would-be seducer. As written, it is a farcical delight. While this re-imagining of "The Merry Wives of Windsor" downplays its intrinsic comic aspects – intentionally, it should be noted – it is entertaining enough to sit through. By Philip Dorian.
"The Skin of Our Teeth." Photo by Henry Grossman.
"The Skin of Our Teeth"
Because "The Skin of Our Teeth" breaks so many theater traditions, it leaves the field wide open for directorial interpretations. In Theatre for a New Audience's current revival, director Arin Arbus takes full creative advantage of the many possibilities. By Paulanne Simmons
Geoff Sobelle in "The Object Lesson." Photo by Joan Marcus.
Two Views of "The Object Lesson"
"The Object Lesson" is a one-man show with audience participation and a very important tape recorder. It won top prize at the Edinburgh Festival Fringe in 2014. It grows on you, especially when Geoff Sobelle, creator and performer, moves from one area of cardboard chaos to another and explains his vision through the objects he retrieves from storage. Everything is unexpected. "The Object Lesson" is one of those odd pieces that you think about months, even years later. By Glenda Frank and Edward Rubin.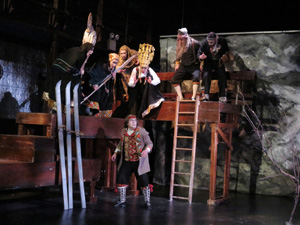 THE MOUNTAIN BIRD -- (L-R): Nina Eileen Sponnich, Hanne Dieserud, Johanna Øyno, Odille Annette Heftye Blehr, Miguel Emilio Dobrodenka Steinsland, Stig Zeiner-Gundersen; standing below: Jimmie Jonasson.
Ibsen's "The Mountain Bird" at La MaMa
The Norwegian company Grusomhetens, under the direction of Lars Oyno, presented a most unusual work: Henrik Ibsen's unfinished opera libretto from 1858 with the original title "Fjeldfuglen," based on a folk tale rooted in the historical experience of the great plague epidemic that ravaged Europe in the 15th century and devastated large swaths of the Norwegian countryside. By Beate Hein Bennett.
Gabriel Portuondo as Clotaldo. Phot by Theo Cote.
"Life is a Dream"
These days it is rare enough to see Calderon de la Barca's 1635 masterpiece about the vagaries of life and illusion, of internecine power-games and vanity, of social injustice and moral corruption—obviously the perennial stuff of human misery and tragedy. To see two very different treatments-- the second play dates from 1677-- of these same motifs by the same author in the same evening must be a novelty. We can thank the Magis Theatre and LaMama ETC for this historic theatrical excavation. The three hour performance is a tour de force for the actors but actually passed for me quite quickly due to the serious commitment of the young ensemble and the choreographic, musical, and visual elements which enlivened Calderon's poetic texts. Director George Drance translated the 1677 text into English, a first for this play; the 1635 English version sounded also updated for this production. By Beate Hein Bennett.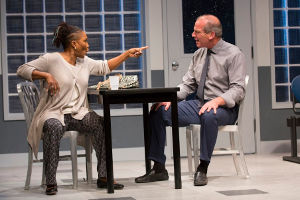 Suzzanne Douglas and John Bolger
American Son
"American Son"at the George Street Playhouse is an intense, racially-charged, cautionary tale in which the title character hovers over every minute but does not appear in person. The play is set at 4AM in the waiting room of a Miami-Dade County police station, where Kendra Ellis-Connor is waiting for information about her eighteen-year-old son Jamal, whom she had reported missing the previous day. Jamal had left home in his late-model Lexus, a gift from his father, and had not checked in or answered his cell phone. Mom is deeply concerned, a state of mind conveyed in Suzzanne Douglas's performance before she speaks a word. By Philip Dorian.
Glenn Close as Norma Desmond. Photo by Joan Marcus.
2 Views of "Sunset Boulevard."
Glenn Close is masterful in Norma Desmond's final mad scene. Suddenly camp becomes real drama, tragedy of the Shakespearean sort. Till then the has-been silent film star, the grande dame who flounces around in glittery gold and silver sweeping gowns and capes, is hard to take too seriously. "Sunset Boulevard" is too campy story of has-been star and desperate screenwriter. By Lucy Komisar and Edward Rubin.
Phoebe Frances Brown, Ellen Francis. Photo by Monica Simoe
"Life According to Saki."
Macabre and whimsical, dark and comic at the same time, a clever satiric pen pointed at self-absorbed aristocrats of the early 1900s, Katherine Rundell's "Life According to Saki" is a delicious evening of theater. "Life According to Saki" is dark, whimsical satire that aims at British upper class. By Lucy Komisar.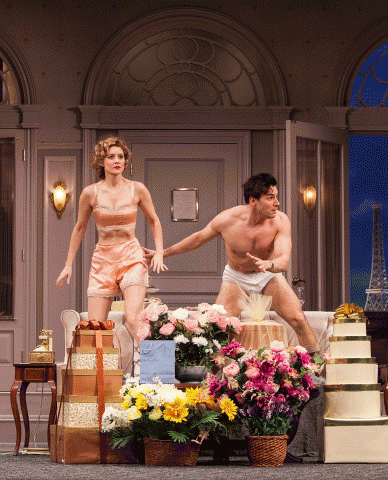 From left, John Treacy Egan, Michael Kostroff and David Josefsberg
A Comedy of Tenor
Great art it's not, but if you're looking for a recipe for farce, all the ingredients can be found in "A Comedy of Tenors," Ken Ludwig's sequel to his enormously successful "Lend Me a Tenor." Slamming doors to resounding laughter this month at Paper Mill Playhouse, this second coming of operatic tenor Tito Merelli is, for my money – and, I suggest, yours – funnier than the first. (I'm not a fan of the first play's blackface gimmick, but that's another matter.) By Philip Dorian.
Kate Loprestand John Patrick Hayden . Photo by Carol Rosegg
"The Big Broadcast on East 53rd"
In response to a journalist concerned about rumors of being on his deathbed, Mark Twain responded on May 31, 1897: "The news of my death is an exaggeration." As we are presently inundated by "fake news" and "alternate facts," Dick Brukenfeld's wild romp into relationships, marital and otherwise, set in early 1980s New York somewhere on East 53rd Street strikes a very timely note. The two central characters are a husband and wife, both dissatisfied with each other, with their station in life, and wildly incompatible in their ambitions and tastes. By Beate Hein Bennett.
Max von Essen and Mikaela Izquierdo in YOURS UNFAITHFULLY by Miles Malleson.Photo: Richard Termine.
" YOURS UNFAITHFULLY "
Famous for its revivals of "lost" plays, the Mint Theatre Company, now at the Beckett Theatre on Theatre Row, is offering a smart production of the still controversial 1933 play, "Yours Unfaithfully" by Miles Malleson. The extremely likeable Stephen Meredith (Max von Essen) and his elegant wife, Anne (Elisabeth Gray), remain very much in love after eight years of marriage. Alan Kirby (Todd Cerveris), their close friend and a psychiatrist, judges their marriage the best he knows. They are, he tells Anne, functioning at 80%. Many marriage only make 30% Is she reassured? Maybe. At any rate armed with this consolation, she leaves to meet her lover. Her husband is scheduled to return from his Paris tryst the next day. By Glenda Frank.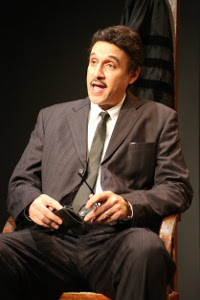 Timothy Simonson as Rep. Adam Clayton Powell, Jr. Photo by Gerry Gpoodstein.
"ADAM" by Peter DeAnda
As we experience the present political time like a series of slaps in the face by an administration intent on rolling back the strides made in the civic life of the US, "ADAM" by Peter DeAnda, abiographical play about Rep. Adam Clayton Powell, Jr., presented with great passion by the artistic team of the New Federal Theatre, may just be the antidote with which to encourage continued outspoken political action. By Beate Hein Bennett.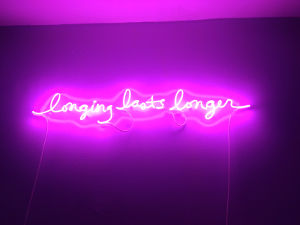 Penny Arcade Logo. Photo Credit Edward Rubin
"Penny Arcade Longing Lasts Longer"
I have always appreciated the bravery, as well as the chutzpah, of those performers who choose to go it alone in a one man or one woman show. Not unlike comedians who stand totally exposed before an audience hoping to avoid the slings and arrows, or for that matter the stink of rotten tomatoes, these all but naked actors rely, ultimately so, on the shear force of their god-given personality, and well-honed talents, to wow their audience, and in the best of cases, bring them to their feet amidst thunderous applause. By Edward Rubin.
Kate Loprest & John Patrick Hayden. Photo by Carol Rosegg
The Big Broadcast on East 53rd
In response to a journalist concerned about rumors of being on his deathbed, Mark Twain responded on May 31, 1897: "The news of my death is an exaggeration." As we are presently inundated by "fake news" and "alternate facts," Dick Brukenfeld's wild romp into relationships, marital and otherwise, set in early 1980s New York somewhere on East 53rd Street strikes a very timely note. The two central characters are a husband and wife, both dissatisfied with each other, with their station in life, and wildly incompatible in their ambitions and tastes. By Beate Hein Bennett.
Drunkle Vanya
Depressed? Unhappy? Miserable? Resigned to a life of drudgery? What to do? According to Three Day Hangover's adaptation of Chekhov's "Uncle Vanya" we must party hearty, drinking until we can't remember why we're drowning in self pity. Then drink some more. All with friends in the same boat. Or in this case the same lavish Russian bar upstairs at Russian Samovar restaurant and vodka lounge. By Larry Litt.
Becca Blackwell, left, and Kate Wetherhead in "Hurricane Diane"
Hurricane Diane
If you wished to come back as a Greco-Roman God, you could do far worse than to opt for Dionysus (Greek), also known as Bacchus (Roman), the god of wine, fertility and agriculture as well as the patron god of the Greek stage. He was also able to bring a dead person back to life, which would make you a sought-after dinner-party guest (or a shunned one). You'd also have a couple of plays written about you: "the Bacchae," written by Greek dramatist Euripides in the BCE year 407, and Madeleine George's "Hurricane Diane," which premiered last week at Two River Theater in Red Bank NJ. By Philip Dorian.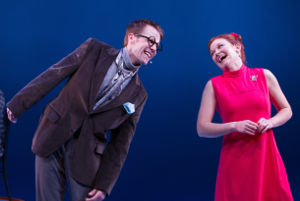 (L-R) Evan Casey as Elephant Gerald and Lauren Williams as Piggie (Credit: Teresa Wood)
"Elephant and Piggie's "We Are in a Play"
Elephant and Piggie's "We Are in a Play" has come to the New Victory Theatre from the Kennedy Center. The five-person show is based on the award-winning New York Times best-selling series by Mo Willems. The live music (four musicians in animal-eared fedoras) was written by composer Deborah Wicks La Puma, who specializes in music for children. By Glenda Frank.
Our Secrets - Béla Pintér & Zoltán Friedenhal
"Our Secrets"
Sometimes the very best theatrical productions have only a few performances. Sadly, in this case a prime example of such a loss is Our Secrets, by Béla Pintér and Company. Performed in Hungarian with English subtitles it opened on Wednesday, January 25th at the Baryshnikov Arts Center in Manhattan, and closed on Sunday, January 29th. By Edward Rubin.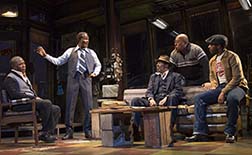 Michael Potts as Turnbo, John Douglas Thompson as Becker, Anthony Chisholm as Fielding, Keith Randolph Smith as Doub, André Holland as Youngblood. Photo by Joan Marcus.
Two Views of "Jitney"
August Wilson's "Jitney," the eighth in his "Pittsburgh Cycle," was written in 1979. Since then, it has been performed at regional theaters, including the Studio Theatre and the Kennedy Center, both in Washington, D.C., and Denver Center for the Performing Arts. This season it is our great good fortune to witness the play's premiere, produced by the Manhattan Theatre Club at the Samuel J. Friedman Theatre. By Paulanne Simmons and Lucy Komisar.
Estelle Bajou and Dan Grimaldi in the dance-lesson scene (the '67 Jag in background)
Jag
Two of the three human characters in Gino Diiorio's "Jag," world-premiering at New Jersey Repertory Company, are (in just-coined Latin) personi extremis. One, Leo "Chick" Chicarella, is a bigoted, foul-mouthed, ill-mannered lout. He's also near-blind – or, as played by Dan Grimaldi, depending on the scene, sometimes near-blind. The other, Carla Carr, is a 78-RPM, ditzy cupie doll with a savant's knowledge of vintage Jaguar motor cars. By Philip Dorian.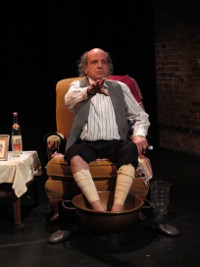 Victor Attar in "Golgotha."
Living on the Skulls of the Past
January 27 is the United Nations World Holocaust Day in commemoration of the liberation of Auschwitz by Soviet troops on January 27, 1945. If you are looking for a different voice in an honest and modest rendering of the tragedy of our twentieth century, Beate Hein Bennett strongly recommends you make your way to La Mama for "Golgotha."
The Devil battles the Archangel Gabriel.
La Cantata Dei Pastori
Five months ago, I discovered Alessandra Belloni and I Giullari di Piazza in a show called "Tarantata: Spider Dance" at the Cathedral of Saint John the Divine. I found that show really amazing in its concept, its direction, its daring to perform in a church and its energy. At the end of the show, I wanted to go on stage and dance with them. The company's "La Cantata Dei Pastori" was, well, out of place in a theater. By Frank Lyons.
American Candy. Photo by Martin Balaguer.
The Fempire Strikes Back !!
W hen I heard that a play about feminism was performed to help the association GEMS, which provides services for girls and young women at risk for commercial sexual exploitation and domestic trafficking, I was extremly curious. It's a dangerous bet to make people laugh about all these themes. But it's not dangerous when you have the talent of American Candy. By Remy.S .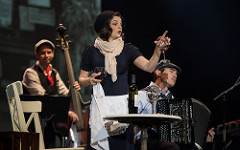 Photo by G. Marsalla
"Piaf! The Show"
Backed by a videoscape of Piaf, Paris and Parisians, Anne Carrere took the audience on a musical journey tracing Piaf's rise to prominence from a penniless street singer to an international icon. By Paulanne Simmons.
Nick Cordero as Sonny, Hudson Loverro as Calogero. Photo by Joan Marcus.
"A Bronx Tale"
It's a knock off of "West Side Story," here Italians vs blacks, and very hokey, but "A Bronx Tale" has a certain charm and pizazz nonetheless. The place is Bedford Avenue, tenements with fire escapes and pushcarts. And kids singing doo-wop. They are working class Italians, circa 1960."A Bronx Tale" is musical coming of age with a twist: kid grows up among hoodlums By Lucy Komisar.
Josh Groban as Pierre in a set that seems like a night club. Photo by Chad Batka.
"Natasha, Pierre & the Great Comet of 1812"
This immersive, hokey, utterly engaging production is one of the memorable plays to see this season. In fact, it almost feels as if you don't just see it, you are in it. The audience is dispersed around a gorgeous set, seated at rows and tables, some on the stage, backed by red drapes and paintings, as actors move through the aisles and on risers. Sometimes lighted chandeliers descend or disco lights flash. Everything seems red, white and black."Natasha, Pierre & the Great Comet of 1812" flashes across Broadway. By Lucy Komisar.
Nathan Lane as editor Walter Burns. Photo by Julieta Cervantes.
"The Front Page"
Nathan Lane excels as the over-the-top newspaper editor Walter Burns in this near 90-year-old noirish comedy that has some political nuggets hidden in its hokey scenario. It's given a fine, only slightly tongue in cheek, reprise by director Jack O'Brien. "The Front Page" is an engaging politically advanced 90-year-old noirish comedy. By Lucy Komisar.
Katrina Lenk as Dina, Tony Shalhoub as the conductor. Photo by Ahron R. Foster.
"The Band's Visit."
An Egyptian police band, the grandly named Alexandria Ceremonial Police Orchestra, is supposed to play at an Arab cultural center in Israel, but gets the town's name wrong at the bus station and ends up in an Israeli backwater. "The Band's Visit" is a charming gem about human connections across political divides. By Lucy Komisar.
"A Bronx Tale"
Since "A Bronx Tale" has already been a solo show and a film, it might have been inevitable that it eventually become a musical. This is not necessarily a terrible thing. In fact, the show currently at the Longacre Theater is not at all bad. By Paulanne Simmons.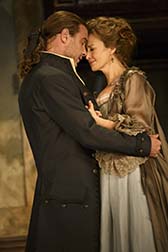 Liev Schreiber as le Vicomte de Valmont, Elena Kampouris as Cécile Volanges. Photo by Joan Marcus.
"Les Liaisons Dangereuses"
Lucy Komisar writes she seems be using the word a lot lately: hokey. Chandeliers with lit candles descend to sounds of operatic "ah ah" and pretentious violins. The story is based on a French epistolary novel written in 1782 and meant as a satire. But with the direction by Josie Rourke, you get the feeling that audiences are invited to enjoy the sex stuff. It's basically about a guy putting notches on his bedpost. ("Sex in the 18th-century French City"?)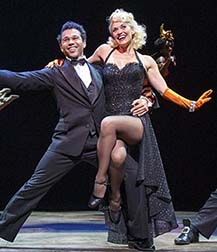 Corbin Bleu as Ted, Megan Sikora as Lila. Photo by Joan Marcus.
Two views of "Holiday Inn"
"Irving Berlin's Holiday Inn" is charming fluff highlighting great songs of the 40s, but if you love 40s music, as I do, just forget the silly plot. Besides, the production and the actors are charming. And there is 40s scat. Also jazzy music, dance kicks, swing and tap. The show is based on a 1942 movie, but a lot of the songs have been added. It's the only major holiday themed production in New York City whose specific marketing goal is to brighten The Great White Way during the Holidaze Season. By Edward Rubin and Lucy Komisar.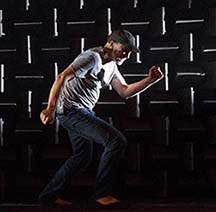 Simon McBurney as McIntyre racing around the stage (jungle). Photo by Joan Marcus.
"The Encounter"
"The Encounter" is a hokey gimmicky pretentious conceit. Simon McBurney, founder and artistic director of the British theater company Complicite (a French word here pretentiously spelled without the acute accent on the e) has produced a hokey often loopy and generally pompous conceit under the pretext of an anthropological mission to the Amazon. By Lucy Komisar.
Sutton Foster solo
"Sweet Charity"
How cool would it be to have Sutton Foster come to your house to sing and dance in your living room? And suppose she brought some talented friends to perform with her? Well, that's not gonna' happen, but you can come close by seeing the mega-watt star – and her pals – in "Sweet Charity" in the most intimate musical-theater venue in NYC these days: The Pershing Square Signature Center, where no seat is more than a few rows from the lip of the stage. By Philip Dorian.
Concetta Tomei, Gordon Joseph Weiss. Photo by Monica Simoes.
One Flea Spare
Proxemics—a consideration of the spatial arrangements between people or things—is a lens much loved by performance theorists in pondering how place and placement inflect human behavior and perception. It was on Dorothy Chansly's mind while watching Playhouse Creatures' recent sure-handed production of Naomi Wallace's 1996 OBIE Award winning One Flea Spare.
"Day of Absence" by Douglas Turner Ward, presented by Negro Ensemble Company. L-R: Count Stovall, Kim Weston Moran, Bill Jay.
Three views of "Day of Absence"
"Day of Absence" by Douglas Turner Ward, which premiered in 1965, is the play that launched the Negro Ensemble Company and arguably, by implication, ignited the modern movement of Black theater artists of all disciplines working working together and began bringing general audiences to their work. A broad, satirical farce, the piece tells the story of the Southern town whose Negroes vanish for a day, leaving the white citizens helpless. It's an acid and howlingly funny reversal of the old minstrel shows, with the actors mostly performing in whiteface. This revival is the first production of The Negro Ensemble's 50th season. By Bettijane Eisenpreis, Glenda Frank and Beate Hein Bennett.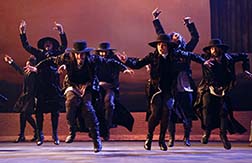 The Jewish men dancing. Photo by Joan Marcus.
"Fiddler on the Roof"
When can it be more relevant to look at the politics of theater? In this year of bizarre reaction, "Fiddler" continues to be the quintessential representation of popular struggle. This is a brilliant production by Bartlett Sherr, with stars Danny Bernstein and Jessica Hecht, major actors of our time. They are supported by an excellent ensemble cast. By Lucy Komisar.
King Henry (Michael Cumpsty) to Queen Eleanor (Dee Hoty): "Well, what should we hange? The holly or each other?"
"The Lion in Winter"
Set over Christmas Eve and Day in the year 1183, "The Lion in Winter" is based on events in the lives of seven historical figures: Henry II, King of England, Scotland, Wales, etc.; his Queen-wife-prisoner Eleanor, late of Aquitaine; their three sons; Henry's mistress Alais; and Alais's brother Philip, King of France. Real people, yes; but it's not a history lesson. By Philip Dorian.
PIP'S ISLAND performers and audience members. Photo by Thom Kaine
"Pip's Island"
At a time when there is such an interest in immersive, interactive and mixed media theater, it's a bit ironic that the production which takes all this to the highest level of innovation is, in fact, a children's show. By Paulanne Simmons.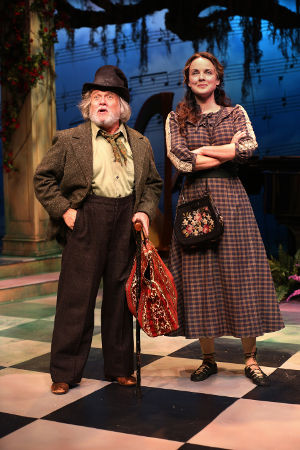 Ken Jennings and Melissa Errico in FINIAN'S RAINBOW at Irish Rep. Photo by Carol Rosegg
"Finian's Rainbow"
If the state of the union makes you think you'd like to throw yourself out the window, hold on a minute. The Irish rep's revival of "Finian's Rainbow" may not solve all your problems or the problems of the nation, but it will give you a much needed respite, a respite filled with music and dance and a message we very much need today.
.By Paulanne Simmons.
Ken Barnett as Codename Lazar and Rachel Weisz as Susan Traherne. Photo by Joan Marcus.
"Plenty"
Is David Hare's play "Plenty" about the personal or the political? A confusing muddle. The Post-War era was supposed to bring peace and "Plenty." David Hare's disappointing play suggests why it didn't. By Lucy Komisar.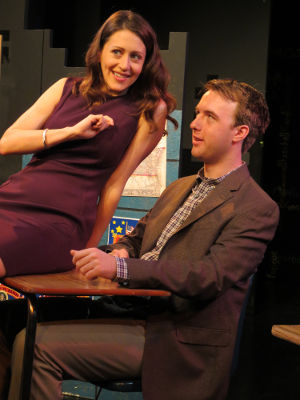 Alex Trow and Graham Techler. Photo by SuzAnne Barabas.
"Mad Love"
Thinking about "Mad Love," the word "lark" popped into my head. Where'd that come from? I thought, so I looked it up: Something mischievous…an amusing adventure or escapade.Marisa Smith's play, running through November 20 at New Jersey Repertory Company, is a lark. The self-labeled "Romantic Comedy" may be just another RomCom about modern-day attitudes and hang-ups, but its apt additional descriptive "for Cynical Times" elevates it, if not out of that category, at least to its top-quality level. By Philip Dorian.
Scott Shepard as Quaker and Jennifer Kidwell as slave. Photo by Ben Arons.
"Underground Railroad Game"
This is not a children's game. It is a riveting, compelling, inventive dissection of slavery, the underground railroad, the civil war and racism. In fact, "riveting, compelling, inventive" is a good description of Ars Nova, which presents this play and also created "The Comet of 1812," the Off-Broadway hit just opening on Broadway."Underground Railroad Game" is a stunning, biting, compelling satire on what white Americans learn about slavery. By Lucy Komisar.
Jason O'Connell as Edward Ferrars.
"Sense and Sensibility"
The Bedlam theater company takes an early 19th-century soap opera and turn it into serious sociology as comic slapstick with great success in this adaptation by Kate Hamill and direction by Eric Tucker. "Sense & Sensibility" a funny hokey caricature of Jane Austin's genteel 19th-century .By Lucy Komisar.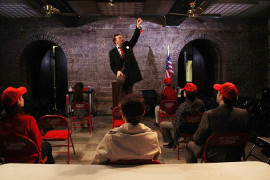 Photo by Abigail Jennings.
An "Arturo Ui" to give us faith
Glenda Frank writes, "I love it when new theatre companies invite sprawling, rarely produced texts into their season. I like it even more when they do it brilliantly, with dead-on spoofs, like the Lyra Theatre Company and its production of Bertolt Brecht's "The Resistible Rise of Arturo Ui" (1941), a typical Brechtian combination of comedy, politics and the (American) gangster, a combination best exemplified by "The Three Penny Opera." The many pictures of Donald Trump (and one of Ronald Reagan) and the taped Republican conversations about the current election (sound design by Adrian Bridges) don't exactly fit the play, but they add their own gloss. This production is Off-off Broadway at its best."
In The Room featuring Reuben Barsky, Susan Neuffer, Suzy Jane Hunt, Jacob Perkins, Rob Robinson, Chelsea Melone, and Matt Harrington. Photo byJeremy Daniel.
In the Room
Seymour is a teacher in a writer's workshop. Every week, he comes to teach his students how to write their stories, novels, videogames. Every week they all gather in the eponymous room to try to help each other wrie the next chapter of their stories. "Tell me what you write, I'll tell you who you are " could be the subtitle of "In the Room," a masterful intimist play written by Lawrence Dial, directed by Adam Knight. By Remy.S .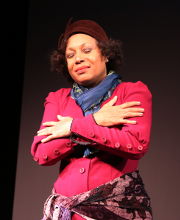 Elizabeth Van Dyke as Zora Neale Hurston. Photo by Gerry Goodstein.
Two views of Zora Neale Hurston
Laurence Holder's bioplay on Zora Neale Hurston, who was known in her time as Queen of the Harlem Renaissance, stands out as one of the outstanding plays on American literary figures. Larry Litt visited the outstanding production currently running at Castilllo Theatre on West 42nd Street, mounted by Woodie King, Jr.'s New Federal Theatre, and found his interest in Hurston reinvigorated. He writes, "Don't miss this chance to share in the comedy, drama and intensity of American literary society. I came away wanting to read her books again. I know I will." Beate Hein Bennett adds, "Elizabeth Van Dyke brought Zora to life with her boundless energy and an exuberant vitality...The production presented a valuable insight."
Carole J. Bufford
"Cabaret Convention 2016"
Best of New York's cabaret singers, new talents and veteran stars are featured at the festival. By Lucy Komisar.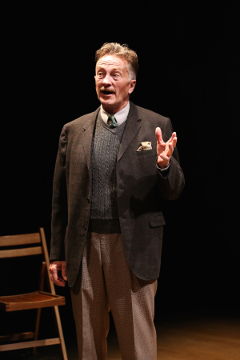 Jamie Horton in ORWELL IN AMERICA at 59E59 Theaters. Photo by Carol Rosegg
"Orwell in America"
George Orwell, the distinguished British author of "Animal Farm," is on tour promoting his book. The time is just after World War II. The place is small-town America. And according to playwright Joe Sutton, Americans want nothing of Orwell's socialist beliefs. They have decided "Animal Farm" is an anti-communist manifesto, and they want to hear Orwell speak out against the totalitarian system they fear may take over the world.
.By Paulanne Simons.
"Ship of Fools"
"Ship of Fools" employs puppetry, live music and movement. It begins with a woman lying in bed in France's all-female asylum, Saltpetriere, and ends with the deranged dancing of a pantsuit that reminds us uncomfortably of Hillary Clinton. By Paulanne Simons.
Sean O'Callaghan, Jared McNeill, Ery Nzaramba and Carole Karemera. Photo by Richard Termine
"Battlefield"
"Battlefield," inspired by Brook's Mahabarata, an elegant parable of justice and war. By Lucy Komisar
Phillip James Brannon in NAT TURNER IN JERUSALEM at NYTW. Photo by Joan Marcus
"Nat Turner in Jerusalem"
With Megan Sandberg-Zakian's noteworthy direction and the excellent acting of Phillip James Brannon as Turner, and Rowan Vickers as Gray and an unnamed guard, the play might have been remarkable. The problem is that although Davis writes some formidable dramatic dialogue, he never creates any real drama onstage. .By Paulanne Simons.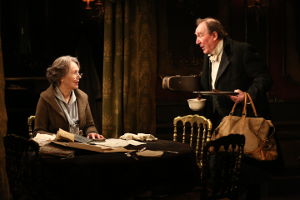 Dearbhla Molloy and Dermot Crowley. Photo by Carol Rosegg.
"Afterplay"
Chekhov said somewhere that the greatest tragedies happen around a dinner table. "AFTERPLAY," a one-act play for two characters by Brian Friel, is a dramatic variation on a theme by Chekhov. In fact, the two characters-- a man and a woman--have stepped out of two different Chekhov plays and been given a life extension. Sonya is Uncle Vanya's capable niece while Andrey is the feckless brother of the Three Sisters. We meet the two of them in the 1920s in some Moscow café of faded former elegance, some twenty years after their original (fictional) existence. Thus "Uncle Vanya" and "The Three Sisters" provide the fundamental backdrop to Friel's play. By Beate Hein-Bennett.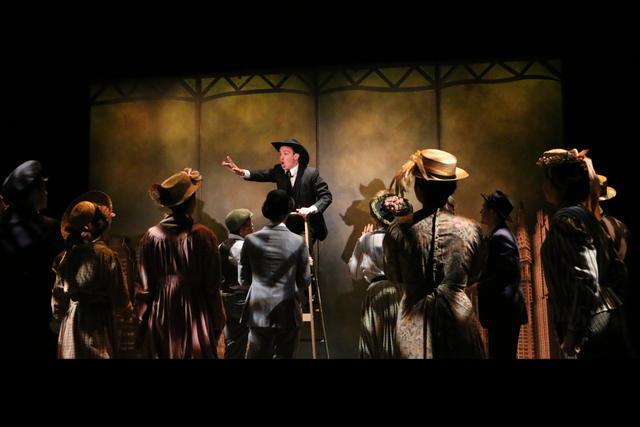 Austin Scott Lombardi and Company of "Fiorello" (NYC), BTG 2016. Photos by Alexander Hill
"Fiorello"
Gone and mostly forgotten in all but name – think LaGuardia Airport and the Fiorello H. LaGuardia High School of Music & Art and Performing Arts – is his eminence Fiorello LaGuardia (1882-1945), arguably the best mayor New York City ever had (1934-1945). Thanks to Berkshire Theatre Group which shipped us, cast and all, their highly touted summer hit musical from Stockbridge, Massachusetts, the late great hizzoner is now back in town, this time singing, dancing and tipping his hat in a joyous, high energy rival of Fiorello. By Edward Rubin.

LIFE MASKS -- L: Sharon Ullrick as Sarah Bernhardt, C: Eduardo Machado as Duse's acolyte, R: Lorinne Vozoff as Eleonora Duse in "Acting" by Eduardo Machado. Photo by Remy.S.
"Life Masks" by Lorinne Vozoff and Eduardo Machado
Performer/playwrights Lorinne Vozoff and Eduardo Machado contemplate the vicissitudes of age in three one-act plays under the title, "Life Masks." The evening renders a vigorous image of what parts for older actors can contribute to the theater repertory. By Beate Hein-Bennett.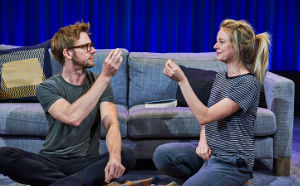 Jimmi Simpson and Justine Lupe in Emapthitrax by Ana Nogueira, directed by Adrienne Campbell-Holt. Photo by Robert Altman.
"Empathitrax"
In "Empathitrax," a new play by Ana Nogueira at Here, two appealing young singles who have been living together for ten years, happily they claim, want to take their relationship to a new level. Their answer is pharmaceuticals, a new pill designed to heighten intimacy. But all change is inherently dangerous. People who take risks are either optimistic or at their wit's end. By Glenda Frank
Andrzej Chyra as Hyppolyte, Agata Buzek as Strophe, with Janet Leigh on the Psycho video. Photo by Pascal Victor.
"Phaedra(s)"
"Phaedra(s)" director turns Greek goddess's love for stepson into tedious over-the-top modern sex-obsession.One of the most interesting bad plays I've ever seen. By Lucy Komisar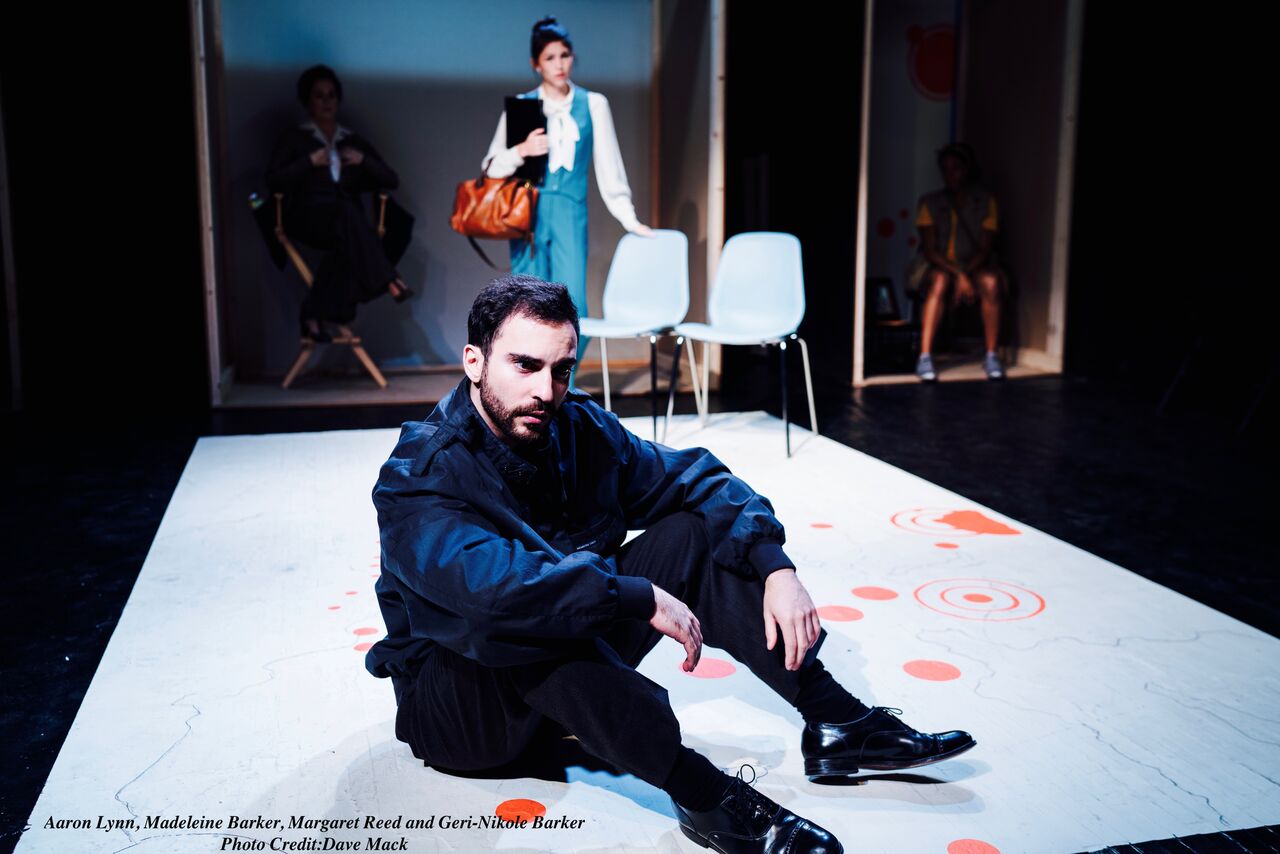 Gregorian Aaron Lynn, Barker, Reed, Love - Photo by Dave Mack
"Gregorian"
Unearthing the past, Gregorian, Matthew Greene's latest play, produced by Working Artists Theatre Project at the Walkerspace Theater, digs deep into the painful history of the Armenian people, examining the century long effects of the 1915 genocide on four generations of the Gregorian family, in which the Ottoman Empire slaughtered 1.5 million Armenians. By Edward Rubin.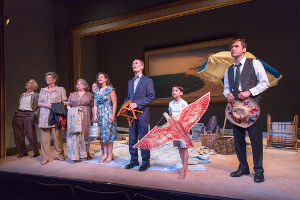 Philip Goodwin, Jill Tanner, Polly McKie, Kylie McVey, Katie Firth, Curzon Dobell, Athan Sporek, and Julian Elfer in A DAY BY THE SEA by N.C. Hunter. Photo by Richard Termine.
"A Day by the Sea"
For this revival, the Mint has brought back the much esteemed Austin Pendleton to direct. They have also assembled a more than capable cast, with Julian Elfer as the less than successful diplomat and Katie Firth as the twice divorced Elinor Eddison, the girl he let slip through his fingers twenty years ago.By Paulanne Simons.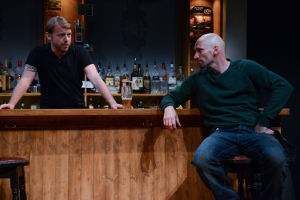 Robert Zawadzki and Patrick O'Kane in the Abbey Theatre's QUIETLY at Irish Rep, Photo by James Higgins.
"Quietly"
The Abbey production with Fay's tight mis-en-scene in a fully equipped bar and the cast of three superb actors gives us a sharp rendition of the human cost of such conditions of mutual alienation and hate-mongering. The Irish Repertory Theatre and The Public are to be congratulated for having made it possible for New York audiences to see this superb work of theatre in the Irish Rep's intimate new space in Chelsea. Reviewed by Beate Hein Bennett
"The Mushroom Cure"
We have fallen in love with Otherness, with the LGBTQ world, with amnesiacs and bi-polar schizophrenics, with anyone who can see or present the world from a unique perspective. What once represented our collective fears now has our attention and – in NY at least – our respect. Often we hear the narratives through the voices of observers (journalists, scientists like Oliver Sacks, author/directors like Christopher Nolan in "Memento," novelists like Sylvia Nasar who wrote "A Beautiful Mind" ). But sometimes actual members of the community discover a way to share their stories. When they are as quick-witted and sharp as stand-up comedian Adam Strauss, they can transform their disability into the stuff of poignancy and comedy. By Glenda Frank
L-R: Jennifer Thalman Kepler and Laura Ellis in ALICE IN BLACK AND WHITE, written by Robin Rice and directed by Kathi E.B. Ellis, at 59E59 Theaters. Photo by Holly Stone
Two Views of "Alice in Black and White"
"Alice in Black and White" by playwright Robin Rice premiered at the Looking for Lilith Company in Louisville, KY and is now presented at 59E59 Theater on the occasion of the 150th anniversary of Alice Austen's birth. Elizabeth Alice Austen, born in 1866 to an upper middle class family, lived her golden years in poverty, her photographs and glass negatives forgotten in a trunk in the Staten Island Historical Society. She was rediscovered shortly before her death. According to Glenda Frank and Beate Hein Bennett, playwright Robin Rice has brought Austen's iconoclastic life to the stage in two-act play which feels like a series of snapshots, alternating between occurrences in Alice Austen's life and a mid-twentieth century historian's search for her.
Jennifer Ehle as Mona Juul and Jefferson Mays as Terje Rød -Larsen. Photo by T. Charles Erickson.
"Oslo"
J.T. Rogers' play "Oslo" is about the back channel negotiations that led to a ground-breaking Israeli-PLO agreement signed at the Clinton White House in 1993. The play is a lesson in how diplomacy can work. By Lucy Komisar

"The Winter's Tale"
For many New Yorkers, the best part of summer is going to themany free theatrical events the city has to offer. And one of the best of these theatrical events is New York Classical Theatre's summer series of plays presented in various park locations around the city. By Paulanne Smmons.

Damon Daunno as Orpheus and Nabiyah Be as Eurydice. Photo by Joan Marcus.
"Hadestown."
Hades of course is hell. And singer-songwriter Anaïs Mitchell's script and music, directed by Rachel Chavkin, is based on the Greek myth of Orpheus, who journeys to Hades in order to find his love, the nymph Eurydice, who has been killed by a poisonous snake. "Hadestown" is a powerful, political, jazzy retelling of Orpheus and Eurydice myth. By Lucy Komisar.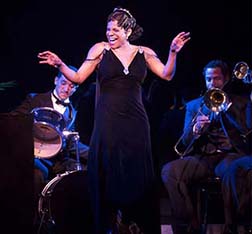 Audra McDonald as Lotte Gee. Photo by Julieta Cervantes.
"Shuffle Along"
It's charming but also hokey: the story of black producers and performers struggling in the early twenties to put a show on Broadway. It's 1920 and they are Noble Sissle and Eubie Blake, a comedy duo who meet at Fisk, the black college in Nashville. "Shuffle Along" a charming, hokey, jazzy, hot dance show with sparkling Audra McDonald. By Lucy Komisar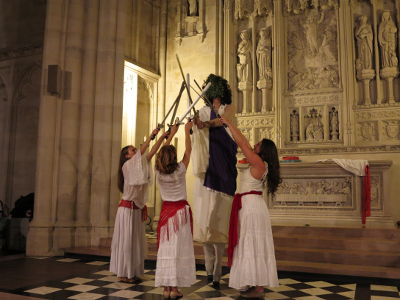 "Tarantata! Spider Dance" performed by Alessandra Belloni and I Giullari di Piazza at Cathedral of St. John's the Divine, June 29, 2016. L-R: Greta Campo, Francesca Silvano, Mark Mindek, Jillian Guinta. Photo by Tim Esteves.
"Tarantata"- Spider Dance
The Feast of the Tarantati is performed every June 29th in Southern Italy. It's an ancient music and dance healing ritual for physically and mentally distraught women. We're told they suffer from heartache often caused by soured relationships. Tarantata's purpose is to release the poison and venom from body and soul. These conditions were often attributed to a tarantula spider's bite. Alessandra Belloni and her dance performance troupe I Guillari di Piazza have taken this ritual to new heights of music, movement and supercharged theatricality. By Larry Litt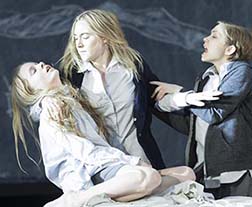 Elizabeth Teeter as Betty, Saoirse Ronan as Abigail and Tavi Gevinson as Mary Warren. Photo Jan Versweyveld.
"The Crucible" returns
Arthur Miller's brilliant parable of the Sen. Joseph McCarthy attack on American liberties, allowed by the U.S. Congress till it became too obscene for even cowardly politicians to stomach, is brilliantly staged by Ivo Van Hove, a Dutchman who understands and communicates Miller's political message (see also his "A View From the Bridge") in a theatrical manner that makes politics into art. By Lucy Komisar
Laura Benanti as Amalia Balash. Photo by Joan Marcus.
The Roundabout's "She Loves Me" at Studio 54
Laura Benanti is luminous as the smart shop clerk in "She Loves Me". By Lucy Komisar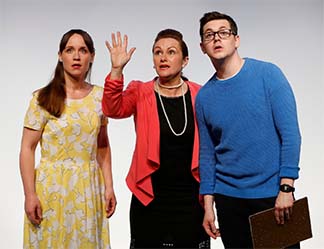 Scarlett Alice Johnson as Jill, Debra Baker as Miss Dee, Sean Michael Verey as Ollie. Photo by Carol Rosegg.
"Radiant Vermin," written by Philip Ridley, directed by David Mercatali, at 59E59 Theaters
"Radiant Vermin" is a smart biting bloody fable about the rich and the poor. By Lucy Komisar
Elizabeth Boag as Mrs. Pearce, Stephen Billington as waiter, Russell Dixon as Mr. Pearce. Photo by Tony Bartholomew.
"Confusions" by Alan Ayckbourm at 59E59
Ayckbourn's astute, funny "Confusions" uses small interactions to speak about human vulnerabilities. By Lucy Komisar .
Gabriel Byrne as James and Jessica Lange as Mary. Photo byJoan Marcus.
"Long Day's Journey into Night" at the Roundabout Theatre
From Jessica Lange's remarkable dissolution as the drug addicted Mary, reaching her nadir (and theatrical heights) in her mad scene, to Michael Shannon's stunning drunk, you are blown away by Jonathan Kent's staging of Eugene O'Neill's "Long Day's Journey Into Night." By Lucy Komisar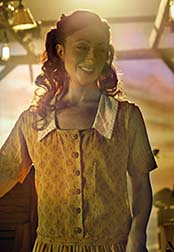 Carmen Cusack as Alice Murphy. Photo by Nick Stokes.
"Bright Star," written by Steve Martin, at the Cort Theatre
If you like bluegrass and feminist stories, you will love this Steve Martin-Edie Brickell show, as I did. Carmen Cusack is a dulcet-toned charmer as the heroine. "Bright Star" a charming southern fairy tale and bluegrass operetta. By Lucy Komisar

Frank Langella as André and Kathryn Erbe as Anne. Photo Joan Marcus.
"The Father," written by Florian Zeller and directed by Doug Hughes, at Manhattan Theater Club
Frank Langella in "The Father" brilliantly creates confusion of man with dementia. By Lucy Komisar
Jason Dirden as Dez, Lynda Gravatt as Faye, Nikiya Mathis as Shanita,. Photo Ahron R. Foster.
"Skeleton Crew," written by Dominique Morisseau, at the Atlantic Theater Company
Workers' solidarity, a labor union, caring about each other may appear a bit old fashioned in this neoliberal era, but Dominique Morisseau shows vividly how that is a lifeline for four people facing the loss of their jobs at a Detroit auto plant in 2008. "Skeleton Crew" shows worker solidarity at time of corporate uber-power. By Lucy Komisar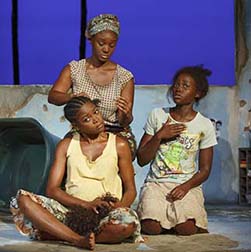 Pascale Armand as Wife #3, Saycon Sengbloh as Wife #1 and Lupita Nyong'o as the Girl. Pphoto Joan Marcus.
"Eclipsed" by Danai Gurira at theGolden Theatre
"Eclipsed" is stunning, surreal look at the horrors women suffered in Liberian civil war. By Lucy Komisar
"West Side Story" Directed by Mark S. Hoebee at the Paper Mill Playhouse
The current crowd-pleasing production at Paper Mill Playhouse,directed by Mark S. Hoebee, features a cast of actors who are extremely talented but not exactly household names. "West Side Story" is that kind of show: audiences will come to see it without star power. By Paulanne Simmons.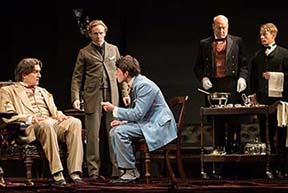 Rupert Everett as Oscar Wilde, Cal MacAninch as Robert Ross, Charlie Rowe as Bosie, Alister Cameron as Sandy Moffatt, Elliot Balchin as Arthur Wellesley, photo Cylla von Tiedemann.
"The Judas Kiss," written by David Hare at the BAM Harvey Theater
That's Oscar Wilde, the playwright whose sense of entitlement probably helped blind him to the dangers of challenging the British upper class hypocrisy that, riven with homosexuality itself, just didn't like it displayed so openly. Not in 1895. So, in some ways, David Hare's very strong play is as much about class as about sexual choice. Class, of course, plays a role in other Hare plays. By Lucy Komisar
Jeremy Tardy as Ira Aldridge and Sean Eden as Taras Shevchenko. Photo by Pavlo Terekhov.
"Dark Night, Bright Stars" by Yara Arts Group at La Mama
"Dark Night, Bright Stars" is one of those pleasant surprises that comes around every now and again. It's a play that actively distances itself from traditional forms of storytelling and instead communicates its messages through fragments of memories and poetry readings. On the surface level, this play is a story about two friends with similar pasts having a cultural exchange, but dig deeper and you discover themes of race and poverty, oppression and liberation, diaspora and the yearning for home. By Timothy Esteves.
Jeff Daniels as Ray and Michelle Williams as Una. Photo by Brigitte Lacombe.
"Blackbird" by David Harrower
This is one of those emotionally riveting plays that suddenly flips you over as you realize that everything you took for granted is not so. You are quite sure that David Harrower's story fits in with your beliefs about men's sexual abuse of young girl, until maybe it doesn't. Strongly acted by Michelle Williams and Jeff Daniels. Williams is so much better than her bland performance in "Cabaret," that you don't think it's the same person. By Lucy Komisar.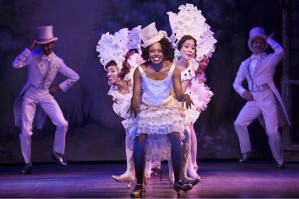 Adrienne Warren and Company. Photo by Julieta Cervantes.
"Suffle Along"
"Shuffle Along" on Broadway has great song and dance numbers, a weak book and Audra McDonald. If the first two observations don't convince you to see the show the last most definitely should. By Paulanne Simmons.
"The Judas Kiss"
Sex and class play equal parts "The Judas Kiss," David Hare's tragedy about Oscar Wilde, now playing at BAM. By Paulanne Simmons.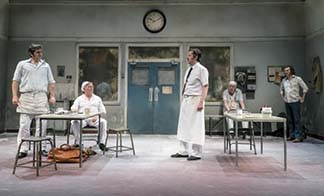 Steve Nicolson as Blakey, Simon Greenall as Cecil, Will Barton as Colin, Matthew Kelly as Nellie and Matt Sutton as Peter, photo by Oliver King.
"Toast"
Workers in a British bread factory stick together to combat fatigue, danger, insecurity. "Toast" at 59E59 Theaters depicts working-class camaraderie in the face of tough lives . By Lucy Komisar
"Even Under Bitterness"
Castillo Theatre is presenting an evening of the powerful poetry of Guatemalan poet and activist Otto Rene Castillo (1936 -1967), whose name the theater adopted in honor of his legendary fight for social justice. By Beate Hein Benne.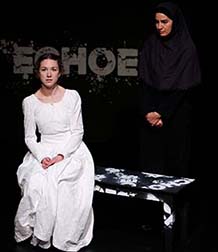 Felicity Houlbrooke as Tillie and Filipa Braganca as Samira. Photo by Carol Rosegg.
"Echoes"
"Echoes" is a powerful and intense play that explores the imperialist mindset as it compares the experiences of two women who lived 175 years apart in Ipswich, England, and were each swept up in the murderous rampage of "godly" imperialist killers. It won a Spirit of the Fringe award in Edinburgh last year and transferred to London. By Lucy Komisar.
The 2016 Annual Drama Desk Awards
Nominations for the 2016 Annual Drama Desk Awards were announced April 28 at Feinstein's 54 Below by Vanessa Williams (Into the Woods, The Trip to Bountiful "Ugly Betty") and Matthew Morrison(Finding Neverland, Hairspray, The Light in the Piazza, "Glee"). And the Nominees are...
Peter Groom as Watson and Jackie Schram as Sherlock Holmes. Photo Richard Termine.
"The Adventures of Sherlock Homes"
There are a hundred ways to direct and play Sherock Holmes and everyone is a risk. But when you think everything has been done, here comes the Aquila Company's "The Adventures of Sherlock Holmes," which still finds a way to mystify and enchant. By Lucy Komissar
"Bright Star"
"Bright Star" is eminently enjoyable, with a rollicking blue grass score by Steve Martin and Edie Brickell and a sparkling performance by Carmen Cusack as the female lead, Alice Murphy. By Paulanne Simmons.
The 66th Annual Outer Critics Circle Awards
The Outer Critics Circle has announced its 2015-16 Season Nominees. "She Loves Me" and "American Psycho the Musical" head the list with eight nominations, while "Bright Star" and "On Your Feet" got seven nominations each. These are the first Broadway/Off-Broadway Award nominations of the season. And the Nominees are...
"A Night Without a Banket"
In "A Night Without a Blanket," Margo Lee Sherman demonstrates her mercurial ability to slip into a variety of voices and bodies that people Kanafani's two stories, "The Slope" and "A Present for the Holidays," from his book "Palestine's Children." Both stories tell of the plight of growing up in the dire and humiliating circumstances under occupation and in refugee camps. By Beate Hein Bennett.
Hamlet 10. Photo by Martin Harris.
"Hamlet 10"
Hamlet: In the course of a life-time you think you've seen them all—the brilliant one, the wild one, the delicate one, the contemplative one, the mad one, the effeminate one, the athletic male or the athletic female, the schemer and the joker! That is, until you see a communal "Hamlet" – where The Hamlet becomes the Hamlet of us all who "suffer the slings and arrows of outrageous fortune." By Beate Hein Bennett.
"Eectronic City"
Electronic City is a social fantasy in the mode and message of Charlie Chaplin's "Modern Times" meets "Everyman." Work starved easily replaceable employees are programmed for underpaid employment in airport retail shops controlled by anonymous computer programmers often only heard on the other end of the emergency phone. By Larry Litt.
"The Digger"
"The Digger" is a very different kind of puppetry theater. Based in part on Dante's 'The Inferno,' the ancient tale 'Epic of Gilgamesh' and Newton's 'The Emerald Tablet," this fantastic puppets show, designed and created by Mike Kelly, sets new standards for puppet theatre. By Larry Litt.
Jeremy Beck as Harry and Jonathan Hadley as Billy. Photo Marielle Solan .
"Widowers' Houses"
George Bernard Shaw's first play, given a first rate performance by The Actors Company Theatre directed by David Staller, establishes the theme of personal morality vs business corruption that would be a signature of his works through the years. He wrote "Widowers Houses"in 1892, a Shaw satire of 'moral' folks who profit from exploiting the poor . By Lucy Komisar
HUGHIE -- Franck Wood as the hotel clerk, Forest Whitaker as Hughie, playing dice. Photo by Marc Brenner.
"Hughie"
"Hughie" is a play of seduction. Erie Smith (Forest Whitaker) has just lost Hughie, his only friend, a night clerk in a seedy hotel. Erie is lonely, grieving, down on his luck, and back from a five-day drunk. He tries to ignite in the new hotel clerk his sustaining friendship with the man who has died. He has to charm not only the new clerk but also the audience, and to dominate by force of will alone a set that dwarfs him. But Forest Whitaker doesn't play it that way. By Glenda Frank.
L'AMANT ANONYME -- Jennifer Moore as Léontine and Everett Suttle as Valcour. Photo Tina Buckman.
"L'amant anonyme"
In the canon of arts that are little known because they weren't created by white men, add an 18th century baroque opera composed by Joseph Bologne, born 1745 in Guadeloupe, the son of a French plantation owner and a slave. "L'Amant Anonyme" is 18th French century opera composed by son of a slave . By Lucy Komisar.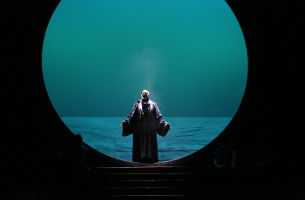 PERICLES -- Raphael Nash Thompson. Photo by Gerry Goodstein.
"Pericles"
We live in a world of Shakespeare as pop culture, with evidence everywhere from advertising to updated adaptations to burlesques to references in sitcoms. But seeing Theatre for a New Audience's raucous, delicious, and ultimately very moving "Pericles," directed by Trevor Nunn, is a reminder that Shakepseare's works were popular culture in their own time. By Dorothy Chansky.
From left to right - Paul Pecorino, Tori Murray, Kim Maresca. Photo by Carol Rosegg.
"Ruthless"
The cornucopian plot of "Ruthless" while being a simple spoof on show business has more twists and turns than a pretzel. Just when you think you know what is happening, what you are seeing, and where it is going, revelation after revelation, all coming out of left field, take us, oh so willingly, in another head-swirling direction to the land where lying, deceit, hidden identities, along with murder, mystery, and mayhem, all served up with song, dance, and a great many laughs, reign supreme. By Ed Rubin.
Carrie Paff as Hannah, Mark Anderson Phillips as Brock, and Michael Ray Wisely as Ted, photo Carol Rosegg.
"Ideation"
"Ideation" by the San Francisco Playhouse at 59E59 Theaters shows unnerving connection between corporate sleaze and designs for mass killing. By Lucy Komisar
Paul Sparks and Ed Harris in Sam Shepard's "Buried Child," directed by Scott Elliott, Off-Broadway at The New Group. Photo credit: Monique Carboni. www.thenewgroup.org.
"Buried child"
"Buried Child" so impressed critics and audiences back in 1979 that it won the Pulitzer Prize. As with so many Pulitzer Prize-winning works, years later it doesn't seem so impressive. As the shock value fades, the flaws in the plot and characterizations seem to grow. By Pauanne Simmons.
Michael Cumpsty and Michael Crane in the Primary Stages production of "The Body of an American" by Dan O'Brien, directed by Jo Bonney at Primary Stages at the Cherry Lane Theatre. Photo by James Leynse.
"The body of an American"
The Body of an American is based on the true story of the friendship between war photographer Paul Watson and playwright Dan O'Brien. Watson is the man who shot the photo of Staff Sgt. William David Cleveland's corpse after he'd been tied, beaten and dragged through the streets by an angry Somalian mob. By Paulanne Simmons.

Kate Middleton as Ruby Ridgeway, Dee Pelletier as Mademoiselle Vernier, Emily Walton as Jean Wade, photo Richard Termine.
"Women without Men"
Written by Hazel Ellis, an Irish actress and playwright in the 1930, this play is a period piece which try to anwer to a lot of feminism questions : Was there feminism in Ireland in the 1930s? Under attack, will the heroine reject being a woman without a man and decamp to her fiancé? Or will the other women get together, discover solidarity and demand better conditions? And the most of all, is the playwright suggesting that women without men are doomed? By Lucy Komisar.
Timothée Chalamet as Jim Quinn, photo Joan Marcus.
"Prodigal Son"
John Patrick Shanley's "Prodigal Son" is an autobiographical play about the memoir of rebel Catholic youth.A smart but rebellious kid gets suspended from a Catholic high school in New York City for saying he doesn't believe in God. He ends up at the Thomas Moore Preparatory School in Keene, NH, a small boarding school where he will continue to argue about ideas and also get into fights and scrapes. You love rooting for this fearless, clever kid who, with the passion aof his intellect, was smarter than everyone around him. By Lucy Komisar.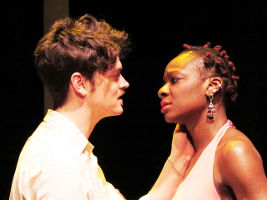 THE SORCERERS -- Joe Hewes-Clark as the husband, Nawa Kamate as his African wife. Photo by Remy.S.
A European view of racism in "The Sorcerers"
Serge Goriely, a Belgian playwright, presents us with a witches' brew of cultural entanglements, generational conflicts, and social upheaval—all presented through the lens of a family's experience of love, marriage, birth and death. "The Sorcerers" is an extended metaphor of the social conflicts that beset Europe as it is coming to grips with immigration from former colonies and political and economic refugees by the millions. By Beate Hein Bennett.
James Ortiz (Nick Chopper) in "The Woodsman." Photo by Matthew Murphy.
"The Woodsman"
"The Woodsman," a prequel to "The Wizard of Oz," is a dark dance-theatre exploration of love, loss and transformation. It lasts 75 minutes (no intermission) and covers two generations of woodsmen who find their beloved, build their homes, and change. Interesting concept, and the production is a piece of theatre magic, woven from movement, sound design, lighting, props and the delicate accompaniment of Naomi Florins' violin (original, marvelously eclectic music by Edward W. Hardy). The puppets are magnificent, but this is not a story for children. Tweens, however, might love it. Think "Edward Scissorhands" without the Disney overlay. Reviewed by Glenda Frank.
Richard Johnson in "Pappy on da Underground Railroad."
"Pappy on Da Underground Railroad"
"Pappy on Da Underground Railroad" is fine as a Richard Johnson vehicle in a small, Off- Off-Broadway theater. However, it could also be a touching show for school groups, especially for classes in the midst of studying American history. And it might work for audiences of all ages in some museums, such as The New-York Historical Society, in association with relevant exhibitions. Reviewed by Mindy Aloff.
Hilly Bodin as Snow White and Courtney Giannone as The Prince T "Snow White." Photo by Mark Shrlby Perry.
"Snow White" And The Evil Queen As You Never Seen Them Before
The ad campaign for Company XIV's production of "Snow White," inspired by the Brothers Grimm's fairy tale that we all grew up knowing – it is being sold as an adult version of the folk tale – more than captured our attention. Ed rubin writes, "Like Whitney Houston's singing "I Will Always Love You" and Celine Dion's "My Heart Will Go One," it wrapped itself around my gonads and reeled me right in." Here's what else he says.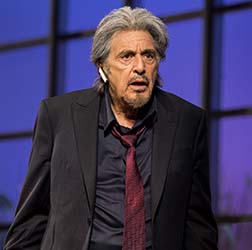 Al Pacino as Mickey Ross, photo by Jeremy Daniel.
A "China Doll" is Al Pacino character's prize for life of corrupt dealing
The title suggests this play by David Mamet is about a woman, but it's really about politics and corruption. And the trendy topic of tax evasion. Reviewed by Lucy Komisar.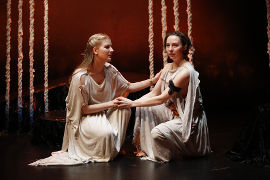 Katie Fabel as Ismene and Rebekah Brockman as Antigone in "The Burial at Thebes".Photo by Carol Rosegg.
The message in "The Burial at Thebes" is more relevant than ever
"The Burial at Thebes," Seamus Heaney's translation of Sophocles' "Antigone," was commissioned by Ireland's renowned Abbey Theatre to commemorate its centenary in 2004. That was not long after the American invasion of Iraq, when Sophocles' questioning the limits of earthly power seemed especially relevant. Reviewed by Paulanne Simmons.
"YES."Hudson Guild Theatre.
"YES," Realbuto's Play Boggles The Mind
Tim Realbuto's play "YES" though billed as one act with two scenes and an epilogue – it runs nearly 90 minutes – has the feel and heft of a full length play. No doubt, "YES" which played to great acclaim at the Detroit Fringe Festival earlier this year – it also had a sold out run last year as part of NYC's Emerging Artists Theatre series – will be seeing further life at other venues across the country. Reviewed by Edward Rubin.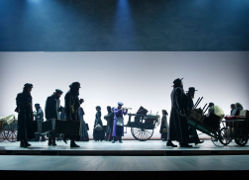 "Fiddler on the Roof. 'Jesse Kovarsky (center) and Cast. Photo by Joan Marcus.
"Fiddler on the Roof" Comes "To Life" Once Again
"Fiddler on the Roof" is not only a classic, it is also one of the most structurally perfect musicals ever created.Reviewed by Paulanne Simmons.
"Allen Wilder 2.0" -- Joe Casey (L) as a soft-core porn filmmaker and Steph Van Vlack (R) as his ex-babysitter.
"Allen wilder 2.0"
Middle age. The sounds of those shattering words strike quivering fear into the hearts of those who seek eternal youth. Especially if the mirror on the wall tells them the truth. Such a mirror is Matt Morillo's new comedy, "Allen Wilder 2.0." Reviewed by Larry Littany Litt.
"Lazarus."Photo by Jan Versweyveld
Two reviews of "Lazarus"
"Lazarus" by David Bowie and Edna Walsh and directed by Ivo van Hove keeps its audience seated for almost two hours without intermission. Glenda Frank found herself swept into the characters and conflicts, arriving at new esteem for director Ivo van Hove. Edward Rubin reviews "Lazarus" from another perspective, starting with David Bowie's professional background.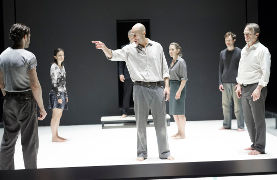 "A View from the Bridge."Mark Strong (center) and Company. Photo by Jan Versweyveld.
Two reviews of "A View From the Bridge"
According to Lucy Komisar, in Arthur Miller's tragedy of poverty and patriarchy, director Ivo Van Hove strips out the naturalism of sets and real entrances and exits, so you have just the sense of primal actors. Glenda Frank was so impresed with the play's direction, it made her re-assess her estimation of Ivo Van Hove.
"Marjorie Prime."Lisa Emery as Tess, Lois Smith as Marjorie, Noah Bean as Walter, photo Jeremy Daniel.

Eerie surprising "Marjorie Prime" shows future when avatars of the dead comfort the living
Think of "prime" as the second version of something, sort of like the file you download twice, so the second has little 1 after it. Here it's not a file, but the vision of a person, maybe a holographic double. Reviewed by Lucy Komisar.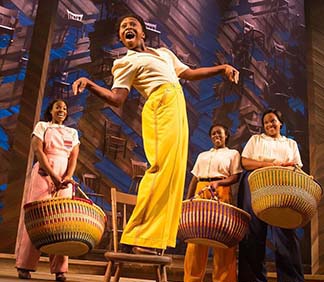 "The Color Purple."Patrice Covington as Squeak, Cynthia Erivo as Celie, Bre Jackson and Carrie Compere as church ladies, photo by Matthew Murphy.
"The Color Purple" is feminist musical soap opera about blacks in pre-1950s Georgia
John Doyle's staging of "The Color Purple" is a hokey take on Marsha Norman's dramatization of the Alice Walker novel about a young black woman in a society of predatory black men. Musical vignettes in jazz, gospel, ragtime and blues make this a visual chamber opera rather than a story play. The production numbers are appealing, the performers are very fine, so it works as opera. But as drama, the story lacks subtlety. Reviewed by Lucy Komisar.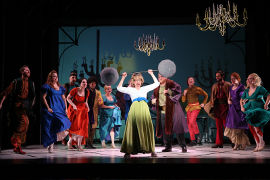 Jackie Hoffman & Company in "Once Upon A Mattress."Photo by Carol Rosegg.
"Once Upon A Mattress," More Fun Than A Barrel Of Monkeys
The story is set in a mythical 15th century kingdom where a search is on for a suitable princess for Prince Dauntless, the nerdy son of Queen Aggravian. It seems that the all-controlling Queen has decreed that no one in the kingdom can marry until her son does. To make matter worse, any princess vying for the role of wife – so far 12 have tried and failed – has to pass a virtually unpassable test devised by the Queen. According to Edward Rubin, after seeing "Once Upon A Mattress," you will find yourself dancing out of the theater at play's end with a smile on your face as large as the moon.
Jeb Patton on piano, Clovis Nicolas on acoustic bass, Phil Stewart on drums, Will Anderson (light suit) on alto sax, and Peter Anderson (dark suit) on tenor sax."The Count Meets The Duke: The Andersons PlayBasie And Ellington." Photo by Eileen O'Donnell.
"The Count Meets The Duke: The Andersons Play Basie And Ellington."
Following their 2013 Drama Desk nominated "Le Jazz Hot: How the French Saved Jazz," the brothers Peter and Will Anderson are back with another video and music show, this one about jazz greats Count Basie and Duke Ellington. Reviewed by Lucy Komisar.

"My Son the Waiter, A Jewsh Tragedy"
"My Son the Waiter, A Jewish Tragedy" is a brilliant combination of Borscht Belt shtick, actor-insider confessional, career tips for actor-waiters and adult audience-pleasing wit. By Larry Litt.
Telly Leung and the cast in a scene from "Allegiance". Photo by Matthew Murphy.
"Allegiance" - An Important Story, but a Bland Musical
The story of the United States' internment of 120,000 people of Japanese descent during World War II, more than half of them U.S. citizens, is certainly one that deserves telling. But only a few minutes into Marc Acito (book), Lorenzo Thione (book) and Jay Kuo's (book and score) "Allegiance", one wonders whether this story should be told as a musical. Reviewed by Paulanne Simmons.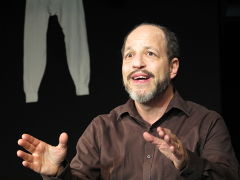 David Lefkowitz in his play, "The Miracle of Long Johns." Photo by Farnaz Taherimotlagh.
"The Miracle of Long Johns"
David Lefkowitz introduces his audience to the trials, tribulations and rewards of being a theater critic. In its second half, the story takes an abrupt turn to the scatological and just when you think the story has hit below the belt, it goes a lot lower. To get the joke, you have to see the play. Or read this review by Edward Rubin.
"Sylvia". Annaleigh Ashford as Sylvia and Matthew Broderick as Greg, photo Joan Marcus.
Two reviews of "Sylvia"
In "Sylvia", A.R. Gurney shows us that the line between humans and the rest of the animal world is not always as clear as we would like to believe, Paulanne Simmons says.
However, Lucy Komisar looks at "Sylvia" as a shaggy dog story that raises feminist questions.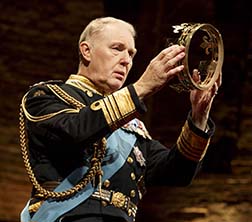 Tim Pigott-Smith as Charles holding the crown, photo Joan Marcus.
"King Charles III" is riveting and surprising critique of British elites
If you take Mike Bartlett's "King Charles III" as the possible future, it makes no sense. But if you take it as a story of hubris and betrayal connected to a critique of British elites, it's right in the realm of current real-life political theater. By Lucy Komisar.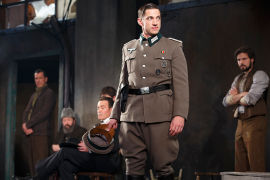 "Incident at Vichy." James Carpinello as Major. Photo by Joan Marcus
"Incident at Vichy" by Arthur Miller
Set in 1942 Vichy, France -- the so-called free zone -- during the increasing incursion of German military force and deportations, Miller's play drives home the corrosive effect of terror on human beings and the nearly unconscionable moral strength required to remain a human being under the strain of the real possibility of extermination. Beate Hein Bennett believes that watching this harrowing play a day after the terrorist attacks in Paris lent a special emotional edge to an already highly charged play.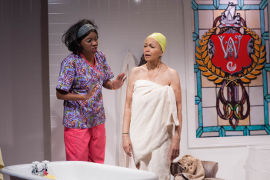 "Dead and Breathing". Lizan Mitchell (Carolyn) and Nikki E. Walter (Veronika, the nurse). Photo by Christine Jean Chambers.
"Dead and Breathing," about that will to live…
As one enters the theater lobby on the third floor of Dr. Barbara Ann Teer's Black National Theatre building, one is invited to a small multi-media exhibit around the theme of identity labels. The core question centers on how our self-definition and labeling by others have positive and negative social and psychological consequences. It is a fitting introduction to the multilayered theme of "Dead and Breathing" by Chisa Hutchinson. By Beate Hein Bennett.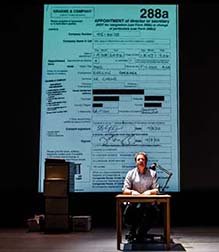 Mark Thomas with spy document, photo Richard Davenport.
"Cuckooed," a riveting true story by British comic and activist of how arms company spied on him
It's theater as investigative reporting or investigative reporting as theater, however you cut it, but Mark Thomas, a British TV actor/comedian and activist has created a fascinating show. It's by him and about him: how he ran stings that put some illegal arms traffickers out of business or in jail and how he was deceived and betrayed by a "comrade" who turned out to be a spy for BAE Systems, the UK's largest aerospace and weapons company. By Lucy Komisar.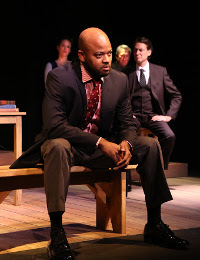 IN WHITE AMERICA -- Foreground: Shane Taylor. Behind (L-R) Nalina Mann, Bill Tatum, Ezra Barnes.
"In White America" by Martin Duberman
New Federal Theatre's 50th Anniversary production of "In White America" is as fresh as it was in 1963, even though it is playing in the shadow of the "Black Lives Matter" movement. The fact that it still feels poignant has several reasons. First is Charles Maryan's direction, which moves the ensemble of six actors from one testimony to the next in a seamless but differentiated manner. Read the review from Beate Hein Bennett for the rest.
OLD TIMES -- Clive Owen as Deeley, Kelly Reilly as Kate, Eve Best as Anna, photo Joan Marcus.
Pinter's "Old Times" teases and fascinates with memory and fantasy
Harold Pinter is a wonderful trickster, playing games with the audience as they watch characters on the stage playing games with each other. Lucy Komisar explaines us more about "Old Times."
The Bandstand at Paper Mill Playhouse; Photo by Jerry Dalia; Laura Osnes (Julia) LEFT, Corey Cott (Donny) RIGHT and the company of The Bandstand
"The Bandstand" Is Not Quite Ready for the Bandwagon
It's easy to see why so many reviewers want to like "The Bandstand," a musical that is having its premiere at Paper Mill Playhouse. It has a book and lyrics by Richard Oberacker and Robert Taylor and music by Oberacker, neither of whom is particularly well-known to the average theatergoer (or reviewer). It has a book that is totally original. And it's about the brave men of the Greatest Generation, who grew up during the Depression and then went on to fight totalitarianism abroad to protect democracy back home. Bbut the story line, writes Paulanne Simons, has holes.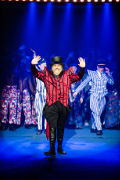 Big Apple Circus. Photo by Maike Schulz
Big Apple Circus Is Back!
Ringmaster John Kennedy Kane resplendent and charming in his top hat and tight-fitting red and black striped jacket, introduces acts from China (the Zuma Zuma acrobatic troupe) China (hand balancers The Energy twins) and Russia (Sergey Akimov on the aerial straps). By Paulanne Simmons.
Juliana Francis-Kelly as Queen Elizabeth. Photo by Julieta Cervantes.
"Texts&beheadings/ElizabethR" is Coonrod's brilliant feminist take on Elizabeth
In this stunning artistic and feminist biography of Elizabeth I, Karen Coonrod tells us what most of us never knew about that 16th-century British monarch. She was first of all very, very smart, in politics. She was also studied and intelligent, poetic in her speaking and writing, and a polyglot – we hear her speak Italian, Spanish, German. She was subtle, but tough when it mattered. Lucy Komisar writes that sitting in the presence of Coonrod's plays, which are built from Elizabeth'letters, speeches, poems, and prayers, you feel you are meeting an amazing woman!

.
"Death Of Saleman" by Arthur Miller, performed in Yiddish, directed by Moshe Yassur
It's been recently said that Arthur Miller's "Death Of A Salesman' isn't a Jewish tragedy. So what's the point of a Yiddish translation? Or for that matter translating it into Spanish or Russian or any language other than the original English? After all isn't it a play about the cruelty of American Capitalism with its not so subtle delusions and temptations that often brutalize its weaker victims? Larry Litt ponders these "big questions."
CLOUD NINE -- Clarke Thorell as Clive and Izzie Steele as Mrs. Saunders. Photo Doug Hamilton.
Atlantic Theater recalls "Cloud Nine" by Caryl Churchill
Cloud Nine, of course, is that place of ecstasy in the metaphorical sky where love and/or sex takes one. Caryl Churchill's play is a quirky la ronde set in Africa in 19th-century Victorian times and London in 1979. But how does it stack up in today's culture, around 35 years later? Lucy Komisar no longer finds it clever, and explains why.
Brenda Meaney and Clemmie Evans in "The New Morality" by Harold Chapin. Photo by Richard Termine.
"The New Morality" by Harold Chapin, directed by Jonathan Bank
"The New Morality" is about the modern, independent New Woman, who is seductive and contradictory. The play is well directed by Jonathan Banks with an impressive cast. Don't miss this one. With so many plays overloaded with gimmicks, trendy hodgepodge, and scenes designed to shock, it's a relief to see a comedy that has something to say and says it gracefully. By Glenda Frank.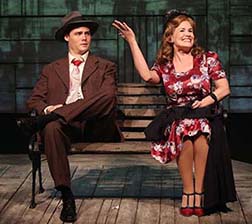 Mickey Theis as Jim and Megan Bartle as Betty, photo Carol Rosegg.
"Desire" has strong moments channeling Tennessee Williams' riffs on sex
"Desire" is a collection of plays by modern writers who base the works on Tennessee Williams short stories dealing with various aspects of sexual desire, beginning with young first love, moving through various aspects of homosexuality, touching on repressed desire, and finishing with a full blown graphic orgasm. By Lucy Komisar.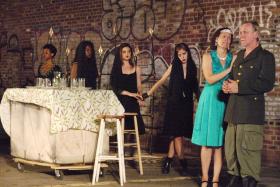 BANQUO'S GHOST BREAKS UP A NICE DINNER -- L-R: Kineta Kunutu (Hecate), Leila Okafur (Witch), Gracie Winchester (Witch), Llewie Nunez (Witch), Sheri Graubert (Lady Macbeth) and Dan Teachout (Macbeth). Photo by Aurelie Camus.
Shakespeare in the Parking Lot's "Macbeth"
What does it look like to present one of the most famous Shakespearean tragedies, "Macbeth," in a banana republic? A large and likeable cast worked hard on this outdoor version directed by Jesse Ontiveros. By Paul Berss.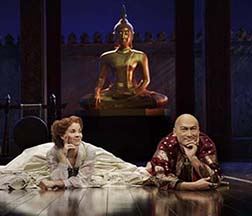 Kelli O'Hara as Anna and Ken Watanabe as the King, photo Paul Kolnik.
"The King and I" – gorgeous spectacle of 1860s British governess & Asian despot
The governess, Anna Leonowens, who spent five years at Siam's court, wrote two memoirs in the 1870s, and Margaret Landon fictionalized her story in 1944. Based on her novel, the 1951 musical, "The King and I," with book and lyrics by Oscar Hammerstein II, music by Richard Rodgers, and choreography by Jerome Robbins, was a dazzling success. It still is. Director Bartlett Sher has done a brilliant job – you almost see him waving a conductor's wand over the pageantry. Christopher Gattelli has smartly adapted the original choreography. By Lucy Komisar.
Tim Kazurinsky as Gabriel, Jim Parsons as God, Christopher Fitzgerald as Michael, photo Jeremy Daniel.
"An Act of God" is Jim Parsons' very witty take on religious hokum
If cleverness is next to godliness (my revised meme), Jim Parsons soars on heavenly wings on both counts. His send-up of religion, believers and politicians is a holy hoot.
This is a performance in the tradition of Jon Stewart, where trenchant political and social commentary is done as comedy. And where rapier wit is a lot sharper at spearing the truth than the blather of the punditocracy. Parsons has the flippant mood of a Daily Show guy. By Lucy Komisar.
The company, photo Matthew Murphy.
"An American in Paris" is a staircase to dance paradise
It's the end of World War II, Liberation in Paris. Former soldier Jerry Mulligan (Robert Fairchild), a New Yorker who wants to be a painter, stays. This modern jazz ballet with brilliant music by George Gershwin and unforgettable lyrics by Ira Gershwin is wrapped around a story inspired by a 1951 movie. But that's just a backdrop. Good that it makes political/romantic sense, but you soon forget the book by Craig Lucas and focus on the production, the staging, the visuals (Bob Crowley's set and costumes), and the gorgeous dance numbers by Christopher Wheeldon featuring the stunning Cope and Fairchild. Think of this production as a few hours of paradise. By Lucy Komisar.
"Trail of Tears" directed by Rajendra Ramoon Maharaj.
Sheldon Raymore and Nerea Duhart. Photo by Ashley Marinaccio

"Trails of Tears" by Thomas J. Soto
Playwright Thomas J. Soto began "Trail of Tears" in 2013 as a series of one-night installations to honor cultures lost to genocide. Rajendra Ramoon Maharaj, the producing Artistic Director of Rebel Theatre, who created and developed the project for the stage, called this series "The Remembrance Project." Now playing at the Nuyorican Café in Lower Manhattan, "Trail of Tears," like "Hamilton," takes a second look at American history but from the perspective of Native Americans. The satirical docudrama is told through story, dance, performance, movement, and testimony. By Glenda Frank.
Boomerang Theatre in "Cymbeline" on-the-grass in Central Park. Photo by Timothy Errickson.
"Cymbeline" on a grass knoll
Summer in the city is filled with unexpected delights. Who could have imagined that Boomerang's production of "Cymbeline," that impossible late comedy by William Shakespeare, could keep its sitting-on-the-grass audience enthralled for almost 2 ½ hours without intermission. Director Cailin Heffernan and her seriously talented cast have worked wonders, and it's all for free. By Glenda Frank.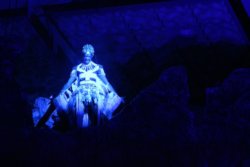 Fedna Jacquet (Ariel). Photo by Jill Jones.

The Tempest Takes Over Harlem By Storm
In the third annual Classical Theatre of Harlem free "Under the Stars" season, director Carl Cofield envisions "The Tempest" set in colonial Hispaniola. But the island, true to Shakespeare's original script, is much more an enchanted domain than any actual earthly location. By Paulanne Simmons
COMPOSITION...MASTER-PIECES...IDENTITY--David Greenspan. By Eric Carter.
Breathing Life into the Words of Gertrude Stein
"Composition…Master-Pieces…Identity" brings to life two "lectures" and a "play" by Gertrude Stein. This new signature solo piece by David Greenspan explores ideas of celebrity, authenticity, outlaws, classics, self-consciousness, and writing for an audience. By Edward Rubin.
ON THE 20TH CENTURY--Kristin Chenoweth as Lily in "Veronique," Phillip Attmore, Rick Faugno, Erica Mansfield and Richard Riaz Yoder. Photo by Joan Marcus.
"On The 20th Century" is a Kristin Chenoweth musical tour de force
Part operetta, part farce, part screwball comedy, this musical revival is about the behind-the-scenes relationship of Lily Garland (Kristin Chenoweth), a temperamental actress, and Oscar Jaffee (Peter Gallagher), a bankrupt theater producer. Fueled by charm, wit, sophistication, wonderful voices and choreography, this train leaves the station barreling to triumph. By Lucy Komisar.
THE TEMPEST-- Louis Cancelmi as Caliban, Jesse Tyler Ferguson as Trinculo, Danny Mastrogiorgio as Sefano. Photo by Joan Marcus.
In "The Tempest," Caliban's 16th-century slave cry for freedom is more powerful than conflicts between nobles.
The opening of Shakespeare's "The Tempest" in Central Park is powerful and realistic. The thunder shudders, the lightening flickers, water mists up through a ship's floor boards, passengers and crew list and fall. A couple left the theater with a very young son whose face showed real fear. By Lucy Komisar.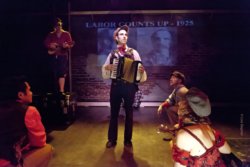 INJUNCTION GRANTED--Nathaniel P. Claridad, Kendall Rileigh, Perri Yaniv, Cliff Miller, Lorinne Lampert. Photo by Lois Segman.
"Injunction Granted"
It's labor vs. capital in this circus-like living newspaper from the Federal Theater Project. This is the third in Metropolitan's jubilant celebration of these social dramas created by the WPA, in the spirit of Power and One Third of a Nation, this time with acrobats, music and clowns. By Glenda Frank.
THE ROARING GIRL --Photo by Anais Koivisto
"The Roaring Girl"
"The Roaring Girl" is a Jaocbean comedy -- and even better a feminist comedy -- about seduction, unscrupulous men, and money. A play where the women saves the day and the course of true love does not run smooth. By Glenda Frank
Stephan Sheffer and David Lind. Photo by Clay Anderson
"New Country" at the Cherry Lane Theatre
A small play ensconced in an intimate, somewhat out of the way theatre sometimes makes a big noise. "New Country," presented by Fair Trade Productions in association with Rattlestick Playwrights Theater, and written by Mark Roberts, is one of these plays. By Edward Rubin.
Love and reflection in "This Is Mary Brown"
A young Irish woman named Marry Montgomery meets Covell Brown, an Alaskan frontiersman. They fall in love, marry and decide to live in America. The couple have three children, Winsome, Victoria and Nicholas. This intimate portrait of a wife and mother is not particularly exceptional. Yet, as told by Mary Brown's daughter, writer and actress Winsome Brown, it is the core of a moving solo show, "This Is Mary Brown," directed by Brad Rouse. By Paulanne Simmons.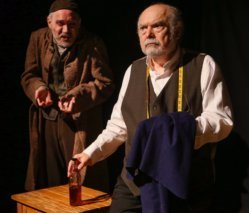 BESPOKE OVERCOAT - Shane Baker and Michael Fox. Photo by Ronald L. Glassman
Two Yiddish delights by Wolf Mankowitz.
"2 by Wolf" is two one-act plays by the fascinating English-born polyglot Wolf Mankowitz: "The Irish Hebrew Lesson," perhaps the only tri-lingual play of its kind written in English, Irish and Yiddish, and "The Bespoke Overcoat," performed in a Yiddish version that vividly highlights the play's Jewish roots. It makes you wanna learn Yiddish. by Larry Litt.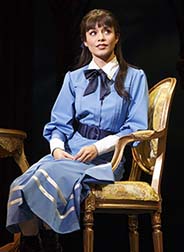 Vanessa Hudgens as Gigi. Photo by Joan Marcus.
"Gigi"revival airbrushes the dark story of young girls raised to be courtesans
The current Broadway revival of "Gigi" aiurbrushes the 1944 Colette story about the demi-monde of Paris, where elegant courtesans with their rich lovers dined out at Maxim's, drinking Veuve Cliquot and flicking their gowns and feathers. By Lucy Komisar.
Ben Miles as Thomas Cromwell, Nathaniel Parker as King Henry. Photo by Johan Persson.
"Wolf Hall," a riveting drama of tough 16th-century politics.
A play about the 16th century, but the dialogue, the politics, the economics, the power struggles give you a sense of watching the mafia. By Lucy Komisar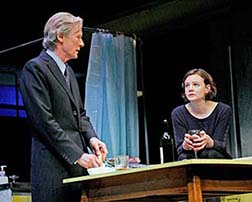 SKYLIGHT--Bill Nighy as Tom Sargeant and Carey Mulligan as Kyra Hollis. Photo by John Haynes.
"Skylight"
Hare's "Skylight" is a sharp look at young woman-older guy affair and (political) morality. Love, sex, age and class are key elements in David Hare's 1995 play about a rich guy who had an affair with an employee a few years ago and would like to start it up again. By Lucy Komisar.
Zachary Fine as Valentine and Noah Brody as Proteus. Photo by Gerry Goodstein.
"The Two Gentlemen of Verona."
The timeless story, presented in present language and clothes, is utterly charming and seems like a romcom. "The Two Gentlemen of Verona" is another Fiasco Theater Shakespearean hit. By Lucy Komisar.
MOST DANGEROUS MAN IN AMERICA-- Ensembe "Most Dangerous Man in America (W.E.B. Du Bois)". Photo by Jerry Goodstein.
"Most Dangerous Man in America (W.E.B. Du Bois)"
Amiri Baraka's last play has a series of brief vignettes that depict Du Bois principally as a man of humanistic vision and a great orator, a friend and fellow pacifist. It presents the sociopolitical status quo as fundamentally flawed. By Beate Hein Bennett.
EVER AFTER-- L-R: Fred Inkley, James Snyder, Margo Seibert and Christine Ebersole. Photo by Jerry Dalia.
"Ever After" Is a Musical and Modern Interpretation of Cinderella
"Ever After" takes the traditional Cinderella and gives it a feminist angle. The poor orphaned girl, now called Danielle (Margo Seibert) has become a spirited young lady who is strong enough to lift a grown man and spunky enough to wield a sword. by Paulanne Simmons.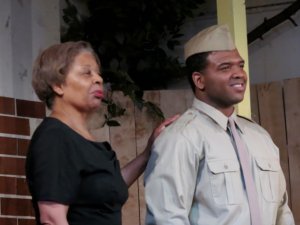 FENCES-- Carol Carter as Rose Maxson and Nicholas Miles Newton as Cory Maxson. Photo by Jonathan Slaff.
Tension and drama at its best in "Fences"
Major writers with extraordinary casts working with highly acclaimed directors in the basements of Manhattan. August Wilson's "Fences" produced by the Morningside Players of Harlem. Director Arthur French shows unique skill at using an awkward space where concrete pillars and plumbing dominate the room. There's a significant warning here to powerful fathers in particular and their families that get caught in unending paternal conflicts. by Larry Litt.

Photo by Jinyoul Lim.
Two Reviews of "Trash Cuisine" by Belarus Free Theatre
A theater piece as an demonstration against human rights violations, is played with exquisite artistry by the ensemble of the Belarus Free Theatre. "An intense reflection of one's own sensibilities and raises anew the question of the actual meaning of catharsis, the ancient notion of the purpose of theatre" says Beate Hein Bennett. Dorothy Chansky calls it "a subtle and unsettling journey towards rethinking human appetites of several sorts."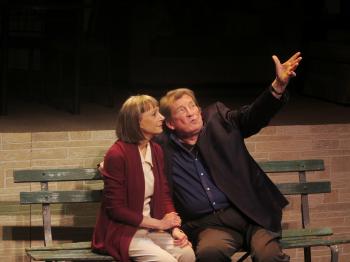 OLD FLAME -- Linda Setzer and Frank Anderson. Photo by Rosalie Baijer.
"Old Flame" Play Depicts The Power of Old Romance.
We all know the expression "there's no fool like an old fool." Does it apply to Richard Ploetz's five-character "Old Flame," or is the leading character not a fool but really a tortured 72 year old who remains truly in love with his high school sweetheart? By Paul Berss.
Dael Orlandersmith. Photo by Joan Marcus.
In "Forever," a brutal growing up is turned around by the arts
Dael Orlandersmith's "Forever" is a powerful blend of fact and fiction about this talented writer/performer's growing up as the daughter of an abusive, alcoholic mother in Harlem. By Lucy Komisar
Dance hall dancers. Photo by Paul B. Goode.
"Street Singer" is dramatic story of French icon Edith Piaf in song and modern dance.
The very fine Broadway and cabaret singer Christine Andreas channels Edith Piaf in an elegant, sharp, charming dance production choreographed by Pascal Rioult, a former Martha Graham Dance Company principal dancer. By Lucy Komisar.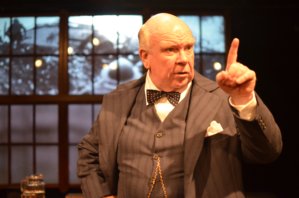 Ronald Keaton as Winston Churchill.
"Churchill" Triumphs Again
Winston Churchill, prime minister of England from 1940 to 1945 and again from 1951 to 1955, is arguably one of the most interesting personalities in English history, and he never wore the crown. He also was a prolific writer. His output includes a novel, two biographies, three volumes of memoirs and several histories. All this gives Ronald Keaton plenty of meat for his solo show, "Churchill," currently extended at New World Stages. By Paulanne Simmons.
NIGHT -- L-R: Brian Linden, (dark) Catherine Correa , Galway McCullough, (standing) Chris Tanner, (below) Beth Dodye Bass, (foreground) Jeanne Lauren Smith. Hidden front: Adam Bonz. Photo by Lee Wexler/Images for Innovation.
"Night" by Charles L. Mee
Charles L. Mee's new play "Night," directed by Ildiko Nemeth, is an examination of hate and violence in the world, and an impassioned plea for peace and humanity - an impressive multi-media feast of talk, music, movement, and film. By Paul Berss.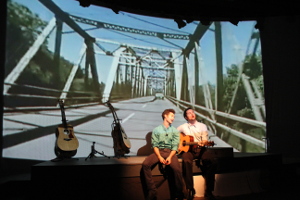 Travelling Blues in "Search: Paul Cayton."
"Search: Paul Clayton" Makes the Case for a Man Nobody Knows
" Search: Paul Clayton" tells an interesting story that includes Clayton's upbringing in a musical if not terribly peaceful household; the 60s music scene in Greenwich Village; and Bob Dylan's perfidy to his girlfriend, Suze Rotolo, Clayton and just about anyone whom the ambitious singer no longer needed. And let's not forget the titilating assumption that Clayton, who was gay, was not so secretly in love with Dylan. By Paulanne Simmons.
Hell is your own lovers in "A Certain Quiet."
No peace for these lovers in "A Certain Quiet"
Sartre's famous phrase "Hell is other people" applies to the character constellation of the chamber opera, "A Certain Quiet" by composer Haim Elisha and librettist. Rina Elisha, based on the play "A Strange Silence" by Renato Mainardi (1931-1977). This Italian playwright's work emerged with success in the turbulent 60s on the Italian theatre scene but has remained largely unknown in the US. Beate Hein Bennett writes, "to have the courage of producing a new operatic work of such rare finesse in New York, and to have the privilege of seeing it, is precious indeed."
Kelli O'Hara, Ken Watanbe and company. Photo by Paul Kolnik.
Lincoln Center Gives "The King and I" a Majestic Revival
It's hard to go wrong with Rodgers and Hammerstein's "The King and I." But when everything goes right, as with Lincoln Center's current revival, it's truly magical.by Paulanne Simmons.
CLINTON -THE MUSICAL-- L-R: Kevin Zak as Kenneth Starr overlooks John Treacy Egan as Newt Gingrich as he questions the President (Tom Galantich) and Hillary ( Kerry) Butler in front of the press corp (Veronica J. Kuehn, Dale Hensley)
The Clintons Get Two More Acts with "Clinton - The Musical"
Paulanne Simmons writes, if you like your comedy broad and you're a big fan of "Saturday Night Live," you'll most probably love "Clinton - The Musical." Lucy Komisar adds, it's better than any political commentary from the mainstream media.
---
© copyright 2015, Metro New Media, Inc.
| lobby | search | home | cue-to-cue | discounts | welcome | film | dance | reviews |
| museums | NYTW mail | recordings | coupons | publications | classified |