Tension and drama at its best in Morningside Players' "Fences"
"Fences" by August Wilson
Directed by Arthur French
Produced by Susanna Frazer & Cecilia Riddett for The Morningside Players, 100 La Salle Street, Manhattan
May 14 to June 7, 2015 (Extended two more performances)
Box office 646-200-5089, http://www.morningsideplayers.org
Reviewed May 29, 2015 by Larry Litt


Douglas Wade as Troy Maxson and Sean C. Turner as his friend, Bono. Photo by Rosalie Baijer.
Twenty-first century in New York city is one of those times when curious theater goers can see plays by major writers with extraordinary casts working with highly acclaimed directors in the basements of Manhattan. I'm talking about a thrilling evening of theater, August Wilson's "Fences" produced by the Morningside Players of Harlem. Yes it could be called community theater, but the actors are all Equity performers and director Arthur French shows unique skill at using an awkward space where concrete pillars and plumbing dominate the room.
Actors Douglas Wade and Carol Carter bring the Maxson family into vivid life. Wade as Troy, the loving husband and defiant father, and Ms. Carter's Rose, the sacrificing mother and long suffering wife, survive each others' posturing magnificently and heroically. A subtle yet percolating eternal battle is taking place in the first act. Both Wade and Carter are sharing the trials and tribulations of Pittsburgh African American life in the 1950s. We're experiencing these difficulties and joys of family life with Troy's longtime friend Bono played by Sean C. Turner. Bono is a comic relief compared to the intensity Troy expresses. His distrust of the white world has made him angry yet he needs to overcome then engage with it. Getting a promotion at his sanitation department job helps his self-esteem but he still feels unfulfilled.
His proclaimed love for Rose is equal to his disdain for his son Cory, who is admirably played by Nicholas Miles Newton. Cory, like Troy in his younger years, is an athlete of professional potential. Unlike Troy, who spent his strongest years in prison, Cory has been offered a university football scholarship. Troy is against this scholarship and won't sign the permission agreement so Cory can attend college. Rage builds between them.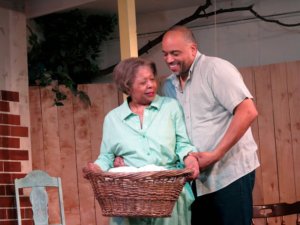 Carol Carter and Douglas Wade. Photo by Jonathan Slaff.
Another son, Lyons is a musician trying to get set in Pittsburgh's Jazz World. Michael A. Jones breathes life into Lyons both as a son who needs occasional help then as a maturing son who pays his debts but keeps his father at a distance. He feels Troy's negativity and Rose's love as a conflict he can live with as long as he can dedicate himself to playing music. Music for Troy isn't a threat as Troy never had musical ambitions. In fact he is supportive to Lyons in part because Troy's war damaged, demented brother Gabriel, brilliantly portrayed by Craig Anthony Bannister, is a musician in his soul and spirit.
Put this family together on their porch, that needs a fence to separate them from the outside world, and you have tension and drama at its best. The second act reveals the highest emotions a actor can offer a play. Rose and Troy are combatants. Cory and Troy are combatants. Troy's happiness is precarious and then he discovers the real meaning of family and friendship.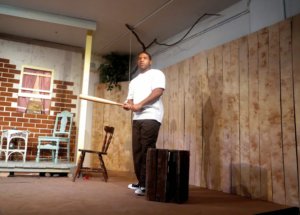 Nicholas Miles Newton as Cory. Photo by Rosalie Baijer.
Watching this tragically moral drama unfold was one of the highlights of my theater season. Superb acting made me weep at this family's pains and laugh with relief at their momentary joys. They are on stage of course larger than life but only too human, wearing each other out for all the wrong reasons. There's a significant warning here to powerful fathers in particular and their families that get caught in unending paternal conflicts.
Great plays can and do happen in NYC basements. You just have to try them out. I'm glad I was there.