The Head Hunter
(L) Salvatore Inzerillo as the mobster, (R) Robert Mobley as the writer. Photo by Scott Kowalchyk.
The Head Hunter
By Mark Borkowski
Directed by Richard Hymes-Esposito
The Producers Club
358 West 44th St. NY NY 10036
Reviewed April 20, 2014 by Larry Litt

One of America's long lived anti-heroes is the Italian gangster with a heart. Doesn't matter that he has committed heinous atrocities in the name of collecting debts, revenge or murder for hire. What attracts us in his fictitious life is his inside knowledge and experience of doing the abominable deed. Killing not in the heat of passion but in the quest for money.
Right no, 24 hours a day we can watch gangster inspired movies and television shows that remind us there are bad guys and good guys even if the line separating them is often quite thin. I for one like it when the bad gangster supports the Church with money and favors. Blessed are the forgiven who confess their murderous crimes then donate to the new roof building fund.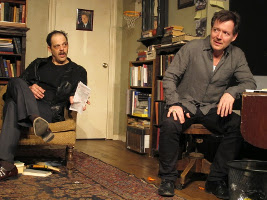 A mobster (Sal Inzerillo, L) comes to the aid of his screenwriter cousin (Robert Mobley, R) in "The Headhunter" by Mark Borkowski. Photo by Ina Stinus.
What inspires The Head Hunter into a different non-cliched gangster script is the neurotic tendencies and interpersonal confessions of two male cousins who populate a completely dysfunctional family of what should be very close and loving relatives. Therein lies the psychological tension and dramatic fascination of this uniquely disguised play. Because what's happening here is deception as an act of love. To witness Salvatore Inzerillo's dominating mob persona Salvy lead his cousin Casmir, a screenwriter with film industry problems is a joy to behold.
Rarely do I see two male actors provoke each other into the life of their characters. Salvy is so arrogant that he makes Casmir cringe when he talks about his 'business.' That doesn't stop Casmir from following Salvy's advice when it comes to solving his own problem with a duplicitous producer. As Salvy says, "This scumbag can't get away with it. Simple as that. It's about family honor."
This kind of wish fulfillment is all pervasive in the arts. While this paly is a low budget production the movement and staging by director Richard Hymes-Esposito leads you into the life of an unsuccessful writer who is wrestling with his own identity problems. He's not a full-blooded Italian yet he's not a full blooded Pole either. He's caught between the two ethnic worlds in the space where no respect is shown by the stronger for the weaker.
This production is a revival and well worth the cast and directorial effort. I think you'll see gangster images in a new light from now on.