"Shakespeare & Elizabeth I: The Reality Show"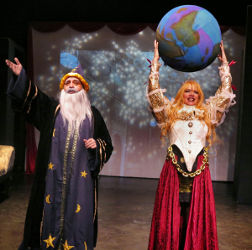 Queen Elizabeth I (Phoebe Legere) is inspired by Dr. John Dee, the Court Astrologer (David Zen Mansley), who gives her the world's first globe.
November 29 to December 15, 2013
Theater for the New City, 155 First Ave. (at East 10th Street)
Presented by Theater for the New City
Book, Music & Lyrics by Phoebe Legere
Co-Directed by Mark Marcante & David "Zen" Mansley
Reviewed by December 12, 2013 by Larry Litt
Phoebe Legere makes my heart flutter. She's the alternative performance artist-icon I've always wanted to meet. "How do you see yourself now Phoebe," I'd ask, "twenty years of hard work at the creative grindstone enduring the ever bumpier roads of stage life?"
Well I found out how Phoebe is. She's as strong a performer as her heroine, Queen Elizabeth I, the grand dame of England's 17th century era of superior theater, science and writing. Phoebe's new play "Shakespeare and Elizabeth I" isn't so much about proving that The Virgin Queen wrote William Shakespeare's plays and sonnets as it is proving that a woman at the helm of an empire will always find ways to bring out the best in her artistic creators.
Of course this play is a showcase for Phoebe's own creativity. Her songs follow the arc of the play but can easily stand alone: specifically "When You're a Queen." This song in particular has layers of mockery and gender bending, one of Phoebe's hallmarks.
Mark Marcante's set design shelters this hysterical romp through old England with an authentic stage look. I'm sure the Globe Theater was a sparse environment. The props for travel, horses, water and the Tower of London were strokes of Elizabethan theatricality.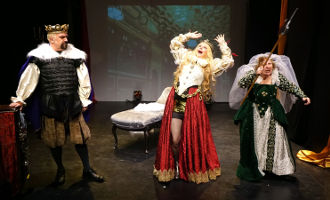 David Zen Mansley as King Philip of Spain, Phoebe Legere as Elizabeth I, Crystal Field as Queen "Bloody" Mary Tudor. Photo by Lee Wexler/Images for Innovation.
Two timing, ego maniacal royal stud of all kings David "Zen" Mansley is a terrific foil as King Philip of Spain for Phoebe's Elizabeth and Queen "Bloody" Mary Tudor. Bloody Mary is played in major murderous absurdity by the ever energetic Crystal Field. I wanted to see more of her, but she has to die. Phoebe wouldn't want to tamper with history, would she?
Mansley's Dr John, Dee the notorious but respected court magician, is Elizabeth's high priest and prophet on the mountain. Dee has never been so surreal and accurate in his predictions. He predicts Phoebe and Elizabeth will reign in the hearts of their people as long as the Sun rises and the moon shines. He also dresses in Mickey Mouse's Sorcerer's Apprentice costume.
Phoebe becomes the other Mary in Elizabeth's life, Mary Queen of Scots. This Mary is Elizabeth's rebellious Catholic cousin. Therefore she has to die too. Phoebe does it so well that I was sure the Scottish cousin wouldn't come back for an encore.
Elizabeth I (Phoebe Legere) on her deathbed, surrounded by Lettuce Knollys (Michael LaPorta), Duke of Norfolk (Sara Harper), Robert Dudley (Rhys Tivey) and Lord Cecil Burligh (William Niederkorn).
Michael LaPorta's elegant, sophisticated portrayal of the caring, adoring lady-in-waiting Lettuce Knollys, reminded me of the time I was invited to The Hippodrome for a Halloween party. Everyone was waiting for something to happen.
Rhys Tivey as Robert Dudley, Elizabeth's friend and rumored lover, was played as a straight man to everyone else in the cast. Clearly envied by Lord Cecil Burligh, played with authority and pomp by William Niederkorn, Dudley trumps all the attentions of Philip of Spain and defeats the Spanish Armada with a rousing song and a duel.
Sara Harper plays her many roles with a smile and a shrug as she's abused, murdered, tortured, and generally laid low in the royal court. She exudes great pluck and dies better than most.
Once again this show is focused on Phoebe's songs and singing. Could she have done it as a one person cabaret? Maybe. But I doubt it would be as much fun. Well worth your time for a chance to see some real LES creativity at its best.