Review of "Chemistry of Love"
"Chemistry of Love"
By Jill Campbell
Directed by George Ferencz
Scenery by Donald Eastman
La MaMa E.T.C.
74A East 4th St., NY NY
Opened May 2nd, runs to May 19th
Reviewed May 5, 2013 by Larry Litt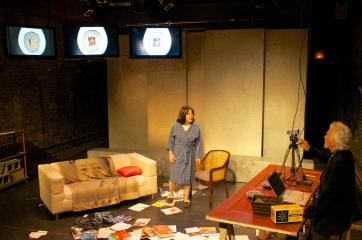 L-R: Kim Merrill as Lara and Dennis Parlato as Florant. Photo by Emily Boland.
Hyper egos in the arts are easy targets for other hyper ego creative artists. Envy is endemic, it's the most commonplace itch that scratching won't relieve. One way to sooth and relieve one's raging creative jealousy is to write a play or film about artists and their bitchy competitive world.
Playwright Jill Campbell may not have viewed film director Duncan Ward's cynical view of the British art world, "Boogie Woogie" still "Chemistry of Love" is the film's twin transocean sister. Ms Campbell's American version, complete with wildly accented, cliched characters would be recognized as high comedy by the same people who loved "Boogie Woogie." Who's that you ask? Why artists, their dealers, curators and all those whose narcissism craves any form of attention no matter how dastardly the presentation.
Kim Merrill as Lara (top) and Matt Baxter Luceno as Tyler (bottom). Photo by Emily Boland.
Plot aside, this play has excellent performances by actors Janne Vath as Karen the New Jersey outsider with unrealized artistic ambitions and Matt Baxter Luceno as Tyler, the hipster artist with deeply pretentious clichés about art and life. Both Kim Merrill as Lara, a luck of the draw grant winner, and Dennis Parlato as the inspiring male muse give what they can as artists with deep ego problems that affect everyone around them. I think actors find difficulty playing visual artists because their psychic essences often overlap.
Just so you know, I laughed through much of the dialogue because it was easily recognizable. Ms Vath can deliver a deadpan line better than Sarah Silverman even behind the fake Jersey Girl accent. Chemistry of Love is a satirical tragicomedy playing during the propitious week of New York City art fairs. How appropriate to laugh and wonder at the clueless odious creative players in that world. Gut reactions are a topic in the arts. "Does it feel right?" is an often quoted creative cliché. This play feels and sounds right. Whether you have or don't have art poseurish friends you'll love spending time with these artists.