Woody Guthrie Dreams
By Michael Patrick Flanagan Smith
Directed by Isabel Milenski
Theater for the New City
First Ave, NYC, NY
Kaddish (or The Key in the window)
Based on the Poem By Allen Ginsberg
Created and performed by Donnie Mather
Directed by Kim Welid
4th Street Theater
84 4th Street, NYC, NY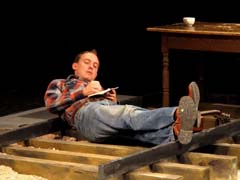 Michael Patrick Flanagan Smith in "Woody Guthrie Dreams." Photo by Eva Ostrowska.

I'm reviewing two plays that are thematically similar but with very different approaches to dramatization. Both deal with proclamations of death as a metaphor to examine exaggerations of lives. Both plays portray life and death in flashbacks. Both give us reasons to despair over examined lives. Maybe there are lessons to be learned.
"Woody Guthrie Dreams" isn't about dreams or fantasies, it's a reliving, a retelling of the singer/songwriter's life as it flashes before its owner's closed silent eyes on his deathbed, accompanied by his own music.
Writer/actorr Michael Patrick Flanagan Smith portrays Woody as a conflicted character, a man who needs to be a musician, working class hero, party line communist, and above all supporter of his home and young family.
We know Woody is going to die from the opening. What we don't know is how long he's been suffering, incapable of controlling his movements from Huntington's Chorea. This is the same disease his mother and sisters died from. He knows it's coming to him, but there's nothing to be done. We learn that this fatalism creates a abusive dual morality.
What we have here is a deathbed recounting by Woody of his life as he sees it in his still active mind. Smith's version is not a hero worshippers eulogy. His wives tell us he was a womanizer who married then abandoned the women who loved him. First wife Mary, sweetly Southern, very righteous as played by Erica Lutz, turns in a performance of dutifulness and sympathy for her quickly changing situation.
New York City is too much for the recently arrived Guthries, whose small town upbringing hasn't prepared them for such attractive, high class temptations. Money, drinking, women throw themselves at Woody whose Oklahoma drawl and personality captures radio audiences. He's a down home country media star attracting other creative people. Along comes fabulously beautiful, sexy modern dancer Marjorie, embodied by Jennifer Restivo in glorious coyness with a level of smartness that would capture the heart of any country boy. She shares his life through triumphs and personal disasters all the while supporting his apparent drunkenness. She's the antithesis of Mary.
Along with his friends Cisco Houston (Caleb Stine), Lead Belly (Kelvin Hale) and (Ben Curtis) Pete Seeger, Woody sings well know songs throughout the retelling of his life. But it his fantasies of Stalin's speeches that show us the political power Communism had over creative artists. Idealism has a very high price. It can destroy as easily at it can embolden action. Which leads us to…
"Kaddish" (or The Key in the Window) based on Allen Ginsberg's poetic elegy tribute to his beloved, long suffering mother Naomi. Created and performed by Donnie Mather, directed by Kim Welid, "Kaddish" asks us to understand the madness incurred mostly by Naomi's immigrant communist idealism. Unlike "Woody Guthrie Dreams," Naomi is not a living character in this memory play. Instead she is a palpable, dominating, mad force driving her sons and husband to extreme exasperation. Allen wrote Kaddish to quiet the debilitating maternal psychic energies of his possessed mother. When Naomi's life wasn't going well, Allen was totally freaked out.
Donnie Mather recitation of Kaddish makes me question the need for poems to be dramatized. Yes we may love the text, but does the text love theater? Mather bounces around the stage, sometimes sitting, but mostly standing and walking through Allen's reflections on Naomi. He recites quite well, made me feel deeply Ginsberg's sad plight.
Then came the multimedia distractions. Old film clips, music, street and other ambient sounds. For me they never work on a small stage. Let the acting and text speak without technology. I don't want to reminded of the era in which a scene takes place. I want to concentrate deeply, feel fully the magic of solo acting.
Both these plays are about American idealism, socialism, communism and despair in our recent past. It's a theme that won't disappear as long as America is the world center of cruel capitalism. I've heard it said, when making excuses for American exceptionalism, we're a young country full of strength and the energy to fulfill our dreams. We'd better grow up soon or we may become the world's enemy, creating a destiny of just such universal madnesses as these plays describe.