| return to reviews page | go to other departments |


Larry Litt
On Naked Soil - Imagining Anna Akhmatova
Rebecca Schull (R) plays Anna Akhmatova and Sue Cremin (L) plays Lydia Chukovskaya, a young writer who kept a journal of her meetings with Akhmatova, in "On Naked Soil - Imagining Anna Akhmatova." Here, the two women meet in Akhmatova's apartment.
April 12 to May 4, 2008.
Theater for the New City, 155 First Avenue (at East Tenth Street)
Presented by Theater for the New City
Th-Sat at 8:00 pm ($15), Sun at 3:00 pm (pay what you can); tdf/v.
On Thursday, April 17, the performance will be a benefit for The Actors Center. Tickets will be $25.00.
Box Office: 212-254-1109 or www.theaterforthenewcity.net
Show's website: www.nakedsoil.com
Rebecca Schull's playwriting craftsmanship shines in this production about the tragic life of Russian poetess Anna Akhmatova during the 1930s Stalinist purges. While the words are deeply true, they are spoken with uncommon feeling and sincerity by Ms Schull, who plays Anna. This is a superior example of actor/writer theater, a genre usually reserved for one person shows.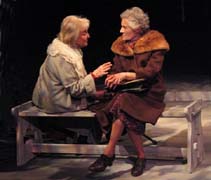 Rebecca Schull with Lenore Loveman (R), playing Nadezhda Mandelstam, the widow of the poet Osip Mandelstam. Here, Akhmatova confides her fears of going mad, comparing herself to Pushkin.
We're taken into the communal apartment of Ms Akhmatova where she spent most of her life. Her lifelong friend Nadya Mandelstam (Lenore Loveman), wife of the great Osip Mandelstam, herself a well known poetess visits in future time jumps to reminisce about their loved ones imprisonment and deaths. They are sharing the last years of their lives still trying to overcome their losses. Young writer Lydia Chukovskaya (Sue Cremin), her husband in prison, visits to help Anna get her work out during the Stalinist terrors. It's risky business and one false move leads directly to gulag prison in Siberia. Tears are shed by all. It was a horrible time for many artists who dared comment on Stalin's version of the utopian Communist society. He believed artists were traitors and criminals unless they serve the state.
I believe Ms Schull created this work for two reasons. First as a stage vehicle for herself. She's a refined actress with just the right touch of poetic pixie. But perhaps she also is telling a cautionary tale to the world's artists. Perhaps it won't be long before embattled governments try to censor and curtail any and all criticism, especially in countries where totalitarianism and authoritarianism are still enforced by secret police with political and military prisons yet to fill. Perhaps artists will again be accused of treason as the were in the 1970s during the Vietnam War.
Young people laugh at the fears of older, experienced artists and writers. The internet will make us free, safe from censorship, they believe. However, when the easily yanked plug is pulled by government operatives on the internet, as it is right now in China, who will protect us? We can only save ourselves with live theater.