Three On A Match
February 23 to March 17, 2018
IATI Theater, 64 East 4th Street (between Bowery and 2nd Ave.)
Presented by IATI Theater
Fridays and Saturdays at 8:00 PM, Sundays at 3:00 PM, plus two Thursdays: March 8 and 15 at 8:00 PM.
$30 General Admission, $25 Students & Seniors
Box office (212) 505-6757, http://www.iatitheater.org
Reviewed by Edward Rubin February 24, 2018
THREE ON A MATCH -- Angus Hepburn as Haberdasher, Rosa Rodriguez as Bell Boy.
Celebrating its 50th anniversary, New York City based IATI Theater Todo Vanguardia, which is devoted to contemporary, cutting-edge Latino works, could not have selected a more compelling and beautifully crafted play than Rhett Martinez' "Three On A Match," which examines state sponsored terrorism in Latin America during the 70s and 80s, and by a short stretch of the imagination, similar horrors currently going on in other parts of the world.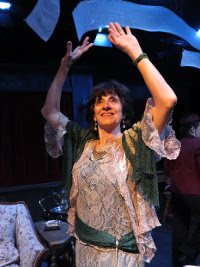 Elisa De la Roche as The Queen
Running through Saturday, March 17, "Three On A Match" is a must-see, not only for its harrowing subject matter but for its superior direction by Eric Parness and his assistant director Anna Hogan, and for its exceptional cast (Angus Hepburn, Sean Phillips, Elisa de la Roche, Rosa Rodriguez).
It is also the play's blend of the surreal, magical realism, along with the very real, marbled throughout with mind-triggering allusions and much mystery, all of which serve to keep the audience riveted to the stage. Talk about the playwright and cast cautiously walking a wobbly tightrope with not a misstep in view.
The entire play -- all is happening in the present as the program inform us -- takes place in lobby of the once opulent Grand Hotel in an unidentified South American country. Adding much flavor to the story is the now decaying lobby setting (by G. Warren Stiles). Abandoned during The Glorious War, all that remains in the lobby is a scattering of chairs, a couch, lamps, rugs, and a reception desk and a rack full of men's hats on the back wall.
As far hotel's staff and occupants, aside from the three remaining residents, everybody fled during what is continually referred to as The Glorious War, which with occasional sounds of distant guns shots, trucks rumbling by, militants shouting, coming from the outside, is apparently still being fought. Aside from the ever-attendant Girl Bellboy, each of play's characters enters the lobby both slowly and silently. It appears, as they stop to take stock, that they do not even see each other.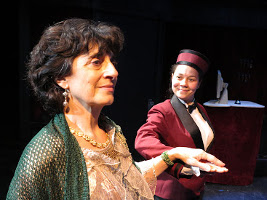 Elisa De la Roche and Rosa Rodriguez.
Tension builds, as we learn the whole truth as to who these people really are, though never quite fully save for the Queen of Anvondalia (Elisa de la Roche), who eventually gets to tell her story in surprising detail, and perhaps the Girl Bellboy (Rosa Rodriguez), who never utters a word till mid play.
As far as the Haberdasher (Angus Hepburn) and the American (Sean Phillips), the two most vocal characters -- both who appear to have deeply buried secret lives -- the audience is kept on tenterhooks.
Slowly getting up she stares, somewhat strangely and at length at the lobby's ceiling – which we later learn is a fresco of clouds – and begins her daily routine which consists of a series of regimented exercises. Quickly donning her uniform, she leaves the stage only to return carrying a tea set on a silver platter which she places down on a small side table. With everything in place, in walks the Haberdasher, who thanks The Bell Girl profusely for her services. The Queen, regularly given to memory loss, tentatively enters the lobby where she is greeted, as royalty usually is, by the ever-courtly Haberdasher. It is obvious that we are seeing their daily routine.
Angus Hepburn as Haberdasher reads the day's propaganda.
Aside from serving the morning repast which consists primarily of tea and bread, as food is scarce, another of the Girl Bellboy's duties is to fetch the daily newspaper, as well as to bring back government issued decrees, most of which, like limiting one mirror per household and banning two on a bicycle and three on a match, an army rule from which the play takes its title, are absurd. Upon returning with the newspaper -- one of the few laughs in the play -- we notice that the newspaper, with large sections cut out in the shape of circles, reminiscent of a wedge of Swiss cheese is riddled with holes. What does remain is filled with a double talk straight out of Orwell's 1984.
Claiming to be "fluent in the language of state propaganda," Haberdasher, as he reads aloud, interprets the hidden meaning behind each article. "It is all lies," he says. "'Expected in Growing Economy!' translates into 'Expect Record Bread Lines, Shrinking Rations!' 'Thousands Celebrate Another Victory for the United Ministry' means 'Thousands Die in Another Battle of Blind Nationalism.' 'The People's Army Inducts Record Number of Recruits' translates to 'The Army Imposes Conscription, and the The Poor Due to Shortage of Cannon Fodder!' 'New School Opens in Jewish Quarter!' should properly be translated to' New School Erected Atop Mass Graves'"
Sean Phillips as The American.
The tenor of the entire play changes when a smartly dressed stranger arrives at the hotel. With a passport, a reservation confirmation in hand, and American dollars which he flashes about, he insists on being checked in, this despite being told by the Haberdasher that the hotel has long been closed and there is no staff. Forcing the issue by changing from nice to menacing, he is given a key to the penthouse. Thus begins a torturous and soon to be violent journey, with the American forcing the Girl Bellboy to spit shine his shoes, the Haberdasher to mend his perfect hat which is in perfect condition, and conducting a threatening and sexually provocative interrogation of the Queen.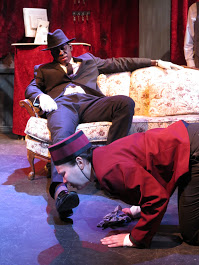 Sean Phillips and Rosa Rodriguez.
It is here during these interrogations that we find out from the Haberdasher, who tries to shield both the Queen and the Girl Bellboy, who up to this point has not spoken one word during the play, that the Girl Bellboy is the child of parents who were among the thousands of innocent citizens who were deemed enemies of the state. Referred to as "los desaparecidos," they were kidnapped, tortured and made to disappear -- often by dropping them in the ocean by plane -- by the government.
The most truculent confrontations which lead from heated conversations and pointed exchanges to fisticuffs occur between the American and the Haberdasher, both of who claim to know about the others secret past. While both men have their turn at having the upper hand, it is an antique radio which found by the Girl Bellboy that unexpectedly changes the course of the play.
The tables are turned: Angus Hepburn and Sean Phillips.
As the ending nears, the three hotel residents with the now incapacitated American listening through his tears, discuss the various murderous ways of making him disappear without a trace. "They will come looking for me," he says. "Let them come down," the Haberdasher answers. "Let them come down. They come down anyway. They have been coming down here for...how long has it been? A hundred years? Two hundred years? They come down...but they never last. They cannot last, because there are more of us than there are of them. There will always be more of us than there are of them. Of you. You don't belong here. You are a trespasser here. They may come. But they won't even be looking for you. Because you...will have been disappeared."
Program Note from the Playwright: "Three on a Match is not an attempt to tell a single story from their world figuratively. It's about the forces at work behind such stories -- forces of human nature, of human goodness, of failed governments, of tyrannical empires, and ultimately, of our own complicity. It's a revenge play in which the oppressors finally get what they deserve because the oppressed find the courage to rise."
Backstory: "Disappearance," as a technique of South American politics, horrifies in its scale. In Argentina, 30,000 people were disappeared during the dirty war. In Chile, 3,000 people were killed or disappeared. In Colombia, after a half century of internal war, more than 51,000 people are now registered by the government as missing without a trace and the real total may be as high as 92,000, according to the International Committee of the Red Cross. More than 1130 new cases of forced disappearance have been officially registered in the last three years. In noting this, we are framing "disappearance" as a regional historical trauma. Nevertheless, the unnamed city wherein the play unfolds could be any number of cities throughout history. The task for the cast of four is not only to find true human impulse within a fantastical, abstracted reality, but to bring to life archetypes that represent a global history of oppression and violence.