In The Body Of The World
A Glorious Second Wind for Eve Ensler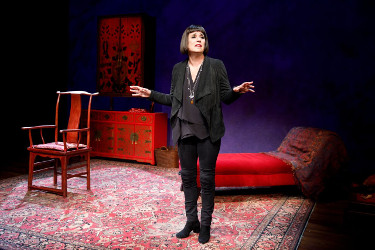 Eve Ensler. Photo by Joan Marcus
"In The Body Of The World"
Manhattan Theater Club at City Center – Stage 1
131 West 55th Street, NYC
Through March 25, 2018
Tickets at manhattantheatreclub.com
Running time: 1 hour, 20 minutes
Reviewed by Ed Rubin
"The Vagina Monologues," Eve Ensler's groundbreaking play first came to the attention of New York audiences when it opened Off Off Broadway in 1996. Since then it has been published in 48 languages and performed in over 140 countries. Fashioned from some 200 interviews that Ensler conducted among woman in all walks of life and ethnicities, the play openly deals with sex, sex work, body image, love, rape, menstruation, female genital mutilation, masturbation, birth and orgasms, all subjects that the playwright, performer, and activist is still involved with. A recurring theme throughout the monologues is the vagina as a tool of female empowerment, and the ultimate embodiment of individuality. Originally performed by Ensler herself "The Vagina Monologues" eventually morphed into many actresses, both unknown and famous, each telling the story of one woman.
In the last twenty years, between performing and writing, Ensler has amassed boatload of honorary degrees, fellowships and awards including an Obie and a Tony (2011), the latter for her "substantial contribution of volunteered time and effort on behalf of humanitarian, social service, or charitable organizations." On the activism front Ensler founded V-Day, a global movement to end violence against women and girls, which has raised over 100 million dollars which supports thousand of programs and safe houses. V-Day just this February celebrated its 15th anniversary with One Billion Rising, a global day of action on which people in 207 countries rose up and danced for the freedom, safety and equality of woman. Ensler also worked with woman in Bukavu, Congo to establish City of Joy, a center for survivors of gender violence.
With "In The Body of The World," a theatricalization of her 2013 book by the same name at the Manhattan Theatre Club's New York City Center currently running through March 25, Ensler returns to the stage with a vengeance. Animatingly reliving her early growing up years, her relationship with her younger sister, her two marriages, her adopted son, her relationship with her father who appears to have molested her when she was a child and her distant mother who was more interested in maintaining her own hairdos and driving around in a convertible, we get to see Ensler at her best in her so-called normal health years.
And then, out of the blue, for both the audience and the playwright, comes The Big C shocker, or as Ensler calls it The Big T which stands for a stage four tumor that was found in her uterus. For the next hour and twenty minutes through twenty seven geographically scattered scenes, helplessly glued to the stage, we follow Ensler in, out, and through, numerous doctors' offices, hospitals (Sloane Kettering, the Mayo Clinic, and Beth Israel), several major operations, and her chemo treatments. It is an harrowing and highly detailed account of her battle with cervical cancer - currently in remission – in which everything, save for her heart and brain which are obviously large and generous – was either surgically removed or reconstructed.
Missing and or reconstructed, after a nine hour operation are "her rectum, sections of colon, uterus, cervix. ovaries, fallopian tubes, a little bit of her vagina and some 70 nodes. And what's new? "A rectum made out of my colon. A stoma, a red gooey nipple now magically outside my body, directing my poop into a temporary ileostomy bag. My face, which is now the size of two faces, and a catheter in my bladder."
Interspersed between highly detailed descriptions of her many examinations, treatments, and surgeries, and there are a lot of them, we mentally follow Ensler to jungle, as she tells us about the countless rapes and murders of the Congolese women by soldiers. We hear about an eight year old whose vagina's is torn apart by multiples rapes, and an eighty year old woman whose legs are broken as the rapist forces her legs behind her head. Everything is told forthright without exaggeration, or for that matter, any dramatic flair. It's just the painful facts.
If anything Ensler, though in your face, as her story demands, is honest to a fault. She is humanity unvarnished. There is no self-aggrandizement. No crying in her beer. No feeling sorry for herself. We are just given the facts with little embroidery, and along with her we deal with them. A Buddhist at heart, Ensler is a practicing thinker and a self-questioner of great depth. In every story she tells she seems to cover all of the bases, often with a sprinkling of humor, which lessens the pain of what we are hearing, no doubt for her as well as us. The below story, typical of how Ensler thinks, elicited a number of laughs.
When faced with cancer she asks herself "Why Me? How'd I get it? I gave up smoke and drinking decades ago. Was it tofu? I ate a lot of fucking tofu. Was it failing at marriage? Twice? Was it talking too much about vaginas? Was it worry every day for 56 years that I wasn't good enough? Lawn pesticides? Chernobyl? It travelled far. Was it my father dying slowly and never bothering to say good-bye? Was it bad reviews? Good reviews? Being reviewed? Was it sleeping with men who were married? Was it my husband sleeping with my close friend? TAB? Oh my God, I drank a lot of TAB when I first got sober."
In one extremely moving tear-triggering scene, Ensler takes a plane to see, as it turns out for the last time, her dying mother. "I feed my mother chocolate ice cream and want to believe there was a times she did this for me. I have no memory of her putting food in my mouth. I hate her. Here having climbed out of my chemo cocoon to fly south, taking care of her, hoping she would one day feel compelled to take care of me. I am shocked that she doesn't pause when I enter her hospital room to say, 'My god, Eve, you came. You flew here in the middle of chemotherapy to be with me.' Instead in her gradually descending dementia from her third bout with cancer, she talks about how much she loves my hair."
"I want to scream. Are you looking at me, me, me? I am bald. Feel it, feel my head. There is nothing there. There is no hair. I have cancer Mom. I just had half my organs removed. I have bloody poison in every pore and I could die and I am not 84, I am 56 and I got on an airplane and risked infection because my white blood count is very low, I risked my fucking life to fly here for you, you, you.' But I don't say that. No, I never do. I laugh and pull at my non-existent hair."
Surprisingly, the play, beautifully directed by Tony winner Diane Paulus (Pippin) and artistic director of the American Repertory at Harvard, in view of its subject matter, is full of love, warmth, and hope, in both Ensler's writing and performance. Aiding and abetting this life-loving and giving mood, also a saving grace if you ask me, is the technical genius Myung Hee Cho (scenic & costume design), Jen Schriever (lighting design), M.L. Dogg & Sam Lerner, Finn Ross (production design), and Jill Johnson (movement). All of which held everything in place.
For those who need to know, "In the Body of the World,"does have a happy ending with the now cancer free Eve actively back in the game, theatrically and politically. Ensler's parting words to the audience, which gave us all a booster shot as we left the theatre, says it all. "Having cancer was the moment I was forced to let go of everything insignificant, to release the past and be burned down to the essential matter. It was there I found my second wind. The second wind arrives when we think we are finished, when we can't take another step, breath. And then we do.