Ed Rubin
John Lithgow: The Showing and Telling of
"Stories by Heart"
John Lithgow: "Stories by Heart"
Roundabout Theater Company
American Airlines Theatre
227 W 42nd Street, New York City
Playing now - March 4, 2018
Tickets at www.roundabouttheatre.org
Run time: 2 hours
John Lithgow performing "Stories by Heart." Photo by Joan Marcus.
For many a theatergoer, John Lithgow, the much loved 72 year old actor could read from the phone book and his legion of stalwart fans would gift him with countless oohs, ahs, and a standing ovation. In fact, given his four decades long award-winning Film and TV appearances – 6 Tonys, six Emmys, two Golden Globes, Four Grammys, and two Academy Award nominations for The World According To Garp (1982) and Terms of Endearment (1983) – all Lithgow would have to do is walk across the stage and he would be greeted with a tsunami of applause. This is exactly what is happening every night at Broadway's American Airlines Theatre where he is performing his one man show "Stories By Heart" through March 25.

Mercifully, leaving his phonebook home, the ever-charming Lithgow gives us a couple of classical short stories, both taken from Tellers of Tales a 1939 anthology edited by W. Somerset Maugham, the best way he knows how by acting them out. In Haircut (1925), a 2 character tale written by Ring Lardner (1885-1933), Lithgow plays an extremely talkative barber giving a haircut, along with a cascade of small town gossip, to a near-silent customer. In Uncle Fred Flits By (1935), a rollicking British story by P.G. Wodehouse (1881-1975), the versatile actor gets to impersonate, British accents and all, a slew of idiosyncratic characters.

For the record, a one act version of Stories By Heart was performed at Lincoln Center in 2008. Since then, in between countless other engagements, Lithgow has honed these stories to a fare thee well for ten years. Prior to this Broadway production he has performed these stories in 35 American cities, an experience, as he tells us during personal asides, which allowed him to visit cities, most of which he never ever thought of visiting.

Each story, nearly a century old, was first read to Lithgow and his two brothers and one sister by their show biz father some sixty plus years ago when they were growing up. As Lithgow relates, it is these same stories which he read to his father who had recently undergone a life-saving operation more than a half century later; an act that miraculously restored his father's will to live. As for me, and I imagine many other avid readers, whether being introduced or reintroduced to Ring Lardner and P.G. Wodehouse, Lithgow's performance will have us searching the shelves of local libraries and bookstores, or contacting Amazon, to follow up on this actor's literary gift. In this respect Lithgow's performance is educational.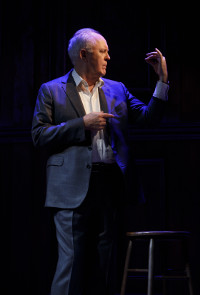 John Lithgow performing "Stories by Heart." Photo by Joan Marcus.
The most demanding, and least enjoyable of the two stories being performed is Haircut. The lack of any real action and few truly suspenseful events to keep our eyes moving and our minds invigorated, coupled with a torrential raining of words is something of a strain on our ears. What does keep any interest that we might have is watching Lithgow's exacting pantomime of an old fashioned haircut, as he relates the story of various towns' denizens to his customer. Here Lithgow, brilliantly miming every physical hair-cutting and face shaving movement and possible instrument sound without the use any props like scissors, combs, brushes or sprays, engages our imagination to its fullest. Most enjoyable in this presentation, in fact I actually waited for it to appear again and again, is his joy-triggering, high pitched, long-drawn out giggles that he uses intermittently throughout this monologue. Still and no doubt about it, to get the full blast of Lardner's satirical style, Haircut is a lot better read than theatrically said.

It is P.G. Wodehouse's story – one of the most widely read humorists of the 20th century – Uncle Fred Flits By, the second of the two stories presented, which elicits cascades of laughter from the audience. Hopping about John Lee Beatty's sparse set, a chair, an end table a glass of water and a book, a lithe and energetic Lithgow gets to inhabit a panoply (some ten or so) of zany characters in an even zanier story.

The two main characters of the story are Pongo Twistleton and his aristocratic uncle, Lord Ickenham whose outrageous behavior which grows by leaps and bounds in the most unexpected ways, has us in stitches. It is the reading of this very story, as Lithgow tells us before he embarks on its performance that brought his father back to life. Let it also be said that it is this very same story that allowed the audience to leave the theater amidst gales of laughter and a double gross of good feelings.
---
Lucy Komisar
"Stories by Heart"
Mean Shaggy Dog Stories Told by John Lithgow
"Stories by Heart."
Based on "Haircut" by Ring Lardner and "Uncle Fred Flits By" by PG Wodehouse.
Adapted and performed by John Lithgow; directed by Daniel Sullivan.
Roundabout Theatre Company, American Airlines Theater, 227 West 42 St., NYC
http:www.roundabouttheatre.org
Opened Jan 11, 2018; closes March 4, 2018.
John Lithgow. Photo Joan Marcus.
Actor John Lithgow is a charmer and always a pleasure to watch how he creates characters with voice, accent and a scrunch of the face. These two short stories lend themselves to his talents, though I have to admit, they might be better read and opened by the imagination. Directed by Daniel Sullivan, I didn't find them terribly engrossing.

Both these shaggy dog stories reveal a meanness in characters, who get their comeuppances.

In Ring Lardner's "Haircut," a barber is chatting up patrons about the town's scandals. The anti-hero is a fellow who fakes out a young woman. You get all the details. Lot of sexism there, which doesn't perturb the good barber.

In PG Wodehouse's "Uncle Fred Flits By," an irascible fellow who lives in the country subjects his London nephew to his occasional forays into town. This now involves a walk in the country that is interrupted by rain that forces them into a house whose residents are not at home. A little drama will occur. There arrives a young man who wants to marry a young woman whose parents think they are above his station.

The house parrot gives Fred the opportunity to introduce his nephew as a local vet. The man hides behind a couch (rather unlikely). When the parents arrive with the young woman in tow, they hoping the homeowner relative will use influence to stop the romance, Fred interferes. So, maybe this is a shaggy parrot story.

But in spite of Lithgow's talents, he can't make me care about these old, vaguely disturbing tales.
Visit Lucy's website http://thekomisarscoop.com/