"TRACES: Variations In A Foreign Land"
mixes choreographers of different ethnicites and training.

by Zita Bradley
L-R: David Chien Hui Shen, Mica Bernas, Aaron Selissen, Kyla Barkin.
David ChienHui Shen is Chinese, Mica Bernas is Filipino and Kyla Barkin and Aaron Selissen are native-born Americans. They met while dancing together in the New York City community and have collaborated as choreographers in "Traces: Variations In A Foreign Land," presented by Yangtze Repertory Theater. As they all have different choreographic styles, they were eager to collaborate together and dance in each other's pieces to learn about each other's cultures and dance techniques. The production played September 25 and 26 at Flushing Town Hall, the historic arts center in Flushing, which has a large proscenium auditorium upstairs and a large display/gathering space on its ground floor. Audiences were enthusiastic. There were seven dances, each unique in dance style, tempo and visual effect.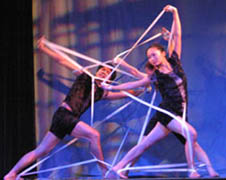 "Prison," choreographed by David ChienHui Shen.
Asked what she had exactly learned from her collaborators, the slim, well-spoken Kyla Barkin said, "No information has gone unabsorbed. Whether intentionally or not it will come out one way or another, it will be engraved in us." Enthusiastic David ChienHui Shen explained "The body is like a language and you learn and take elements from other peoples'."
"Shell shocked," choreographed by Kyla Barkin and Aaron Selissen.
The skeleton for some of these dances began last December and the result of their long developmental process was evident in the final outcome--they all looked like finished work. In "Prison," David CheinHui Shen used complex movement with white elastic strings to show entrapment. "Shell Shocked" by Kyla Barkin and Aaron Selissen used a projection of backgrounds that set a mystical mood during a solo section of the piece.
The production was initiated by Joanna Chan, founder and artistic director of Yangtze Repertory Theater of America. Although the company is primarily theater based, it is also dedicated to dance. Chan's earlier theater organization, the Four Seas Players, which she led from 1970 to 1977 and 1983 to 1992, started out as "a community effort" to bring different cultures together. Eventually her theater work turned into "a full time profession." She founded Yangtze Repertory Theatre of America in 1992 as a full-fledged professional company to produce works for and by Asian artists. The company has always aimed to entertain while bringing different cultures together. In its plays, it has used subtitles in the past in order to break the language barrier.
Chan emphasized the trust that she has with the choreographers, "I leave it to them to come together to make it a cohesive piece. I trust them. They have never once failed me." This trust, likely, helped the choreographers work more effectively and creatively.
Opening night included an after-performance reception providing complementary food and drink. There was an ecstatic buzz in the room as audience and cast members alike discussed the success of the performance. The choreographers were very welcoming to people wishing to discuss the show, including myself. Each of them were enthused to talk about their accomplishments and felt that they had learned a great deal from the experience. Soft-spoken Aaaron Selissen described how he enjoyed "trying new things" and liked to "try to mix it up" when it came to his choreography while graceful Mica Bernas explained that everything had gone according to plan and she was happy with the outcome.
Beside the four choreographers, the performance also featured dancers Katie Aggen, Novy Bereber, Esmé Boyce, Beth Edwards, Marielis Garcia, Hayan Kim, Ashley Liang, Jordan Morley, Robert M. Valdez Jr, Seth Miner, Anna Woolf and Sen Yang. Like the choreographers, these dancers have a range of cultures and dance training behind them and had all worked previously with at least one of the choreographers, which Barkin suggested made it easier for them to "acclimate" due to the fact that they had "worked in the same links beforehand."
A wall of dancing figures illustrated Arthur Bi Hua Liu's technique of " flowing colors oil painting." The patent notice for the technique was proudly displayed on another wall.
Presented downstairs on the ground floor was an exhibition of paintings by Arthur Bi Hua Liu. Liu has invented a technique called " flowing colors oil painting," which is said to surpass all artists before him. His patent for the process was proudly displayed on the wall among his paintings. Opening night audience members wandered with pleasure around the gallery before the performance and snacked on asian appetizers.
Liu was born in Guangzhou City of Canton, China in 1995 and was exposed to the arts from a young age, mainly through his father, who was a professor as well as a calligrapher and sculptor. In May 2002, he won the "Golden Award" at the World Peace Award Art Competition and in March 2008, he received an "Award of Innovation Achievement in Painting" from The Center for International Art & Culture. Most recently, in May 2008, he received "The Top Ten Artist's Award" from Beijing Art exposition of 2008.
To learn about more upcoming productions by the Yangtze Repertory Theater see http://www.yangtze-rep-theatre.org. [zb]
Reporter Zita Bradley has recently come to New York from Manchester, England.
| lobby | search | home | cue-to-cue | discounts | welcome | film | dance | reviews |
| museums | NYTW mail | recordings | coupons | publications | classified |