"Dark Night, Bright Stars" Chronicles a Meeting of the Minds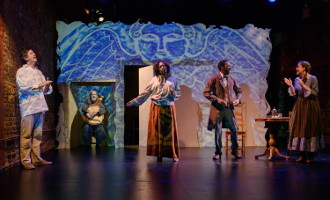 Sean Eden, Julian Kytasty, Shona Tucker, Jeremy Tardy and Maria Pleshkevich in "Dark Night Bright Stars" with Yara Arts Group, directed by Virlana Tkacz, till June 19 at La MaMa Experimental Theatre, photo by Pavlo Terekhov.
"Dark Night, Bright Stars"
By the Yara Arts Group; Directed by Virlana Tkacz
La Mama Experimental Theatre Club
First Floor Theatre, 74a East 4th Street, NYC, 10003
www.lamama.org
Opened June 3; Closes June 19, 2016.
Reviewed by Timothy Esteves on Friday, June 3.
"Dark Night, Bright Stars" is one of those pleasant surprises that comes around every now and again. It's a play that actively distances itself from traditional forms of storytelling and instead communicates its messages through fragments of memories and poetry readings. On the surface level, this play is a story about two friends with similar pasts having a cultural exchange, but dig deeper and you discover themes of race and poverty, oppression and liberation, diaspora and the yearning for home.
Finishing up at just under an hour, "Dark Night, Bright Stars" chronicles the meeting of Ira Aldridge (Jeremy Tardy), an African-American Shakespearean actor who rose to prominence in Europe during the nineteenth century, and Taras Shevchenko (Sean Eden), the influential poet who is often credited with contributing to the rise of the modern Ukrainian language. In a meeting facilitated and recorded by Katya Tolstoy (Maria Pleshkevich), Aldridge and Shevchenko kindle a friendship with one another, finding solace in their troubled pasts of servitude and loneliness. This friendship culminates with Shevchenko painting Aldridge's portrait before the two depart, promising to meet again, a promise that would never be realized.
Jeremy Tardy as Ira Aldridge and Sean Eden as Taras Shevchenko. Photo by Pavlo Terekhov.
Visually the play is striking, as it emulates an East-European aesthetic in an abstract way. Set design is minimalist, consisting of a single table, a chair, and an easel, pushed off to the side so the attention is brought to the actors in the center stage. The backdrop is beautifully designed, adorned with a decorative carved border and projections of still-lifes during flashback and poetry sequences. Younger versions of the characters enter and exit through a door in this backdrop, effortlessly establishing the fact that they are visions of the past. With traditional Ukrainian string music and vocals, the entire experience is reminiscent of Eastern-European animation; stories told through vignettes, often with a tone of somber nostalgia.
One of the greatest strengths of the play is that the audience can determine their level of engagement. At first glance, "Dark Night, Bright Stars" is nothing more than an hour of two artists being friends. And sometimes that's enough to satisfy. There's fulfillment to be had simply in watching a friendship blossom and endure past the grave. If an audience member looks closer, then the political and social commentary is present and engaging. Considering the conflicts occurring in Ukraine over the past few years, this play delivers a message of enduring freedom to the Ukrainian people in the face of expansive Russian interests. The notion of home and the diaspora is another notable theme, as we are currently living in one of the greatest migrations of humans in all of history. Race also plays a major part in developing the character of Aldridge, as the discrimination he faced in his past and his early career in America are constantly referred to in flashback sequences, and are eerily reminiscent of the stereotypes African-Americans face today.
Julian Kytasty plays the bandura with projection of paintings by Taras Shevchenko. Photo by Pavlo Terekhov.
While the cultural and language boundaries between characters are established, the same can not be said of the characters and the audience. For a show concerned with utilizing projections, perhaps they could have had the character of Taras Shevchenko, and to an extent Katya Tolstoy, actually speak Ukrainian and subtitle the language onto a backdrop, to increase immersion. In addition, one would think that a show named after varying degrees of light (Dark-Bright) would utilize lighting in a more innovative way. At times the lighting would make the projections difficult to see. Regardless,"Dark Night, Bright Stars" is a visually-appealing, well-acted play about a genuine friendship between two parallel souls, told through poetry.