| go to entry page | | go to other departments |

Sasha Levites
A Visit to the Brooklyn International Film Festival at the Brooklyn Museum
Related article: Interview with Marco Ursino, Executive Director of the Brooklyn International Film Festival
Upon first look, the Brooklyn Museum provides a dazzling architectural display as well as a nod to the notion of the finer things that can be found right outside of the borough's more touted neighbor, Manhattan. Home to the ninth annual Brooklyn International Film Festival, the museum, a cultural mecca in itself, seems a perfect venue for an array of 120 short, experimental, animated, documentary and feature films from all over the world. Nearly 20 minutes early for the six o'clock screening, a program including four films of varying lengths and styles, I take a seat in the festival waiting area, a stylish, roped off space furnished with contemporary leather couches and small, black tables arranged around four musicians. A display for the "Egypt Through Other Eyes" exhibit is the only tell-tale sign that I'm not in a chic, jazz club.

Appropriately sipping a red bull from the small, concession stand, I watch as moviegoers begin to file into the museum. The crowd consists mainly of older couples, groups of middle-aged woman with fashionably white hair and funky jewelry, and young, "hipsters," just out of art or film school who are undoubtedly attending the event in hopes of recognizing the criteria that will get their new "masterpieces" into the lineup for next year. At nineteen, and not yet a graduate from Vassar College, I feel like the youngest person in the room aside from the few six year olds who cling to their parents legs and bemoan the fact that they will be spending the first, clear evening of the week inside.

O FOR OHIO -- Danny Devito and Parker Posey in "O for Ohio" by Billy Kent. Image courtesy of Ambush Entertainment.
At the suggestion of my watch, which reads five' till, I make my way to the third floor auditorium and get in line behind five or six others who, like myself, didn't get the memo that it's fashionable to be late to events such as these. During the 20 minute wait, I listen to two women in their thirties discuss their love of swarovski crystals and the color fuchsia, begging the question: why did they come for the experimental film lineup when the next program boasts "O for Ohio," the only feature film at the festival that garners a chance of being deemed a "chick-flick?"

I admire the Marc Jacobs purse that dangles from a twenty-something festival goer who looks like she's sacrificed the rest of her apparel for this piece of overpriced, arm art while she complains to her friends about the most recent guy who's failed to call her back after a night of bar-hopping. In an attempt to fit in, I nod my head in suggestion of my sympathy. Thinking that my press badge, worn proudly around my neck like an Olympic medal is a glaring sign of my intern status, I anxiously wonder whether I was supposed to have gone in early with the other people bearing the same symbol on their chests.

At 6:20, the crowd finally begins to file into the 460 seat Iris and B. Gerald Cantor Auditorium, reaffirming my notion that despite their proclivity to speed-walk and play "bumper-bodies" in the street, New Yorkers like to take their time. Observing that there are barely 70 people seated in the large room, I wonder what better, less expensive event people have to attend on a Friday night and then remember that I'm no longer in Poughkeepsie.
STALK
"Stalk" by Leigh Hodgkinson.
The program begins with "Stalk," an eight minute animated feature by British director Leigh Hodgkinson. The film concerns a friendless and famished, bunny rabbit who's followed by an unusual admirer who leaves hallucination inducing, orange candies at her doorstep. The bizarre film ends with a shockingly funny scene in which the bunny and her suitor ultimately meet. I enjoy "Stalk" immensely. This is not to say that I'm not slightly befuddled by the demonic bunny on an acid trip that noisily devours a man made of cabbages and carrots to uproarious applause from the audience. The woman behind me makes comments such as "This is hysterical," and "If every movie's as funny as this, I'm gonna have a heart attack!" which makes me wonder whether or not she's been planted in the audience as a rabble-rouser.
AVATAR

"Avatar" by Lluis Quilez.
The following film, "Avatar," a short by Spanish director Lluis Quilez, is much less lighthearted and immediately silences the crowd. The story concerns the relationship between a severely handicapped man and a woman who appears to be hiscaretaker, but who is later revealed to be his wife. The majority of the action takes place in a large, dimly lit, bathroom where the husband and wife sadistically test each other and ultimately face off in a game of life and death According to Spanish translation, Avatar is defined as [1] An accidental event that usually implies a sudden change in the course of something; Change of fortune. [2] Trials somebody goes through. [3] Inconstancy or alternation of favorable and adverse events. Throughout the fifteen minute film which is characterized by a sparing use of dialogue, a sparse backdrop, and an intense focus on human longing and despair, all three of these definitions come into play. "Avatar" is by far my favorite of the four films shown this evening, as it is the one that most aptly captures the strongest of the human senses and desires in the most stylish and unique manner.
MAGNETIC POLES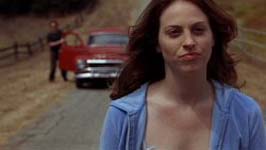 "Magnetic Poles" by Maria Rosenblum.
The next film, "Magnetic Poles" a 29 minute short by New York director Maria Rosenblum, later earns the festival's award for audience favorite although I find it to be the least enthralling of the bunch. The film concerns the life of Sonja, a catering service waitress whose terrible week begins as a cockroach crawls up her nose to the delight of her inconsiderate, immature boyfriend. In an effort to revive her failing relationship, Sonja drags her boyfriend away from the lap of his "wanna-be white boy rapper buddy" and brings him on a strange journey to a famed magnetic hill. The film is perfectly packaged: the tale of a women who breaks away from her life and those she is bound to in hopes of embracing herself and her dreams. However, it is too neat and predictable for my liking and although amusing at times, I find the film somewhat bland.
MARILENA FROM P7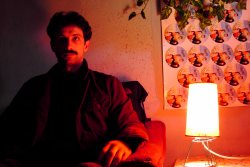 "Marilena from P7" by Christian Nemescu.
"Marilena from P7," a Romanian winner at the Cannes Film Festival and the final film in the lineup, is the longest of the evening, clocking in at 45 minutes. Directed by Christian Nemescu, who has recently won a script contest for financing a feature film at The National Center of Cinematography, "Marilena from P7" begins sweetly as Andrei, a thirteen year old boy from Bucharest, puts forth convoluted efforts to win the heart of Marilena, a local prostitute with whom he has fallen in love. Hilarity ensues as Andrei and his friends steal a bus, hoping to appeal to Marilena's amusing demands that she be picked up in a real vehicle. However, the film's devastating conclusion reveals the despair and hopelessness that hide behind Marilena's eyes and suggest that this is, foremostly, a coming of age story. Nemescu manages to create a stunningly attractive portrait of a dilapidated ghetto, suggesting a keen eye for color, imagery and detail. Of all the films screened this evening, "Marilena from P7" is by far the most visually appealing despite its gritty subject matter.

My suspicion is aroused once more during the program when certain members of the crowd actually stand to cheer for "Marilena from P7." Turns out, the screenwriter of this film, as well as the director of "Magnetic Poles" are in the audience. Unfortunately, because the screening starts so late, the speakers are barely able to introduce themselves after the films before we are shuffled out of the auditorium like a flock of well-behaved sheep in order to make room for viewers of the next program.
Not only does the Brooklyn Museum provides a superb setting for the festival, but it encourages moviegoers to explore Brooklyn's cultural landscape.
At $10 for four intellectually stimulating if not perplexing films, there's no question that a program at the Brooklyn International Film Festival beats watching Jennifer Aniston and Vince Vaughn duke it out from the nose-bleed section at the nearest Loews Cineplex.
Copyright © Sasha Levites 2006
| lobby | search | home | cue-to-cue | discounts | welcome | film | dance | reviews |
| museums | NYTW mail | recordings | coupons | publications | classified |