The Thanksgiving Play Searches for the Natives

The Thanksgiving Play
Directed by Rachel Chavkin
The Helen Hayes Theater
240 West 44 Street
Opened March 25, 2023
Tickets: 2st.com/shows/the-thanksgiving-play
Closes June 4, 2023
Reviewed by Paulanne Simmons April 25, 2023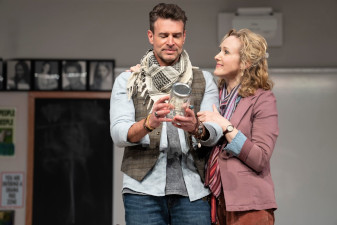 Scott Foley and Katie Finneran.
Photo by Joan Marcus.
Playwright Larissa Fasthorse's Broadway debut, "The Thanksgiving Play," begins with a video of schoolchildren singing "The Ten Days of Thanksgiving." It is so true-to-life – with the kids ranging from bored to nervous to enthusiastically displaying their pumpkins and moccasins as they sing about all the gifts the Indians gave to them – that we can't help laughing as we cringe. It is indeed the best part of the show.
The kids come back several times with different versions of their Thanksgiving play. But no video is as funny as the first. The same can be said of the play. Even under Rachel Chavkin's quickly moving direction, and the cast's expert ensemble acting, the play, which begins uproariously, slouches toward the final bows. Even the chaos that erupts right before the end cannot really arouse us.
The structure of The Thanksgiving Play is the tried and true "we're gonna put on a play." Only this time it's not just any play but a culturally sensitive rendition of the Thanksgiving story that pays tribute to Native Americans.
Logan (Katie Finneran) has received a grant to stage a play about Thanksgiving for elementary school children. She's a failed actress and dedicated vegan whose grant is in some way dependent on hiring an Indigenous performer. Helping Logan in her endeavor are her boyfriend, Jaxton (Scott Foley), a street performer who tries really hard to match her in wokeness, until he calls her the B-word; and Caden (Chris Sullivan) a history teacher who's there to make sure the show is historically correct, although he secretly harbors playwriting ambitions.
Unfortunately, Logan finds out too late that Alicia (D'Arcy Carden), the impressive professional actress she hired under the impression she was indigenous, is not only of mixed European ancestry but also decidedly not woke. What's worse she's extremely sexy.
It doesn't take long before the attention Alicia gets from Jaxton and Caden gets Alicia's attention. But Alicia is blissfully unaware of any tension. It's just who she is. Thus Alicia comes dangerously close to derailing the play, while Carden actually succeeds in stealing the show.
From the very first scene when Jaxton gives Logan a water bottle "made with recycled glass from broken windows in housing projects" through the foursome's various attempts to produce a show about Native American without any Native Americans to their inevitable conclusion that their project is impossible to achieve, the play's humor is based on the foolishness of the woke generation. In fact, Alicia, who has no desire to be in the least politically correct, comes off as the most sincere - even likable – of the lot .
Alicia knows her strengths and weaknesses. She knows she's not bright. But she is confident in her charms as a woman. So confident she even gives Logan lessons on how to toss her hair. She willingly goes along with the nonsense of the others, as long as she'll get an abundance of lines and a solid paycheck.
Perhaps the unintended message of the play is that we could all learn a lot from a straight, unpretentious, totally honest white woman.