Entertainment Is in the Cards
Asi Wind's Inner Circle
Directed by John Lovick
The Judson Theatre
243 Thompson Street
Opened Sept. 18, 2022
Tickets: asiwind.com
Extended to Feb. 26, 2023
Reviewed by Paulanne Simmons Jan. 22, 2023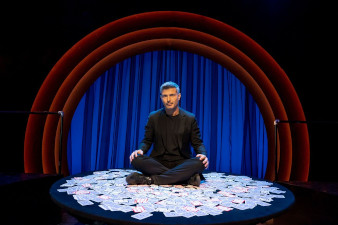 Photo by Joan Marcus
Magician/mentalist Asi Wind was born Asi Betesh in Holon, a city near Tel Aviv. He says he changed his name because Betesh branded him as an Arabic Jew, people who are looked down on in Israel. He claims this began his obsession with names.
Indeed, much of Asi Wind's show, Inner Circle, now at The Judson Theatre, is about names. Before the show begins, audience members sitting in the house or around a table onstage, write their names on special cards. These cards play an important part in the show, as Wind makes these cards appear at unexpected times in miraculous places.
Wind's brand of magic is called "close-up" (also "table magic"), which is performed in an intimate setting, often while sitting at a table. This intimacy makes his feats seem all the more extraordinary, as his subjects are left scratching their heads wondering "how on earth did I not see what he was doing?"
Like all magicians, Wind does not reveal the tricks of his trade. But he does tell the audience what makes magic shows entertaining: drama, suspense and a meaningful relationship between the performer and the audience. All of these he supplies in abundance.
Throughout the show, Wind teases the audience with the possibility that the trick may possibly not work. Sometimes he lets the audience believe he is going to perform a certain trick, only to shift gears and reveal he was really going for something much different and much more amazing.
But what makes the show really work is Wind's personality. By turns modest and boastful, he tells us about his life and career. He gives ample credit to his two mentors, Tommy Wonder and Juan Tamariz. He quips about life in New York City.
When Asi Wind is not slipping cards under peoples' watches or guessing the name of someone they're thinking about, he might be the guy you'd want to have a beer with.
Just watch your wallet.