"Some Like It Hot" Sizzles…
When It Doesn't Fizzle
"Some Like It Hot"
Directed by Casey Nicholaw
Shubert Theatre
225 West 44 Street
Opened Dec. 11, 2022
Reviewed by Paulanne Simmons Dec. 13, 2022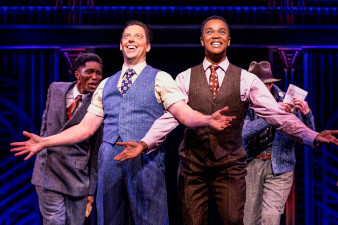 (l to r): Christian Borle and J. Harrison Ghee .Photo by Marc J. Franklin
When "Some Like It Hot" was produced in 1959 it did not have approval from the Motion Picture Code. Director and co-writer (I. A. L. Diamond shares the writing credit) Billy Wilder's film about two musicians, Joe (Tony Curtis) and Jerry (Jack Lemmon) who accidentally witness a Mafia hit, then disguise themselves as women so they can join Sweet Sue (Marilyn Monroe) and her all-female band, and escape to Miami, featured too many sex-related themes to be acceptable to even the gradually weakening Hays Code.
Today, "Some Like It Hot," which treated cross-dressing and sexual ambiguity as an aberration, seems hopelessly outdated. And so, Matthew Lopez and Amber Ruffin, the book writers for the Broadway musical, have made a few changes.
Our two musicians, Joe (Christian Borle) and Jerry (J. Harrison Ghee), do indeed become Josephine and Daphne, and Joe/Josephine does fall for Sweet Sue, but now Jerry comes to realize that Daphne is his true inner self, and Joe, after some hesitation, gets it.
But apparently that wasn't enough. Jerry/Daphne is now an African American, who suffers all the discrimination so common in the 1930s (Lopez and Ruffin have moved us from 1929 to 1933, the end of Prohibition and the early days of the Depression). And Osgood Fielding III (Kevin Del Aguila), the millionaire who falls in love with Daphne, is now Mexican American, with his own identity issues. Thus, if the film was a ridiculous, over-the-top farce, the musical becomes a morality play.
Although the musical, directed and choreographed by Casey Nicholaw, sometimes founders when the lessons become too heavy, nothing can quite sink the exuberance inherited from the film. What's more, the musical has its own qualities.
Borle and Ghee are terrific and have great synergy whenever they are onstage together. And NaTasha Yvette Williams, who plays Sweet Sue has a set of pipes the breathy Monroe could only dream of.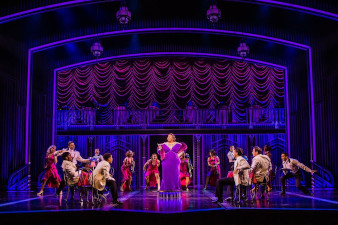 NaTasha Yvette Williams and the cast . Photo by Marc J. Franklin.
The score, with music by Marc Shaiman and lyrics by Shaiman and Scott Whittman, is hot, jazzy and perfectly suited to the era and tone of the show. A few numbers, like Daphne's response to her new identity, "You Coulda Knocked Me Over With a Feather," actually make the most of the changes to the script.
What's more, Scott Pask's Art Deco set and Gregg Barnes's flamboyant costumes deliver all the false glamor of that not so glamorous era. And Nicholaw's choreography, enhanced by turning Joe and Jerry into the dancing Tip Tap Twins, captures all the sexy scintillation of people desperate to just have fun and escape their troubles.
What more can we ask for in our own troubled times?