"Golden Shield" Shines,
but Takes on Too Much
"Golden Shield"
Directed by May Adrales
Manhattan Theatre Club
Opened May 17, 2022
NY City Center Stage 1
131 West 55 Street
Closes June 12, 2022
Reviewed by Paulanne Simmons May 22, 2022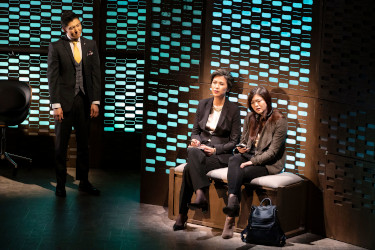 (left to right) –Fang Du, Cindy Cheung, and Ruibo Qian. Photo by Julieta Cervantes.
"Golden Shield," a new play by Anchuli Felicia King, is nothing if not ambitious. The issues the play covers include family relationships, personal responsibility, the law, totalitarian regimes, corporate culpability, torture and the way language can both help and betray us. The play is so complicated it takes the author several scenes to wrap things up even after the drama has pretty much ended.
Julie Chen (Cindy Cheung) is a Chinese American lawyer determined to bring down ONYS Systems, an international tech company that has created a more effective Internet firewall for the Chinese government, in other words, the Golden Shield that will identify and eliminate unwanted commentary. This has resulted in the imprisonment and torture of dissidents.
Julie files a class action lawsuit under the Alien Tort Statute, an 18th century law that has something to do with pirates. But she needs victims to make her case stronger. She also needs someone who can speak Mandarin so she can communicate with those victims. The first problem is solved when she finds Li Dao (Michael C. Liu), a dissident who was imprisoned and tortured for five years and returned to his wife, Huang Mei (Kristen Hung), in a wheelchair. The second, when she enlists the help of her sister, Eva (Ruibo Qian), a sex worker who is also fluent in Mandarin.
The bad guys here are Marshall McLaren (Max Gordon Moore), the loutish egotist who conceived the plan and can't put two sentences together without expletive punctuation, and the lawyer who defends the company, Jane Bollman (Gillian Saker).
So far this might seem like a fairly simple plot. But King throws into the mix Julie's fraught relationship with her sister; Eva's one-night stand with Amanda (Saker, again), a helpful non-profit employee; and most important, The Translator's (Fang Du) ongoing remarks on the role language plays in culture and communication.
Often The Translator's comments are enlightening. Sometimes they are funny. But there are times we would prefer the characters speak for themselves.
Fortunately, director May Adrales knows very well how to juggle. And the scenic designer (dots) has created a set made of Chinese-looking screens that create non-specific atmosphere, then pull apart to reveal an elevated boxed stage to highlight the domestic scenes between Li Dao and Huang Mei, and between the couple and Julie and Eva.
Despite its many philosophical considerations, the play is most effective when it is most personal, when Eva castigates Julie for abandoning her to their abusive mother, and especially when Li Dao breaks down during his testimony after Julie digs too deeply into exactly how he was tortured. What makes this courtroom scene truly amazing is that Liu speaks in Chinese while Fang Du renders the words in English. The two performances are so fine-tuned that nothing appears to be lost in translation.
Perhaps if King had had a bit more faith in her own story and her actors' ability to tell it, Golden Shield would have felt like a knockout blow, instead of lots of little jabs.