"Hurricane Diane" Veers Off Course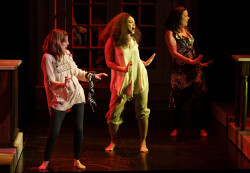 Kate Wetherhead, Michelle Beck and Danielle Skraastad. Photo by Joan Marcus.
From Feb. 6 to March 24, 2019.
New York Theatre Workshop
79 East 4 Street
Tuesday, Wednesday and Thursday at 7pm, Friday and Saturday at 8pm, Saturday and Sunday at 2pm.
Directed by Leigh Silverman
Tickets: $89 www.nytw.org
Reviewed by Paulanne Simmons.
At the very beginning of Madeleine George's new play, "Hurricane Diane," the Greek God Dionysus appears onstage as a butch lesbian named Diane (Becca Blackwell). Dionysus, dispirited by the state of the environment in the 21st century, has come to earth to gain followers in this campaign to save the environment. This gives many in the audience the impression they are going to see a play that tackles many of the issues involving global warming, pollution, habitat destruction, and much more. Alas, this is not the case.
Diane arrives in Redbank, New Jersey, as a permaculture gardener clad in shorts and boots. There she meets three housewives: Carol (Mia Brown), a compliance officer for a pharmaceutical company; Pam (Danielle Straaste), a feisty Italian-American who astonishes the other women when she announces she has sex every day with her husband; Beth (Kate Wetherhead), a morose and passive waif whose husband has recently left her; and Renee (Michelle Beck), a former lesbian and radical black woman who is now working at a conservative shelter magazine.
Once the women are introduced, Hurricane Diane morphs from eco problem play to The Real Housewives of Redbank. The women, who live in houses with identical floorplans, congregate in the high-tech, stylish kitchen set designer Rachel Hauck has created to represent all of their kitchens. They certainly have ideas about what they would like Diane to do with their lawns, from Carol's wrought-iron bench to Pam's palazzo garden, but they mostly talk about their husbands, their children, their work, their pasts – in fact, just about everything but the environment.
Mia Barron. Photo by Joan Marcus.

However, Diane has no intention of winning the women over with logical arguments or emotional pleas about the future of the earth and the fate of their children. Rather she sets out to seduce them with her lesbian charm. This isn't too difficult with the more than willing Renee and the passive Beth. Pam and Carol are more of a challenge.
Director Leigh Silverman gets excellent performances from the cast. But this cannot compensate for the rickety nature of the script. There are some very entertaining moments in this play, many fueled by Skraastad's earthy and extravagant performance.
In the end, Diane has just about succeeded in winning over the woman (into her arms if not her cause), when the hurricane strikes and the audience is abruptly reminded of what the play is supposed to be about. By this time what we really want to know is how Pam manages to have sex every day.