Two Views of "Present Laughter"

by Paulanne Simmons and Lucy Komisar
---
Elegant Mayhem in "Present Laughter"

Present Laughter
Directed by Moritz Von Stuelpnagel
St. James Theatre
246 W. 44 Street
Opened April 5, 2017
Closing July 2, 2017
Reviewed by Paulanne Simmons April 28, 2017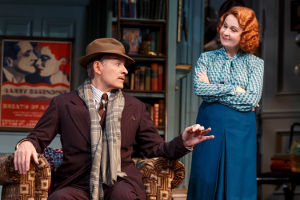 Kevin Kline and Kate Burton in a scene from Broadway's PRESENT LAUGHTER (photo by Joan Marcus)


The title of Noel Coward's "Present Laughter" (first staged in 1942) comes from a line in Shakespeare's "Twelfth Night": "present mirth hath present laughter." In more simple language, the phrase means "if you think it's funny ... laugh." And laugh we do, most uproariously in the present revival directed by Moritz Von Stuelpnagel and starring Kevin Kline as actor Garry Essendine.
The plot, typical of Coward, is mostly an excuse for witty dialogue. Essendine is getting ready for an African tour, when his own peccadilloes get the best of him: first with Daphne Stillington (Tedra Millan), a comely admirer whom he has picked up somewhere; then with Joanna Lyppiatt (Cobie Smulders), the glamorous and amorous wife of his friend, Henry (Peter Francis James).
However, Essendine is less culpable in the intrusion of the manic Roland Maule (Bhavesh Patel), an aspiring playwright who refuses to be discouraged. And he is equally adroit at ridding himself (at least temporarily) of this menace.
Fortunately for Essendine, he has a few people he can depend on, his housekeeper, Miss Erikson (Ellen Harvey); his valet, Fred (Matt Bittner); his secretary, Monica Reed (Kristine Nielsen); and his not so estranged wife, Liz (Kate Burton), who doesn't live with Essendine, but breezes in and out with lots of good advice he doesn't take.
Along with the witty dialogue, the audience is kept amused by much mad rushing about, as the women appear and disappear into offstage rooms and the help does what they can to keep order.
Like many mid-19th century comedies, "Present Laughter" takes a long time setting up the situation. This means while the first few scenes are somewhat amusing, the last few are hilarious. Throughout, Kline, in those sexy dressing gowns, presides as the reigning king of perfect timing and expertly executed mishaps. Although he's a snob nestled in his narcism, Kline is so breathtakingly unaware it's hard to hold this against him.
Also memorable are Nelson and Burger. And Millan makes an auspicious Broadway debut.
What's more, if most of us can't live in the finely appointed home of Essendine, complete with an elegant staircase made for pratfalls, set designer David Zinn certainly gives us a good idea of what it would have looked like.
"Present Laughter" is a breath of fresh air from the past.
____________________________________________________________________________________________________________
"Present Laughter."

Written by Noel Coward, directed by Moritz von Stuelpnagel.
St. James Theatre 246 West 44th Street, New York City.
877-250-2929, http://laughteronbroadway.com/.
Opened April 5, 2017; closes July 2, 2017.
Reviewed by Lucy Komisar May 5, 2017.
Kevin Kline as Gary Essendine. Photo by Joan Marcus.
You can see why an ingénue, femme fatale and ex-wife are smitten with Garry Essendine, the self-absorbed hammy stage star played by Kevin Kline in Noël Coward's delightfully funny and sophisticated 1943 play, "Present Laughter." Because, so are we, smitten.
It is 1939 in London. Garry, 57 going on 37, lives in a stylish duplex apartment furnished with lots of modern art, books, a baby grand piano and a very idiosyncratic staff, including a dry, sardonic secretary, a dour Swedish cook and a laid-back butler. He is cosseted by his ex-wife, who helps manage his theatrical affairs, and he is targeted by women, whose advances he deplores and enjoys.
Coward is writing about a world he knows, especially when he complains about plays that are superficial, pseudo-intellectual poppycock. Like "Present Laughter?" Is he deliciously spoofing himself? But who would deprive audiences of this charming amusement! And of Kline's unforgettable comic performance as a man who never completely grew up. Moritz von Stuelpnagel's direction is light and tongue-in-cheek.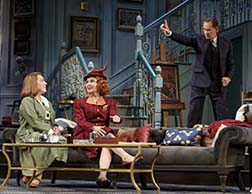 Kristine Nielsen as Monica, Kate Burton as Liz, and Kevin Kline as Garry. Photo by Joan Marcus.
Garry is still upstairs sleeping when Daphne (Tedra Millam), a young woman of 24, comes giggling out of a spare room and demands breakfast from servants who have seen this before. She is there because she "lost her latchkey" and couldn't go home after the party the night before.
When Garry descends the stairs in his silk dressing gown, of which he has a few dozen, he will try to persuade her that, of course he loves her, but their terrific conversation last night – well, he's really too told for her, and….
Monica Reed, his secretary arrives, in the person of Kristine Nielsen who does the smart quirky mugging for which she is famous. She remarks about the "eager young debutantes ready to lose their latchkeys for you." He twists and grimaces when he hears what he told the girl. "You weren't on the stage," he is reminded. And he replies, "I'm always acting."
The plot swirls about a second "lost my latchkey" lady, the predatory Joanna (a very good and worldly Cobie Smulders) who is married to Garry's producer Henry (Peter Francis James) and shows up one evening in a swanky low-cut gown to seduce the star, who she admittedly has lusted after for years.
He accuses her of being a scalp hunter, a collector. She says, "I could cry now if I only had the technique." You get the sense Coward is happily skewering people he knows.
Turns out she's been having an affair with Garry's director Morris (Reg Rogers), who seems nervous every time we see him. That is helped by Rogers' distinctive embellished way of enunciating. And then there's the crazy young playwright, Roland (Bhavesh Patel), who has finagled his way into getting Garry to read his script and is alternately fawning and threatening.
I can't forget Miss Erickson (Eileen Harvey), a bizarre hard-faced Swede with an exaggerated accent you could cut with her cook's knife.
The only clearly adult person in the group is ex-wife Liz (the cool, intelligent Kate Burton) who is trying to save Garry from himself. Liz, now in her 40s, was an actress when he got her to give up acting and start writing. Quite a compliment from the playwright.
She left Garry when she couldn't take his unruly behavior, but she is affectionately watching over him. When she returns from a Paris trip, she brings him an elegant white dressing gown. But learning of his latest escapade, she tells him, "You have gone too far." She feels she is in a French farce.
(Perhaps an effort to be lighthearted during the war, nothing is said on her return from the continent about the fast gathering storm. Britain would declare war against Germany that year.)
Turns out Garry's past and present ladies and Roland have bought tickets on the ship that will take him to a performance tour in Africa. He is terrified. Then capable Liz takes over for a lovely dénouement. And in fact, nothing goes "too far" in this perfectly calibrated, splendid, crazy, high-spirited, yes, farce.
.