A Rebel in Virginia Doesn't Make a Stir Onstage in New York


Nat Turner in Jerusalem
Directed by Megan Sandberg-Zakian
New York Theatre Workshop
79 East 4th St, New York
Opened Sept. 26, 2016
Tickets: $69, www.nytw.org
Closes Oct. 16, 2016
Reviewed by Paulanne Simmons Oct. 1, 2016

When it comes to leaders of hopeless rebellions, they don't get much better than Nat Turner. Not only did he mobilize free blacks and slaves, armed with farm tools, to kill their white oppressors (sixty men, women and children in all), he also had visions that convinced him he was acting on God's behalf.
Clearly, this is a man ripe for martyrdom. But not satisfied with merely trying, convicting and hanging Turner, the good citizens of Virginia also flayed, beheaded and quartered his body, just in case anyone had the inclination to foment a similar rebellion.
Now what is a martyr without someone to tell his story? To ensure his legacy, Turner gave his attorney, Thomas Ruffin Gray, enough information for Gray to publish (with additional research) "The Confessions of Nat Turner." Gray hoped the "Confessions" would bring him enough money to alleviate his financial difficulties.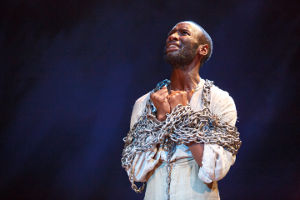 Phillip James Brannon in NAT TURNER IN JERUSALEM at NYTW. Photo by Joan Marcus
Even the fact that Turner's rebellion resulted in mass hysteria among southern whites, who, as part of their own rampage, caused the death of two hundred blacks, does not tarnish Turner's image for many. Nor does the subsequent enactment of sweeping legislation across the south prohibiting the education of slaves and free blacks, and restricting free blacks' rights to assemble, bear arms, vote or even pray without a white minister standing guard, all of which followed his rebellion, lower Turner's status as a hero.
Until recently, William Styron's 1967 novel, "The Confessions of Nat Turner," was the only major work of fiction based on Turner's life. But now we have both a film, "Birth of a Nation," produced and directed by Nate Parker, and a play, Nathan Alan Davis's "Nat Turner in Jerusalem," that tell the story of Turner's rebellion.
Although the film premiered at the 2016 Sundance Film Festival and has already won several awards, Fox Searchlight Pictures, which has worldwide rights, has not yet released it in the United States. However, "Nat Turner in Jerusalem" has opened at New York Theatre Workshop.
Phillip James Brannon in NAT TURNER IN JERUSALEM at NYTW. Photo by Joan Marcus
With Megan Sandberg-Zakian's noteworthy direction and the excellent acting of Phillip James Brannon as Turner, and Rowan Vickers as Gray and an unnamed guard, the play might have been remarkable. The problem is that although Davis writes some formidable dramatic dialogue, he never creates any real drama onstage.
Brannon gives Turner both dignity and conviction. As he stands bathed in Mary Louise Geiger's lighting, we are willing to grant him the standing of a prophet. But when we meet him, it's all over but the hanging. Turner has no one to convince but his atheist lawyer and the not very bright guard who only wants to get back to his child and his second wife.
Because there is so little at stake, we must be content with slight changes of attitude. The guard seems to accept Turner as some kind of preacher. The lawyer is jostled a bit out of his complacency and superiority.
The main point of this play, however, is to portray Turner as a prophet who has come to earth to wreak vengeance on those who have committed the sin of slavery. Not a bad idea, but hardly worth ninety minutes of theatrical time.