"Shuffle Along" Skips, Dances and Prances
Shuffle Along
Directed by George C. Wolfe
The Music Box Theatre
239 West 45th Street
Opened April 28, 2016
Reviewed by Paulanne Simmons May 7, 2016

"Shuffle Along" has great song and dance numbers, a weak book and Audra McDonald. If the first two observations don't convince you to see the show, the last most definitely should. In "Shuffle Along," McDonald not only once more demonstrates her tremendous vocal ability, but also proves herself to be a surprisingly good hoofer.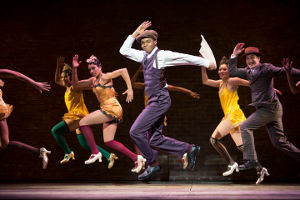 The Ensemble performes "Broadway Blues". Photo by Julieta Cervantes.
The complete title to this new musical, written and directed by George C. Wolfe and choreographed by Savion Glover, is "Shuffle Along or the Making of the Musical Sensation of 1921 and All That Followed." Not surprisingly, the first act is all about the making and the second what came after. Equally not surprising, the second act is somewhat anticlimactic and unnecessary.
"Shuffle Along" was indeed a pivotal show in Broadway history. It was the first Broadway musical to be produced, written and performed entirely by African-Americans. And this was at a time when the railroads still had Jim Crow cars and black performers had to scramble for lodgings in the North and especially the South. But heavy-handed lessons about people we never really get to know are not the stuff of great musicals.
However, with a score by Noble Sissle and Eubie Blake, and exceptional performances by Joshua Henry and Brandon Victor Dixon, who play them, it's possible many in the audience will forget the overly narrative nature of this play and its long lessons on racism and broken dreams. If that isn't enough, there's Brandon Stokes Mitchell and Billy Porter, who portray with humor and passion F.E. Miller and Aubrey Lyles, the vaudevillian duo whose skit, "The Mayor of Jamestown," about a small-town mayoralty contest, was the basis for "Shuffle Along."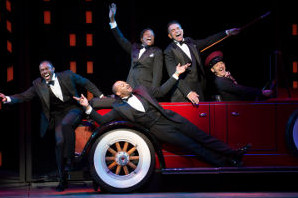 Joshua Henry, Brandon Victor Dixon, Billy Porter and Brian Stokes Mitchell with Richard Riaz Yoder. Photo by Julietta Cervantes.
If McDonald is formidable as Lottie Gee, who starred in the original "Shuffle Along" and sang "(I'm Just) Wild About Harry" and "Love Will Find a Way," all the principals are very good in their not quite fully developed roles. Brook Ashmanskas is splendid as the cynical but somewhat lovable agent, as well as all the other white parts. And Porter brings down the house with "Low Down Blues." What's more, they all perform on Santo Loquasto's brilliant period sets, wearing the elegant and razzzle-dazzle costumes of Ann Roth.
But McDonald is the only one who develops her character into a person we really care about, especially when we witness her despair over her position as the "other woman" in Blake's life. Now that McDonald has announced she's expecting her first child with husband Will Swenson and she'll be out of the show from July 24 through the fall, the other actors will have to keep the show shuffling along without her.