"Fiddler on the Roof" Comes "To Life" Once Again

"Fiddler on the Roof"
Directed by Bartlett Sher
Broadway Theatre
1681 Broadway
Opened Dec. 20, 2015
Reviewed by Paulanne Simmons Jan. 14, 2016
Jesse Kovarsky (center) and Cast. Photo by Joan Marcus.
While reviewers ponder on the parallels between the Jews in "Fiddler on the Roof" and the Syrian refugees flooding into Europe, and whether Bartlett Sher's s staging is particularly innovative, and if so to what effect, theatergoers are galloping to the Broadway Theatre simply because "Fiddler" is not only a classic, it is also one of the most structurally perfect musicals ever created.
Back in the 60s, Jerry Bock and Sheldon Harnick created a score that gave a Broadway polish to traditional Klezmer, the music that sustained European Jews for over one hundred years. And Joseph Stein adapted Sholem Aleichem's short story series "Tevye and His Daughters" into a book that retains its Yiddish roots while appealing to a wider audience. Add to that Jerome Robbins's choreography that features joyful Hassidic and Russian dancing, and it's not surprising "Fiddler on the Roof" was the first musical to have a Broadway run exceeding 3,000 performances.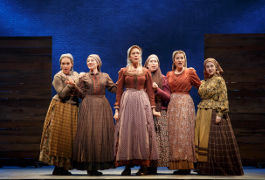 Jessica Vosk, Lori Wilner, Jessica Hecht, Alix Korey, Tess Primack and Jennifer Zetlan.Photo by Joan Marcus.
This doesn't mean mistakes can't be made. But in the current revival starring Danny Burstein as Tevye and Jessica Hecht as Golde, if mistakes were made, they are too insignificant to mention. From the moment we hear the signature melodic motif of the Fiddler and the town appears in luminous light and mysterious shadows, to the time even the Fiddler must leave the beloved Anatevka, this production is a feast to the eyes, the ears and especially the heart.
Burstein is warm and wonderful, with a powerful baritone that can be tender, thoughtful or cantankerous. When he challenges the Almighty, we can be sure God has someone to contend with. But with Golde, the odds are more in favor of a mere mortal.
Although Hecht does not have a particularly strong or melodious voice, she strikes all the right chords in her relationship with her five daughter and her sometimes difficult husband. When she gives her children a kiss on the cheek or forehead, we can feel the love.
We only get to know the three eldest of those daughter, Tzeitel (Alexandra Silber), Hodel (Samantha Massell) and Chava (Melanie Moore), all of whom pick husbands that reflect changing mores and are not what their parents would have wished for them. But if Golde is worried mostly about how her daughters will survive with their penniless and inappropriate husbands, Motel the tailor (Adam Kantor, who makes the most of this most fully developed suitor), Perchik the radical student (Ben Rappaport) and Fyedka the young Russian (Nick Rehberger),Tevye also has to consider how God, his other constant companion, will view his daughters' straying from tradition.
Lori Wilner, Jessica Hecht and Danny Burstein.Photo by Joan Marcus.
The inimitable Catherine Zuber has given the people of 1905 Anatevka colorful clothing that befits their religious, social and professional status: prayer shawl and long skirts for the Jews, boots and uniforms for the Russian soldiers. The costumes provide a realistic contrast to Michael Yeargan's whimsical rising and descending set. However, it is in the scene depicting Tevye's cautionary nightmare that Zuber pulls out all the stops.
Because the score is so familiar, most of the songs are eagerly anticipated. Older members of the audience will have to resist humming along with "Tradition,""Matchmaker, Matchmaker,""If I Were a Rich Man," "To Life" and "Sunrise, Sunset." Hopefully no one will be so swept away not to notice Ted Sperling's gorgeous orchestrations.
This "Fiddler," like so many before it, is moving and marvelous. We can all be grateful this treasure is in such good hands.