"Allegiance" - An Important Story, but a Bland Musical

"Allegiance"
Directed by Stafford Arima
Longacre Theatre
220 West 48 Street
Opened Nov. 8, 2015
Reviewed by Paulanne Simmons Dec. 1, 2015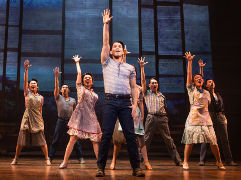 Telly Leung and the cast. Photo by Matthew Murphy.
The story of the United States' internment of 120,000 people of Japanese descent during World War II, more than half of them U.S. citizens, is certainly one that deserves telling. But only a few minutes into Marc Acito (book), Lorenzo Thione (book) and Jay Kuo's (book and score) "Allegiance," one wonders whether this story should be told as a musical, and even assuming it should, whether this is that musical.
The plot centers around the Kimura family: father, Tatsuo (Christopheren Nomura), grandfather, Ojii-chan (George Takei), brother, Sam (Telly Leung) and sister, Kei (Tony Award winner Lea Salonga). Sam has been raised by his sister because his mother died when he was born. He believes his father still holds his mother's against him, forever withholding love and approval.
When Japan attacks Pearl Harbor and the United States declares war, Tatsuo must sell the farm for well below its worth and the family is sent to a relocation camp in Wyoming. There Sam meets Hannah (Katie Rose Clark), a sympathetic nurse, and Kei meets Frankie (Michael K. Lee), a lonely young man whose parents have been arrested and sent to prison.
George Takei and Lea Salonga. Photo by Matthew Murphy
Sam decides to join the U.S. Army and prove his patriotism. Frankie chooses to protest his internment by not signing the loyalty pledge and going to prison rather than allowing himself to be drafted. Frankie and Sam's antipathy is immediate and lasting.
The story of the Kimura family is set against the well-meaning but ineffective work of Mike Masaoka (Greg Watanabe), national secretary for the Japanese American Citizens League; the war in Germany; and even the bombing of Hiroshima. It's all pretty grim, and most of the time the songs don't truly reflect this horrible reality. In fact, often one wonders why these people are breaking into song in the first place. It's almost (but not quite) as unlikely as a musical about the German concentration camps (yes that does exist).
Even so, if the score were more interesting or exciting, the show might have been a lot more pleasing. However, Kuo's lyrics are sometimes embarrassingly mundane and the music sounds like you've heard it before and don't especially want to hear it again.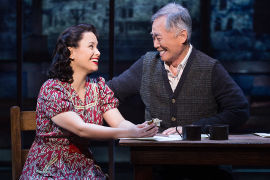 Lea Salonga and George Takei. Photo by Matthew Murphy
The acting is not particularly up to par, perhaps hindered by director Stafford Arima's choice of having the actors speak in a stilted Japanese accent that often strips them of any believable emotion. Or the problem might be the one-dimensional quality of the characters the writers have created.
"Allegiance" is obviously a labor of love for many involved, especially Takei, who was actually interned in a camp as a child. But the resulting earnestness and self-righteous anger just doesn't work in a musical.
The best part of "Allegiance" is Donyale Werle's set, which makes delightful use of Japanese sliding screens and and contrasts them with the harshness of the camps and the brutality of war. But this compensates only a bit for the show's weaknesses.
True, America's actions at the time were atrocious, but does that mean the soldiers should behave so badly (and unrealistically) that we can almost imagine horns growing out of their helmets? And there may even be a few in the audience who think those resisting the draft should have temporarily shelved their anger over the unjust and immoral way they were being treated in order to defeat the Japanese who were doing far worse to the Chinese and Koreans.
Asians are hugely underrepresented in theater, and it is good to see issues that are important to this group of Americans brought to light. But this intensely interesting and tragic subject deserves a far better treatment.