"The Bandstand" Is Not Quite Ready for the Bandwagon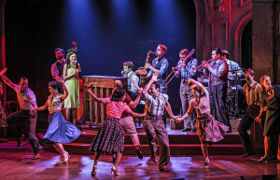 The Bandstand at Paper Mill Playhouse. Laura Osnes (Julia)LEFT CENTER, Corey Cott (Donny) RIGHT CENTER and the company of The Bandstand. Photo by Jerry Dalia.
"The Bandstand"
Directed by Andy Blankenbuehler
Paper Mill Playhouse
22 Brookside Drive, Millburn, NJ
From Oct. 8, 2015
Wed. at 7:30pm, Thurs. at 1:30pm and 7:30pm, Fri. at 8pm, Sat. at 1:30pm and 8pm, Sun. at 1:30pm and 7pm
Tickets: $29-$100 (973) 376-4343 or www.PaperMill.org
Closes Nov. 8, 2015
Reviewed by Paulanne Simons Oct. 18, 2015
It's easy to see why so many reviewers want to like "The Bandstand," a musical that is having its premiere at Paper Mill Playhouse. It has a book and lyrics by Richard Oberacker and Robert Taylor and music by Oberacker, neither of whom is particularly well-known to the average theatergoer (or reviewer). It has a book that is totally original. And it's about the brave men of the Greatest Generation, who grew up during the Depression and then went on to fight totalitarianism abroad to protect democracy back home.
Laura Osnes (Julia) and the company of "The Bandstand." Photo by Jerry Dalia
The problem is the storyline of the show has holes so big one could drive a Mack truck through them. The music is often bland and sometimes inexplicably out of the time period. And the characters are so broadly generic they could be in just about any World War II story. Director and choreographer Andy Blankenbuehler (Hamilton, Bring It On, In the Heights) has assembled a cast of competent stars including Laura Osnes, Corey Cott and Beth Leavel, but they cannot pull this musical out of the realm of the mediocre.
The show focuses on the adventures of musician Donny Novitski (Corey Cott), a World War II vet who returns home with dark nightmares of the past and bright dreams of starting a band composed entirely of other vets. He soon gathers a group of men, and they decide to compete in a national radio contest in New York City that will ensure them a spot in an upcoming movie. The band is assembled so quickly we barely get to know the men, and aside from a few identifying ticks, they remain mostly anonymous.
The men are all capable musicians, but the writers place various carefully contrived stumbling blocks in their way, two of which are the result of
Laura Osnes (Julia). Photo by Matthew Murphy.
Donny's inability to read a contract. The other is his insistence they ride first class to New York City. Really!
What would a story of emotionally and physically battered vets be without a love interest? Donny, not surprisingly visits the home of his buddy, Michael, who was killed in action. There he meets his lovely widow Julia Trojan (Laura Osnes) and her wisecracking mother, Mrs. Adams (Beth Leavel). Turns out Julia has a lovely voice and soon becomes a band member. And guess what? Donny and Julia eventually fall in love! What a surprise.
Donny and Julia's romance proceeds slowly but steadily until there's a slight, entirely predictable bump in the road (it has something to do with how Julia's husband died) that is quickly smoothed over.
The music is most successful when it is most in the spirit of the big band music of the forties, but for the most part it is unmemorable. Blankenbuehler does not seem able to fully incorporate some of the great dance steps of swing, jitterbug and Lindy hop into his choreography.
All this does not mean "The Bandstand" is without hope. If the writers would spend less time introducing us to Donny's parents, who quickly disappear and have no role in the musical and tell us more about the people who are actually important to the musical, that would go a long way. There are twenty-one musical numbers in the show. If the writers would aim for quality rather than quantity, the show would be much more impressive.
We're all rooting for a truly original musical on Broadway. But hopefully, "The Bandstand" will not try to get there before it's ready.