Big Apple Circus Is Back!

Photo by Maike Schulz
"Big Apple Circus"
Directed by Mark Longergan
Lincoln Center
Opened Oct. 21, 2015 through Jan. 10, 2016
Tickets:
Reviewed by Paulanne Simmons Oct. 24, 2015
The biggest little circus is back in town. This season, Big Apple Circus returns to Lincoln Center with The Grand Tour, conceived and created by Joel Jake and directed by Mark Lonergan. The tour takes children of all ages to the Roaring Twenties when the era of modern travel began.
And so the audience travels by plane, train, ship and automobile to the far corners of the earth, accompanied by jugglers, acrobats, aerialists and clowns. And let's not forget all those adorable tail-wagging dogs and prancing horses (trained by Jenny Vidbel) that parade and jump for our entertainment.
Ringmaster John Kennedy Kane resplendent and charming in his top hat and tight-fitting red and black striped jacket, introduces acts from China (the Zuma Zuma acrobatic troupe) China (hand balancers The Energy twins) and Russia (Sergey Akimov on the aerial straps).
Photo by Maike Schulz
Maruti Evans has framed the stage with travel posters of the era, and Rob Slowik directs the Big Apple Circus Band, playing music from the roaring twenties. As usual, there's an adorable piece with audience participation, this time with little kids playing musical chairs with the clowns (one of the children won).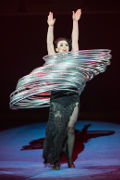 Photo by Maike Schulz
Clowns Joel Jeske and Brent Mcbeth provide the laughs. The acts are just dangerous enough to have the little ones biting their fingers, but not so frightening they're afraid to watch. While the rest of us wonder just how much practice it must take to juggle all those balls (Alexander Koblinkos) or twirl all those hula hoops (Chiara Anastasini) or land in exactly the right place (Dosov Troupe on the teeterboard or the Dominguez Bros. on the Wheel of Wonder) so you're still in shape for the next show.