"The Tempest" Takes Over Harlem By Storm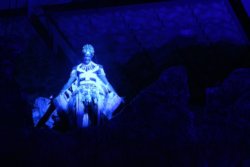 Fedna Jacquet (Ariel). Photo by Jill Jones.
The Tempest
Directed by Carl Cofield
Richard Rodgers Amphitheater in Marcus Garvey Park
Enter at 124 Street and Fifth Ave.
Opened July 5, 2015
Tues. thru Sun. at 8pm
Free and open to the public
Closes July 26, 2015
Reviewed by Paulanne Simmons July 5, 2015
In the third annual Classical Theatre of Harlem free "Under the Stars" season, director Carl Cofield envisions "The Tempest" set in colonial Hispaniola. But the island, true to Shakespeare's original script, is much more an enchanted domain than any actual earthly location.
It is here the magician Prospero (Ron Cephas Jones), formerly Duke of Milan, has been residing for twelve years with his daughter, Miranda (Kimberly Chatterjee), after being exiled by the King of Naples, his cruel and clever brother Antonio (in this production his sister, Antonia, played by Tanya Everett). Costume designer Rachel Dozier-Ezell has dressed Prospero in the remnants of colonial aristocracy and given him a talisman to carry. Miranda wears a simple, short white dress, symbolic of her youth and virginity.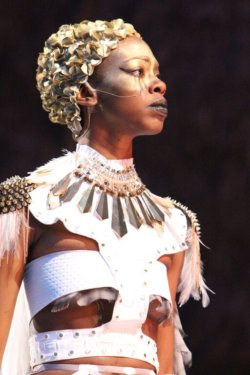 Fedna Jacquet (Ariel). Photo by Jill Jones.
The play opens after Prospero, having discovered through his magical powers that Antonia will be passing by the island on a ship, has raised a mighty tempest which brings not only Antonia but also fellow-conspirator King Alonso of Naples (Richard Busser) along with Alonso's brother, Sebastian (Ryan Alvarado), and son, Ferdinand (Reynaldo Piniella), all of whom are returning from the wedding of Alonso's daughter, Claribel, with the King of Tunis.The royal personages, like Prospero, wear the clothing of colonial aristocracy, only in better condition. And they behave much like those colonial rulers must have in their absolute reign over the conquered island.
But Prospero and Miranda have not been living alone on their island. It is also inhabited by Ariel (Fedna Jacquet), a spirit Prospero rescued from a tree where he had been imprisoned by the witch, Sycorax, and Sycorax's monster son, Caliban (Carl Hendrick Louis). They live together in an uneasy peace, with Ariel Prospero's reluctant servant and Caliban his barbarous slave.
If the human characters are dressed as colonial overlords in Spanish Hispaniola, the spirit and monster wear native and French-influenced garments. In fact, Louis speaks with such a thick French accent it is sometimes hard to understand what he is saying. However, considering the still prevalent voodoo tradition in Haiti, this conceit works perfectly well.
Although "The Tempest" is now considered a romance, thanks to its supernatural elements and exotic setting, it was originally listed as a comedy in the First Folio of Shakespeare's plays. Indeed the play has many comic aspects, most significantly the two drunkards, Stephano (Emmanuel Brown) and Trinculo (Anthony Vaughn Merchant). Brown and Merchant are a fine comic team, much in the spirit of Abbott and Costello or the Three Stooges.
But the production is best held together by Jones's sterling performance that mixes compassion and wisdom with a touch of bitter resentment. He is the center of this universe, and around him flies the ephemeral Ariel and lurks the vicious and ridiculous Caliban.
Reynaldo Piniella (Ferdinand) and Kimberly Chatterjee (Miranda). Photo by Jill Jones.
Some of the best parts in this "Tempest" are those which emphasize the Caribbean Island setting, such as the scene with native, African-inflected dancing. Unfortunately, this does not happen often enough. However, if this excellent production might have benefited with an execution as daring as its conception, it is still a "Tempest" that stirs the water.